Alternative investments are becoming an increasingly important part of institutional investors' portfolios, but many don't fully understand how alts work - nor are they fully happy with performance. Still, a growing number of investors are using alts for new purposes, like boosting portfolio returns, and many are beginning to tap illiquid alternatives like real estate, private debt and infrastructure debt.
These are some of the key findings published in the 2016 edition of RiskMonitor - our annual survey that reports on the top issues facing institutional investors around the world, from public pension plans to family offices and endowments.
How institutional investors view alternatives today
Most use alts for diversification, but performance is gaining traction: Our RiskMonitor research shows that 30% of institutional investors use alternatives for the diversification benefits they provide, while about 25% invest in alts because of their low correlation to other asset classes. However, a growing number of respondents (14%) are now tapping this asset class for its performance benefits.
Income seekers are turning to alts: As the hunt for yield continues, illiquid alternatives appear to have found favor; 67% of our respondents said illiquid alts can provide attractive risk-adjusted returns relative to traditional investment strategies.
Risk management is a growing focus: While 60% of the institutional investors we surveyed strive to measure the risks posed by alternative assets, an equal number (62%) want better risk-management tools (up from 49% last year). More specifically, 38% feel they do not have the necessary tools to properly assess cash flow patterns or liquidity risk.
Illiquid alts are on the rise: More than half (56%) of respondents feel that illiquid alternatives are key to building portfolios in the current market. In fact, 23% would consider investing more in real estate, while only 10% would consider investing less. Similarly, more respondents said they would increase their allocations to private equity and infrastructure equity/debt.
Liquid alts still reign, but performance has disappointed: About three in five respondents (57%) believe liquid alternatives have an important role to play in constructing portfolios. At the same time, when it comes to commodities - traditionally one of the most widely used types of liquid alternative investments - only 8% are considering increasing their exposure, while 22% are thinking about a decrease. This could be because 33% of respondents are not satisfied with the performance of liquid strategies. Still, most investors (56%) feel positive about the role liquid alternatives play in providing attractive risk-adjusted returns relative to traditional investments and asset classes.
Alternatives Are Widely Used by Institutions, Primarily for Diversification
A big reason why alternatives are employed by so many investors is that there are so many ways to use them in portfolios.
Does your organization invest in alternative assets?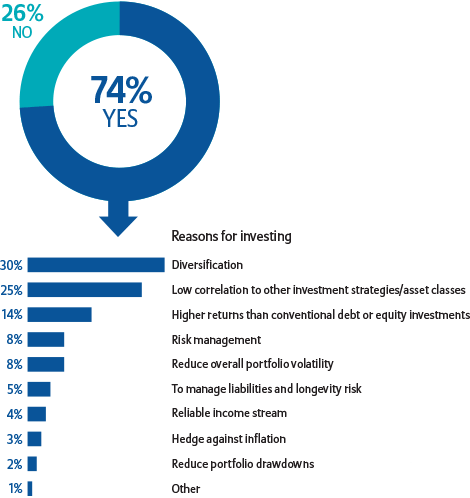 Source: AllianzGI RiskMonitor 2016
The material contains the current opinions of the author, which are subject to change without notice. Statements concerning financial market trends are based on current market conditions, which will fluctuate. References to specific securities and issuers are for illustrative purposes only and are not intended to be, and should not be interpreted as, recommendations to purchase or sell such securities. Forecasts and estimates have certain inherent limitations, and are not intended to be relied upon as advice or interpreted as a recommendation.