Quick Take
Everspin Technologies (NASDAQ:MRAM) wants to raise $45 million in its IPO.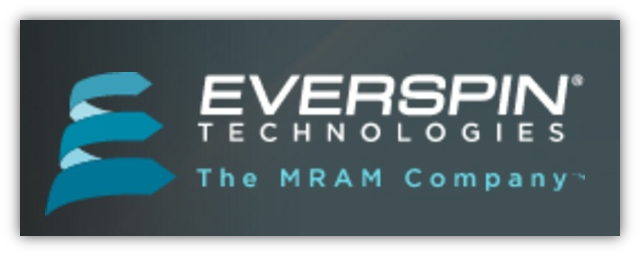 I'm bullish on the market space for non-volatile MRAM memory products, as evidenced by significant research interest by major semiconductor firms.
However, I'm not convinced that Everspin is the company to take advantage of that market space.
My opinion is to AVOID the Everspin IPO.

Company
Chandler, Arizona-based Everspin was spun out from Freescale Semiconductor in 2008 in order to develop its MRAM technology.
CEO Philip LoPresti has been with the firm since 2010 and previously came from Intersil. Jon Slaughter is VP - Technology Research and Development and came over from Freescale with the spin-out.
Everspin claims more than 600 customers worldwide in a variety of markets including industrial, automotive and transportation, and enterprise storage.
Technology
Everspin's core technologies are MRAM, magnetoresistive random access memory, and a newer version called ST-MRAM, or Spin-Torque MRAM.
MRAM is a non-volatile memory vs DRAM which is volatile, so is more relevant for use cases that require data be retained in the case of power loss.
Data in MRAM chips are stored as magnetic elements, rather than by electric charge or current flows.
The newer Spin-Torque technology promises to handle higher chip densities, used for 65 nm devices or smaller.
CEO Philip LoPresti discusses MRAM here:
Everspin says it is the only company in full commercial production for MRAM chips.
Major customers include:
Market
The potential market for MRAM is difficult to quantify, since its ability to displace DRAM will have a significant effect on market size.
Nevertheless, a report by France-based Yole Developpement forecasts the growth of the overall non-volatile market to reach $2 billion in 2018, with MRAM and PCM accounting for $1.6 billion of the expected worldwide total.
The report goes on to state that enterprise storage represents "the largest opportunity" for non-volatile memory.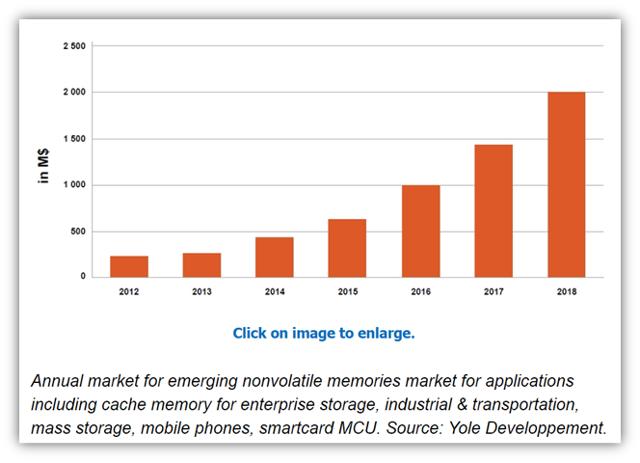 (Source: Yole Developpement)
Yole believes that MRAM and PCM "will lead the emerging NVM (non-volatile memory) market ahead of ReRAM", or resistive random-access memory.
Additionally, STT MRAM will likely replace SRAM in system-on-chip applications. STT MRAM consumes less power and promises to have greater scalability than SRAM technologies.
Competition
While Everspin is further along in commercializing MRAM and its variant, there are plenty of other companies developing MRAM technologies:
Infineon (FRA:IFX) and IBM
Avalanche Technology
Crocus Technology
Despatch Industries
Fujitsu (TYO:6702)
Grandis
Honeywell (NYSE:HON)
Hynix (KRX:000660)
Intel (NASDAQ:INTC)
Samsung (KRX:005930)
Spin Transfer Technologies
Toshiba (TYO:6502)
The above-listed companies are in the research and phase and a few are in late stage R&D, according to industry reports.
So, it is likely that Everspin will face significant competition in the years ahead.
Everspin says it has sold 60 million units, so that kind of volume will attract new market entrants.
Financials
Everspin's financial can best be summarized as:
Slowly growing revenues
Significant cash burn
Growing gross margin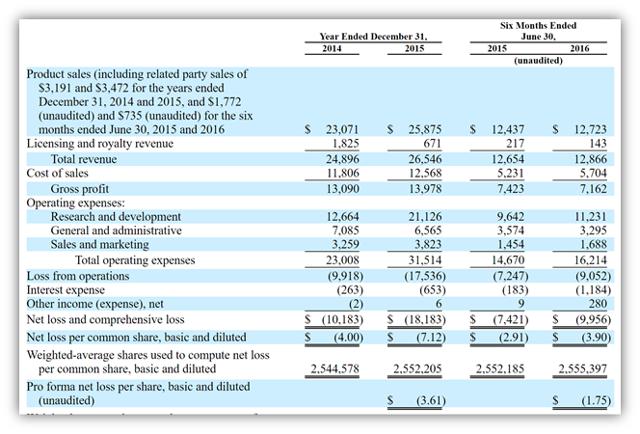 (Source: Everspin S-1 Filing)
Revenue
H1 2016: $12.87 million, 1.7% increase over prior
2015: $26.5 million, 6.6% increase
2014: $24.9 million
Gross margin is indicating steady growth, from 52% in 2014 to 56% in H1 2016. (2016 Unaudited)
Gross Margin
H1 2016: 56%
2015: 53%
2014: 52%
Everspin has not generated cash from operations in the past three reporting periods.
Cash Flow From Operations
H1 2016: $4.65 million cash used in operations
2015: $10.7 million cash used
2014: $7.9 million cash used
The financials present an uninspiring picture of slow growth, cash burn and growing gross margin.
If evaluated on historical financial results alone, Everspin would not be a credible IPO candidate.
However, the company has highlighted its strategic relationship with Singapore-based GlobalFoundries, a manufacturer and distributor of Everspin's embedded eMRAM chips.
Everspin stands to gain royalty payments from the relationship, and a small revenue stream is already present in the company's financials.
As of June 30, 2016, Everspin had $2.6 million in cash and total liabilities of $27.8 million.
IPO Details
Everspin intends to sell 3.75 million shares at a midpoint price of $12 per share, for expected gross proceeds of $45 million, subject to underwriter share purchase options.
Assuming a successful IPO and full underwriter option exercise, the market cap for MRAM would be $133 million. (11.1 million shares outstanding x $12 per share)
The company intends to use $8.5 million of the net proceeds for a payment of "project costs" to its strategic manufacturing and distribution partner, GlobalFoundries, who is also an investor in Everspin.
The remaining proceeds, which would total approximately $35 million, will be used for general corporate purposes, sales & marketing, R&D and potential acquisitions.
There is also a private placement occurring concurrently with the IPO. The company recently agreed to sell $5 million of its common stock at the IPO price upon completion of the IPO to GigaDevice Semiconductor HK Limited. The effect of this potential sale is included in the market cap calculation above.
Stifel, Nicolaus & Co. is the lead left underwriter of the offering.
Commentary
Everspin presents in interesting mix of uninspiring financial performance combined with the potential of strong growth of the MRAM industry.
Its valuation multiple for semiconductor companies is 2.96x sales, so its Price/Sales valuation on 2016 revenue run rate of $25.74 million would be $76 million, much less than its proposed post-IPO valuation of $133 million.
Still, the fact that so many other semiconductor companies are performing research in the MRAM sector is a strong indicator of the potential for this market.
In my view, a bet on MRAM's IPO is a bet on the industry sector growth and the company's ability to take advantage of that expected future growth.
Everspin has the current lead in commercializing its MRAM technologies and may continue with that only if it continues its research and development efforts.
Also, the licensing/royalty revenue model is a hard one to make money on, since royalty rates tend to be low when you don't manufacture or distribute the product.
So while the industry is promising, I remain unconvinced that Everspin is the right vehicle to reap the benefits of that promise.
As a result, my opinion is to AVOID the Everspin IPO.
Disclosure: I/we have no positions in any stocks mentioned, and no plans to initiate any positions within the next 72 hours.
I wrote this article myself, and it expresses my own opinions. I am not receiving compensation for it (other than from Seeking Alpha). I have no business relationship with any company whose stock is mentioned in this article.