Up till September, the British pound had been gaining against the yen, as positive economic data from the United Kingdom coupled with Brexit fears taking a back seat for a brief while.
However, since then, we have seen a reversal, with the GBP being among the weakest and the JPY being among the strongest across major currencies. In spite of the trend that has already developed, I see further room to run for a short GBP/long JPY position.
When we look at the overall movement of the GBP/JPY pair this year, we see that on two separate occasions in both February and June, the GBP/JPY fell by nearly 12 percent, while the current trend in September has taken the pair down just under 7 percent from 138 to 129 at the time of writing. Moreover, we see that the 14-day Average True Range is at its lowest since the beginning of the year, meaning that we could be looking at a potential volatility breakout: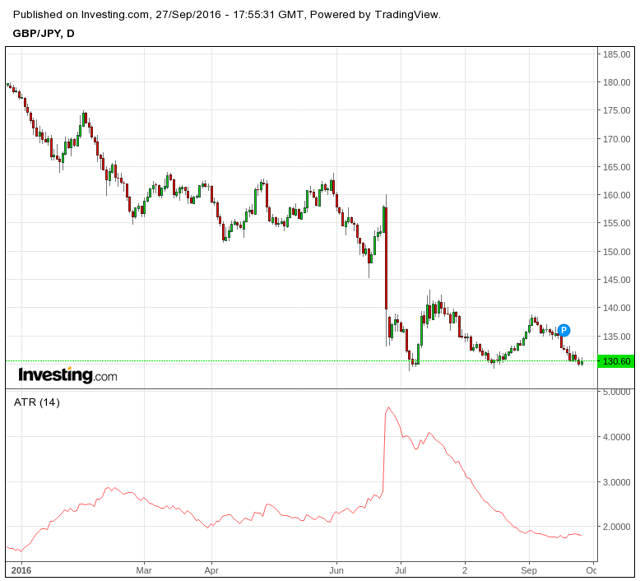 In this regard, I see the case for a downtrend in GBP/JPY continuing, and am ready to initiate a short position. From a British standpoint, continuing speculation of a "hard Brexit," which involves Great Britain leaving the European single market continues to place downward pressure on the currency.
From the Japanese standpoint, a sentiment of risk aversion globally will invariably mean that the yen will go higher. For instance, it was speculated that the yen would push higher if Donald Trump was judged to have won the first presidential debate against Hillary Clinton. While the opposite was deemed to be the case and the yen dropped slightly, the uncertainty surrounding the elections and Brexit will mean that the yen still has room left to run. Moreover, the Bank of Japan itself admits that it fundamentally has a credibility problem, in that markets are unconvinced that there is a credible plan in place to push Japanese inflation to the 2 percent target. In this regard, this will also place upward pressure on the yen.
In conclusion, the yen thrives on uncertainty, and events in our world today represent the epitome of uncertainty. Therefore, I am highly bullish on the yen and getting ready to go long while shorting the pound.
Disclosure: I/we have no positions in any stocks mentioned, and no plans to initiate any positions within the next 72 hours.
I wrote this article myself, and it expresses my own opinions. I am not receiving compensation for it (other than from Seeking Alpha). I have no business relationship with any company whose stock is mentioned in this article.
Additional disclosure: Please note that foreign exchange is a rapidly moving market, and the above analysis reflects the author's opinion at the time of writing only. The author's stated views/positions should not be taken as any form of investment advice, and the author may subsequently modify his views/positions on the basis of new information.