After evaluating Home Depot (NYSE:HD), it's only natural that I look at its main competitor Lowe's (NYSE:LOW) for comparison purposes. I like both home-improvement retailers, as I think (subjectively) that they both maintain much better immunity to Amazon-related threats than many traditional retailers, largely due to the nature of their business and even the weight and dimensions of much of their merchandise. Home Depot's moat came through in the numbers, so I'd like to know if the numbers tell a similar story for Lowe's as well, especially since it's priced at a discount to its bigger competitor.
Return on equity, with a slight twist
Right off the bat, LOW looks inferior to HD by a wide margin when comparing 'headline' ROE's. I built the below DuPont analysis using data from Lowe's financial statements to help illustrate the disparity.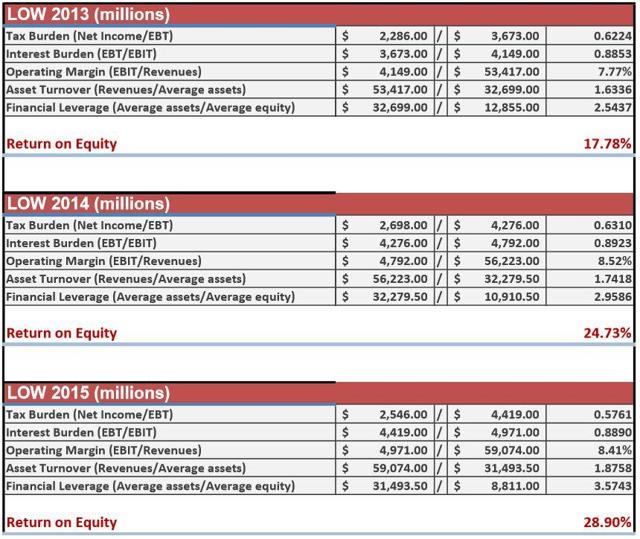 As I explained in my article on Home Depot, however, much of this has to do with leverage. Home Depot has been loading up on debt, and I think its 'true' ROE is probably closer to the 34% to 42.5% range. Still, I'd say its underlying ROE is more-than-likely still superior to that of Lowe's, judging by Home Depot's better operating margins and asset turnover.
While both company's have been shrinking their equity (one of the major forces driving ROE-magnifying leverage higher), Home Depot is actually continuing to increase its retained earnings.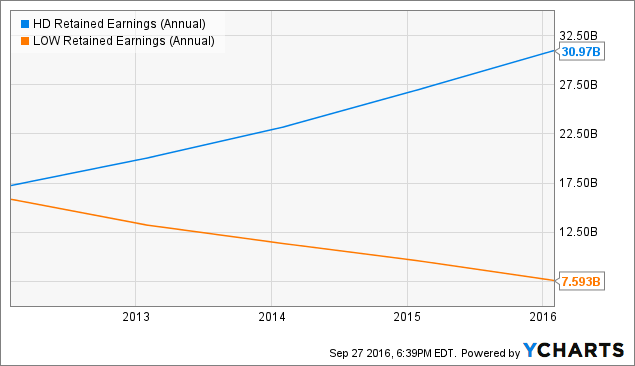 HD Retained Earnings (Annual) data by YCharts
I like companies that generate high returns on equity, while also increasing retained earnings, and Home Depot better fits this description.
There's also another twist to the story, however, as a one-time charge distorted LOW's fiscal 2015 results:

Source: LOW 2015 10-K
Backing out this charge, and I'd say that 'adjusted' ROE is closer to the below figure.

But what about leverage? If we hold this constant, applying an equal 2x to 2.5x leverage ratio (the same used for Home Depot's 'adjusted' ROE above and in my last article), I think ROE would sit in a range between 19.53% to 24.42% for Lowe's. So even after "leveling the leverage playing field" so to speak (and adjusting for nonrecurring charges), I'd still say Home Depot offers superior returns to shareholders.
Now let's take the whole capital structure into consideration
Now I'd like to compare and contrast return on invested capital.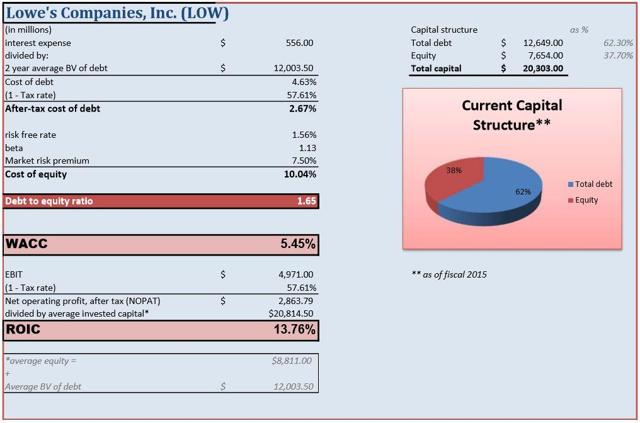 As mentioned before, an impairment is holding back LOW's EBIT, and therefore overall ROIC, so adjusting for this is necessary to compare it with Home Depot's headline ROIC numbers. The company's 10-K provides an adjusted EBIT figure of $5,501 (in millions), which we can pair with an effective tax rate that strips out the impairment charge as well, to arrive at an adjusted NOPAT figure of roughly $3,339 (in millions). I think Lowe's underlying ROIC, therefore, is closer to 16%. This compares to a headline ROIC number of 27.66% for Home Depot.
HD's economic spread also appears wider, which might have something to do with its bigger size-and-scale. So summing this section up, I'd say Lowe's definitely has a moat, it's just not as wide as Home Depot's.
And there's also the off-balance sheet operating leases...
Like Home Depot, Lowe's uses "off" balance sheet operating leases, which I'd like to theoretically capitalize. So to start things off, I discounted these leases by the internal rate of return of its "on" balance sheet capital leases.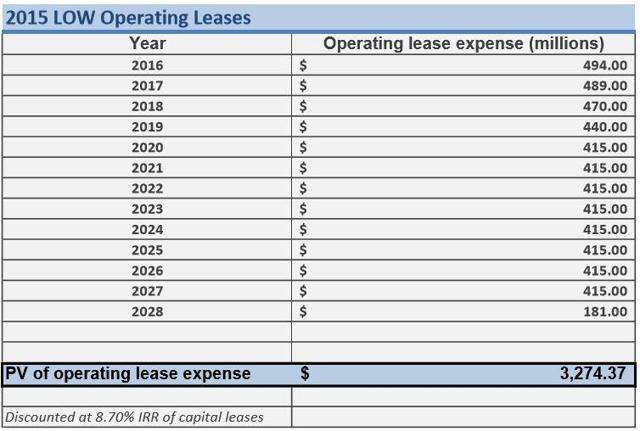 Now we can inject these leases into the capital base.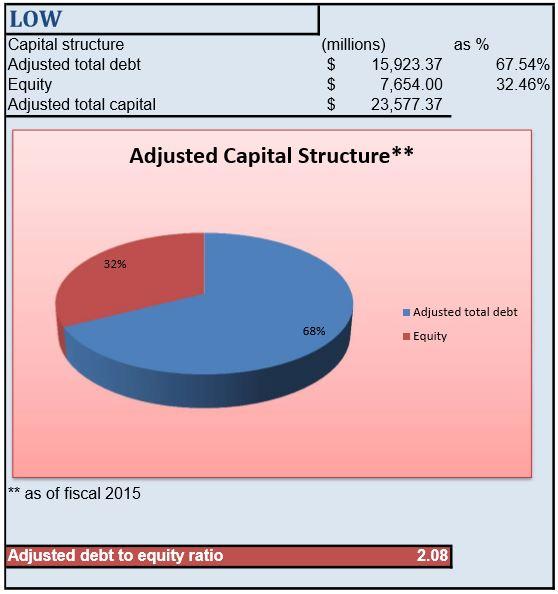 Lowe's debt-to-equity ratio jumps notably from 1.65x to 2.08x, but it still looks relatively conservatively financed when compared to Home Depot's unadjusted ratio of 3.37x and adjusted ratio of 4.02x.
We can also now estimate depreciation and interest expenses, before finally arriving at an operating profit figure that accounts for the leases as well. Note: I'm also using management's adjusted EBIT number that excludes the significant one-time item going forward.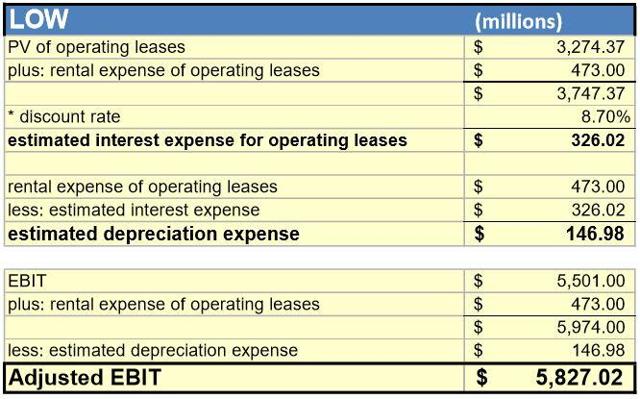 Now we can divide this number (after accounting for taxes, using the tax rate that excludes the charge) by the adjusted capital base.

As we can see, ROIC dips slightly, but not by a catastrophic amount. Its adjusted ROIC of 15.27% compares to an adjusted ROIC figure of 24.80% for Home Depot, so once again it appears LOW trails on this front.
Conclusion
I could definitely rationalize the case for higher valuations for Home Depot, as I think it's a better run operation. This doesn't mean I think Lowe's is a poor business, however; on the contrary, I think it's a strong one - earning enviable economic profits. It also has a stronger balance sheet at the moment, I'd say. Valuations are more attractive here for LOW than HD on a forward earnings basis, and on a price-to-sales basis as well.
If I absolutely had to buy one or the other, I'd probably go with Lowe's for the short and maybe even medium term. It's not exactly destroying shareholder value, and it's got over five decades of dividend increases behind its belt.
Home Depot's also doing a better job growing comps, though. I think Home Depot would be the better investment over a long period of time, and sometimes holding your nose and paying a higher price for quality is the better move. I'm personally holding out for a better entry price into Home Depot.
If you enjoyed this article and would like to receive further updates and articles in the future, please feel free to hit the "Follow" button at the top of the page next to the author's name.
Disclosure: I/we have no positions in any stocks mentioned, and no plans to initiate any positions within the next 72 hours.
I wrote this article myself, and it expresses my own opinions. I am not receiving compensation for it (other than from Seeking Alpha). I have no business relationship with any company whose stock is mentioned in this article.
Additional disclosure: Articles I write for Seeking Alpha represent my own personal opinion and should not be taken as professional investment advice. I am not a registered financial adviser. Due diligence and/or consultation with your investment adviser should be undertaken before making any financial decisions, as these decisions are an individual's personal responsibility.