In May 2016, we recommended an idea on Commerzbank (OTCPK:CRZBF) (OTCPK:CRZBY) and Deutsche Bank (NYSE:DB) as per which we suggested that Commerzbank on the long side and Deutsche Bank on the short side looked like a very attractive pairs trade opportunity. The idea has returned +14% since our call.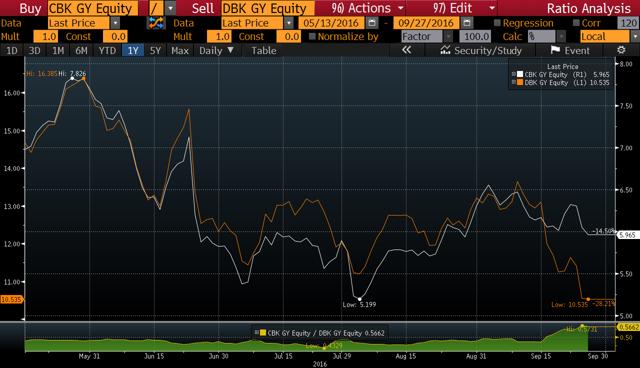 Source: Bloomberg
Deutsche Bank has seen a multiple de-rating and as a result two German banks are currently trading at the roughly similar 2017 P/B multiples, while Commerzbank is trading at a premium on a trailing P/B basis.

Source: Bloomberg, Renaissance Research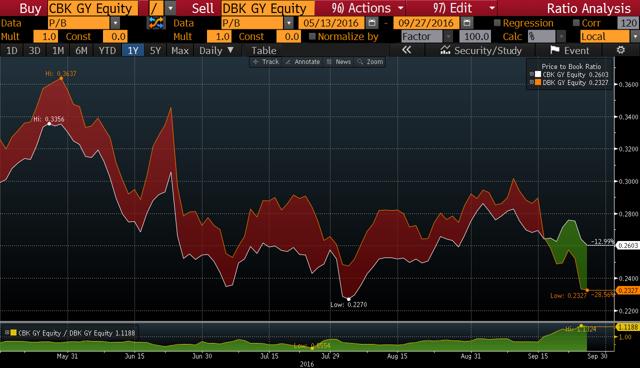 Source: Bloomberg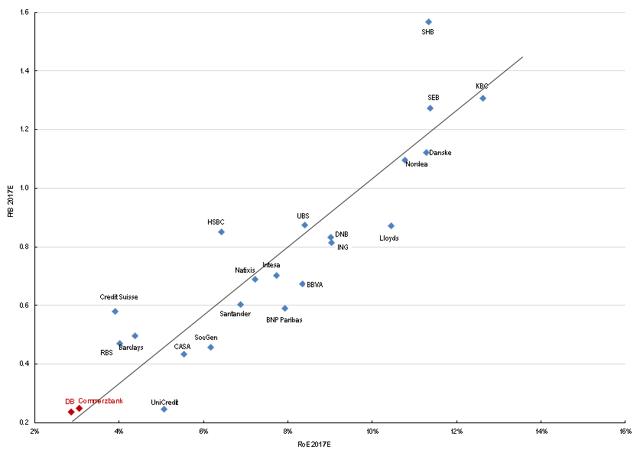 Source: Bloomberg
We are revisiting our thesis and illustrate that the current market valuation still fails to reflect major structural differences between the two German banks. As such, we expect Commerzbank to continue outperforming Deutsche Bank.
Litigation issues
Although we have been bearish on Deutsche Bank since the beginning of the year and litigation charges have been consistently highlighted as an important issue worth keeping an eye on, the first claim of $14bn set by the Department of Justice in the United States (DoJ) came as a surprise for us.
Besides the RMBS fine, materially above the bank's litigation provisions of EUR5.4bn, Deutsche Bank still needs to settle the Russian money laundering case and the biggest uncertainties here are the timing and the level of claims. By contrast, Commerzbank has already settled its major litigation case with US regulators and we do not expect any costly settlements going forward.
Capital ratios
Having a CET1 ratio of 11.5%, Commerzbank is fully on track to meet its 2019 regulatory requirement of 11.75%, newly disclosed SREP of 10.25% plus a potential domestic buffer (D-SIB) of 1.5%. The bank's leverage ratio is also at a very comfortable level of 4.5% (based on revised CRD4/CRR rules).
In contrast to CBK, DB's CET1 of 10.8% looks very weak compared to its SREP 2019 requirement of 12.5%. Moreover, if Deutsche Bank were to reach a $14bn settlement, it could push the bank's CET1 ratio to below 9% from the 10.8% level in Q216. DB's leverage ratio of just 3.4% is also an issue.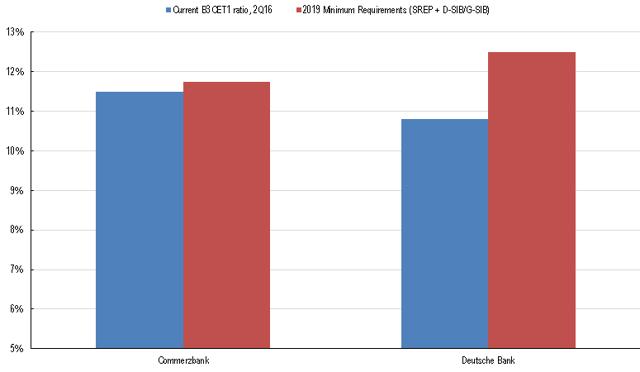 Source: Company data
Cost of equity
The current multiples still fail to reflect the fact that Deutsche Bank's cost of equity is higher than Commerzbank's one. CDS spreads, which are often used as a proxy for CoE, confirm our view. The CDS markets have been pricing an additional risk premium for Deutsche Bank since the beginning of the year. The below chart shows that a ratio between DB and CBK CDS spreads has reached the historical maximum.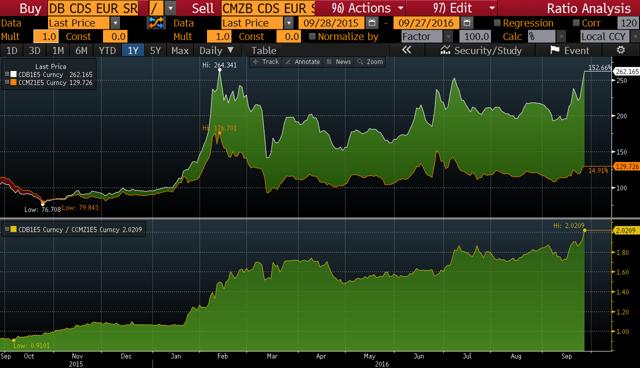 Source: Bloomberg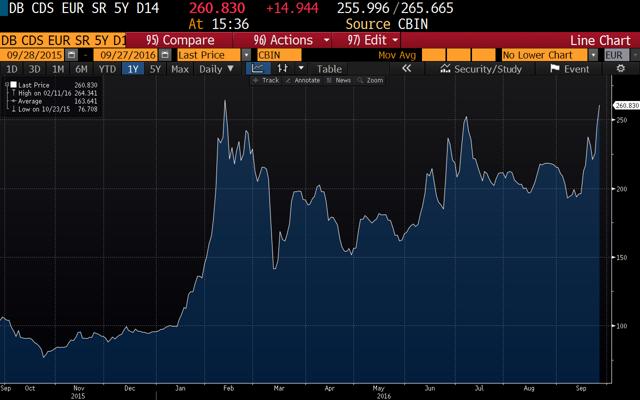 Source: Bloomberg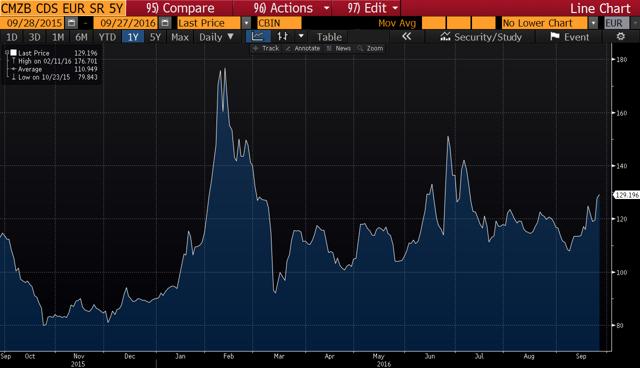 Source: Bloomberg
Strategy/Management
Martin Zielke, Commerzbank's new CEO, has a lot of work to do to boost the bank's profitability. On 27 September, media reported that Commerzbank plans to eliminate 9000 jobs and suspend dividend payments for this year. While a suspension of dividends is always a disappointment for investors, cost-cutting measure should be very welcomed by the market. As a reminder, Martin Zielke has an excellent cost savings track-record, hence any upcoming official announcements would be credible.
As for Deutsche Bank, analysts and investors have given the company's new management too much credit based on cost discipline rhetoric, but are yet to see signs of any action.
Bottom line: The trade still has legs
Commerzbank has outperformed Deutsche Bank by 14% since our call. However, we believe the pairs trade still has legs as current multiples fail to reflect major structural differences between the two German banks regarding litigation issues, capital ratios, implied risk premiums and strategy.
Thank you for reading. If you are interested in equity research on U.S., European, LatAm and CEEMEA banks/financial companies, including fundamental analysis, DCF/multiples valuation, commentaries on price-sensitive events and actionable trading ideas, click the "Follow" button beside my name on the top of the page.
Disclosure: I am/we are long CRZBY.
I wrote this article myself, and it expresses my own opinions. I am not receiving compensation for it (other than from Seeking Alpha). I have no business relationship with any company whose stock is mentioned in this article.
Editor's Note: This article discusses one or more securities that do not trade on a major U.S. exchange. Please be aware of the risks associated with these stocks.