"Protect the downside. Worry about the margin of safety." - Peter Cundill

"The three most important words in investing…margin of safety" - Warren Buffett

"The margin of safety is always dependent on the price paid. It will be large at one price, small at some higher price, nonexistent at some still higher price." - Ben Graham
In 1991, Seth Klarman wrote an excellent book called Margin of Safety. The book has become a tome for value investors and has stood the test of time. Unfortunately, only around 5,000 copies of the book were printed and can cost upwards of $2,000 on Amazon. Luckily, it's not hard to find a PDF version of the book floating around the internet.
This past year I started to delve into thrift conversions. I remembered that Klarman talked about thrift conversions in The Margin of Safety, so I ended up re-reading the book. After re-reading The Margin of Safety, I decided that it would be a good exercise to articulate my thoughts on margin of safety and provide a few real world examples.
Seth Klarman wasn't the guy who came up with a margin of safety. Ben Graham - the father of value investing - made the term popular in his book The Intelligent Investor Chapter 20. The following passage in Chapter 20 and helps define a margin of safety:
"The margin-of-safety idea becomes much more evident when we apply it to the field of undervalued or bargain securities. We have here, by definition, a favorable difference between price on the one hand and indicated or appraised value on the other. That difference is the safety margin. It is available for absorbing the effect of miscalculations or worse than average luck. The buyer of bargain issues places particular emphasis on the ability of the investment to withstand adverse developments. For in most such cases he has no real enthusiasm about the company's prospects."
A margin of safety is the ability to buy a security well enough below its intrinsic value. If an investor accomplishes this, adverse changes in the business cycle, mistakes on valuation and bad luck, will not prevent the investor from losing real wealth. Moreover, if something bad happens, there is some type of asset - cash, inventory, land, a facility, machinery, etc. - that will protect the downside.
The term margin of safety can resonate differently between investors and is more difficult to implement in practice. In regards to the former, the term can be applied to many different investment strategies i.e. growth, liquidation, value, fixed-income, etc. - leading to misperception among classes. For the latter, well, anything in theory is easy - in the real world applying theory becomes challenging.
I don't want this article to be in-depth theory of 'margin of safety', but rather have practical use. Accordingly, I will provide three examples - in which I used the margin of safety in the real world.
AMREP Corporation (NYSE:AXR)
I bought AXR back in June due to the significant market discount from price, to intrinsic value. I highlighted the investment prospects in an article titled 'AMREP: A Left-For-Dead Company Trading At A Steep Discount To NAV With Underlying Catalysts'. The entire thesis can be viewed here for Seeking Alpha Pro subscribers.
A short-version of the thesis was; the company's market price was significantly undervalued to the private value of their land holdings. Based upon historical land sales and current prices of land in Rio Rancho, the 17,232 undeveloped acres owned had potential to be worth $4,000-7,000 per acre. Furthermore, the company's developed land could easily be valued at $200,000-250,000 per acre.
After utilizing a sum-of-the-parts valuation, I arrived at an implied valuation of $8.88-41.34/share. The market price at the time was $4.34/share.
The big issue with AXR was their money losing Fulfillment Services business. Furthermore, there was an after-shock of the Great Recession which left this company for dead. Basically, the Fulfillment Service business is secularly shifting and selling acreage isn't really a steady cash flow model. Oh, and there was some high cost debt on the balance sheet, financed by a related party.
The good thing about AXR was the significant valuation discount to their land holdings. Also, the company started to sell off secular declining business segments and the debt was being paid down - the company is currently in a net cash position.
The margin of safety was easy to identify with AXR. If there was a downturn in the business cycle, miscalculations from my part, or just plain bad luck, the land should hold intrinsic value. Moreover, the discount from intrinsic value was enough for me to know there wasn't going to be a lot of absolute downside or much capital impairment of my wealth if I was wrong.
I attached my original SOTP model of AXR below: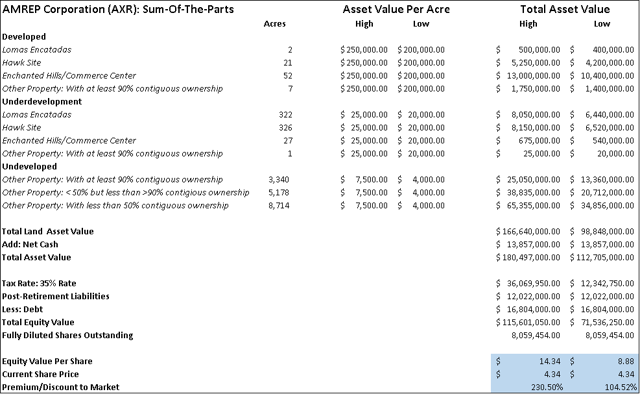 Consolidated-Tomoka Land (NYSEMKT:CTO)
Consolidated-Tomoka Land is a company I highlighted in July. Unlike AMREP, Consolidated-Tomoka Land hasn't run up in price and still retains a margin of safety. I will give a quick overview of the thesis and implied margin of safety. Like AMREP, you can find my original thesis on Consolidated-Tomoka Land here, if you are a Seeking Alpha Pro Subscriber.
The thesis is similar to AMREP. Consolidated-Tomoka Land has attractive land assets that are worth significantly more than the public market cap. Management has recognized the discount from the assets private value and so has an activist investor. The thesis is either the activist investor will be successful in his campaign - leading to a higher return on an IRR standpoint - or management slowly liquidates for a better long-run return.
The margin of safety with Consolidated-Tomoka Land lies within the discount to NAV and assets owned on the balance sheet. Assets consist of: 10,600 acres in Daytona Beach, Florida, 235 acres in the Tomoka Town Center and 600 acres to be sold to ICI Homes. Aggregately, the balance sheet is valuing these acres at $4,880/share - historically they have sold for in excess of $100,000 per acre.
Land isn't the only margin of safety variable. The company owns 32-single tenant and 8-multi tenant properties (actually just bought 14 more). They also own subsurface assets and the LPGA International Golf Course. These assets are likely worth more than the entire market cap of the company.
You can view my original valuation below (does not have maintenance diligence done since new acquisitions):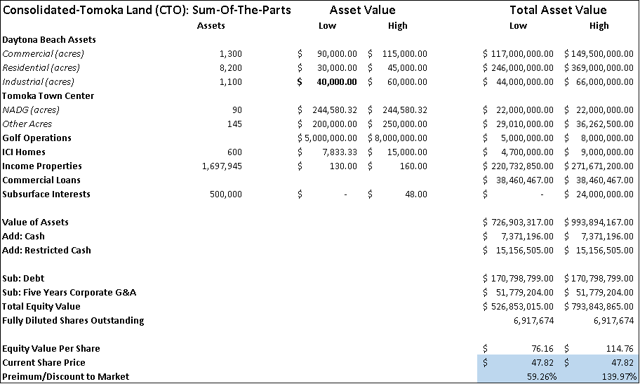 Consolidated-Tomoka Land is currently trading around $52/share. Management is executing sales, putting cash to work via 1031-like-kind exchange and value is slowly poking through the holes. If something goes terribly wrong, there is a strong margin of safety at the current price. I am not expecting much capital impairment at the current price if I am wrong.
Solera National Bank (OTCPK:SLRK)
Solera National Bank is a one-branch community bank located in Lakewood, Colorado. The location is in a nice growing area - serving the Hispanic market - an underserved demographic. The bank's model is commercial in nature with a heavier focus on CRE, C&I and COO loans.
In the past the bank was pressured by heavy executive and director compensation. To make a long-story short, an activist took-over, fired a bunch of board members, hired a new management team and rapidly cut noninterest expenses - specifically compensation.
The bank has now had their seventh profitable quarter and net income is at an all-time high. Despite the turnaround, the company is trading around 80% P/TBV and has a P/E around 9.7x.
The valuation is telling investors that the market thinks the bank is worth less than its tangible book value and the turnaround doesn't really matter. Interestingly, the bank has a ROA and ROE of 0.91% and 6.11%, respectively. There are also zero nonperforming loans, nonperforming assets and OREO. Finally, the bank is well-capitalized: Tier 1 Leverage ratio of 13.8%, Tier 1 risk-based capital of 18.9% and total risk-based capital of 20.2%.
As long as management continues to do what they do, retained earnings will grow - resulting in growth in tangible book and capitalization ratios. Alternatively, the bank can continue to put deposits to work - lowering their efficiency ratio (currently around 70%) and driving the top and bottom line. The margin of safety lies in the bank's discount from tangible book and the higher capitalization ratios help protect the downside.
Summary
The margin of safety is an important topic amongst value investors and a key skill one must implement in investment management. In theory, the margin of safety is easy to understand. However, employing the theory becomes challenging in the real-world. The key to successful execution of the theory is to focus on downside risks and to have some sort of asset as a cushion for when things go wrong. If successful, there is potential for risk-adverse returns.
Stock of the Day: CCOM Group (OTCPK:CCOM)
CCOM Group distributes HVAC, electrical and plumbing equipment through its subsidiaries: Universal Supply Group, RAL Supply Group, S&A Supply, American Universal and Universal Energy Products. The subsidiaries have been around since the 1920's and the company's operations can be found in Western Massachusetts, Hudson Valley, Central New Jersey and Westchester County and Long Island, NY.
On a valuation standpoint, the company is trading right around its net current asset value. The company also appears to have property and equipment listed on its balance sheet - however, the annual report does not specifically state what these are (limited pink sheet).
The company is growing. In the first six months of 2016, net sales are up 9.6% and gross profit has increased 8.2%. Furthermore, operating income is up from $230,080 to a high of $510,105 and net income has increased to $291,798. At the current run-rate, the company has a forward P/E of 6.60x.
The problem is the limited information, tiny market cap and liquidity. The name deserves a significant amount of research - something I have not done yet. It would be imperative to understand management's incentives and if the current turnaround in the bottom line is sustainable. Finally, there is some preferred stock on the balance sheet. Investors should figure out if this stock gives management control of the company.
I will keep an eye on this company and let readers know if I do any digging. Furthermore, I would be curious to hear your thoughts on the company.
Other Readings
Why Professor Damodaran Is Wrong On Margin Of Safety
Responding To Margin Of Safety Myths
Probability: Should It Play A Part In Your Asset Allocation?
A Wild Ride With Hutchinson Technology And The Case For Diversified Portfolios (NASDAQ:HTCH)
Bank Of America Remains Cheap - A Historic Look At Big Banks(NYSE:BAC)
Book of the Day: The Wealth and Poverty of Nations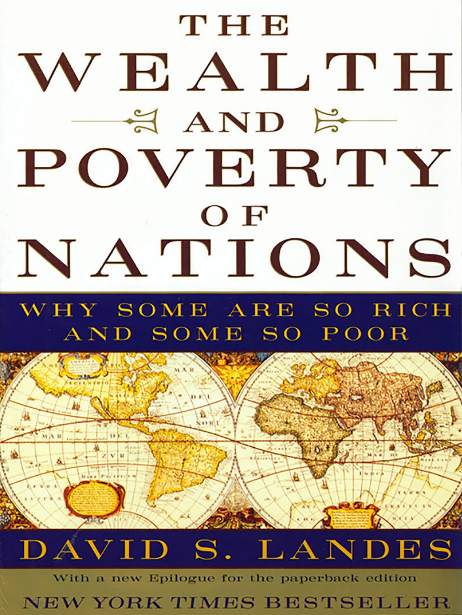 "Professor David S. Landes takes a historic approach to the analysis of the distribution of wealth in this landmark study of world economics. Landes argues that the key to today's disparity between the rich and poor nations of the world stems directly from the industrial revolution, in which some countries made the leap to industrialization and became fabulously rich, while other countries failed to adapt and remained poor. Why some countries were able to industrialize and others weren't has been the subject of much heated debate over the decades; climate, natural resources, and geography have all been put forward as explanations--and are all brushed aside by Landes in favor of his own controversial theory: that the ability to effect an industrial revolution is dependent on certain cultural traits, without which industrialization is impossible to sustain. Landes contrasts the characteristics of successfully industrialized nations--work, thrift, honesty, patience, and tenacity--with those of nonindustrial countries, arguing that until these values are internalized by all nations, the gulf between the rich and poor will continue to grow."
Disclosure: I am/we are long SLRK. I wrote this article myself, and it expresses my own opinions. I am not receiving compensation for it (other than from Seeking Alpha). I have no business relationship with any company whose stock is mentioned in this article.
Editor's Note: This article covers one or more microcap stocks. Please be aware of the risks associated with these stocks.