Honestly, I don't know whether the turnaround at Vince Holding (NYSE:VNCE) will work. It's simply too early to tell, as VNCE has undertaken a rather significant overhaul. It brought in CEO Brendan Hoffman - a bit of a turnaround story himself, as the former "whiz kid" had his star tarnished a bit by a stint at Bon-Ton Stores (NASDAQ:BONT), which looks at significant risk of bankruptcy at the moment. Hoffman was joined by founders Rea Laccone and Christopher LaPolice, who returned to the company under a consulting agreement in November.
The changes went beyond leadership. The company completed a rights offering earlier this year that strengthened a balance sheet that amidst plunging profits and continued store openings had become a bit questionable. Vince has changed its merchandising strategy, abandoning a larger focus on the off-price channel, a focus that in part led to a disastrous collapse in its business. And through the first half of fiscal 2016 (ending January 2017), it's done everything it can to rid itself of previous inventory except light it on fire out back.
Since the plan under Hoffman began, I've been reasonably bullish on VNCE. To be sure, this is a high-risk play: the balance sheet isn't completely fixed, and the company's exposure to struggling department store customers would be a concern even if Vince weren't trading 80%+ off its post-IPO highs. But those highs - around $37 - occurred less than two years ago, amazingly enough, and if there is a brand worth rescuing here, there's still potential upside.
I do like the overall strategy, and I thought the Q2 report - even with some dreadful numbers - showed continued progress in the first stage of Vince's plan going forward. To be sure, there's a lot left to do, and Hoffman himself - wisely, in my opinion - from the jump has focused investors' eyes on Q4 and the holiday season as the first true test of whether Vince can get back to being what it was. But through CY16, Vince at least has positioned itself to have a fighting chance.
A Fresh Start
I don't want to say (or write) that the Q2 numbers don't matter - but I'm not sure the headline figures have any real meaning. They were dreadful, admittedly: revenue fell nearly 25% year over year, with a 32% decline in wholesale and a -18% comp in DTC (which includes e-commerce). SG&A deleveraging an incredible 1,690 bps - and excluding one-time factors in the year-prior quarter, by 2,150 bps.
A cursory read might suggest that Vince couldn't have done any worse if it tried. But the catch is: it did try. In fact, Q2 went roughly to plan: first-half sales (down 8.2%) were in the mid- to high-single-digit range guided after Q4, and even after a 13% increase in revenue in Q1. Vince pulled back on full-price shipments in the wholesale channel and on inventory in stores, as the pre-fall collection was cut in half. Vince essentially wanted to put its best foot forward with both consumers and department store buyers, and chose to focus on fall product where Laccone and LaPolice had more input. By Q4, as Hoffman reiterated on the Q2 conference call, Vince, from a product standpoint at least, will be in position to see if the new designs, the new branding, and the new strategy are working. And while the Q2 numbers, in particular, were ugly, the initial stages of the new strategy at least are going to plan.
Will It Work?
The question is whether it will work. Vince has to erase the message it sent to customers over the past few years, when higher off-price channel sales and a heavy promotional strategy. Higher-end stores like Neiman Marcus (NMG) and Nordstrom (NYSE:JWN) don't appear to be struggling to quite the same extent as Macy's (NYSE:M) or Dillard's (NYSE:DDS), but sales are relatively stagnant and buyers are conservative. Vince has to win back the favor of some of those key clients after disappointing over the past few years.
Vince's success, admittedly, is far from guaranteed. This is a company, after all, that sells $195 T-shirts; there's not a lot of room for error in terms of either product or branding. And one key question looking forward has to be on the margin front. In FY14, VNCE generated $340 million in sales with 37 stores and $96.6 million in SG&A. In FY16, VNCE is guiding to $297.5 million in revenue (at the midpoint of guidance) while operating 52 stores and planning for $128-$133 million in SG&A. Even accounting for ~$3.8 million in first-half strategic spend (some of which runs through COGS), there's a ~13% decline in revenue against a ~30% increase in SG&A.
Some of the increase is coming from recent store openings and should Vince sales rebound, the company can grow into that footprint, so to speak. But there are structural changes to the margin profile as well. In the 10-Q, Vince cited an increase of nearly $1.6 million in consulting fees (almost 120 bps in margin impact), coming primarily from agreements with the co-founders. A new distribution center is up and running; that may provide a long-term benefit but a mid-term margin headwind assuming it's not going to operate at full capacity for some time. Incentive compensation is up, the store count has increased over 20% in the last twelve months, and two new vice presidents came on in Q1, per that quarter's conference call. So, at least in the near term, it's a bit dangerous to look at VNCE's nearly $1 per share EPS in FY14 as a potential guidepost; margins may be lighter going forward and there are also ~30% more shares as a result of the rights offering.
But I still think there's enough potential here that if the turnaround works - or begins to work in Q4 and Q1 - VNCE could drive serious upside. Hoffman said on the call that department store buyers were optimistic toward the fall product and that those stores were understanding and approving of the new strategy. (The reversal of Vince's off-price efforts, in particular, likely was well-received.) Moving back toward a full-price strategy should benefit gross margin, which can offset at least some of the relatively larger SG&A spend. Vince still has a relatively small footprint (even if its brand is not the type to support 300 or 400 stores in the U.S.); international revenues remain in the high single digits as a percentage of total sales, and Hoffman on the Q2 call discussed the possibility of opening flagship stores in Europe.
And I don't believe VNCE has to get back to FY14 peaks to justify the current price. Operating margin in FY13 and FY14 was 17.2% and 20.6%, respectively; even getting back to $350 million in revenue (+15%) at a 12% margin gets EPS over $0.50 on a fully taxed basis. (VNCE has NOLs but also a Tax Receivable Agreement with former P-E sponsor Sun Capital Partners.) Assuming Vince reaches those figures in the next 2-3 years, there's likely enough room for future improvement to support a high-teen to low 20s multiple, implying 50% to even 100% upside.
While I don't think that's guaranteed, by any means, I do think Vince has a legitimate shot to at the least show significant improvement in the back half (against a pair of very easy comparisons as well). Piper Jaffray spiked the stock last month when it reported checks showed strong early results at Nordstrom and Neiman Marcus, with the firm also supporting Hoffman's contention that department stores still were willing to support the brand. Sites for Nordstrom and Neiman Marcus do still show a heavy concentration of Vince apparel on sale, though it appears to be older product (it's heavily, and sometimes double, discounted).
And I do think VNCE is worth a gamble. I thought similarly coming out of Q1, with the stock just above $6; I'm a bit disappointed in myself for missing a dip below $5 in early August. But Tuesday's close of $5.91 still looks reasonably tempting; VNCE admittedly is a binary play, but it's also a company that should be building confidence. The turnaround strategy under Hoffman is logical, and the execution in the first half is at the least a good start. VNCE needs to show something in Q3, whether in terms of realized revenue or commentary, and Q4 may very well be a binary event at this point. In terms of sentiment, though, at this point I don't think Vince needs to be perfect in the back half; it simply needs to show some longer, greener shoots. Full-year guidance implies reasonable back-half growth (4% at the midpoint), which might seem a touch aggressive; but with a larger store count, better inventory, and easy comparisons, it's not quite as aggressive as it seems.
I do believe that if VNCE hits that guidance, the stock will be sharply higher than $6 in March; and early signs show that's a reasonable bet to take. My one concern in the near term is the chart, for two reasons: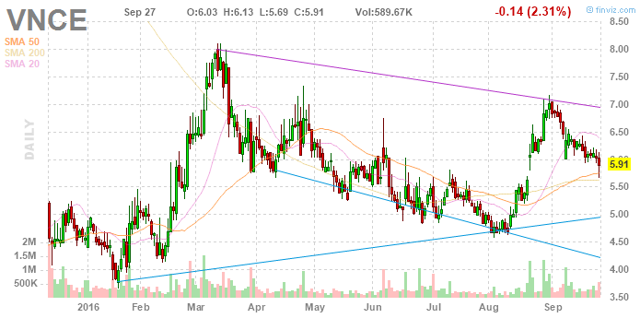 source: finviz.com
The first is that it's simply an ugly chart, and I'm not terribly compelled to buy tomorrow, particularly with Q3 earnings more than two months away. The second concern is whether the decline is a sign of what's happening on the floor in Nordstrom and Neiman Marcus and Bloomingdale's - or if there's some just profit-taking off a five-month high.
But I do have VNCE relatively high on my watchlist; I'd love to see the stock decline further, but barring any further news I think there's an opportunity ahead of Q3. It is a binary play, admittedly; if either Q3 or (especially) Q4 wipes out, then it gets extremely difficult to rebuild a bull case for the stock. (There aren't any more founders to bring back; if the product still stinks in December, I'm not sure where the company is supposed to turn.) But below $6 - on a market cap basis, still nearly 80% below peaks - there's a not-insignificant possibility of a double or better if Vince executes its plan relatively well, and if LaPolice and Laccone can recapture their former magic. It's too early to know for sure - but that's why there's an opportunity. And I still think it's worth a gamble.
Disclosure: I/we have no positions in any stocks mentioned, but may initiate a long position in VNCE over the next 72 hours.
I wrote this article myself, and it expresses my own opinions. I am not receiving compensation for it (other than from Seeking Alpha). I have no business relationship with any company whose stock is mentioned in this article.