TC Pipelines (NYSE: TCP) is a master-limited partnership based in Calgary, Alberta. The company owns and operates pipelines in both the United States and Canada. The company is primarily owned by TransCanada corporation (NYSE: TRP), which owns 24.65% of the outstanding units valued at almost $1 billion.
TransCanada stock has had a difficult time recently. The company watched its stock price peak at just over $75 per share in November-2014. From then, the company's stock price dropped until a bottom in February 2016 at just under $40 per share. However, since then, the company's stock price has recovered by more than 30% to $55 per share and the company continues to offer a dividend of just under 7%.
Despite this drop, TransCanada continues to have impressive potential. The company's partial ownership by TransCanada means that the company will experience minimal volatility. The company also has impressive cash flow potential shown by its ability to continue to pay out a dividend of just under 7%. Combining this ownership with TC Pipeline's cash flow potential means that the company is a strong investment.
TC Pipelines Investor Highlights
Now that we have an overview of TC Pipelines and the company's recent actions, it is now time to discuss the company's investor highlights.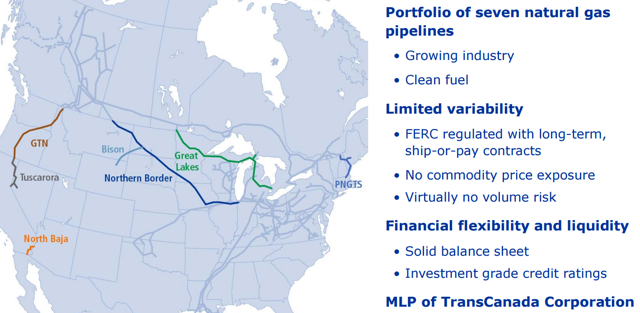 TC Pipelines Assets - TC Pipelines Investor Presentation
TC Pipelines has a portfolio of seven natural gas pipelines meaning that the company's entire asset base is natural gas pipelines. Compared to many other kinds of commonly used fuel (oil, coal, etc.), natural gas is a clean fuel source meaning it is a growing industry. The company has to deal with limited variability with the company's contracts centered around long-term payment contracts.
More importantly, the company has two strong but less quantifiable assets. The company has a strong balance sheet and an investment grade credit rating. That means the company has to spend less time worrying about the ability of its customers to pay. More importantly, the company's balance sheet means it can make additional acquisitions should the opportunity present itself.
Secondly, the company is the MLP of TransCanada Corporation, an MLP with a market cap of just under $38 billion. As a large oil company, TransCanada corporation that owns a significant stake in TransCanada Pipelines, TransCanada corporation can help the company increase its asset base or purchase contracts with its existing assets. This should help both TC Pipeline's financial strength and the company's ability to make future acquisitions should a particularly appealing one present itself.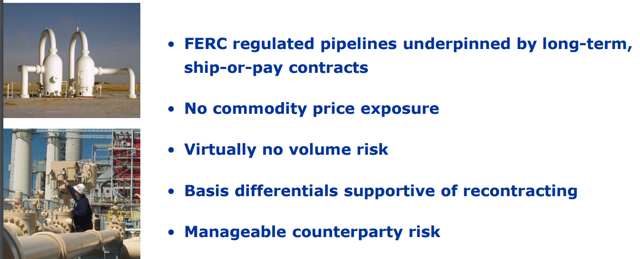 TC Pipelines Safety - TC Pipelines Investor Presentation
More importantly, on top of TC Pipelines impressive portfolio and the company's strong balance sheet and powerful parent company, it is now time to discuss TC Pipelines' cash flow reliability. TC Pipelines has long-term ship-or-pay contracts with the customers that use its pipelines. What this essentially means is that no matter whether the company uses the pipelines, whether oil prices has crashed, etc., TC Pipelines will continue to earn its cash flow.
As a result, there is pretty much only one thing that can hurt TC Pipelines long-term income. That is if the company's customers go bankrupt. Given the fact that the majority of the company's customers are investment grade customers and that the revenue earned by low oil prices (which requires the pipeline to transport) as opposed to not shipping oil at all is higher, the chance of a customer going bankrupt and hurting TC Pipelines cash flow is incredibly low.
This helps to explain why TC Pipelines is a strong investment. The company has impressive cash flow, a strong parent company, and an impressive portfolio of assets. Coupled with the company's balance sheet, the company has strong growth potential for this cash flow which should help TC Pipelines earnings over the long-term.
TC Pipelines Strategy
Now that we have an overview of TC Pipelines including the company's investor highlights, it is now time to discuss the company's strategy.
TC Pipelines Cash Flow and Investment Approach - TC Pipelines Investor Presentation
TC Pipelines has a stable asset base formed by reliable and resilient infrastructure. The company is currently focused on optimizing the value of its portfolio. The company's pipelines have a lifespan of decades meaning that they can continue to generate strong income for decades. It means that rather than having to spend a long amount of time worrying about its existing assets, the company can instead choose to focus on taking advantage of new assets.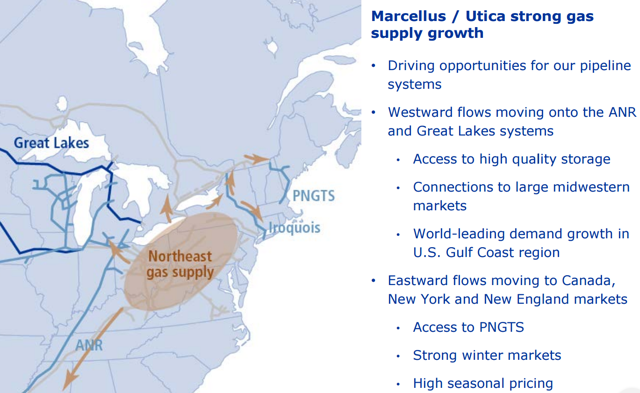 TC Pipelines Shale Growth - TC Pipelines Investor Presentation
TC Pipeline's growth opportunity comes from the company's proximity to strong shale assets. The northeast gas supply is one of the largest shale discoveries in the United States and has been increasing rapidly since the 2008 oil crash when shale became increasingly popular.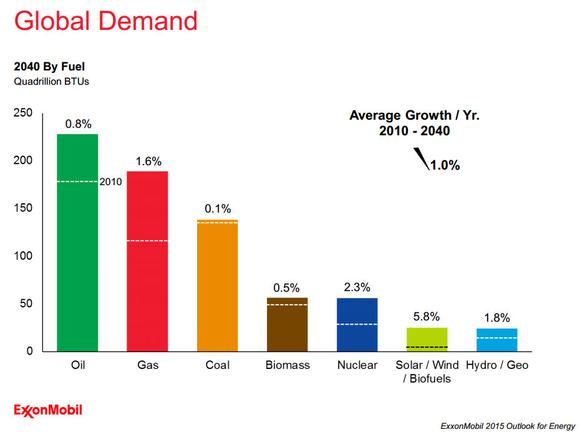 Global Energy Market Demand - Exxon Mobil
Coal is also an incredibly polluting form of energy. The shift to renewable energy will be slow, but it will likely involved a less polluting form of energy as an intermediary. Natural gas, with its abundant supply and relatively low pollution, will become an even more significant form of energy.
The above chart from Exxon Mobil (NYSE: XOM) shows that natural gas demand is expected to continue growing by 1.6% year over year until 2040. This indicates that natural gas demand will double by 2040. And growth in natural gas demand should boost TC Pipelines core market.
As a result, growth in TC Pipelines' core market means that the company has numerous opportunities available to it to expand production and income in the coming years.
Conclusion
TC Pipelines has had a difficult time recently. The company's stock price is still roughly 25% below its pre-crash highs, however, the company continues to offer investors an impressive dividend yield of roughly 6.5%. More importantly, the company continues to offer this dividend yield while having an investment grade credit rating and strong financials with a wealthy parent company.
However, not only does TC Pipelines offer a strong dividend and have strong financials, the company also has impressive growth potential. The company is centered in the natural gas markets which is expected to see demand double by 2040. Combined with the company's strong position in Appalachian shale plays, and the company has a number of enticing growth projects ahead. Undertaking these projects could allow the company to increase both its cash flow and subsequently its dividends.
As a result, I recommend investors open a position in TC Pipelines at the present time.
Disclosure: I am/we are long TCP, XOM.
I wrote this article myself, and it expresses my own opinions. I am not receiving compensation for it (other than from Seeking Alpha). I have no business relationship with any company whose stock is mentioned in this article.