The Dilemma For Fully Invested Dividend Growth Investors
Here's an interesting passage from a recent article by Seeking Alpha Author Gary Gordon:
According to a Wealth-X census, the world's billionaires have roughly 22.2% of their total net worth in cash. That's the highest percentage since tracking began in 2010. Why are the wealthiest among us choosing an asset that currently yields next-to-nothing?
Is the defensiveness warranted? Recent volatility alone suggests that it might.
From here, the share market could go up, down or sideways
Nobody knows whether the share market will go up, down or sideways. And that poses a dilemma for fully invested DGI investors. Back in 2008 to 2009 there was a lot of residual fear in the market following the GFC events. No one really knew whether the share market would go up, down or sideways. In fact, the share market has risen since then at an increasing pace as fear has faded. Those who stayed in the market have done very well compared to those who stayed in cash. In 2016, I would say there is again considerable fear in the share market. But, it is offset by the fear of unnecessary loss of income if DGI type investments were converted to cash and there was no market downturn in the short to medium term. Even at currently elevated share prices, there is no greater certainty whether the share market will go up, down or sideways from here.
The return of volatility
If a DGI investor does elect to convert part of their holdings to cash in anticipation of the possibility of an enduring downturn in share market valuations, they will need a strategy for buying back in, if and when share prices do fall. Currently, volatility has largely disappeared, likely due to the Fed's intervention. I believe if the share market does start to turn down from here, it will be accompanied by a return of increased volatility. This could give rise to a means for profitable employment of those cash holdings.
Buying the dips and selling the rises
One of the problems I perceive with attempting to buy the dips and selling the rises is the uncertainty whether the dip is just a hollow in the hills, or the rise is a hill in a hollow. It is also impossible to know in advance when the dip has reached its lower limits and when the rise has reached its upper limits. Before going into the detail of the proposals for dealing with these uncertainties, I have to emphasize these scientific methods and formulae are only intended for shares with a long proven ability to bounce back from setbacks and to achieve increases in share price over the long term. That necessarily limits the selection to carefully chosen Dividend Aristocrats and other enduring and top performing companies.
The Rules And Formulas
The rules and formulas for buying dips in the share price and subsequent sales of shares at higher prices are set out in TABLE 1 below.
TABLE 1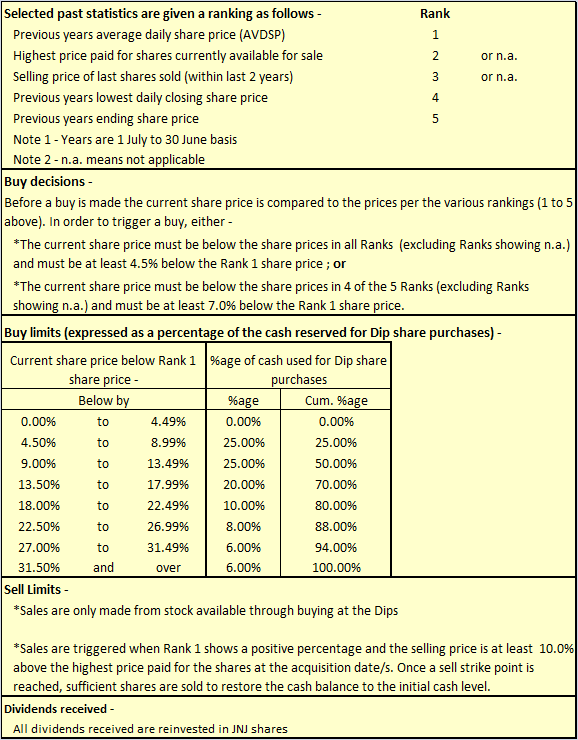 A range of past price points is used to provide necessary checks and balances to indicate the current fall in share price is an actionable dip in share price level. In addition, a range of share price dips starting at 4.5% to 8.99%, and increasing in increments of 4.5 percentage points through to 31.5% and over, are used to reserve cash for ongoing dips in share price subsequent to an initial dip. The allocation of cash to each increment is weighted towards the front end to limit excessive idle cash in periods of low share price volatility. Sales of shares are made once the share price reaches at least 10% above the highest share price for the latest batch of shares purchased in the most recent series of dips. This is meant to ensure profits on sale are achieved, while at the same time returning cash levels to the initial amount, in readiness for use as further dips in share price occur.
Outcomes for a $500,000 DRIP investment in Johnson & Johnson - 2000 TO 2016
TABLE 2 below shows an investment of $500K in Johnson & Johnson (NYSE:JNJ) shares at June 30, 2000, with all dividends reinvested, would have grown to $1.76M by September 23, 2016, an average return of 8.07% per year. But, it was not all smooth sailing, with the investment value only increasing by $1K to $501K by November 10, 2003, despite all dividends being reinvested. The initial $500K investment had grown to $821K by August of 2008. Then the GFC hit, and the investment value fell to $552K during March 2009, partly recovering to $670K by June 30, 2009. The average return for the 9 years to June 30, 2009, was just 3.3% per year. The average return from July 1, 2009, to September 23, 2016, was 14.32% per year.
TABLE 2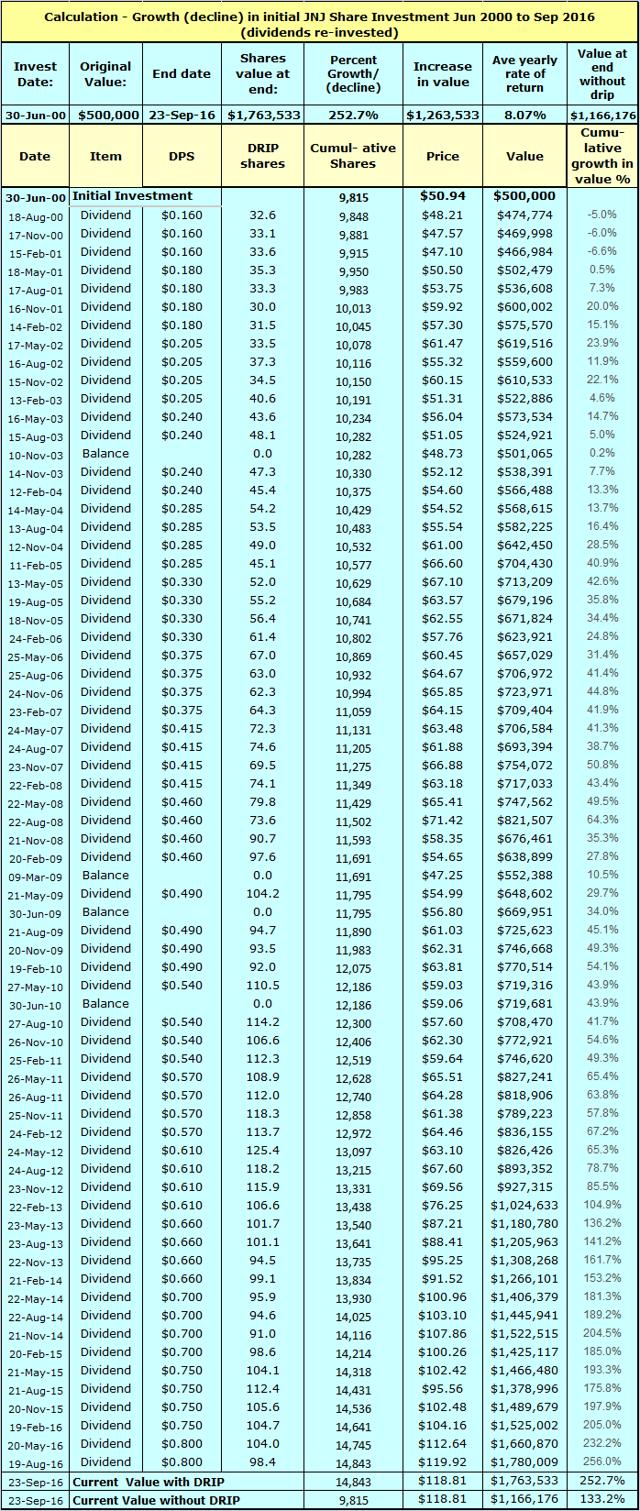 The saying, time invested is more important than timing investments, eventually held true for JNJ investors holding shares in the period June 2000 to September 2016. But what if the share market in general and Johnson & Johnson, in particular, are about to suffer a downturn similar to those that occurred during the 2000 to 2009 period? Surely those investors would wish to take some measures to limit potential losses without locking themselves out of the market altogether. Changes in direction in the stock market are accompanied by volatility, as the Bears and Bulls do battle. I have described above a method for taking advantage of this volatility. I also include TABLE 3, showing how the method might have been employed for a JNJ investment during the 2000 to 2016 period. It is assumed 20% of the investment at June 30, 2000, is sold to provide $100,000 to buy the dips and sell the rises in a disciplined manner. The method is rules-based as described above. Buys and sells are triggered strictly according to these rules, thus avoiding the need for any actual timing decisions.
TABLE 3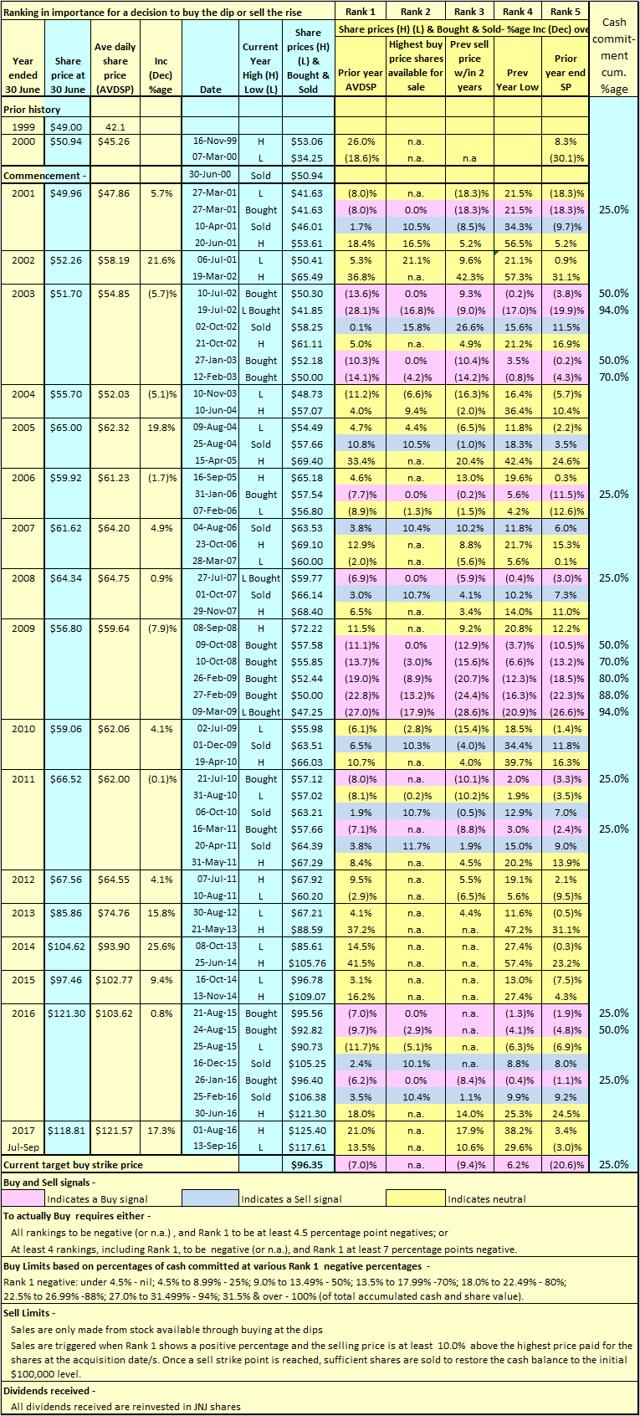 It can be seen from TABLE 3, there is considerable buying activity in the period 2000 to 2009, no buys in 2010 and a couple of small buys in 2011. After that there are no buys in the years 2012 to 2015. Have a look back at TABLE 2 and the accompanying comments, and it will be seen the buying activity reflected in TABLE 3 parallels the periods of low investment growth reflected in TABLE 2. This is quite important knowledge, because TABLE 4 below shows the gains from buying the dips, out of the $100,000 cash allocation, generates gains more than sufficient to offset the losses from the core $500,000 share investment during those early periods.
TABLE 4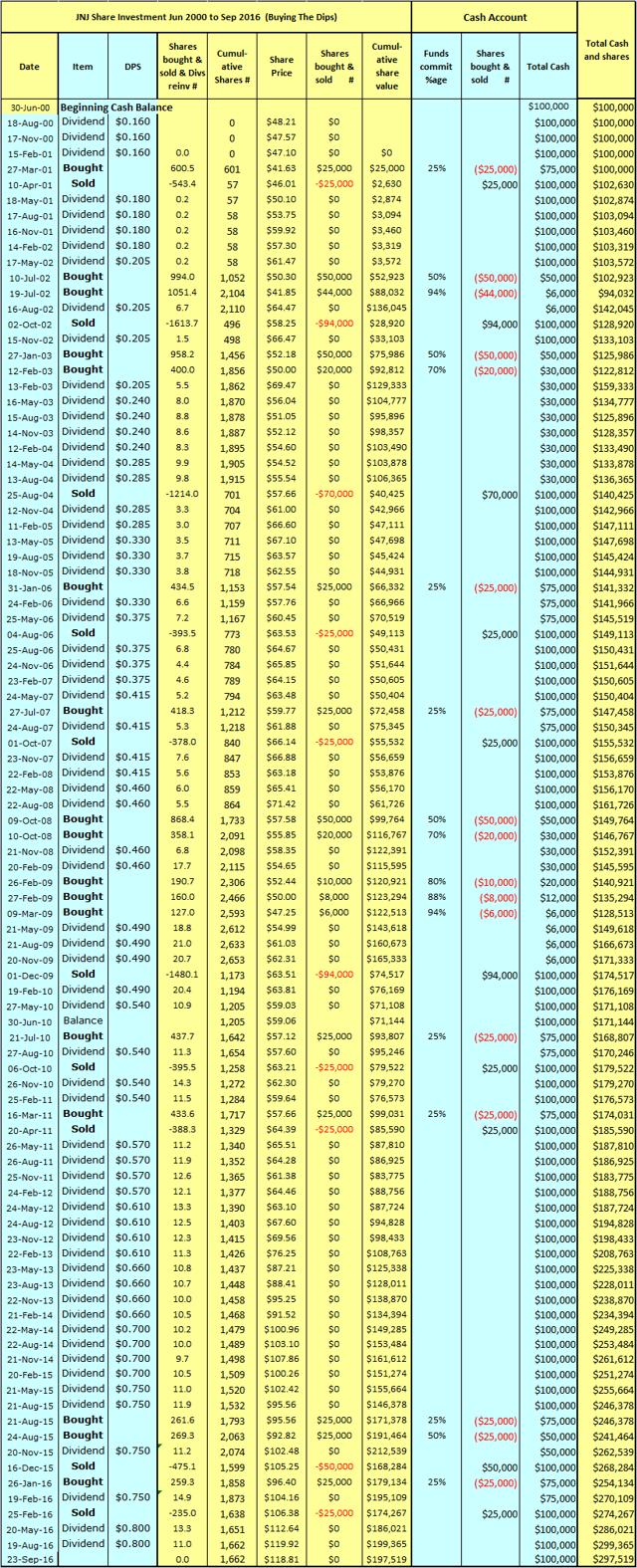 By June 30, 2010, the initial core $500K share investment had grown by only $220K to $720K, providing a 3.71% return. But, the $100K Buy the Dips investment had increased to $171K, a 5.52% return. TABLE 5.1 below summarizes the comparative returns for a core $500,000 invest in JNJ shares to a reduced share investment of $400,000 together with $100,000 set aside to Buy the Dips.
TABLE 5.1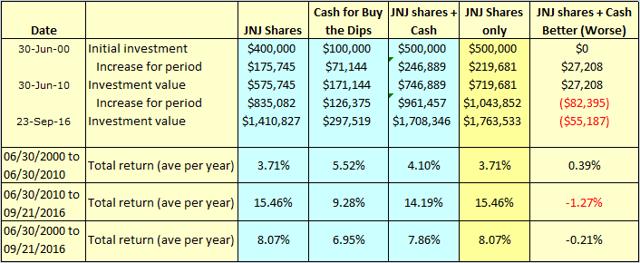 It can be seen the shares and cash option, using the buy the dips methods, outperformed the shares only option over the first 10 years through 30 June 2010. Those first 10 years were a period of considerable share price volatility and low total returns for an investment in JNJ shares. Fed-induced lack of price volatility and massive share price increases saw the cash allocation remain largely idle over the next 6 years. Due to this, converting 20% of a $500,000 JNJ share investment to cash for buying the dips would have resulted in a loss of $55K over the 16-year period to 2016. But this has to be considered in the context of an investor who is quite determined to hold 20% in cash regardless. If that cash placed on deposit had earned an average 2% per year interest over the 16-year period, the $100,000 would have only grown by $37K to $137K. This compares to the buy the dips approach which grew that $100K by $197K to $297K, an improvement of $160K.
TABLE 5.2 below is a repeat of TABLE 4 from my article, "Coca-Cola: Buying The Dips Beats The DRIPs - Timing Not An Issue"
TABLE 5.2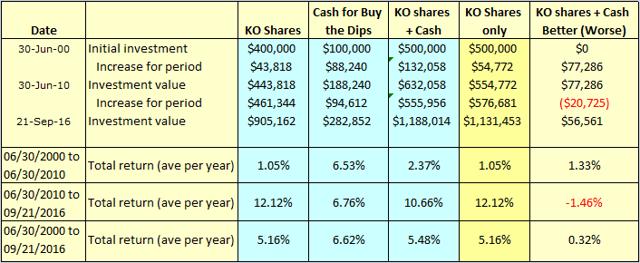 It can be seen like for JNJ, the Coca-Cola (NYSE:KO) experience in the first 10 years was one of price volatility, resulting in excellent results for the buy the dips method during that period. In fact, the method worked sufficiently well in that period to offset the opportunity cost of idle cash in the last 6 years through 2016. For Coca-Cola, the buy the dips methods resulted in an overall gain of $56K over the total 16-year period.
Summary And Conclusions
The buy the dips method works
Clearly, the proposed Buy the Dips method works very well during periods of volatility, and being a predetermined process no market timing is required. In periods with little opportunity to buy the dips, then naturally $100,000 of idle cash will depress overall returns. Quite apart from the overall returns for the full 16.25 years, the combined shares and cash strategy had the effect of smoothing returns. If an investor was forced to exit their investment in the early period of volatility, by say an unexpected change of circumstances, they would have been far better off with the shares and cash option.
The idle cash problem
But what if we could overcome the idle cash problem? And, I am sure it is a very real problem for many DGI investors contemplating converting some of their holdings to cash. Nobody really knows whether the share market will go up, down or sideways. Converting to cash could lock in some portion of profits. Or, it could lock out further profits and significantly reduce dividend income for little in the way of offsetting benefit at current low interest rates for cash deposits. In a further article, I propose to marry the buy the dips method with a method for avoiding the necessity for idle cash. That should give the best of both worlds.
Disclaimer: The opinions in this document are for informational and educational purposes only and should not be construed as a recommendation to buy or sell the stocks mentioned or to solicit transactions or clients. Past performance of the companies discussed may not continue and the companies may not achieve the earnings growth as predicted. The information in this document is believed to be accurate, but under no circumstances should a person act upon the information contained within. I do not recommend that anyone act upon any investment information without first consulting an investment advisor and/or a tax advisor as to the suitability of such investments for their specific situation.
Disclosure: I/we have no positions in any stocks mentioned, and no plans to initiate any positions within the next 72 hours.
I wrote this article myself, and it expresses my own opinions. I am not receiving compensation for it (other than from Seeking Alpha). I have no business relationship with any company whose stock is mentioned in this article.