Overview
If you pay attention to the financial news broadcasts, or read relevant articles, you are probably aware that the Permian Basin is an important energy producing region. It is known for having some of the lowest break-even costs, and they are competitive worldwide. Another that has gotten less attention is known as the (SCOOP/STACK).
Because oil can be produced cheaply via US Shale - and drilling efficiency continuously improves - an argument can be made that domestic energy resources are sufficient to keep a lid on oil prices in the long term.
There are simultaneous questions that pertain to energy demand. Britain's vote to separate from the European Union amounts to a shock; and it could amount to a domino with an Italian banking crisis and multiple political movements next.
There is also growing concern about Germany's Deutsche Bank (NYSE:DB), a systemic institution that is enduring the effects of negative interest rates, penalties, and perhaps questionable loans.
Simultaneously, there are issues with China's economy, one of the largest in the world.
If energy costs remain subdued, in light of supply and demand dynamics, there can be numerous beneficial effects. However, the attractiveness of the industry for investment would remain questionable. Exploration & Production ("E&P") firms focus on the most economic areas - where some can generate sufficient cash flow to make necessary payments to creditors. As interest and borrowing rates remain low, many, though not all, firms are simply able to refinance debt.
Virtually all newly-constructed rigs have gone to the Permian in 2016, including the play with the fastest recovery in running rigs among all US shale. Further, according to Oil & Gas Financial Journal, profitability has improved at other key locations, and the break-even prices recently decreased by 25% and 27% for Bakken and Eagle Ford, respectively.
Oil services firms such as Schlumberger (NYSE:SLB), Halliburton (NYSE:HAL), Baker Hughes (BHI), and Weatherford (NYSE:WFT) are obviously feeling the pinch. Their difficulties have been compounded - despite highly paid lawyers, and their cuadrilla, in defense - by the Justice Department's successful effort to scotch the merger of HAL and BHI.
While an academic study has found that increasing market share tends to be followed by single-digit price increases when a merger effort is successful, that scenario has been prevented.
Thus, a key question involves whether or not the most highly-levered of oil service firms can service or refinance debt amid negligible pricing power.
Weatherford International
Weatherford, with an equity capitalization of nearly $5 billion, has substantial activity in North America, where its artificial lift technology is important for completion and production. Its North American segment is its largest source of net operating revenues and thus is important to the company and related market participants. As continental drilling activity is likely to continue, service firms such as Weatherford with important products may find ways to carry on.
Weatherford has a lot of long-term debt, almost $7 billion worth as of the quarter ended June 30th. Its borrowing costs are high, and its troubled financial situation is compounded by a need to make nearly $120 million in quarterly interest expense. The company is not profitable, and has not been through many quarters.
Obviously, the stock price should be low, and the shares have recently sunk further pursuant to the announcement of a $140 million penalty that results from accounting issues. According to Reuters, $50 million of the fine is to be paid within 21 days.
However, amid such importunate circumstances, shares are still trading above their 52-week low of $4.71, which can mark a time to find a bargain. Further, sometimes when a stock reaches an inflection point, or begins to realize a turnaround, it can recover very fast. Some short sellers are aware of prior lows and may tend to cover their bets against a corporation when nearing one, fueling upside.
Since May, WFT has been finding support near where it currently trades. Momentum either way appears to be missing currently. The moving average convergence divergence (MACD) indicator is straddling the signal line. The MACD's correlation with the stock is shown in the chart below: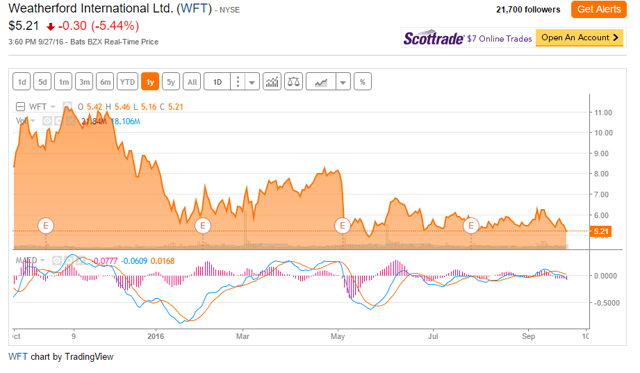 Technical considerations can be as important as any in the near term. A favorable occurrence can perhaps create improved financing opportunities, such as the ability to pursue a secondary offering at a higher price. Of course, even if it plays out, the company's near-term losses should only increase.
Conclusion
Weatherford International specializes in North American energy service, an industry that apparently is here to stay. However, it is highly indebted amid competitors who need to service the same geographies. A fine is further weighing on the share price.
Clearly, important questions pertain to the company's abilities to service liabilities. If there is a surprise indication of success as the equity approaches its 52-week low, the stock might rocket higher. There would then be a better opportunity for equity financing.
Disclosure: I/we have no positions in any stocks mentioned, but may initiate a short position in DB, SLB, WFT over the next 72 hours.
I wrote this article myself, and it expresses my own opinions. I am not receiving compensation for it (other than from Seeking Alpha). I have no business relationship with any company whose stock is mentioned in this article.
Additional disclosure: I have sold short WFT stock and traded options in such a way that financial gain would occur at a share price near $6.50. The position may be modified over the next 72 hours.