This week DJI (DJI) had a product release event and demo where it showcased its latest drone, Mavic. Many eyes were on this event because there were strong indications DJI would be releasing a small, versatile product. This, of course, drew parallels to GoPro's (NASDAQ:GPRO) product Karma, released only a week prior.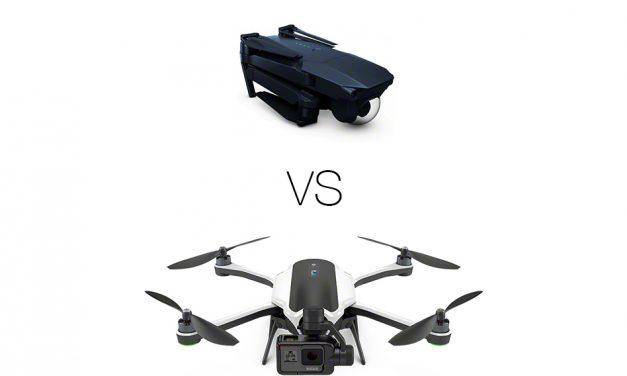 Image Source: myfirstdrone.com
Initially, GPRO began to sink on the news Mavic would have features Karma didn't while coming in at the same price point. However, as the day progressed the stock recovered and showed minimal losses. Some found the stock movement interesting as they thought this was the nail in the coffin for Karma - and it isn't even officially on the market, yet.
However, if one did a little research along with acute observation during and after the DJI event, there are cracks in the argument that Karma is done for.
The biggest difference between Karma and Mavic is the feature set. Karma lacks a "follow-me" feature as well as obstacle avoidance while Mavic comes out of the box with both. DJI did a live demonstration of these features and I'll admit they are pretty neat indeed. Being able to gesture at Mavic and have it lock on you without a controller is innovative.
But is it too innovative? The answer is yes.
"Well how can that be? You haven't even seen the thing in person, Joe."
This is 100% true. The problem is I don't need to. DJI is relying on the wow factor to win over customers it believed would have either defected to Karma from its products or not considered a DJI drone after seeing GoPro's new product. The issue is DJI's execution regarding these features.
Before I go into my observations of Mavic I want to bring your attention to what GoPro CEO Nick Woodman said just a week ago when questioned why Karma would not have follow-me or obstacle avoidance features at launch:
"The experience that other drones actually provide in those categories is not at the level that we felt that there is enough value there for consumers."
It almost seemed like foreshadowing of what we would see this week from DJI.
Proven Abilities
During the Mavic presentation I noticed a few things which put a divide between excitement of features on paper and a dreary reality of what it looks like in action. As the main speaker for DJI presented the follow and tracking features, I closely watched the performance and responsiveness of the drone. I saw jitter and choppiness in the drone's tracking and correction as the speaker moved. I focused more on this when Jon Olsson demonstrated the same features. In the recorded live stream video you can see the drone act very unresponsive and with a lot of choppy movements. Even worse, the drone in the "spotlight" mode lost track of him and he was no longer in the shot. Instead, the feed from the drone showed the empty part of the stage.
The only reason a drone would have a follow-me feature is to record oneself; there is no other reason. If the feature moves with sporadic, choppy movements and can't keep the subject in the shot at all times it becomes useless. The idea is to have smooth, robust footage of whatever you are recording - especially the user or assigned subject.
DJI on Monday proved Nick Woodman's case for leaving it out of Karma. It is better to have features that work and work well than deliver a product which excites a consumer because it claims to have it but instead lets them down. This is a case of "over-promising and under-delivering."
Karma, on the other hand, has received great initial reviews after GoPro allowed much of the internet media to give it a go itself. None of the reviewers I read said anything about features not working as advertised or described.
Continuing on the topic of robust capture of footage, I was not terribly impressed with the picture quality or the smoothness of Mavic. While it does have a 3 axis gimbal similar to Karma, there is obviously a difference in the design and construction along with a lack of in-camera stabilization - which the HERO5 has. Certain roaming and panning shots in the teaser and event videos lacked smooth and seamless production. I also noticed you can see the rotors in YouTube reviewer Casey Neistat's drone footage.
This is where DJI and GoPro differ the greatest. DJI is about performance and flying capabilities while GoPro is about an excellent shot and ease of capture. GoPro clearly takes the win for capturing and recording the best footage.
This is not surprising as it is what GoPro has staked its brand on.
Value
My next point of contention when using Mavic as a Karma annihilator is the value the consumer receives. It's not a close call here.
Mavic is a drone - always and forever, amen.
Karma is a drone, a camera and gimbal. Use them in a number of combinations and put them together again.
For the sake of brevity I will use the price point of both products fully loaded. For Karma this is the $1,099 package which includes the HERO5 Black and for Mavic the $1,299 package which includes everything (controller, carry case and additional batteries).
I added up what it takes for Mavic to be these three products. Since Karma includes a drone body, a stabilizer gimbal, a camera, a handheld stabilizer arm and a case, it requires the fully loaded Mavic package and an Osmo with 4K camera to compare. This would equal $1,869. Karma gets by with $1,099 with the same product set.
Of course, the counter argument is Mavic has a longer battery life and faster flight speed (the autonomous features have proven to be unstable at best) but the proposition here is the value received. Karma provides products which have been said to work and for a better value.
Markets
Finally, Mavic and Karma are not hitting the same target market. Karma has been built for beginners and those who want to capture shots quickly and easily. No need to have your phone on you and drain its battery and no need to understand the many modes Mavic can cycle through.
Mavic is trying to reach an action-orientated market with its follow features and high performance range and speed but if they are flaky at best it seems the consumer is left with a decently priced racing drone.
It might be great to have several batteries keeping Mavic in the air at 27 minutes apiece but if the smartphone running the operation can only perform all the functions required for an hour, the weakness is not the drone. Beginners and videographers want something that is a complete package and doesn't require additional input from their everyday device. It's the same reason the HERO camera has a place in capturing moments instead of a smartphone.
The Investment Doesn't Change
DJI is putting out a product trying to do it all but it is simply a jack of all trades and a master of none. While the price might appear attractive it is actually quite expensive considering the value Karma will provide with its three products in one.
It is apparent DJI has proven GoPro's stance on the drone market to not release features not ready for prime time as superior. GoPro will still sell plenty of Karmas and HERO5 cameras this holiday season. The market clearly bought in again throughout Monday as the stock recovered steadily after digesting what Mavic's impact and problems could be.
There are no longer any negative catalysts ahead but the risks remain the same; Karma is yet to be proven in the hands of the mass consumer. Initial reports place the quality and functionality in the thumbs up column which gives investors a good outlook.
Finally, GoPro remains positioned the best to release any drone or camera into the market with its channels and distributors. This plays well into its brand recognition and serves to put the product in front of more people than DJI.
Karma will do just fine as a new product from GoPro and sales should delight.
If you'd like to be made aware of my opinion and analysis in the future on GoPro, along with other tech and consumer companies, then I encourage you to follow me by clicking the "Follow" link at the top of this page next to my name.
Disclosure: I am/we are long GPRO.
I wrote this article myself, and it expresses my own opinions. I am not receiving compensation for it (other than from Seeking Alpha). I have no business relationship with any company whose stock is mentioned in this article.