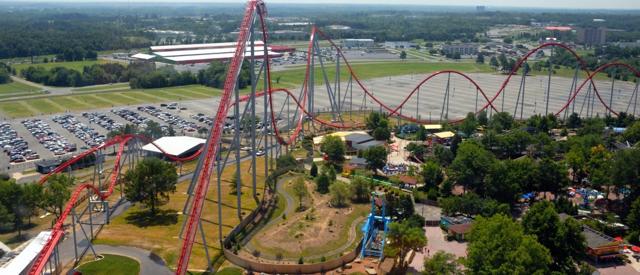 Investment Thesis
Six Flags (NYSE:SIX) is the largest regional theme park operator in the world. With 18 parks (16 U.S., 1 Mexico, 1 Canada) dispersed throughout North America, 175 million people currently live within 100 miles of a Six Flags park. That number has the capability of growing over time, as:
There is a new water park opening in Oaxtepec (Morelos), Mexico in early 2017.
They currently owns 800 million acres of land that could be developed into more parks in the future.
They have entered into various third-party partnerships to build Six Flags parks in other countries around the world - namely, China and the Middle East.
In my view, Six Flags has a moat for two reasons. 1) The brand name is paramount for those who are attending theme park because of the roller coasters (as opposed to ancillary attractions - Mickey Mouse, for instance), and 2) The cost to open a theme park serves as a prohibitively high barrier to entry that discourages competition. By the time land is purchased, permits are obtained, regulations are complied with, and the rides and attractions are actually built, the prospective competitor has had to twiddle his thumbs for roughly three years and spend $300 to $500 million.
Other than the growth possibilities highlighted above, there is another potential growth driver in that Six Flags has long-term exclusive rights to Warner Bros. and DC Comics animated characters, with the built-in capability of selling merchandise. So as superhero movies featuring DC Comics roll out in the midst of the current genre craze, there stands a pretty good opportunity for Six Flags to capitalize on it.
Why Six Flags Specifically?
In the amusement park space, there are admittedly other places to go. The most obvious would be Disney (NYSE:DIS), and while I find both their theme park and movie production arms intriguing, I am not a fan of semi-annual compounding. SeaWorld (NYSE:SEAS) suspended their dividend and since my investing decisions at this juncture are exclusively in a dividend growth portfolio, this immediately removes it from consideration. Comcast (NASDAQ:CMCSA) has Universal Studios, but I'm not particularly thrilled with owning the rest of the business.
So for pure-play amusement parks, I was left with Six Flags and Cedar Fair (NYSE:FUN). When I compared them, I came away preferring Six Flags by the slimmest of margins.
Margins
Six Flags and Cedar Fair run neck-and-neck in regards to margins, with Six Flags ultimately getting more net income out of each dollar of sales: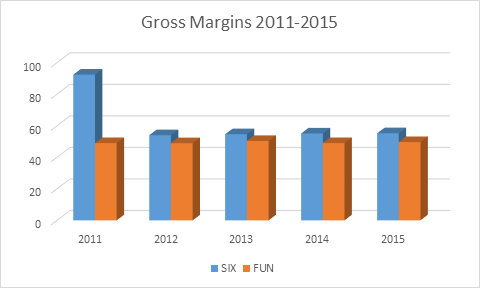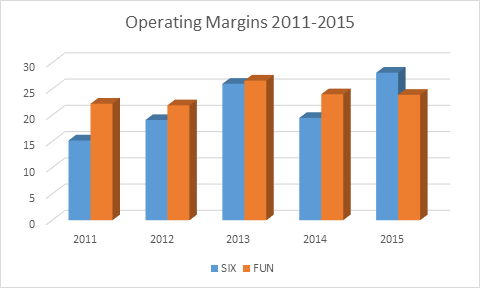 But though it seems as if Six Flags is capable of consistently earning a higher return on invested capital, the ride at Cedar Fair is not nearly as gut-wrenching: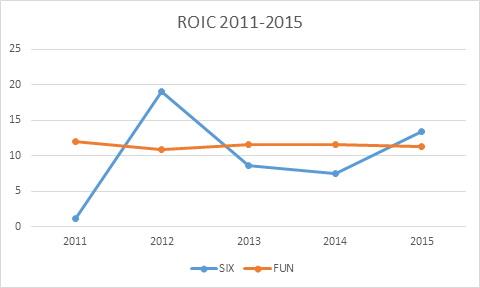 Risks
The first risk to my thesis is that one of these blowhard politicians is actually right - that if they're not elected then the economy will go into the tank and people will as a result stop going. Amusement parks are quite possibly the most discretionary of all consumer expenditures, in that for individuals and families who are unemployed or struggling financially, a trip to a theme park is simply and easily off the table. Though it doesn't present quite the outlay that some other vacations do, it still represents quite a bit of money to some.
Another unfortunate risk is that with domestic terrorism and lone gunmen increasingly becoming normal, it may dissuade attendance at theme parks, out of fear that the day they attend, a nefarious individual will have chosen that venue as a "soft target".
But probably the most likely risk scenario is that Six Flags will get in debt up to its eyeballs and it will become unmanageable. Since emerging from bankruptcy, they have gradually become more levered, to the point where in the most recent quarter, liabilities outpaced total assets: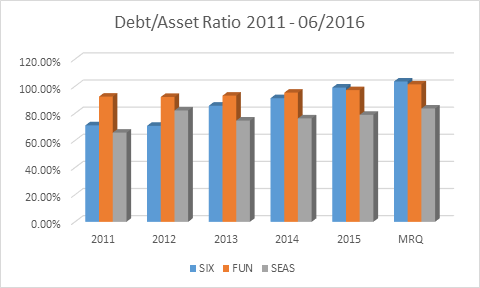 Although theme parks are highly capital-intensive businesses, this number and trend is still a little disturbing. There is a small piece of comfort in that Six Flags has higher interest coverage: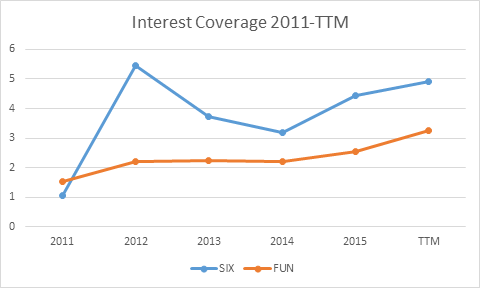 Also, there is a bit of good news in that practically all of their long-term debt won't come due until the next decade: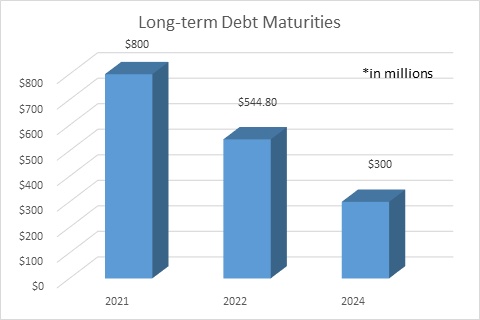 Shareholder Friendliness
As evidence of its stated goal to "generate superior returns" for its "stockholders over the long term", Six Flags has returned a remarkable amount of cash to shareholders since it emerged out of bankruptcy proceedings.
They have decreased outstanding share count by over 11% since 2011: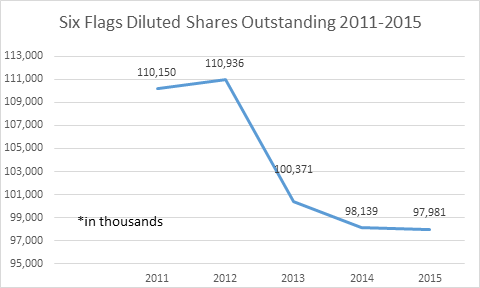 By contrast, since Cedar Fair is a master limited partnership (MLP), that share count is much less likely to go down meaningfully. In fact, share count in Sandusky, OH has held rather steady for the past decade.
Six Flags' dividend has increased quite a lot as well: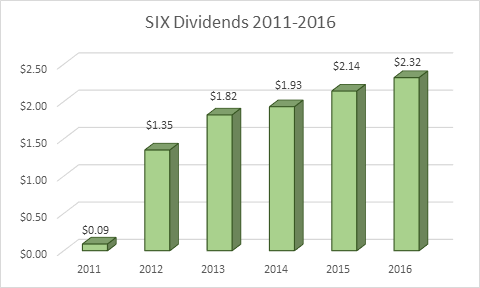 However, in spite of this, the dividend has gotten more affordable as a percentage of free cash flow: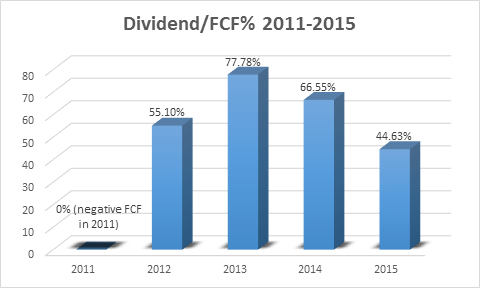 Valuation
At first glance, Six Flags at this price looks a little crazy - the PE is double what some value investors advise. However, there are a number of things in my favor. 1) In relation to its historical valuation, this does not seem to be highway robbery: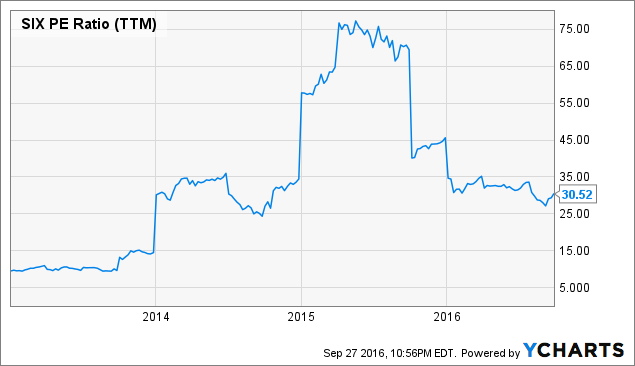 2) By way of historical dividend yield, now is not a hideous time to buy, either: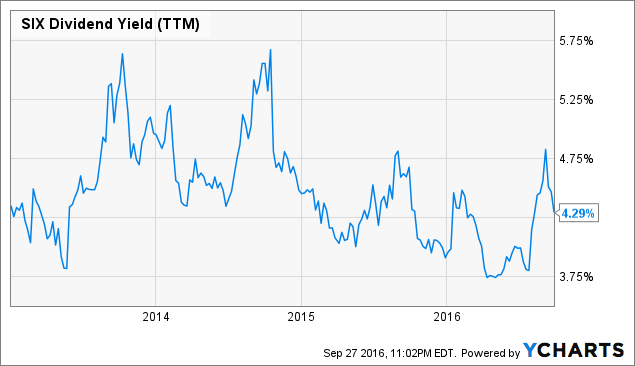 3) If I were a couple or three decades older, I would be much less likely to pull the trigger on this one. Its volatility is much like one of its coasters. But since I am still shy of my fortieth birthday, I have time to let compounding work its magic before I need the income in retirement, provided the biography of Six Flags doesn't have multiple Chapter 11s.
Disclosure: I am not a professional investor, and as such, the companies and/or positions mentioned and any associated analyses are related to my own personal experience and expertise, and is not intended to be a recommendation to buy or sell. As everyone has their own risk tolerance, goals and needs, it is important that you perform your own due diligence.
Disclosure: I am/we are long SIX, CLDT, LTC, O, STAG.
I wrote this article myself, and it expresses my own opinions. I am not receiving compensation for it (other than from Seeking Alpha). I have no business relationship with any company whose stock is mentioned in this article.