I've heard hundreds of times solar companies' executives talking about how investors couldn't understand the structure of their companies. At first I thought that this is their way of finding an excuse for their plummeting stock price since 2014, but then I found out that they were right. Solar companies are, at least to me, the most complicated companies to evaluate due to their different kind of complicated structured partnerships mostly with tax equity investors. However in the end, after reading tens of articles and presentations about solar companies I was able to understand how their structure is built. In this article I will show why I think Vivint Solar (NYSE:VSLR), a once promised spouse to be, is trading at a bargain and represent a strong buying opportunity.
Vivint Solar, a company backed by Blackstone Group, saw its stock plummet from a high of $15/share to a low of $2.55/share. The reason for this significant decrease in stock price, beside lower oil prices, is a result of a merger announcement by Sunedison (SUNE) that never happened. Sunedison was willing to pay 2.2 Billion dollars for Vivint Solar, or ~$18/share (Vivint Solar is now trading at $3/share). After the deal failed, Vivint Solar sued Sunedison for willfully breaching the agreement, although Sunedison filed for bankruptcy in April 2016.
Why I think Vivnt Solar is undervalued.
At first glance, someone looking at Vivint's income statement would think that it is a money losing machine while it's not. The residential solar segment in particular requires huge upfront investment while having revenues spread over 20 years period and sometimes more (I'm talking about the leasing and PPA business which account to more than 90% of Vivint's sales). This is the reason why you would see cost of revenue significantly higher than revenue itself ( As seen in the income statement below).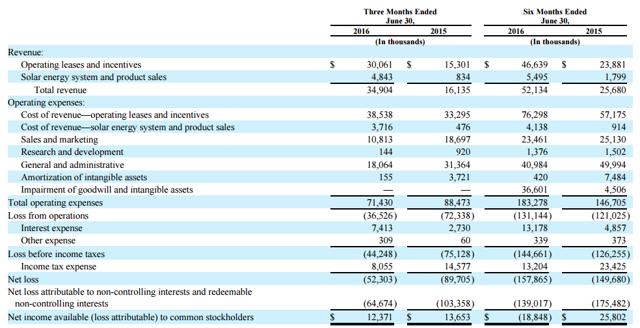 So in order to know how much profitable is the company, I assumed that it will stop growing its business and only depend on past investments' income. Then I compared those costs with the Present Value for its projects. That is done in order to know if historic investments are profitable, as opposed to what income statements show.
What I did is that I added up all historical data since the company's foundation, from 2012 till 2016, regarding Cost of Revenue (operating leases and incentives), Sales and Marketing, General and Administrative, and Interest Expense.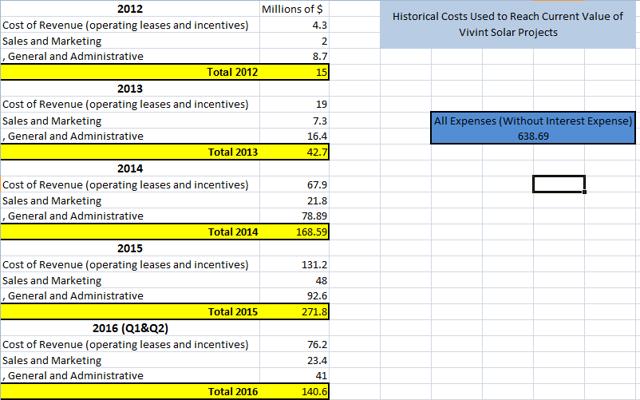 Vivint's cost for building its current income generating assets, without interest expense, is around 640 million dollars. In order to know how much interest expense it would pay in the future for building current projects, I used its debt obligations table in the company's latest 10Q.

You can see below how I calculated interest expense for all these loans.

So Vivint Solar should pay about 103 million dollars for projects it constructed. Add that to the previously calculated cost of revenue and you would get a total cost of 742 million dollars.
Comparing that number to the estimated retained value of its projects which the company calculated in its latest 10Q, which is 1,115 million dollars (using 6% discount rate), you would get a profit of 373 million dollars (1,115 - 742).

Not to forget that this estimated retained value if what the company gets after paying for all fund investors (below is the exact definition of the term)

.This means that Vivint Solar is trading below its value without adding any growth element for the company. So if the company didn't grow at all it should be trading at $3.5/share. Thus buying the stock at $3.13 is getting the growing part for free.
Conclusion
Solar companies in general witnessed their stock price plummet mainly as the result of lower oil prices which made electricity provided by utilities more competitive with electricity provided from solar energy. But I think that there is still a room to grow for residential solar companies as long as the ITC credit is still in effect, which will decrease from 30% to 0% for residents after 2022 and to 10% for C&I. In addition, I think that Vivint Solar was extremely oversold. A company which was offered to be bought for 2.2 Billion dollars for its high quality assets can't be worth less than 350 Million dollars when nothing fundamental changed in the company. Buying Vivint Solar at these levels is a low risk investment since the stock is trading as if the company will stop growing its business; this will give immunity to stockholders from any threat attacking the future growth of Vivint Solar.
Disclosure: I am/we are long VSLR.
I wrote this article myself, and it expresses my own opinions. I am not receiving compensation for it (other than from Seeking Alpha). I have no business relationship with any company whose stock is mentioned in this article.