Barrick Gold (NYSE:ABX) did fantastic YTD, but can it sustain that run? I went looking for answers on the earnings call and will summarize some of the important takeaways for you.
Veladero
The first surprising thing is how the Veladero issues were kind of blown over. Management cited terrible weather. Usually, that's a terrible excuse, but it seems there had not been a similar weather event since 2007 in the region. The company told us the following in an earlier press release:
On Sept. 8, 2016, a pipe carrying process solution in the heap leach area was damaged when it was struck by a large block of ice that had rolled down the heap leach valley slope. A small quantity of solution left the leach pad as a result. No solution from this damaged pipe reached any water diversion channels or watercourses, and the impacted area in the leach valley has now been remediated.
After that, the local government shut down the mine pending inspection. Although the incident was discussed at the Denver Gold Forum presentation, when reading industry expert Lawrence Williams' article on the issue, it strikes me as a bit unsatisfying that the company did not pay more attention to the concerns. Neither did analysts during the Q&A session, which is reassuring. But, then again, it's not uncommon for these sessions to get screened based on management friendliness and have potential critics weeded out.
There Was A Lot to Like Too
Management exhibits a great desire to focus on free cash flow, delevering and capital discipline. At the current gold price, it looks like the FCF run-rate is something around $2 billion. The company also reduced its debt by $1 billion YTD and thinks it can get to its $2 billion debt reduction for the year. Gold prices required to be FCF break even, currently $1020, are dropping -- which is great. When highly levered cyclicals are in deleverage mode, I like them so much better than when they are in "let's grow the reserves" mode. Debt profiles are a crucial component of gold miners, and if Barricks hits its end of 2016 target it will have $8 billion in total debt.
Growth
Something that made me a little bit nervous were management's quotes around growth:
... we're going to continue to invest in growth. But growth in free cash flow and margin, not just growth in ounces. The first area for investment in this context is in relation to exploration, which includes our near mine opportunities or Minex. We feel that we can add good reserves around our existing operations and those are always the most usually, they will, typically, the least expensive and most reliable ounces to add.
Here, management is reintroducing the idea of acquisitions and/or investments very carefully. Preparing investors for potential deals to pick up in 2017 or beyond. I can probably get behind some near mine opportunities and expansions to reliably add ounces, but as debt levels near $5 billion, watch out! Deals might be coming.
Investments
Management further offered reassurance that it looks at investments where it can reach 15% IRR using $1200 gold, but that leaves a lot of room for error. Disappointments and unforeseen circumstances can take the IRR down, and gold's strike price is highly volatile. An industry of price-takers with a volatile product price doesn't easily produce good results, as the 10-year results of the gold miners ETF (NYSEARCA:GDX) illustrates: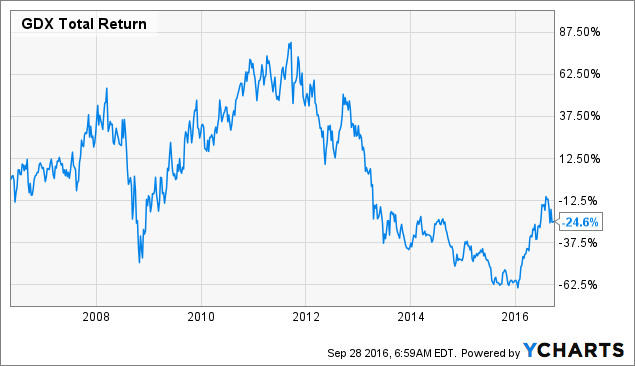 GDX Total Return Price data by YCharts
Do I think $1200 gold is an unreasonable number to work with? No. It's fine, but much more important is keeping in mind that gold can go deeply below $1200 as well. There is great optionality to owning a gold miner; prices can theoretically only go to $0 on the downside, wiping out only your investment, but to theoretical infinity on the upside. (Read my article "Why You Should Invest In Gold" for more on this topic.) However, to profit from this asymmetry, it is required to be still around when prices get to infinity. That's where lots of gold miners fail. As much as I like a steadily growing business, gold miners should prioritize survival as that would do a lot for their track records of delivering shareholder value.
Wanting to end things on a positive note, $5 billion of Barrick's current debt is already quite long dated beyond 2032. Although interest payments are thumbscrews that can be tightened any quarter, the ax isn't coming down for a while. That's excellent as it gives investors time to profit from exposure to gold price volatility. To hold seems fine, but watch out for investments -- especially when 2017 rolls around.
Disclosure: I/we have no positions in any stocks mentioned, and no plans to initiate any positions within the next 72 hours.
I wrote this article myself, and it expresses my own opinions. I am not receiving compensation for it (other than from Seeking Alpha). I have no business relationship with any company whose stock is mentioned in this article.