Amazon's (NASDAQ:AMZN) growth of Prime membership has started impacting retailers, which were earlier considered Amazon-proof. The latest report from Cowen & Co. shows a massive growth in households who pay for both Costco (NASDAQ:COST) and Amazon Prime (from 4.8% in 2013 to 11.3% in 2016). Similarly, there has been an increase in households who have both Sam's Club (NYSE:WMT) and Amazon membership (from 4.8% to 8.5%). This has resulted in reduced share of households having Costco-only membership (fall from 14.9% to 9.8%) and Sam's Club-only membership (16.9% to 9.7%).
Warehouse retailers are generally considered Amazon-proof because few people want to substitute bulk purchases from these retailers. These retailers also operate at very low margins, which would make home delivery of goods much more expensive. However, Amazon has also expanded the reach of its fulfillment centers in the past few years. Currently, there is an Amazon fulfillment center or delivery station within 20 miles for 44% of the domestic population. In 2012, only 7% of population lived within 20 miles of an Amazon fulfillment center. This increase in footprint has allowed Amazon to expand its delivery program with options like Amazon Prime Pantry and also provide much faster delivery.
In the past three years, Sam's Club membership has remained flat while Costco's membership has grown marginally. However, during this time, Amazon's Prime membership penetration has skyrocketed from less than 20% to 44%.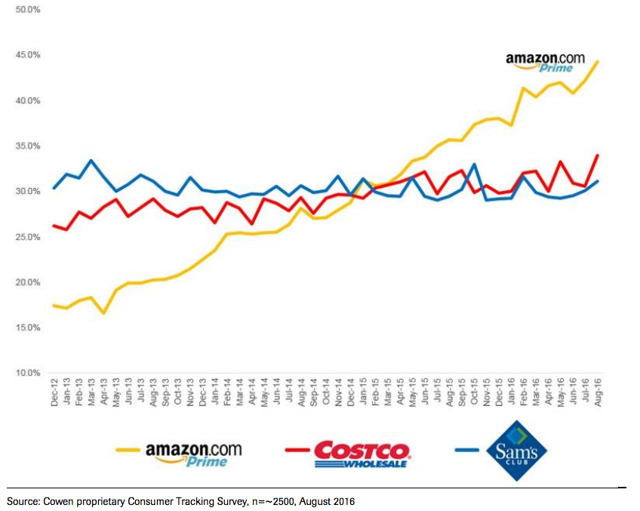 Fig: Household penetration of Amazon Prime membership in comparison to Costco and Sam's Club membership
The rapid increase in Prime membership has resulted in dual membership for a high number of households.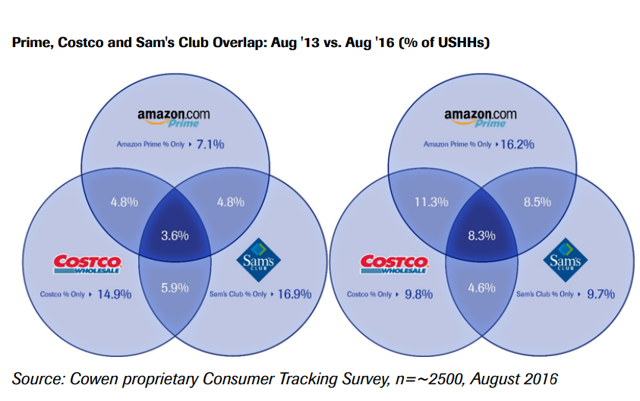 Fig: Change in Prime, Costco and Sam's Club membership among US households between 2013 and 2016
The retention rate for members is still quite high for retail warehouses. However, their membership is only useful if customers make significant purchases which translate to better cashback. A fall in Costco-only and Sam's Club-only membership means that customers would end up splitting their purchases among two or three membership retailers. This reduces the net savings which customers get from either Costco or Sam's Club membership.
Although there would not be a sudden drop in membership numbers in the near future for these two warehouse retailers, there would still be additional pressure from Amazon. As the millennial generation reaches its peak earning levels, they might end up choosing convenience and extra services over savings.
Amazon benefits from this trend as it can add further services to Prime membership increasing the attraction of its membership. These members can be charged at a higher rate for additional services and a higher Prime membership base also reduces the pricing pressure on the company.
Amazon becoming the primary reference point for online shoppers
Another survey by marketing firm BloomReach Inc. showed 55% of online shoppers used Amazon.com as a primary source for searching products. Last year, 44% of respondents said the same thing. In the same survey, search engines were primary source for 28% shoppers, down from 34% a year earlier. Share of other retailers also fell from 21% to 16%. As Amazon increasingly becomes the primary reference point for shoppers, it would reduce the need to purchase digital marketing space from Google (NASDAQ:GOOG) (NASDAQ:GOOGL) and Facebook (NASDAQ:FB). This would allow the company to focus more strongly on distribution centers and logistics than gaining customers through ad spending.
Investor Takeaway
Costco and Sam's Club will face increasing competitive pressure from Amazon as it increases the penetration of Prime membership. Splitting purchases between multiple retailers also hurts Costco and Sam's Club because it reduces the net savings they provide to customers. Besides video and music streaming, there are a number of other services which Amazon can incorporate within Prime membership. This will improve its moat and also reduce pricing pressure from other retailers.
Although Amazon is trading at its highest level, there is still considerable upside for this stock. A winner-takes-all strategy followed by Jeff Bezos should provide Amazon much better margins than traditional retailers once its Prime membership reaches saturation level. I have a price target of $1,200 for Amazon by end of 2017.
Disclosure: I/we have no positions in any stocks mentioned, and no plans to initiate any positions within the next 72 hours.
I wrote this article myself, and it expresses my own opinions. I am not receiving compensation for it (other than from Seeking Alpha). I have no business relationship with any company whose stock is mentioned in this article.