During this prolonged bull market, I have spent most of my time as an investor sorting through many well-run companies for those that have fallen on hard times or have been sold off for some reason or other and present a value. Some months, it has been easy to find, but in others, it has almost seemed better to keep my money on the sidelines. During times like these, I generally round out positions I already have and look longingly at the stocks that I want to own, but may not get the opportunity to buy into until the next bear market. This is not to say that I look forward to a recession, as the pervasive doom and gloom is enough to convince all but the most ardent investor to bail out at the bottom. However, my strategy for the next downturn is to have a shopping list of stocks that are more adversely affected by economic downturns than others. This will help keep me focused on grabbing values and looking at the bright side while my portfolio is getting pummeled. For the most part, this list will be lighter on consumer staples, utilities, and healthcare, which will likely resist the drop much better than these companies. I will break down an investment thesis on each one and how they fared in the Great Recession, giving investors a good idea of where they might be able to grab these great companies during the next downturn.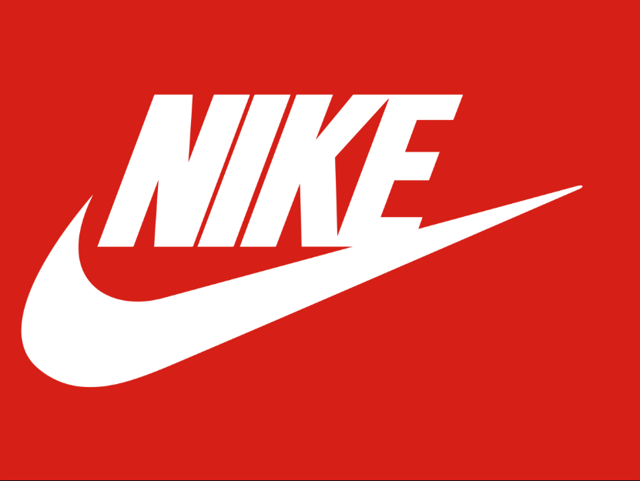 Nike (NYSE:NKE) is a consumer discretionary giant and the market leader in athletic apparel. In case you have been living under a rock for the last few decades, here is a basic breakdown from the 10-K:
"Our principal business activity is the design, development and worldwide marketing and selling of athletic footwear, apparel, equipment, accessories and services. NIKE is the largest seller of athletic footwear and apparel in the world. We sell our products to retail accounts, through NIKE-owned retail stores and internet websites (which we refer to collectively as our "Direct to Consumer" or "DTC" operations), and through a mix of independent distributors and licensees throughout the world. Virtually all of our products are manufactured by independent contractors. Nearly all footwear and apparel products are produced outside the United States, while equipment products are produced both in the United States and abroad."
Their market-leading position has turned out huge gains for the long-term investor. According to FAST Graphs, a $10K investment in 1996 would have compounded at 12.6% over the last 20 years to reach over $108K today, with dividends reinvested. This success is a result of their long term sustained growth, and this has commanded a premium multiple, which is expected. Because of this, Nike deserves a spot in almost any type of portfolio, but I believe that investors should show patience and get it at the right price. Let's look at how they held up during the Great Recession.
Great Recession Performance:
Nike's earnings held up really well, all things considered. Hitting a new high in 2010 after a 19% drop in earnings the year before is something that any consumer discretionary company would be happy to have been able to do.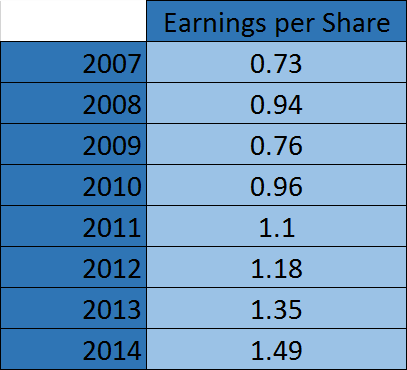 Source: Morningstar
In addition to their 19% drop in earnings, multiple compression allowed the patient investor to snap up shares of Nike as low as 11X earnings, according to FAST Graphs. To put this into perspective, Nike has traded at an average P/E multiple of ~21X over the last 20 years, including 2 bear markets. They currently trade at a ttm P/E of ~25, which isn't insanely above their average. Multiple expansion alone would have netted over a 200% gain, let alone the earnings growth that has occurred in the last 7 years.
Fundamentals:
Nike's fundamentals are stellar, as one would expect from this highly-loved growth stock.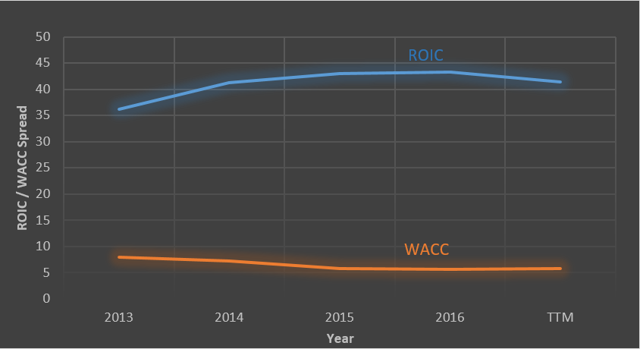 Source: GuruFocus
Nike's ROIC-WACC spread is very high, and steady. This shows the return on capital being invested by management as the company grows. No issues here.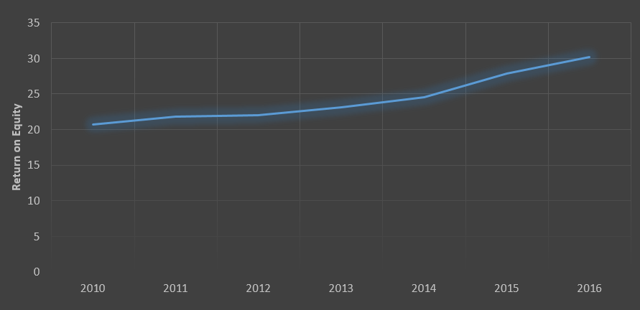 Source: Morningstar
Nike's return on equity came out of the recession high and has continued getting higher. They have continued getting more and more profitable as the bull market has gone on.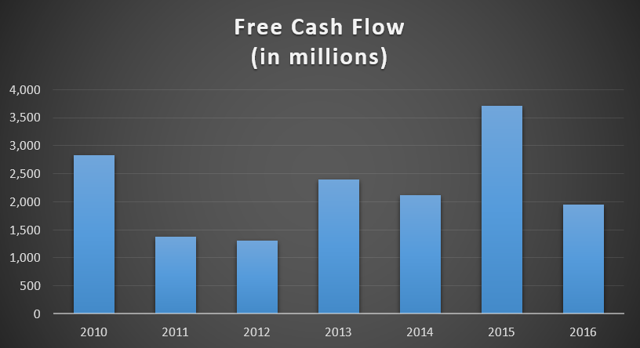 Source: Morningstar
Nike has produced pretty stable FCF over the years. They should have no issue funding their dividend, and I expect it to keep growing. Additionally, with only $2B in long-term debt on the books, their solvency isn't in question in the event of an extended downturn. Their dividend growth rates have been excellent, as well.

These growth rates are sustainable for the near to mid-term due to their low payout ratio of 28% and expected earnings growth of ~14% a year.
Current Valuation: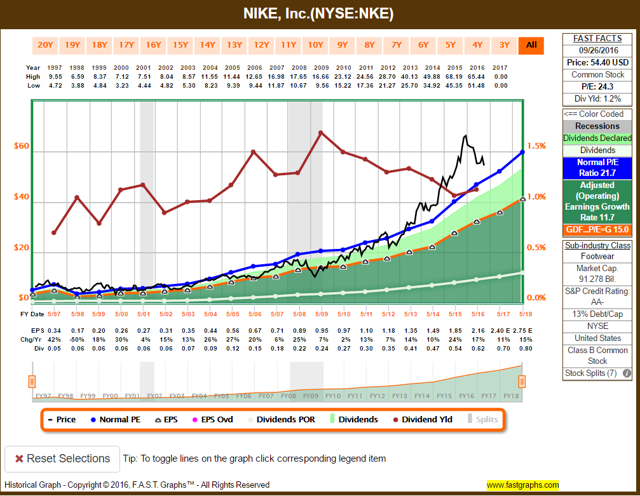 I zoomed this FAST Graph out to show where Nike stands today compared to historical valuation. Last year, it got way overheated, and has started coming back to its normal P/E ratio. Notice the dip beneath the orange line back in 2009. That line is a P/E ratio of 15, and investors had about half a year to buy Nike shares cheaper than they had been or would be during the entire 20 year period. That is why Nike is on my recession watchlist. I will have some money sidelined and waiting to grab this company during the next one.
Why I won't be scared to buy Nike in a bear market:
Nike operates in a fickle industry where changing consumer tastes have a profound effect. This lack of a competitive advantage, one would think, would turn conservative investors off about the industry as a whole. However, Nike's brand is powerful. The swoosh is known worldwide and even raises the price tag on something just due to brand recognition. They have continued their large endorsements of current stars to make sure that they maintain their market leading position into the next generation, too.
Conclusion:
Buying Nike today wouldn't be a mistake over the long run, especially after the pullback that has occurred year-to-date. However, I have chosen to pursue greater bargains than what Nike is likely to ever offer during a bull market, and keep them on my recession watchlist.
Disclosure: I/we have no positions in any stocks mentioned, and no plans to initiate any positions within the next 72 hours.
I wrote this article myself, and it expresses my own opinions. I am not receiving compensation for it (other than from Seeking Alpha). I have no business relationship with any company whose stock is mentioned in this article.