BlackBerry (NASDAQ: BBRY) is gaining today after reporting Q2 earnings as it beats by $0.05, but misses on revenue. At the time of writing this report, each share of BlackBerry trades for $8.22, up 4.38%.
In my last post on BlackBerry dated September 17, I had said that the stock was oversold and was ripe for a relief rally. The technicals and the market have proved me correct as the stock is now up a whopping 14 percent since then. I believe more gains are in store. Long traders should be sitting on hefty gains right now. The positive momentum should be a reason of worry for the short-sellers, and they are best advised to cover.
BlackBerry is one of the stocks where there is always a heated battle between the bulls and the bears. But, the facts are what they are. To understand them better, one must clear his mind of any pre-conceived notions and forget what the ticker price is saying. If the business is sound, the ticker will follow.
Let's start dealing with several aspects of this company, and think rationally. I may err in my assessments, so please rectify me in the comments section below. The sources used are the company's recently released financial results available on the company's investor relations site.
BlackBerry CEO John Chen commented on the Q2 results,
"We are reaching an inflection point with our strategy. Our financial foundation is strong, and our pivot to software is taking hold. In Q2, we more than doubled our software revenue year over year and delivered the highest gross margin in the company's history. We also completed initial shipments of BlackBerry Radar, an end-to-end asset tracking system, and signed a strategic licensing agreement to drive global growth in our BBM consumer business."
"We remain on track to deliver 30 percent revenue growth in software and services for the full fiscal year. We are revising upward our non-GAAP EPS outlook to a range of breakeven to a five cent loss, compared to the current consensus of a 15 cent loss. This reflects increased confidence based on improving margins and reduced interest expense from the recent refinancing of our debt, as well as planned investments in growth areas."
Now, this sounds very nice at first; talks about improving margins, reduced expenses, and upward revision of non-GAAP EPS outlook. But, why did the CEO not comment about the incessant decline in top-line?
From Q1'16 to Q2'17, the total revenue has dropped from $658 million to $334 million.

BlackBerry emphasizes on the 89% yoy growth in GAAP Software and Services revenue for Q2'17, but astute investors must know the truth. The high growth so conveniently portrayed is a result of a lower base: the company reported just $73 million in Q2'16. Even more, the Q2'17 S&S revenue of $138 million is actually worse than the Q1'17 revenue by $4 million and is nothing outstanding if you see the last six quarters.
A fair assessment of the biggest inventory write-down (of $97 million) in the last six quarters is that the company is outsourcing all of its hardware development.
BlackBerry boasts that it is the eleventh consecutive quarter of positively adjusted EBITDA. Great! But, a quick glance at the company's favorite metric tells us a dire story. Though the adjusted EBITDA has been positive, the metric has slumped 74 percent from $172 million in Q1'16 to just $45 million at the end of Q2'17. The trend is disturbing, to say the least.

Companies tend to do all sorts of tinkering when posting non-GAAP results, and therefore, I use the GAAP earnings as the basis for evaluation while keeping close the adjustments cited. Using the company's income statement for Q2'17, it becomes hard to neglect that the management has been reducing the R&D and SM&A expenses, which are crucial stones to its success. For the period from Aug, 2015 to Aug, 2016, the R&D expense has declined from $122 million to $85 million while the SM&A expense has dropped from $186 million to $139 million.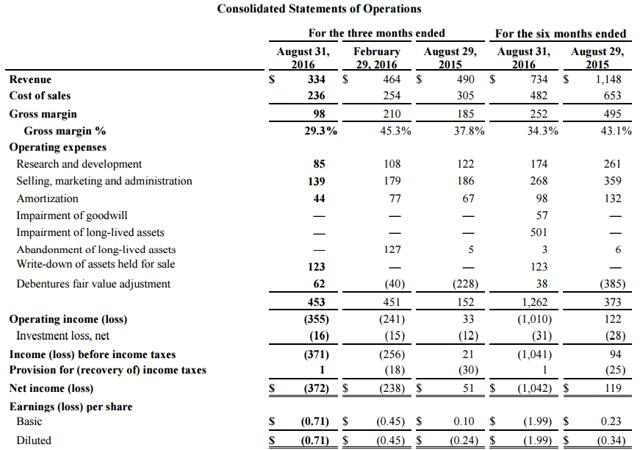 Why would a company not want to invest more in its products and offerings?
To my surprise, even these lowered figures were boosted by stock compensation expenses of $18 million - $4 million for R&D and $14 million for SM&A. Generally, companies present the stock-based compensation expense separately.
I was encouraged when the company announced its software licensing arrangement with telecom joint venture in Indonesia, BB Merah Putih, to manufacture, distribute and promote BlackBerry-branded devices running BlackBerry's secure Android software and applications. But, it is still keeping mum on its IoT initiative (something which I discussed here), BlackBerry Radar leaving investors with,
"We commenced shipment of BlackBerry Radar, an end-to-end asset tracking IoT system, and landed a top-tier logistics company as a customer."
Why refrain from divulging more details? Most companies do, even if the revenues are just beginning to flow in. The logistics company is Canada' Caravan Transport Group, but what are the revenue numbers for this deal? Can you really evaluate a company well if the details are always obscure? On what basis will you invest then? Just on faith, or just because Prem Watsa is buying shares?
While we are at it, let's discuss this as well. Many investors follow Prem Watsa into BlackBerry, matching his steps and echoing that he continues to buy the stock, but failing to realize that he:
Will always get favorable terms
Has far more resources at his disposal than common investors
May have a different time frame for his investments
Has an invisible hand over the management
He will not inform you before losing his stake in the company. Take cues from the Chesapeake Energy (NYSE: CHK) case, which saw its long-time supporter Carl Icahn drop 50 percent of his stake in the company. The stock crashed on the news and the faith of those who followed him blindly into the stock is shaking now. They do not know who to follow now.
Additionally, trust in your abilities as an investor rather than following someone else. Otherwise, herd mentality will always prevent you from becoming a true investor, and will instead weaken you. Do your analysis, your due-diligence, and invest.
Disclosure: I/we have no positions in any stocks mentioned, and no plans to initiate any positions within the next 72 hours.
I wrote this article myself, and it expresses my own opinions. I am not receiving compensation for it (other than from Seeking Alpha). I have no business relationship with any company whose stock is mentioned in this article.