Sonic (NASDAQ:SONC) has been a favorite long of mine for some time as its unique model and tremendous operating metrics drew me in. The company's stock has been what I'd consider quite cheap for a few quarters now as Sonic has been grappling with waning growth numbers, something I hadn't anticipated if I'm honest. And although Sonic wasn't supposed to report FQ4 results for a few more weeks, last night, it gave us a sneak peek and what we saw wasn't good.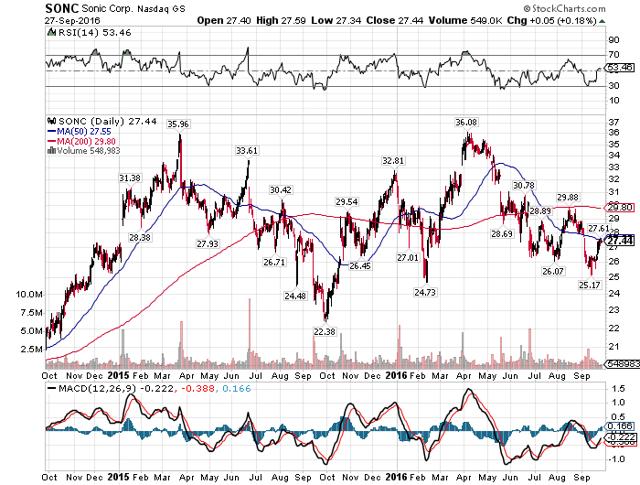 The stock is trading down off of the news and with good cause; the report was quite dour. And as a rule of thumb, when a company pre-reports, it is trying to get in front of bad news and that is exactly what we saw from SONC last night. So what made the report so tough?
Sonic reported a very uncharacteristic negative comp number for FQ4, coming in at -2%. The comp consisted of a -3% showing at company stores and a -1.8% at franchised units. That is a very unusual comp sales number for Sonic which has produced strong growth for a long while. Indeed, for the whole of fiscal 2016 the comp was 2.6% including the -2% number for FQ4. That speaks to how good the rest of the year was but there is no denying that FQ4 was terrible.
Management said a lack of traffic and lower consumer spending were to blame for the sales disappointment and that is something we've heard from a lot of restaurant chains of late. Sonic had thus far been largely immune to these impacts but it seems it has now fallen victim to a weak spending environment for QSR establishments as well. I'm quite surprised by the very negative comp and I'm also surprised that traffic fell off the way it did.
Sonic's model is different than other QSRs and up until now, it has worked better than some of the others. But is FQ4 a bump in the road or the new normal?
The stock is certainly trading like this is expected to be the new normal and if it is, SONC has a lot further to go to the downside. The stock has thus far maintained its growth multiple because it has been so good in the recent past and a lot depends upon where it settles over the next couple of days.
If SONC gets hammered and stays down, we'll know investors have largely given up. If, however, a quick bounce happens by the end of this week, we'll know investors still have faith in the model. The price action through the rest of this week is going to be absolutely critical so I'll be closely watching.
Analysts had SONC at 48 cents for FQ4 but the preliminary outlook is for 43 to 45 cents, a noteworthy reduction to put it politely. That means that the full-year estimate of $1.31 also needs to come down to probably $1.27 or so and that means that the stock is going for just over 20 times earnings.
If we look at fiscal 2017 - which has already begun - the multiple at present is only about 17 but keep in mind that estimates will likely come down because of the weak FQ4 report.
The valuation is certainly still cheap if Sonic can get back on track starting this quarter, but right now, there are a lot of questions. We won't know the impact to margins until the company reports its full quarter in a few weeks and we also don't know what kind of buyback activity management has been taking part in either.
The buyback is a huge source of EPS growth for Sonic so what management has done can have a material impact on EPS. Margins and the buyback are both still critical and if both of those numbers were strong, it can certainly help soften the blow of lower comp sales.
While much remains to be seen, the simple fact is that Sonic's formerly tremendous growth is waning. Whether or not this is a bump in the road is undetermined at this point, but given the negative comp number, we have no choice but to adjust downwards our expectations for future growth. Sonic isn't opening units quickly enough to offset negative comp sales so the only saving grace for EPS would be margins and the buyback.
Sonic generates plenty of cash to continue buying back lots of stock and if the stock comes in a bunch, I'd hope that management would be there to take advantage. For now, I'm going to stick it out and see what management says when it reports the full quarter in late October because I'm not yet convinced the model is broken.
Sonic has been too good in the past for me to bail on one weak quarter and at 17 times earnings, the stock still looks like a relative bargain to me even if comps are resetting lower.
Disclosure: I am/we are long SONC.
I wrote this article myself, and it expresses my own opinions. I am not receiving compensation for it (other than from Seeking Alpha). I have no business relationship with any company whose stock is mentioned in this article.