Church & Dwight (NYSE:CHD) has always impressed me. With its stable of iconic brands such as Arm & Hammer, Trojan, Nair, OxiClean, Batiste and more, most of us are familiar with their products. What is certainly true is that these strong brands have generated results which have been consistent and strong for such a long time it sometimes feels hard to imagine Church & Dwight missing a step on its growth path.
Their Q1 2016 results -- which I reviewed back in May -- were particularly impressive from a trading and cash flow perspective. The company expected Q2 2016 trading results to be weaker in comparison. However, has Church & Dwight still managed to impress? Here I will take a look at their results and see.
Reported Results Robust
Headline revenue results for H1 were pretty good. Revenue grew another 4% while operating income received a generous nearly 13% lift: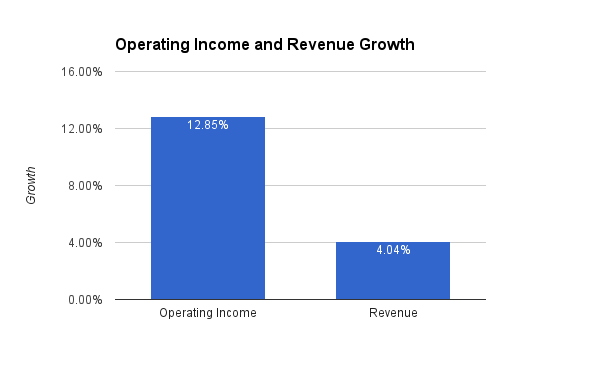 That compares pretty well to its historic performance: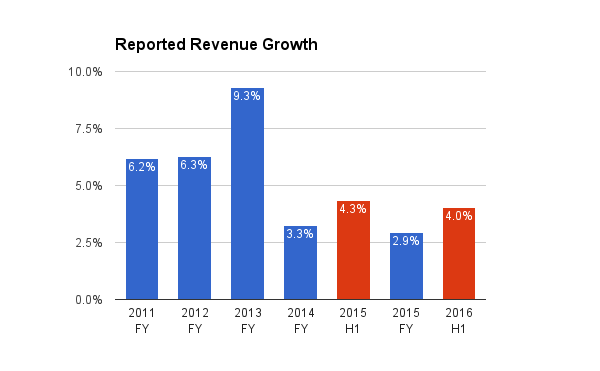 Certainly, reported growth has slowed in recent years. Yet the sudden lurch downwards in 2014 is largely explained by currency considerations. Nonetheless, H1 2016 performance is pretty robustly in line with that of H1 2015.
Unsurprisingly, with operating income lifting noticeably ahead of revenue we also find that margins have been expanding too: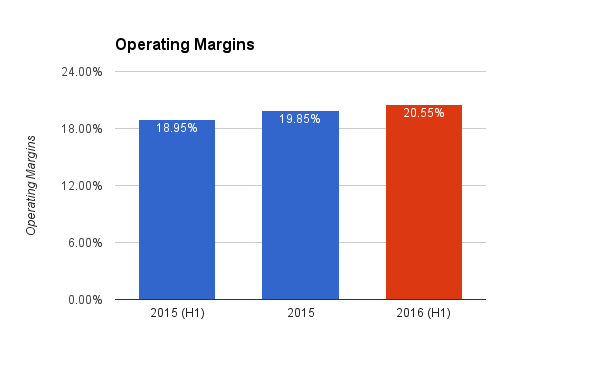 Indeed, compared to this time last year they are about 1.5% ahead. In addition, the 0.7% lead H1 2016 has over FY2015's operating margins looks very healthy indeed if it can be reflected in the year end results too.
Healthy Organic Growth Figures
Stripping away the effects of currency changes and M&A activity to look at organic results leaves me no less happy. Looked at from a H1 2016 perspective, results look pretty strong set against FY2015 results: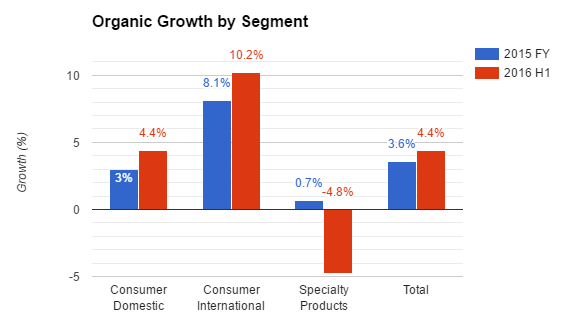 The standout result here, of course, is the Specialty Products business. This more commodity rather than brand-led part of the business has been a consistent blot on the otherwise sterling consumer business results. Yet the reality is that its ability to disturb Church & Dwight's results continues to shrink. Indeed, in H1 2016 its share of total company revenue lost a further 1% reaching just 8.4%: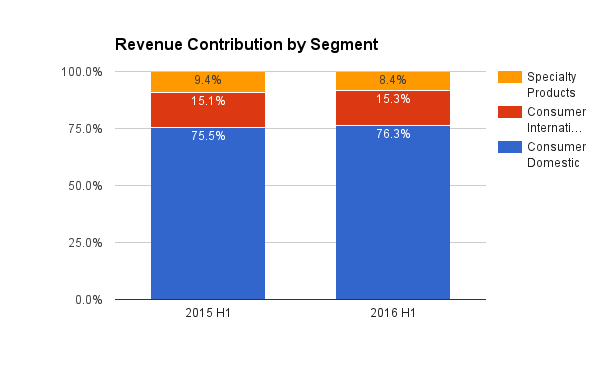 Its importance is, therefore, clearly continuing to wane. Nonetheless, H1 2016's impressive looking results were largely carried by the strong Q1 2016 results. In fact, Q2 2016 actually saw a weakening performance across all segments (consumer business included):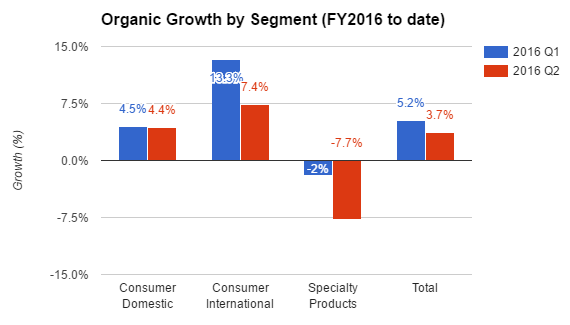 This was, however, anticipated and Church & Dwight expect this modest organic growth weakening to continue into Q3. Church & Dwight's CFO, Rich Dierker, explained during the Q2 earnings call that:
we expect Q3 organic sales growth of approximately 1% to 2%, behind stronger promotions and slower growth for our International and SPD divisions.
Yet they stand by a 3-4% organic growth for the full year. This would represent another solid set of growth figures for the year if achieved and, so far, I have little reason to doubt they will achieve this.
Pump up the Volume
More importantly, this organic growth continues to be driven by volume growth. Setting aside the Specialty Products segment for a while and looking solely at the breakdown of the more important Consumer Domestic and International segments makes this abundantly clear. Organic growth rests very heavily on volume rather than pricing expansion: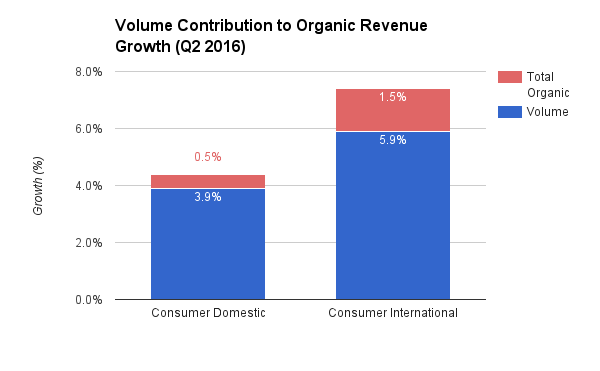 This is excellent to see and really confirms Dierker's assertion that Church & Dwight is a "perennial volume company." The company seems to be of the mind that the slower organic revenue performance in Q3 will be fed by weaker pricing and mix rather than volume performance. This is an encouraging position to be in.
Growth Drivers Impress
Yet where things really look excellent is under the bonnet. Looking at some of the increasingly important growth drivers at the business shows that there is still plenty of potential growth nestled within the business.
Vitamins, for instance, continues to be an impressive aspect. Church & Dwights CEO, Matthew Farrell, added in the earnings call that:
Now, let's talk about vitamins. The overall VMS category continues to show steady growth, up 3%. The gummy segment of VMS grew at 15% in Q2. Let me break that down for you, the adult gummy segment grew 21%, while the kids gummy segment declined 4%.
In that context, the performance of Church & Dwight's own gummy vitamin brands was pretty robust. Although its adult gummy VitaFusion brand grew lower than the segment at 9%, its much larger L'il Critters children's gummy vitamins beat its peer group with a small but important 0.4% growth. This is great news and shows how Church & Dwight has carefully crafted a dominant position within a comparatively niche but rapidly growing segment. Indeed, both brands hold 30%+ market shares in their respective gummy vitamins spaces.
The same is true of their dry shampoo brand, Batiste. Farrell continued that:
Batiste is the number one brand in the U.S. with a 22.3% share. Batiste was the fastest growing brand in the category and Batiste original dry shampoo is now the fastest turning SKU in the category. Batiste global net sales will cross $100 million this year for us, making it the number one dry shampoo brand globally and the Batiste brand is expected to be one of our fastest-growing brands in the future.
And the potential for continued growth appears strong:
This category grew 28% in Q2 after growing 26% in Q1. The category in the U.S. is now nearly $100 million with the potential to be a $300 million category, if we match the historical category growth experienced in the UK where the product originated.
This is certainly true. Dry shampoo and Batiste in particular has built up a strong presence quietly but effectively here in the UK. My partner has always kept a bottle at hand and keeping an eye and ear open you soon realize that she is not alone. Out of curiosity, I asked whether she knew of any other dry shampoo brand and she failed to name one.
Why? Put simply, because the Batiste brand has built-up a solid pedigree for quality performance in what remains for a non-user like myself a market which seems like something of an oxymoron. More people are using dry shampoo in the UK, and most are using Batiste. If this can be emulated in the US market then Batiste is situated nicely for long-term growth. Great news indeed for Church & Dwight's newest power brand.
Mature Brands Continue to Perform
Generally speaking, in fact, the company as a whole saw robust performances even among its more mature power brands. Indeed, Farrell was able to state that:
Category growth was broad-based, in that nine of our 15 categories grew in the quarter. From a market share perspective four of our 10 power brands grew share.
Farrell went on to explain that OxiClean, Nair hair removal, Batiste and vitamins (both VitaFusion and L'il Critters grouped together) were the power brands which grew share. Although additional detail was not generally gone into. Something to watch is that market share at their core Arm & Hammer brand was weaker in the quarter. Happily, Farrell explained that:
The Arm & Hammer brand in total all forms was down [in market share], driven by litter. It was down slightly, all forms about 10 basis points, but it was really litter that was the driver there.
This is important. Although the somewhat sprawling Arm & Hammer brand-across toothpaste, laundry, cat litter and more-was down in market share. Digging a little under the surface showed, for instance, that its all-important laundry element of the brand (and indeed company) continued to perform well. Farrell explained that:
Arm & Hammer laundry share continued to grow this quarter, up 10 basis points. To illustrate the consistency of the brand, Arm & Hammer liquid laundry has grown share year-over-year in 26 consecutive quarters.
Sure 0.1% laundry market share growth is hardly explosive. Yet it is exactly that consistency that Farrell highlights which is the most striking element of Church & Dwight's performances.
Cash Flow Creator
This consistency overflows into Church & Dwight's financial performance. Church & Dwight's history of free cash flow generation is pretty staggering. Over the last decade, it has only failed to grow FCF twice. Even on the "down" years they produced impressively stable FCF. How? Well it was courtesy of a heady combination of consistently growing operating cash flow (that is, OCF) and modestly expanding capital expenditure (that is, capex):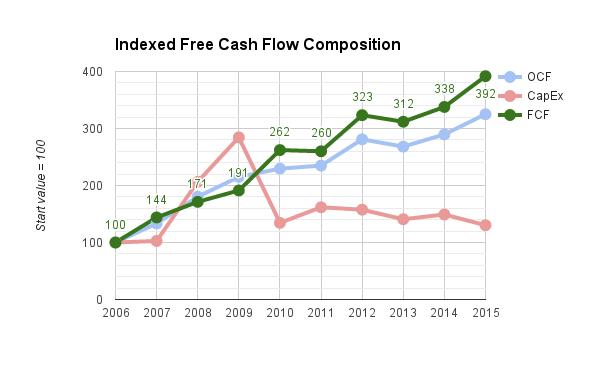 The effect is pretty stunning. Free cash flow at the company sits at nearly four times the level it was in 2006.
Nor has Church & Dwight offered us any signs that it is planning to stop doing so anytime soon. H1 2016 saw it continue its impressive momentum again thanks to excellent OCF growth and, on this occasion, sharply declining capex demands: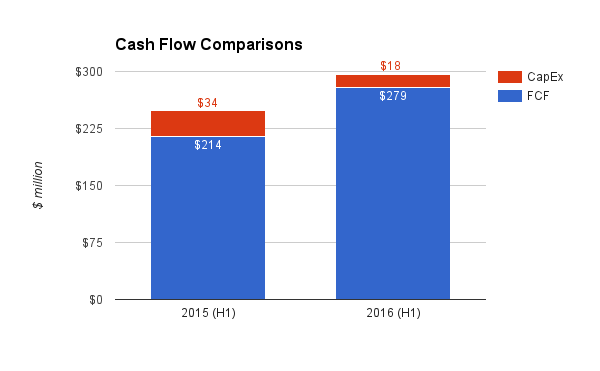 There is, as you can imagine, nothing in that set of results to disappoint an investor.
CROIC Growth Continues?
Such was the strength of its cash flow performance, it looks likely that Church & Dwight will leave FY2016 with another impressive uplift in its CROIC figure. CROIC -- or cash return on invested capital -- gives us a good indication of how efficiently Church & Dwight is generating its FCF from its invested capital (that is, total debt and shareholders' equity). Over the last decade their CROIC has been consistently rising: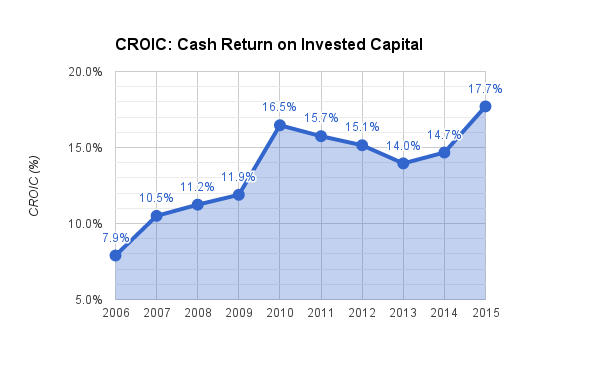 FY2015's 17.7% suggests that for every $100 of capital invested in the business it generated an impressive $17.70 in FCF.
Yet, if we assume that the quarterly share of FY CROIC in 2016 matches that of 2015, Church & Dwight looks set to see this improve even more to over 20% in 2016: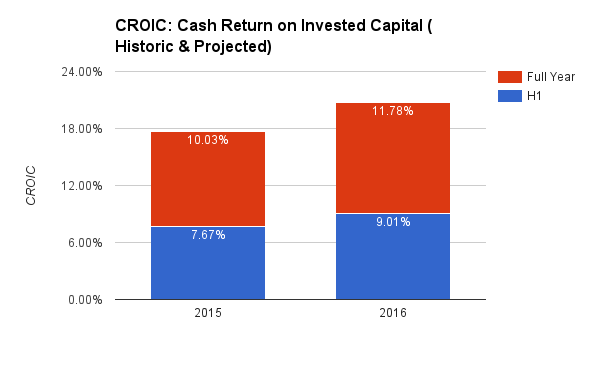 Again, there is little not to like here especially as part of the reason for this stunning CROIC performance is fed by what remains a more conservative attitude toward debt growth at the company. That's in contrast to other consumer goods companies like Brown-Forman (NYSE:BF.B) and Coca-Cola (NYSE:KO), which I have reviewed recently.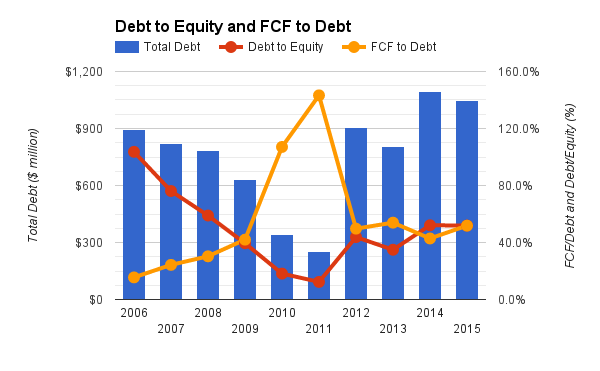 Indeed, both debt to equity levels and FCF coverage of debt sit around the 51% mark. This is very good indeed. Indeed the FCF to debt ratio suggests that they could repay their entire debt load using FCF alone in less than two years.
This is a very good reminder that the quality of this company and its management is reflected in its fundamental financial health and impressively consistent trading performance. Once again, I find it hard to raise any concerns at present.
Conclusion
Church & Dwight managed to generate another impressive set of results. The company continues to perform well in what remains a tough environment. The quality of its management and brands remains compelling for the long-term investor. Yet valuation continues to be a sticking point right now.
Personally, I am still waiting for the price to soften a little before opening a position. I am always happy to pay a premium price for a premium business. Yet, despite this, my three-part valuation method suggests a fair value target price around the $44.50 mark. The share price has dipped from the more than $50 it was attracting earlier in the year: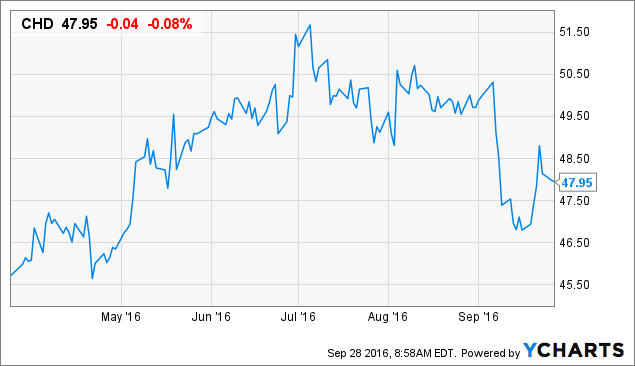 However, it remains over 7% ahead of my fair value estimate at around $48. For now, I think I will remain patient to see whether it heads closer to my fair value before picking up some shares despite its obvious quality and appeal.
With strong U.S. market shares across many of its brands and still ample scope for international expansion, Church & Dwight looks well placed to continue its already impressive record. In the meantime, however, I will have to remain patient for an entry point that tempts me.
Note: Unless otherwise stated, all graphs and the calculations contained within were produced by the author.
Disclosure: I/we have no positions in any stocks mentioned, and no plans to initiate any positions within the next 72 hours.
I wrote this article myself, and it expresses my own opinions. I am not receiving compensation for it (other than from Seeking Alpha). I have no business relationship with any company whose stock is mentioned in this article.