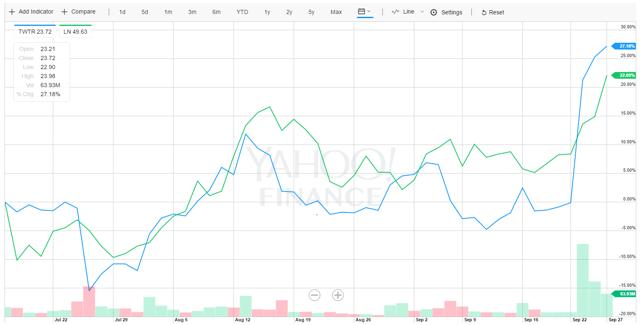 Yahoo! Finance
Twitter, Inc. (NYSE:TWTR) has been in the news constantly through the summer. Feedback has been largely negative and speculative. This has ranged from criticisms for poor user growth and engagement to mixed reviews regarding Olympic and NFL streaming coverage.
Ironically, in addition to the company's criticisms and perceptions, momentum has built strongly with expectations for the company to be acquired. The list has included a few top names in tech and entertainment such as Salesforce.com (NYSE:CRM), Microsoft Corporation (NASDAQ:MSFT), Alphabet Inc. (NASDAQ:GOOG) and The Walt Disney Company (NYSE:DIS).
For investors enthralled with Twitter's potential who jumped aboard during mid- to late July during the low point, a possible deal could not have come at a better time. In the background, LINE Corporation (NASDAQ:LN) has followed Twitter's lead, not through the same acquisition murmurings, but rather from a comparative valuation perspective.
The trend since the company's IPO has been strikingly similar to Twitter's stock price performance as illustrated above. For investors who similarly took a stake in LINE prior to the early August Twitter acquisition rumors, a similar spike in appreciation has occurred. This has directly correlated to the two instances where Twitter's stock price increased dramatically during early August and just recently in September.
But one has to wonder as to the possibilities leading to LINE's mirrored stock performance with Twitter. We could easily speculate that it is due to thoughts that a suitor could emerge for LINE. But there have been no rumors or such speculation of late to pin this on. One could make a far stretch that Facebook, Inc. (NASDAQ:FB) or one of the losing bidders pursuing Twitter could look to Asia for expansion via LINE.
But if this were indeed the case, the 25 percent run-up since early August would leave not much choice other than to take profits. No one would continue to expect LINE's stock price to remain and/or to continue to appreciate based upon unfounded speculative consolidation, that has yet to even reach publication. There could be dealings behind the scenes, but pressure eventually leads to public rumors of this.
On the contrary, LINE's recent increase in stock price is more likely the result of Twitter's increasing valuation and interest in what ultimate valuation a deal may generate. There are a few positives that LINE has going for it when compared against Twitter that the market may be excited about, namely earlier established profitability and robust room to grow digital advertising revenue.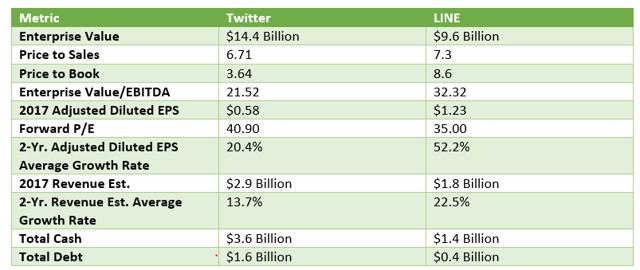 Source: Yahoo! Finance, company financials and personal database
Speculation on Twitter's buyout price has been anywhere between $24 to $30-plus per share. Most would probably think that the buyout price would be closer to the $30 per share level, but assuming average recent stock prices, premium, multiple bids, etc. could impact these expectations.
Generally, a buyout with an enterprise value somewhere around $20 billion, give or take $1.5 billion is a possibility. Looking back to LINE, a deal at this level could lead to an expectation of an increased valuation, even from today's price .
LINE's estimates are not as clear or widely prevalent at the moment from public sources. More transparency will be provided on the next earnings report, the first post-IPO. But the company arguably is in a position to witness both continued robust organic growth, as well as bolt-on acquisitions to further drive digital advertising improvement.
During the first quarter for 2016, LINE's advertising revenue grew 66 percent versus last year to nearly 30 percent of total revenues which came it at $335 million. This increase was strong from 2015's advertising revenue 20 percent proportional baseline. The company's communication and content revenue grew nearly 10 percent versus the previous year reflecting solid performance. Clearly, digital advertising will be the catalyst moving forward for LINE's growth potential.
LINE's more diversified revenue base also provides the company with stability as it begins to consider investing the newly raised $1 billion in IPO proceeds. The company has a strong market share in Japan, Taiwan, Indonesia and Thailand for the Asian market affording it a competitive premium.
More and more, advertisers and marketers will want to gain access to potential customers in Asia. China is obviously the most lucrative market as well as India as a runner-up, but LINE's presence in Asia as a diversified platform is not unnoticeable. Any business whether within one of LINE's major Asian countries or on the outside will need to consider LINE. This is especially the case in Japan as LINE regularly competes as the number one mobile app in the country for time spent.
LINE's appeal can be attributed to Facebook's success and interest and investments in messaging as an important communications platform. Being able to market via a communications platform may be perceived as a challenge, but LINE has already monetized its platform in separate forms. This would suggest that the company's established user paying base may lend itself better to mobile advertising and other monetized engagement opportunities.
The digital stickers purchasable on LINE provide an interesting opportunity for western and other countries looking to gain exposure to LINE's users. This results from the fact that LINE users are able to follow company LINE accounts. Innovative businesses may be able to integrate marketing through Japan's unique sticker phenomenon. LINE now has greater exposure through the IPO to establish itself as a differentiated platform within Asia for advertisers and marketers.
The prospects for LINE are definitely prevalent, but investors need to ask the question of what happens in the event Twitter is acquired, and time passes buy with no rumors for LINE. Or worse, what happens if Twitter does not get acquired. The tables will quickly turn to LINE's quarterly results. Based on the rapid appreciation witnessed over the past couple of months, any slight crack of sub-par performance will be rewarded with a potential sell-off.
Twitter's impact on LINE's stock price has been clearly illustrated. Investors with long-term horizons may be interested in weathering storms based on current uncertainties, but investors looking to make a short-term profit may be better suited taking profits from the recent run-up. Either way, investors with a position in LINE need to think about the recent run-up and whether they are willing to continue to hold.
Disclosure: I am/we are long LN.
I wrote this article myself, and it expresses my own opinions. I am not receiving compensation for it (other than from Seeking Alpha). I have no business relationship with any company whose stock is mentioned in this article.