In 2016, one of the best-performing sectors has been precious metals. Gold began the rally early in the year. The yellow metal closed 2015 at the $1060 per ounce level and has not looked back trading recently at around $1340. It took silver longer to catch on, but it has rallied alongside gold moving from $13.80 at the end of last year to around $19.50 per ounce.
Gold and silver made critical lows in December of 2015 at $1046 and $13.60 per ounce respectively. It was not until the middle of January 2016 that platinum reached its nadir at $812.20 per ounce. In August, platinum reached highs of just under $1200 and has since pulled back, now trading at the $1020 level.
When considering precious metals, the case for platinum is compelling these days. Platinum is indeed precious, but the price has not reflected its rarity and value. There is a multitude of reasons why every investor should hold a percentage of their portfolio in precious metals as a hedge against inflation, fear, and uncertainty. When thinking about precious metals, the conventional wisdom is to consider gold, the most ubiquitous commodity in the sector. However, there are many reasons today that platinum could be a wiser and more economical choice when it comes to precious metal investments. In these tumultuous times, all savings and investment plans should contain some exposure to the precious metals sector.
All portfolios should include some precious metals
Precious metals have an almost mythical lure. They are shiny, beautiful, and they are rare. These commodities are assets and over the course of history, they have stood the test of time as symbols and vessels of wealth.
Precious metals have been around longer than all common currencies, stocks, bonds and virtually all other investment assets. While some people deny the viability of precious metals, perhaps the best sign that they hold a very special place as a store of value is the action of central banks and monetary authorities around the world. Almost all the main governments own a significant percentage of their foreign exchange reserves in gold. In fact, the governments of the world currently hold around 35% of all of the gold ever produced in the history of humanity.
Over recent years, central banks have been net buyers of the yellow metal with China and Russia leading the way as purchasers. Both nations hold much less gold than other countries, on a percentage basis, when compared to their total reserve assets.
Some of the most experienced economists in the world run global central banks. Holding precious metals by these institutions is nothing new; it has been the practice for hundreds if not thousands of years. If central banks hold precious metals as part of their reserves it makes sense for these assets to be a part of any investment portfolio.
Physical metal provides a hedge
There are so many ways to invest in precious metals these days. Futures, options on futures, ETF, and ETN products are all instruments that provide exposure to the prices of precious metals. Additionally, the shares of companies involved in the production of gold, silver, platinum, and palladium are also an investable route. However, when it comes to precious metals, the most direct way to participate in the market is to own the physical metals themselves.
Precious metals tend to appreciate during periods of inflationary pressures. Over the course of history, their role as a mean of exchange or an ultimate currency as well as their utility as flight capital has caused many people around the world to own the precious metals for emergency purposes. When it comes to the most expensive metals, on a simple basis, a 100-ounce bar of gold or platinum can be carried easily and weighs around 6.86 pounds. That gold bar is worth around $132,000 at the current price. The platinum bar is worth around $102,000. As you can see, the high values of these metals make them easy to store and carry. Additionally, they are fungible and highly liquid. Therefore, physical metals can serve many purposes for investors who hold them long-term assets.
Platinum is rare and expensive to produce
Each year there is approximately 2,800 tons of gold produced around the world. Gold production comes from many regions of the world with the leading producers in China, Australia, Russia, the United States, Canada, and South Africa. However, gold reserves and production occurs all over the earth.
When it comes to platinum, the vast majority of output comes from only two nations, South Africa and Russia. With only around 250 tons of annual production, platinum output is ten times less than gold making it a rarer metal. Additionally, platinum occurs deeper in the crust of the earth which means it is more expensive to extract leading to a higher cost of production. While both platinum and gold jewelry are both traditional uses for the metals, platinum has a higher resistance to heat than gold. While gold melts at 1,064 degrees Celsius, platinum's melting point is 1,768 degrees. The hotter melting point for platinum results in more industrial applications for the precious metal. Automotive catalytic converters, oil refineries, fuel cells, hard disks, and fiberglass producing plants require platinum as a catalyst because of its high melting point. Platinum is also found in medical equipment as well as some chemotherapy drugs. On a per ounce produced basis, there are many more applications for platinum than gold.
The nickname for platinum over many years has been "rich man's gold" as the metal has tended to trade at a premium to its yellow cousin. However, over recent years, platinum has remained below gold and has not sold at a price higher than gold since 2014.
Platinum is cheap on a historical basis
An examination of the quarterly price of platinum minus the price of gold yields a fascinating picture for the relative value of the two metals.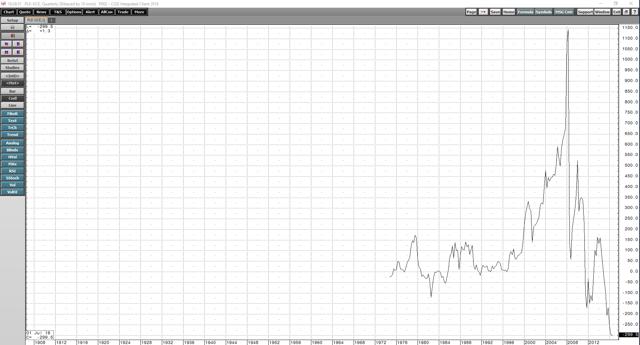 Since 1974, platinum has traded at as much as an $1144.40 premium to gold in 2008 and as low as a $350 discount to the yellow metal in June 2016. Over the course of the 42 year period, platinum has spent the vast majority of its time trading at a premium to gold. Therefore, the current discount of around $300 is a historical anomaly for the value of the two metals. It tells us that at current prices, either gold is too expensive, platinum is too cheap or a bit of both.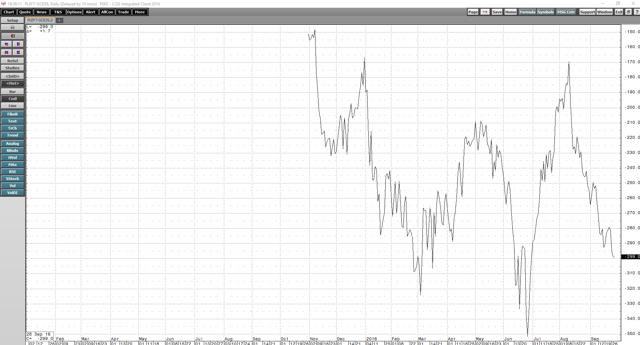 The daily chart of the platinum minus gold shows the recent all-time lows of $351.70. That differential occurred immediately after the Brexit vote, so the sharp $100 rally in gold over a 24 hour period caused the deviance in the spread. A little over one month later, the discount dropped to $170 per ounce as platinum played catch-up and peaked at $1199.50 on August 10. However, since then the spread has gone the other way again, trading at just over a $300 discount on September 28.
The bottom line is that platinum is trading at a price that is too cheap when compared to gold these days.
How to get physical with platinum
In the current environment, I am a big fan of swapping gold holdings for platinum. After all, on an ounce for ounce trade, the market will pay around $300 for replacing gold with platinum, a rarer and more precious metal.
Another route to investing in platinum is to use the PPLT ETF product which currently traded at the $97.80 per share level. However, the most direct route of investment is in the physical metal. My favorite deal right now is long platinum and short gold. If you wish to construct this spread, remember that you need to buy two NYMEX platinum futures contracts for each COMEX gold futures contract sold as a gold futures contract contains 100 ounces of the yellow metal.
If you are considering adding precious metals to your nest egg at this time, I believe platinum on a physical basis as a long-term investment is a preferable route given the metal's current price compared with gold. There are not many metals that melt at temperatures of over 1700 degrees Celsius. Many reputable dealers around the world sell platinum coins and bars, but they tend to trade at significant premiums to the market price. When buying from any of these dealers make sure to compare prices; become an educated consumer. One way to avoid these premiums is to buy a nearby NYMEX futures contract of platinum and stand for delivery of the metal. There are some fees involved in taking delivery, but those premiums are likely to be less than a dealer will charge. Each platinum futures contract represents 50 troy ounces of the metal. At a price of $1020 per ounce, the cost of a contract is $51,000 and a 50-ounce bar weighs only 3.43 pounds. The ingot is small because of the high density of the metal.
Platinum is cheap today, and that does not mean it cannot get cheaper. However, buying platinum on a scale down basis from the current price represents the best value in precious metals at this time. Inter-commodity spreads like the platinum-gold spread are incredible indicators of value. Today, platinum is once again on sale in the precious metals sector when considering historical price relationships.
I have introduced a new weekly service through Seeking Alpha Marketplace. Each Wednesday I will provide subscribers with a detailed report on the major commodity sectors covering over 30 individual commodity markets, most of which trade on U.S. futures markets. The report will give an up, down or neutral call on these markets for the coming week and will outline the technical and fundamental state of each market. At times, I will make recommendations for risk positions in the ETF and ETN markets as well as in commodity equities and related options. You can sign up for The Hecht Commodity Report on the Seeking Alpha Marketplace page.
Disclosure: I/we have no positions in any stocks mentioned, and no plans to initiate any positions within the next 72 hours.
I wrote this article myself, and it expresses my own opinions. I am not receiving compensation for it (other than from Seeking Alpha). I have no business relationship with any company whose stock is mentioned in this article.
Additional disclosure: The author always holds part of his portfolio in precious metals. The percentage changes with market conditions.