Ericsson (NASDAQ:ERIC)
Ericsson has caught my attention for two reasons: First, Ericsson is a well-known name and secondly because it is active in numerous industries and sectors that will play an unprecedented role in our future life; The cloud, the Internet of Things, 5G, etc.
As many as 40% of global mobile data traffic is currently carried by Ericsson's networks. The Swedish tech giant has 39,000 patents to its name and currently gets 70% of its revenue from software and related services (formerly mainly hardware). The core sector in which Ericsson operates is highly competitive and very cyclical (periods of many and periods of almost no investments by telecom companies).
Ericsson is currently worth 50% less than during its peak of last year. 2015 was an exceptional year for the company with a very strong Q4. 2016 has so far been a real disappointment (sales slowdown and no cash from operations). 2017 is also expected to be a quite difficult year as this trend continues.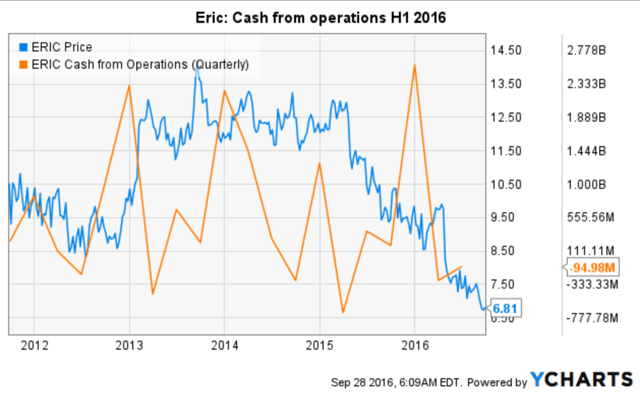 My task today is to simply find out if the market hasn't become too pessimistic about Ericsson's outlook and whether or not there's an opportunity hiding behind this beaten-down stock.
I believe a high margin of safety is probably justified with Ericsson, as the company currently has little pricing power. There are only three or four major players active in Ericsson's core industry and they all have to fight for a handful of large contracts from mobile operators (whose number has declined significantly due to consolidation within the sector). Usually, low-cost players like Huawei can offer better prices than lumpy players like Ericsson and, therefore, the Swedes often lose additional revenue (especially in the Middle East and Asia).
1. Strong balance sheet and healthy financial situation
Ericsson has a strong balance sheet. Net cash on the balance sheet amounts to 21 billion SEK or 2.4 billion USD at current exchange rates. Today's current and quick ratio amount to ~2 and 1.60.
2. Cheap valuation
Ericsson's valuation for this year seems quite expensive (estimated P/E for 2016 of ~17), but the EV/EBITDA ratio of 6, on the other hand, seems more than reasonable. Much depends on how well Ericsson can come back during 2017-2018. Most of its competitors (Nokia (NYSE:NOK), Motorola Solutions (NYSE:MSI), ...) are priced more expensively, though.
3. Good long-term prospects
Ericsson is starting to position itself in multiple industries that should be recording firm growth in the near future. Within 5 years, more than 6 trillion USD will be spent on anything related to the Internet of Things. Ericsson's current expected turnover of ~26 billion USD leaves much room for growth but it will only achieve this growth if it could successfully position itself as an industry leader within these growth markets. It will take at least a few years before Ericsson's good prospects will be translated into a thicker bottom line.
4. Quality management
Ericsson doesn't do well at the moment due to a negative investment cycle, but measures have been taken quite quickly by the board to weather the situation: Ericsson's CEO was forced to step down and additional austerity measures were announced (including 3,000 extra possible layoffs in Sweden = good for ~1 billion USD additional savings). A next possible step (if really necessary) is to halve Ericsson's generous dividend (current yield of > 6%) to free up more cash for investments in growth areas.
5. Possible positive short-term price triggers
I'm not aware of any specific event that might cause Ericsson's price to surge in the near future. But since Mr. Market is already quite pessimistic about Ericsson, any unexpected positive newsflash might have a very positive impact on its share price; Additional savings, a better than expected quarter, an acquisition, a merger, a new collaboration (such as the recent collaboration with Cisco (NASDAQ:CSCO)), the appointment of a new CEO, ... might all lead to a significant share price increase.
6. Smart dividend policy
I personally believe that Ericsson's payout ratio for 2015 (90%) is too high and should probably be lowered now that 2016 and 2017 might be more challenging. Growing profits (or at least stable earnings) are much more important than rising dividends. Nonetheless, Ericsson's balance sheet is still healthy thus Ericsson's dividend policy can be described as decent or smart.
7. Positive macro environment or improving sector outlook
As mentioned earlier, the sector in which Ericsson operates is highly competitive and the sector is very cyclical. So at the moment I believe it's fair to say that Ericsson's area of operations is not yet improving.
8. Interest from other funds/analysts/money managers
21.5% of Ericsson's capital is owned by a Swedish holding named "Investor AB." This holding is known for its thoughtful investments and sustainable long-term growth policy.
Nevertheless, in recent quarters some fund managers and institutional investors reduced or sold their positions. Consequently, this is what caused Ericsson's stock to fall so deeply.
I believe that at current price levels, anyone who wanted to sell probably already sold. Many analysts have already started to upgrade their forecasts from "underperform" to "neutral."
9. 20% undervaluation?
Ericsson's current market value stands at 190 billion SEK or ~23 billion USD. Profits for 2017 are expected to amount to ~14 billion SEK or 1.63 billion USD. These assumptions give us a forwarded P/E of ~14. The EV/EBITDA, however, should definitely be lower (under 6) due to the extra savings (resulting in a higher EBIT(DA) margin).
Assuming that Ericsson could keep its 2017 and 2018 earnings relatively stable (net earnings per share ~4.2 SEK or 0.49 USD) over the next two years during the reorganization (0% growth) but afterwards could take advantage of its new growth engines (IoT, 5G, the cloud ...) and a more efficient corporate structure to grow at 7% annually, then Ericsson could be an interesting investment.
By 2021 net profit per share could amount to 5.2 SEK or 0.60 USD. Based on a normal P/E of 15, a fair price of 78 SEK or 6 USD would be justified. Based on a P/E of 17.5 (historically more accurate for Ericsson), one could obtain a fair price by 2021 of 91 SEK or 10.5 USD.
If we'd like to achieve a minimum annual return of 10% (excl. dividends) it is advisable to buy between 46 SEK and 54 SEK or 5.3 USD and 6.3 USD. However, if you'd like to have any margin of safety, it's appropriate to buy at even lower levels.
Conclusion
Ericsson is an interesting company with possible good prospects if it would successfully position itself as a leader in its newly targeted growth areas. With a score of 4 on my 9 criteria, however, uncertainty remains high. A lot is dependent upon management's execution and future efforts to transform the company.
Nevertheless, I suspect that Ericsson's above-average dividend yield (6.53% at current prices) and its low EV/EBITDA ratio will already start to support its share price. Ericsson's book value of 41 SEK or 4.78 USD should also be considered an absolute minimum for the company and therefore limits its downside by about ~30%. If all goes well, we might be at 91 SEK or 10.61 USD by 2021 (+56%). This brings the reward/loss ratio to 1.86.
I advice investors to buy below 6.3 USD.
Disclosure: I/we have no positions in any stocks mentioned, but may initiate a long position in ERIC over the next 72 hours.
I wrote this article myself, and it expresses my own opinions. I am not receiving compensation for it (other than from Seeking Alpha). I have no business relationship with any company whose stock is mentioned in this article.