SJW Corporation (NYSE:SJW) is essentially a water utility company. It operates through various subsidiaries such as San Jose Water Company, SJW Land Company and SJWTX.
San Jose Water Company operates both as a regulated and non-tariffed business that provides water services to a large part of the San Jose Metro in California. The map below indicates the area supplied by San Jose Water Company in light blue.
(Source: San Jose Local Government)
The SJWTX subsidiary operates through Canyon Lake Water Service Company (CLWSC), a regulated water utility located in Canyon Lake Texas, and its consolidated non-tariffed variable interest entity Acequia Water Supply Corporation. The SJW Land Company owns and rents out commercial real estate.
Growth Potential at the San Jose Water Company
The water utility component of SJW composed 98% of its total revenue and approximately 91% of its earnings for the first half of 2016.
California is well known as a state that is often plagued by droughts. Drought often benefits SJW in the short term as the California Public Utilities Commission (CPUC) permits the San Jose Water Company to levy drought surcharges during times of severe drought. This is, however, sometimes a bit of a double edged sword as persistent drought may lead to the depletion of the company's water resources. Furthermore, the company purchases some of its water from other suppliers that will increase their prices during a drought.
In the first half of 2016, during a dry period in California, the company was, however, able to reduce its expenditure on purchased water. It must be noted that although the surcharges can increase revenue the company doesn't report the drought surcharge as part of revenue but rather includes it in the regulatory liability account.
The San Jose Water Company is also set to benefit strongly from the surrounding areas ever improving demographics. The Association of Bay Area Governments (ABAG) and the Metropolitan Transportation Commission (MTC) has estimated that the San Francisco Bay Area, which includes San Jose, will add 2,100,000 people and 660,000 homes by 2040. This will significantly increase the demand for water.
In a report commissioned by the San Jose local government it was indicated that demand for water will increase from the 133,091 Acre-Feet/Year (AFY) in 2015 to 214,560 AFY in 2035. This represents a 60% rise in demand. The San Jose Water Company supplied 107,754 AFY in 2015 and is expected to supply 159,479 AFY by 2035.
The CPUC has also been very willing to allow for reasonable rates increases with the cumulative approved rate increase between 2013-2015 amounting to 18.9%. It has also approved an 8.6% rate increase for 2016. A regulator that understands the importance of allowing for reasonable rates increases is of fundamental importance to the company's long-term success, should the CPUC persist in this positive vein it will further enhance the company's earnings potential.
Growth Potential at SJWTX
The subsidiary operates in the Canyon Lake region of Comal County and Southern Blanco County in Texas. This area is one of the fastest growing population centers in the U.S., with Comal county ranked as the seventh-fastest growing large county in the country. These demographics will enhance SJW's long term earnings potential as it increases the demand for water.
The demand for clean water, excluding water used in activities such as mining, in Comal County is expected to rise to 24,180 AFY by 2020 and to rise again to 30,597 AFY by 2030. SJWTX has also increased its number of customers by 80% since SJW acquired it in 2006.
SJWTX, trough CLWSC, currently has 13,000 water connections and has steadily been adding 500-600 new connections per year. This amounts to an increase in new connections of approximately 4-5% per annum.
SJWTX also has the potential to expand significantly through the use of acquisitions. The company has completed 10 acquisitions since 2006 and has indicated that there are approximately 25 smaller systems within its service area and another 25 in close proximity, amongst whom it may consider an acquisition.
Real-Estate
The company currently values its real estate in SJW Land Company, real estate that does not form part of SJW's core business, at approximately $51 million after accounting for depreciation and amortization.
The company has the potential to sell the real estate, and realize a gain thereon, that can be returned to shareholders as dividends or be used for a share buy-back. The company does, however, not presently seem to be considering any such options for its real estate portfolio.
Earnings in Review
In the second-quarter of 2016 SJW reported an increase of 20% in operating revenue over the same quarter of the previous financial year. The company also reported a 125% improvement in Nett income over the same quarter of the previous financial year. When excluding the gain on the sale of California Water Service Group stock the company showed an improvement of 82% in Nett income over the previous financial year. (Take note that all percentages have been rounded to the nearest whole)
The company showed an improvement of approximately 39%, excluding the gain on sale of California Water Service Group stock, in Nett revenue for the first half of 2016 over the same period in the previous financial year.
The company has also increased its dividend every year for the past 48 years. Should the company be able to maintain these positive developments investors will continue to rate the company highly and drive up the stock price. The company's third-quarter earnings results are set to be released on the 26th of October and should the company exceed analysts' expectations, as it had done in the second-quarter the stock's recent rise is set to continue.
Valuation
SJW's stock (the candlesticks in the chart below) has seen a substantial rise this year; outperforming its peers such as York Water (NASDAQ:YORW) (the red line below), Connecticut Water Services (NASDAQ:CTWS) (the orange line below) and Middlesex Water (NASDAQ:MSEX) (the yellow line below).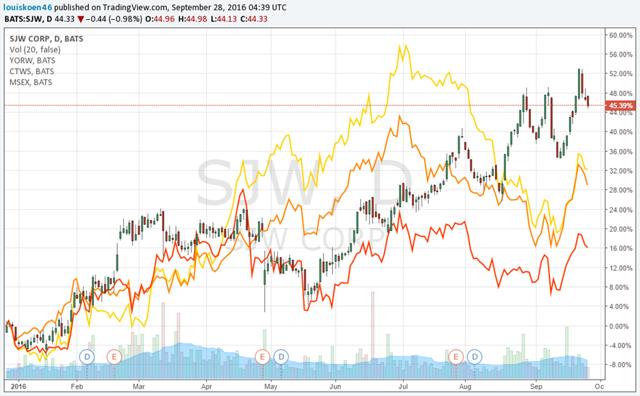 (Source: Tradingview)
SJW's TTM p/e ratio of 19.87 is lower than its peers such as YORW which is currently trading at a TTM p/e ratio of 31.44, CTWS at a TTM p/e ratio of 23.48 and MSEX at a TTM p/e ratio of 27.44. The company's p/e ratio may be lower than that of its peers but is currently slightly above its 5-year average of 19.85. I do not, however, regard this as a major concern for, as can be seen in the chart below, the company has traded at significantly higher p/e ratios over the past 10 years.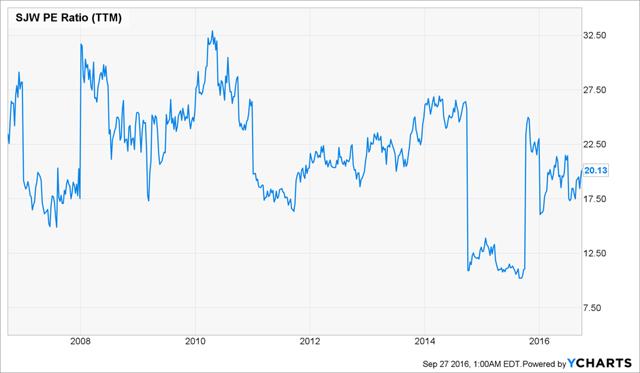 (Source: Ycharts)
SJW is trading at a lower price to book value than its peers. The company is currently trading at 2.287 times book value compared to its peers YORW which is trading at 3.4467 times book value, CTWS which is trading at 2.472 times book value and MSEX which is trading at 2.8 times book value.
The company is currently trading above its 5-year average price to book value of 1.766. This can, however, largely be attributed to the steadily rising price to book value that remains below 2006/7 levels, at which times it often traded at 3 times book value.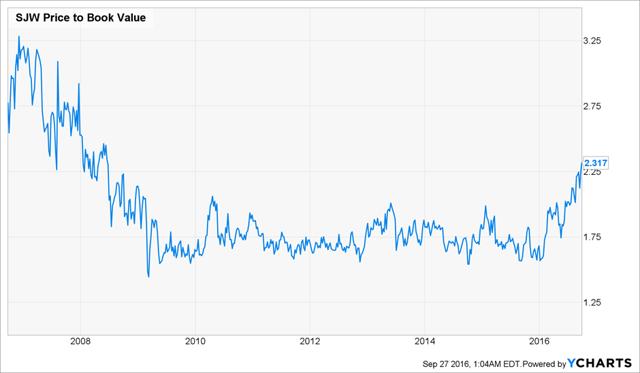 (Source: Ycharts)
The company's history of 48 years of dividend growth is encouraging for dividend investors. It should, however, be noted that its peers offer a better dividend yield than its 1.81%. YORW offers a dividend yield of 2.04% and CTWS a dividend yield of 2.17%.
SJW also has a better ROE than its peers. Its ROE currently stands at 12.08% compared to YORW's 11.33% ROE, CTWS's ROE of 10.77% and MSEX's ROE of 10.7%.
Conclusion
The company is nearing overvalued territory on a 5-year historical basis. I do, however, believe that it still offers good value at present levels relative to its competitors and that it has substantial long-term growth potential.
Disclosure: I/we have no positions in any stocks mentioned, and no plans to initiate any positions within the next 72 hours.
I wrote this article myself, and it expresses my own opinions. I am not receiving compensation for it (other than from Seeking Alpha). I have no business relationship with any company whose stock is mentioned in this article.