Opening Rant
Today, we got the latest reading of GDPNow put out by the Atlanta Fed, and guess which way it continues to trend? Lower. Yes another reading, another estimate lower for 3Q GDP, now to 2.8% down from the previous reading of 2.9% on September 20th. The last reading for the quarter will come on September 30th when we get personal income and outlays.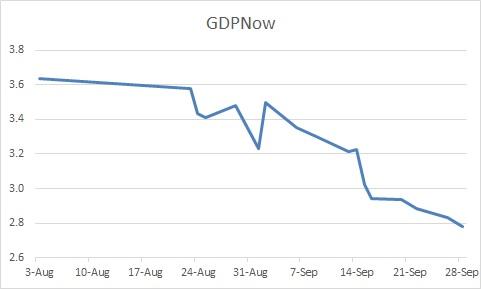 (Source Data from Atlanta Fed)
How accurate is this GDPNow estimate? It looks like from the chart below, it has been overestimating the actually GDP readings over the last few quarters. It gives us a good probability we get another sub-2% reading for GDP this year.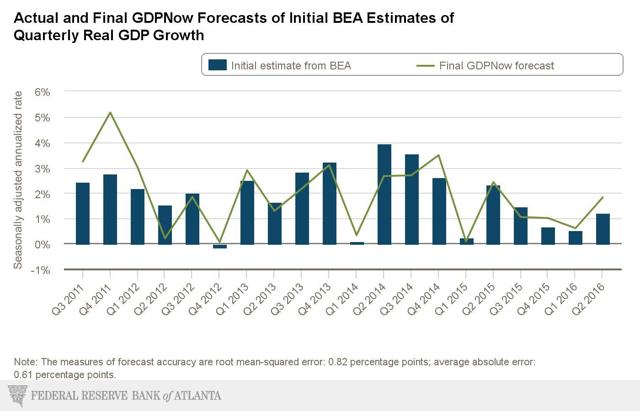 Equity Market and Sectors
The S&P 500 (NYSEARCA:SPY) is bouncing around once again this morning and is down about 25bps currently and is back to the 2,155 level after getting up to 2,165ish yesterday. We are just stuck at the moment back at this 2,150 level. There seems to be enough support to hold the market from breaking and going below 2,120, and there appears to be enough resistance to keep the market from breaking above 2,180. Until we get some more news flow regarding economics or earnings, there is just no reason for this market to move in either direction.

Unfortunately, in environments like this, the machines and algos run the show, and that is what we are seeing and the chart above demonstrates that.
Even though the broader market is moving nowhere at the moment, the sectors are churning. Biotech (NASDAQ:IBB) has been struggling over the last few sessions.

Its failure to get through $300 for the third time has the machines pressing the sector lower today. The ETF is down over 1.30% and is currently back to the $293 level. This area of $290-293 has acted as support the last couple of trips lower. I suspect it does again as well.
Utilities (NYSEARCA:XLU) also are getting pounded today, down about 1% and is now $49.70. Industrials (NYSEARCA:XLI) and Energy (NYSEARCA:XLE) are performing the best, and they are only flat.

It appears for now there is indecision as to where money wants to rotate. It seems surprising to me that the XLU is not performing better today, given that the Fed has indicated it is likely to take a shallower path for interest rate increases into the future. One would think it would send investors back to the higher-yielding sectors of the market. For whatever reason we do not see that today.
Yield and Currency
Speaking about the Fed and yields, I thought today. We could take a look at some global bond markets and see if they are telling us anything new.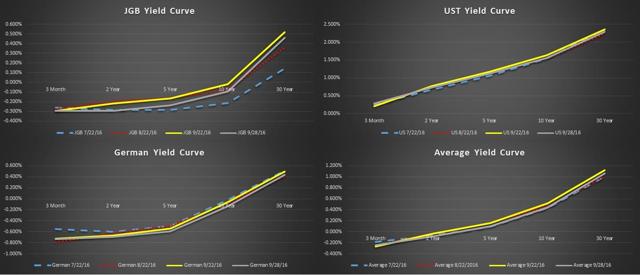 So we can see from looking at the yield curve for each country that the only market that seems to have had a noticeable shift since the most recent round of central bank meetings is the JGB. Which is fascinating and strange, especially since the BOJ has indicated it wishes to keep the 10-year virtually pegged to the 0% rate. However, the yield has fallen to about -0.09%. The Treasury and Bund markets have hardly budged.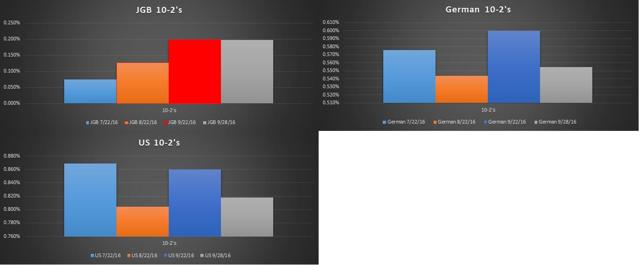 Looking at the steepness of the yield curves, taking the 10-2s, it has been fairly inconsistent for the Treasury and the Bunds, while the JGBs have steepened since July.
This next chart is of the 10-10s of the three bonds.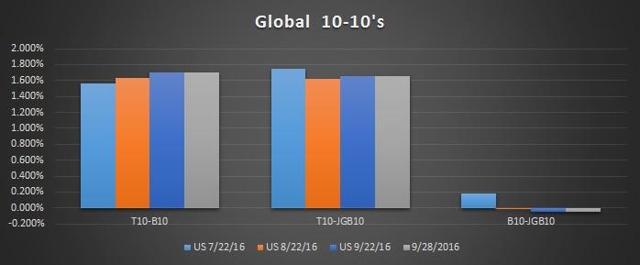 It would seem from looking at these charts, bond markets appear to be pretty content staying relatively within the same historical spreads of each other. So despite the JGB yields steepening, it seems that the actual spread between the JGB 10s and US 10s (NYSEARCA:TLT) and Bund 10s have hardly changed. This tells us that despite any central bank's intentions to shift its monetary policy, the market will most likely pull the bonds of the other countries with it. What does this mean? It just means if the US 10-years (NYSEARCA:TLH) start going up in yield in anticipation of an FOMC rate hike, it is likely to take the Bunds and JGBs higher in yield with it, or vice versa. This an example of market forces at play.
Speaking of market forces, there must have been a poll out this morning that showed Donald Trump catching up to or leading Hillary Clinton because the Mexican Peso is back to weakening again vs. the dollar (NYSEARCA:UUP) today.

I made a trip to RealClearPolitics to find a new LA Times/USC poll that ran through 9/27 that showed Trump up 47 to 43. There will be more polls to come this week for sure if you want to see who is leading in the polls just turn to the Peso.
Summary
Lots of other topics to talk about today as well. We didn't even touch on the European Banking (NASDAQ:EUFN) system or Libor. But to keep your eyes from glazing over, I thought it would be best to work with these topics for today. Again, the S&P 500 just continues to let the machines run the show. Currently, there doesn't seem to be a clear direction for sector rotation. Global bond yields continue to demonstrate just how interconnected this world has become.
Remember, if you like reading these commentaries, make sure you follow us with that little plus button at the top of the page next to our name. If you really like us, then join us in our members-only area where we cover even more topics. We give a two-week free trial and this Thursday at 9:30 PM EDT, we will host a Q&A session.
-Mike
Disclosure: I/we have no positions in any stocks mentioned, and no plans to initiate any positions within the next 72 hours.
I wrote this article myself, and it expresses my own opinions. I am not receiving compensation for it (other than from Seeking Alpha). I have no business relationship with any company whose stock is mentioned in this article.
Additional disclosure: Mott Capital Management, LLC is a registered investment adviser. Information presented is for educational purposes only and does not intend to make an offer or solicitation for the sale or purchase of any specific securities, investments, or investment strategies. Investments involve risk and unless otherwise stated, are not guaranteed. Be sure to first consult with a qualified financial adviser and/or tax professional before implementing any strategy discussed herein. Past performance is not indicative of future performance.