Valeant Pharma (NYSE:VRX) is a short seller's delight and a long-term investor's nightmare, the company's roller-coaster ride has made and lost fortunes.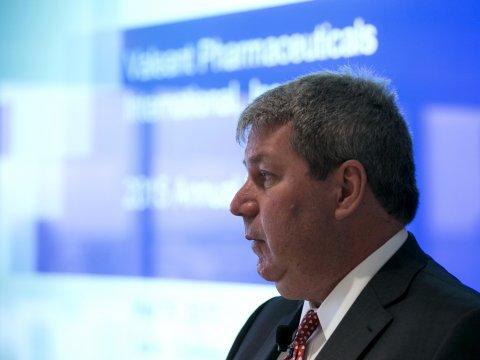 There are still strong bullish and bearish opinions on the stock.
In the best case scenario Valeant is undervalued because of unfair speculation. Under Joseph Papa's leadership, the company sells non-core assets and pays down its massive debt - leaving behind a lean, mean growth machine.
In the worst case scenario Valeant is still overvalued and has further to fall. The massive debt will choke cash flow and divestitures will gimp the company's ability to meet interest payments on its debt - leading to default and bankruptcy.
Recommendation
Despite a massive price drop over the last two years, and seemingly low valuations Valeant is still overpriced and has further downside potential.
The company's massive amount of debt has crushed its equity value and increased its WACC, thus removing the most viable way for the company to escape its problem though mass equity issuance - without destroying shareholder value that is.
The interest payments on the debt are simply too high. This prevents Valeant from being able to pay down its debt with net income or free cash flow.
Because further debt issuance is off the table, and equity issuance will have a bad ROI and crush shareholder value if used to pay debt, Valeant's best option is to sell assets. However, this gimps its ability to generate revenue, net income, and free cash flow.
Suddenly, the 30 billion dollar mountain of debt looks insurmountable.
Background, and Valuation.
Valeant's core issues are well known, put simply, the company is a pharmaceutical roll-up gone wrong.
For several years Valeant went on a debt-fueled acquisition binge, buying drugs and jacking up prices as much as 200% within a day. The party came to a screeching halt in August 2015 after investigations into Philidor, and Valeant lost over 90% of its value within a year.
The problem with Valeant remains on its balance sheet; $31 billion in long-term debt - this would not be much a problem if Valeant was still able to issue equity at $200+ per share, but at just under $30 the company cannot equity dilute this problem away without severely hurting shareholder value.
The debt coexists with $1 billion in pension liabilities, $6 billion in deferred tax liabilities and $4 billion in current liabilities, and more - for a total of $42.2 billion dollars in total liabilities.
The long-term debt cost $1.563 billion in interest expense for 2015, enough to completely defray Valeant's operating income of $1.527 billion.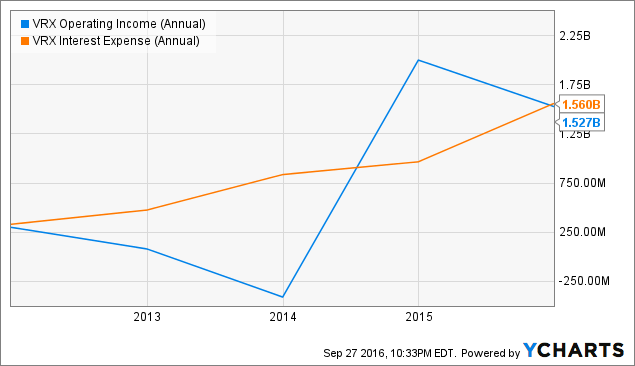 VRX Operating Income (Annual) data by YCharts
The Problem.
Valeant is in a catch 22.
The company has a boulder (the debt) trapping its leg. The only way to free itself from the boulder is too cut off the trapped leg (sell assets).
After cutting off its leg, sure the debt problem is solved and Valeant is fee - but who wants to invest in a company with no legs?
As of June 30th, 2016 Valeant had around $48 billion in total assets; this includes its cash of $9 million, and its goodwill of 19 million dollars. However, what we are interested in is the intangible assets; the intellectual property like patents, drugs, and biotechnology assets.
Intangible assets totaled $21 billion and generated around 8 billion in total revenue for 2015.
Without a doubt, these assets are good, and if the debt weren't there, Valeant would be a great company to invest in. However, the prospect of selling theses assets significantly dampens the appeal of investing in the company.
To get straight to the point; even if Valeant sold 100% of its intangible assets, it would still have over $10 billion in debt that needed to be covered and virtually zero income with which to pay its interest expense.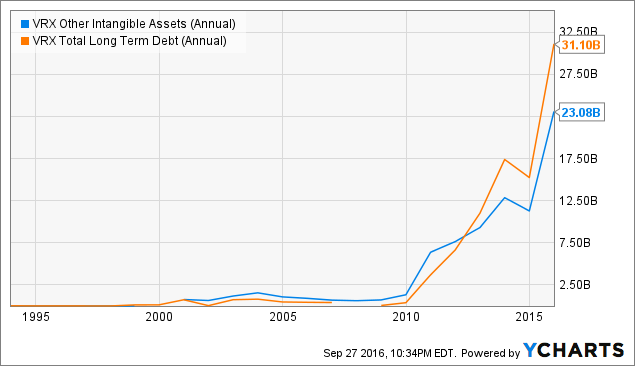 VRX Other Intangible Assets (Annual) data by YCharts
Catalysts.
Valeant can exist in this awkward position indefinitely, it may even escape unharmed.
The company's best bet is its pipeline, these new drugs can give Valeant the revenue boost it needs to cover the interest payments and slowly pay down its debt without having to issue an insane amount of new stock.
Some of these products were launched successfully in 2016, and are currently listed under the company's intangible assets.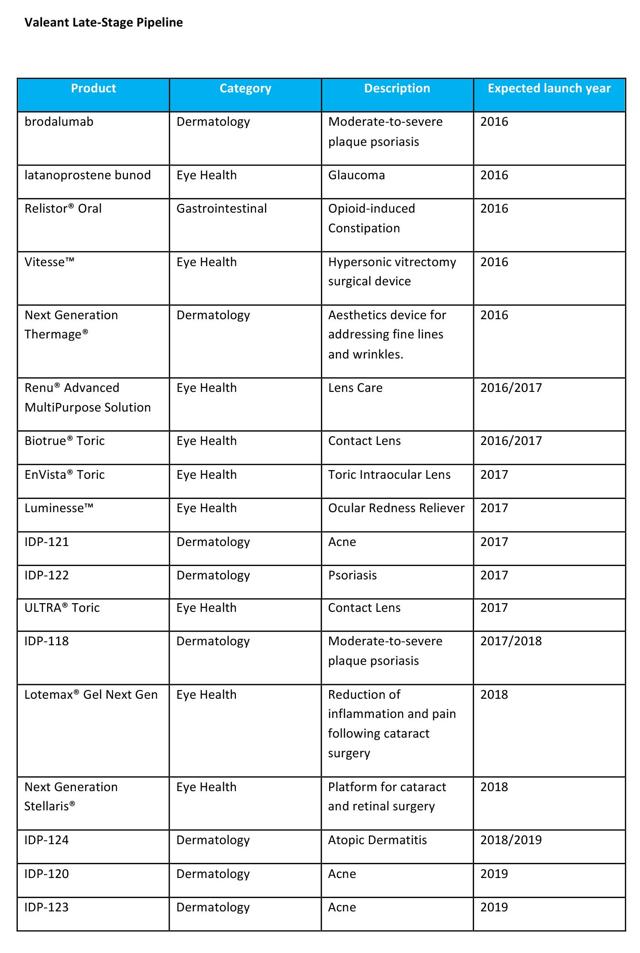 However, while this hope is ostensibly bolstering VRX, it also comes with some risks. If any of these product launches flop, or runs into regulatory hurdles it would mean very bad news for Valeant.
Valeant also faces regulatory risk; such has what is being faced by Mylan (MLY) and Gilead (NASDAQ:GILD) over pricing policies. The company is also under FBI investigation and has been sued by T-Rowe Price for security alleged fraud.
Conclusion.
Valeant has two options to solve its debt problem; issue more shares or sell assets. Neither of these is good for equity investors.
Because the company's stock price has gone down so far, its WACC has gone up, making equity issuance far less attractive. Equity issuance will also dilute the value of existing shares hurting shareholder value.
Valeant's option to sell its assets is not attractive because this will hurt its ability to generate revenue. Even selling substantial amounts of assets would barely put a dent in the massive pile of debt.
Interest payments are already choking out the company's operating income and free cash flow.
The sub $25 price point for VRX is very fair; this stock is not undervalued by any means.
There is still significant downside potential in VRX. Any shocks to revenue, such as regulatory changes, lawsuits or generic competition could have catastrophic effects on Valeant's solvency. Poor launches for its pipeline drugs could be game over.
Bankruptcy is not off the table.
If you like this article follow International Perspective by clicking the icon near my name.
Disclosure: I/we have no positions in any stocks mentioned, and no plans to initiate any positions within the next 72 hours.
I wrote this article myself, and it expresses my own opinions. I am not receiving compensation for it (other than from Seeking Alpha). I have no business relationship with any company whose stock is mentioned in this article.