Background
Founded in 1995 and headquartered in Atlanta, Georgia, Asbury Automotive Group (NYSE:ABG) is one of the largest auto retailers in the US. It currently operates a network of 81 dealership locations representing 28 brands. Imported brands represent a majority of Asbury Automotive's business, accounting for a little over 80% of sales for 2015. In addition to its auto dealer business, Asbury Automotive operates 25 collision centers, which are either part of the dealership or located near one of the Asbury-owned dealerships. Recently, Asbury Automotive has been focused on capital-conscious growth. More specifically, it has not been on an auto dealer buying binge, but has been buying back shares and expanding its non-dealership used car business.
Used Car Business
Asbury Automotive has a young, four-store used car business by the name of Q Auto, all located in Florida. This is both an interesting and well-reasoned move for the company. As new vehicle sales pick back up to the pre-financial crisis levels, expansion through the acquisition of existing auto dealerships is moving toward the expensive end. Additionally, there are not many opportunities to build an auto dealership from the ground up since each manufacturer awards exclusive rights to operate in certain territories. Navigating through the regulation and industry dynamics can be a little difficult when representing an auto manufacturer. That's where the used car business comes into play.
Q Auto closely resembles CarMax's (NYSE:KMX) business. They are direct competitors in the Florida market. Q Auto has placed heavy emphasis on streamlining and digitizing the sales process. CEO Craig Monaghan commented on this in the Q2 2016 call:
We don't have a brand. Q auto is unknown. We have learned to be competitive with very, I think, well-designed, well-thought-out SCM and SEO. We generate tremendous traffic to our stores virtually. So I think that part of the equation, we feel very good about. We've got, essentially, a fixed-price selling model. We sell off an iPad. We've got technologies in the stores that allow the salesperson to manage the transaction from start to finish. We do not transfer the customer to an F&I office. So those technologies and those processes, if you would, I think we feel pretty good with as well."

Source: Q2 2016 Earnings Call
Q Auto also maintains an interesting program to source its inventory: the general public, or what Q Auto likes to call the "Q Squad."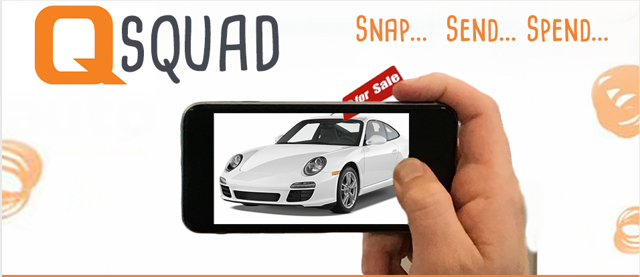 Source: Q Auto website
The basic explanation of the Q Squad program is this: If you see a used car for sale, you take a picture of it, send the picture to Q Auto and if Q Auto buys the car, you get $100 (and a $500 bonus on your tenth car).
Q Auto provides a place for Asbury Automotive to explore the online marketplace. There is no restriction on selling a used car over the internet like there is with new cars. In fact, Q Auto will even deliver a car to your doorstep. Overall, this seems to be a capital conscious step into growth that leverages the digital world. When Mr. Monaghan was asked for his thoughts on strategy about having some sort of a hybrid, brick-and-mortar + online store, he answered:
Absolutely. One of the beauties of Q Auto is that it's a place where we can experiment. And as I mentioned earlier, we experiment with the sales techniques; we experiment with the way we market online; we're experimenting with these facilities. But I would come back to - but at the end of the day, in our minds, this is all about return on investment. So how big does a facility have to be; what kind of volume can we get from that facility; how can we come up with a business model that allows us to earn a return? The objective at the end of the day, earn a return that's more attractive from an ROI perspective than what we can get buying a car store on the marketplace. So we are constantly experimenting, and we will continue to experiment."

Source: Q2 2016 Earnings call
Conclusion
Although Q Auto is still a drop in the bucket relative to Asbury Automotive's core auto dealership business, it proves to be an interesting learning ground for the team. It is effectively only breaking even, but the management team is bound to learn a thing or two about digitization in figuring out Q Auto's business model, which can be used in the core auto dealership business down the road. More importantly, it's a business that Asbury Automotive can build from the ground up. It will be interesting to see how Q Auto affects Asbury Automotive's core business.
Disclosure: I/we have no positions in any stocks mentioned, and no plans to initiate any positions within the next 72 hours.
I wrote this article myself, and it expresses my own opinions. I am not receiving compensation for it (other than from Seeking Alpha). I have no business relationship with any company whose stock is mentioned in this article.