McDonald's (NYSE:MCD) has raised its dividend every year since it first initiated it in 1976. Therefore, there are numerous shareholders who hold the stock for this exceptional feature. As the company has paid the same dividend for four consecutive quarters, it is widely expected to announce its next dividend hike next month. In this article, I will analyze what dividend hike its shareholders should expect.
First of all, the company has managed to turnaround after failing to grow for three years in a row until last year. The all-day breakfast, which was introduced by the current management, has had great success and has helped the company return to growth. Thus the stalwart is now expected to grow its earnings per share by 11% this year and another 11% next year. Nevertheless, as the program is approaching its annual anniversary, the company will find it increasingly hard to keep growing after the end of this year. In other words, management will have to come up with other great growth projects and this does not seem easy, at least at the moment.
The company also is facing some secular headwinds. More specifically, consumers have become more health conscious in the last few years, particularly millennials. Unfortunately for McDonald's, it cannot offer a really healthy menu at the price range that its customers expect. Moreover, there has been a great amount of political talk about imminent hikes of the minimum wage. Both candidates have promised that they will significantly raise the minimum wage. This is a strong headwind for McDonald's, which has thousands of employees paid near the minimum amount.
Of course these negative trends do not mean that the company will have any problem in raising its dividend for years. As shown in the chart below, the dividend payout ratio has markedly increased, from 43.2% in 2008 to 67.4% this year, but it still stands at a relatively comfortable level, which allows the company to keep raising its dividend at a healthy pace for the foreseeable future. If the above mentioned analysts' expectations for EPS growth come true, then the company will certainly not have any problem raising its dividend for many years to come.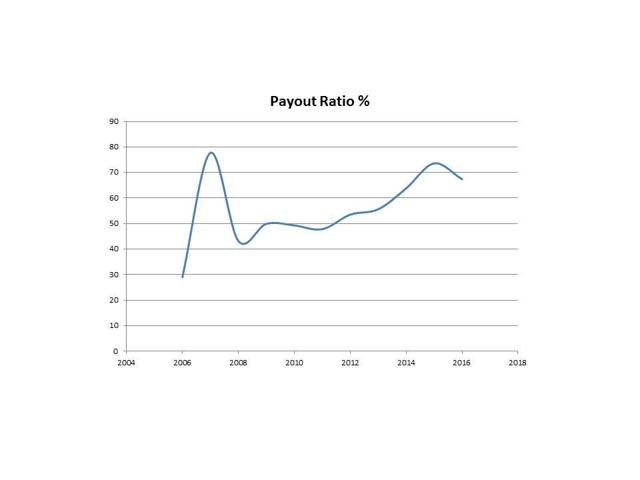 It is also worth noting that the three-year program of aggressive shareholder returns ($30 B in total) is coming to an end at the end of the year. This will provide relief to the balance sheet of the company, which has been remarkably stretched during the last three years. Consequently, the company will not bear the burden of aggressive share repurchases from next year and will thus have more room for a meaningful dividend hike. On the other hand, the above mentioned three-year program has pronouncedly increased the interest expense of the company, from $522 M in 2013, to $784 M in the last 12 months. Moreover, as per the last quarter, the interest expense currently "eats" 12% of the operating income. While this level is not extreme, prudent management should not raise it much further as the positive effect of shareholder returns will be offset by lower earnings after some point. Therefore, the company is not likely to raise its dividend aggressively in order to deleverage its balance sheet while it will also have to invest in its business to withstand the above secular headwinds.
This trend also is evident in the recent dividend hikes of the company. More specifically, while it raised its dividend by about 10% per year from 2008 to 2012, it has raised it by exactly $0.16 (~5%) in the last three years. Therefore, given the above limitations, the company is likely to raise its annual dividend by approximately $0.16 or 5% in the next quarter.
To sum up, McDonald's currently stands at a critical point. While it managed to turnaround after a rough three-year period, it will start facing tough comparisons from next quarter while it will also have to stop leveraging its balance sheet. In the meantime, it is also facing the above mentioned secular headwinds. Therefore, while it can certainly keep raising its dividend for many years thanks to its reasonable payout ratio, it is likely to keep raising it at the conservative pace of the last few years.
Disclosure: I/we have no positions in any stocks mentioned, and no plans to initiate any positions within the next 72 hours.
I wrote this article myself, and it expresses my own opinions. I am not receiving compensation for it (other than from Seeking Alpha). I have no business relationship with any company whose stock is mentioned in this article.