Recently I decided to focus on Boeing's (NYSE:BA) defense segment after consistently looking at the bigger picture. This time around I want to look at the company's 777 business unit and evaluate its struggles and prospects.
We start off with a brief overview of the 777. As of 20th September 2016 net orders for the wide-body aircraft stands at eight, and as the company plans on using the existing 777 platform for transitioning into the newer 777X airplanes it hopes to meet a target of at least 40 deliveries a year until the 777X comes into the market. This is where things get iffy for the company. The 777X is not expected to hit the market till at least the early 2020s, and production will not fully reach potential until a couple of years after the plane's arrival.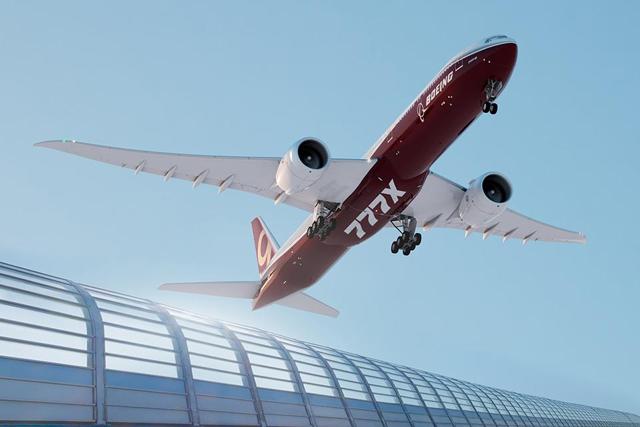 So maintaining their target order of a bare minimum of 40 for a plane which has a current total of eight net orders more than half way into the fiscal year is going to be difficult in the years to come. However, there seems to be some solace in the current year and the relief is coming from the Middle East.
On 23rd September 2016 Reuters reported that Saudi Airlines has agreed to buy 28 new planes from Boeing, a deal which will see the Chicago-based plane manufacturer deliver 15 B777-300ER and 13 B787 Dreamliners. Of course, the new acquisition spree by the Saudis was not limited to the Americans. They also bought 35 planes from Airbus (OTCPK:EADSY) in the form of A320s and A321-neo. But for once the Airbus aspect of this deal doesn't directly matter right now. What matters is that Boeing smoothly moves from an old generation product to a new one.
Saudi Airlines already operates 24 777-300ER planes and has more than four dozen 777s in its overall fleet. The new additions are expected to replace the Middle Eastern airline's aging 747 fleet while at the same time help it expand its grasp over the market.
Now as much as this helps the aircraft manufacturing giant achieve its short-term target the fact to the matter is that the company is still lagging behind. A lot of this trouble could have been avoided had Boeing grabbed Iran's orders along with Airbus when the country had trade embargoes lifted from it earlier this year. When sanctions were removed, the Iranian president, Hassan Rouhani, along with a whole entourage of ministers and delegates, flew across Europe quickly penning deals and contracts wherever they touched down. Out of this tour one of the most anticipated deals was the signing of a new order of planes with Airbus. Iran requires a lot of new planes right now as most of its existing fleet is full of obsolete and potentially dangerous aircraft, and updating their lineup is of the utmost importance.
While Airbus was quick to sign deals with Iran, Boeing lagged behind as it had yet to receive full authorization from the US government for trading with Iranian industries. But just a few days before the Saudi deal was announced, the US Treasury Department's Office of Foreign Asset Control (OFAC) gave Boeing the license to move ahead with sales with Iran. This means that Boeing is that much closer to selling an estimated 109 jets to Iran (number of planes still unconfirmed from Boeing sources), out of which 15 planes would be the 777-300ERs.
There's unfortunately another twist in the tale. The current political atmosphere in the US is fairly hostile toward the issuance of Boeing's license. The political right is severely opposed to the move and continues to stand against any attempts to negotiate or trade with Iran. Moreover, if Donald Trump wins the coming election we could very well see this license revoked and sanctions reinstated on Iran. If Hillary Clinton wins the election then the government will continue the Obama administration's reconciliatory foreign policy and allow companies like Boeing to conduct trade with Iran.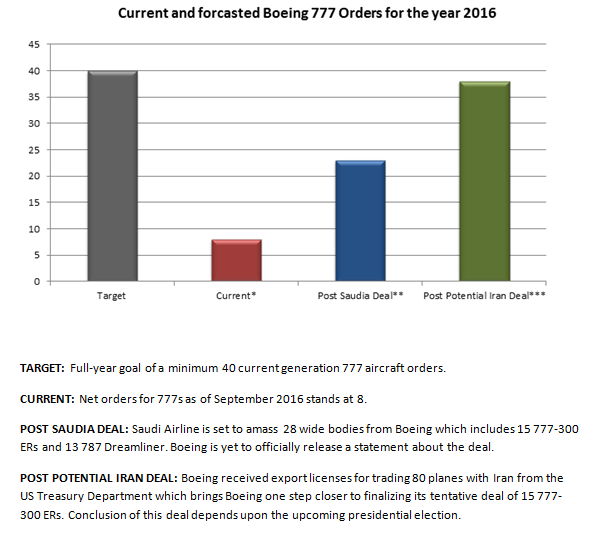 That being said, you might ask yourself why the 777 orders matter so much? And even if they do matter, can they successfully meet targets for the upcoming years? A smooth transition from one business unit to another is particularly important to Boeing because the company has experienced firsthand how any hindrances can have a strong impact on the company's income statement, as evident from the spike in the latest quarterly report's income statement where Research and Development expenses for the six-month period skyrocketed by more than 90% due to a reclassification of the fourth and fifth 787 Dreamliner test aircraft from inventory to R&D cost, which translated into a 60% drop in net earnings for the same period. Hiccups like these have to be avoided by the company if it plans on maintaining profits from commercial airlines. Now this transition itself is in jeopardy because Boeing is currently struggling to meet its bare minimum target of 40 777 orders a year and what makes the company so sure that it will continue to reach its set goal.
What seems to be the likeliest outcome is that in the coming years Boeing will eventually start to reduce its production rate of 777s even further below than the already planned cut to seven planes per month set for implementation in the beginning of 2017. If this trend continues then there will be more adverse effects on the company's quarterly reports which will eventually weigh down on the EPS.
Disclosure: I/we have no positions in any stocks mentioned, and no plans to initiate any positions within the next 72 hours.
I wrote this article myself, and it expresses my own opinions. I am not receiving compensation for it (other than from Seeking Alpha). I have no business relationship with any company whose stock is mentioned in this article.
Editor's Note: This article discusses one or more securities that do not trade on a major U.S. exchange. Please be aware of the risks associated with these stocks.