More than three months after Tesla (NASDAQ: TSLA) announced its intention to acquire SolarCity (NASDAQ: SCTY), CEO Elon Musk hasn't answered the single most important question for investors yet, which is what return they should expect from such an investment.
When analyst Colin Rusch from Oppenheimer & Co. asked for "some sort of scope of return on capital" on the conference call after the acquisition announcement, Mr. Musk acknowledged the relevance of the question, saying "we will certainly have all that done for you, but the reason it's not just all in a neat package is because this is a sort of an odd case where we have to tell you at the start of the process, before we have all the answers."
Three months later Mr. Musk is running behind on his promise. The S-4 that has since been published, hasn't been helpful either. It heavily relies on the dubious metrics that SolarCity has been using for years without presenting a new and serious look at what the business is actually worth.
Analysts and media seem a bit shy too to delve into the numbers. Those who are in favor of the deal generally stick to explanations like "If you don't believe in Elon, why are you buying these stocks in the first place?" - an insight presented by equity analyst David Whiston (link).
As some of the Tesla bulls repeatedly say, it is easy to criticize Mr. Musk from the sidelines, while he is working hard to build his business empire. So let's take a positive attitude here and offer some help. While Mr. Musk is engineering the first rocket which performance bar is larger than the vehicle itself - you can't make this stuff up, can you - we'll delve into SolarCity's numbers to work out an actual fair value for the company.
Be prepared, the results we present today might be quite disturbing.
Future cash flows
One graph that's capturing the reality of SolarCity's business very well is the cash flow forecast in its investor presentation (page 9 in the Q2 presentation).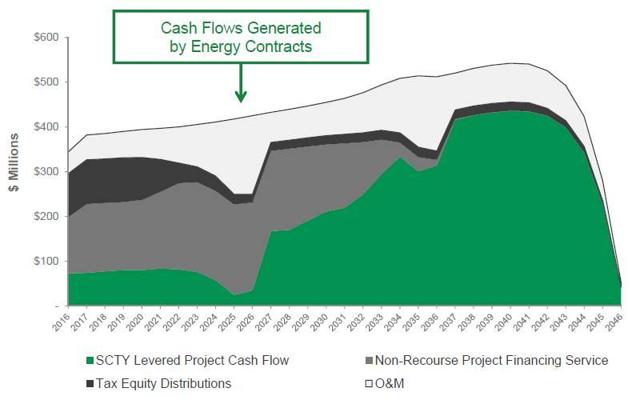 The company uses the graph to show investors that this is a long term play where sacrifices need to be made in the early years to reap the rewards later on.
The graph indeed shows that levered project cash flow (what's left of customer payments after maintenance costs and servicing debt) will only start rising after more than 10 years.
By doing so the graph also gives a nice overview of how much money SolarCity expects to spend on maintenance and cost of capital.
This last cost is hard to grasp because the financial engineering of Variable Interest Entities and Tax Equity is quite complicated. Apart from that SolarCity chooses not to publish the specifics of these deals in the first place.
Therefore, the cash flow forecast graph is one of the few sources in the company's presentations that actually gives some insight on what the non-recourse debt will actually cost it.
So let's do some reverse engineering and retrieve the numbers (in millions).
| | | | | | |
| --- | --- | --- | --- | --- | --- |
| | Unlevered cash flow | O&M | Distributions | Debt service | Levered cash flow |
| 2016 | 340 | 45 | 100 | 125 | 70 |
| 2017 | 380 | 55 | 100 | 155 | 70 |
| 2018 | 385 | 55 | 100 | 155 | 75 |
| 2019 | 390 | 60 | 100 | 150 | 80 |
| 2020 | 395 | 65 | 95 | 155 | 80 |
| 2021 | 395 | 70 | 70 | 175 | 80 |
| 2022 | 395 | 75 | 50 | 195 | 75 |
| 2023 | 405 | 95 | 35 | 205 | 70 |
| 2024 | 410 | 120 | 35 | 200 | 55 |
| 2025 | 415 | 160 | 30 | 205 | 20 |
| 2026 | 425 | 175 | 20 | 195 | 35 |
| 2027 | 430 | 70 | 20 | 175 | 165 |
| 2028 | 435 | 65 | 20 | 180 | 170 |
| 2029 | 445 | 70 | 20 | 165 | 190 |
| 2030 | 450 | 70 | 20 | 150 | 210 |
| 2031 | 460 | 80 | 20 | 145 | 215 |
| 2032 | 475 | 90 | 20 | 115 | 250 |
| 2033 | 490 | 100 | 20 | 75 | 295 |
| 2034 | 505 | 120 | 25 | 30 | 330 |
| 2035 | 510 | 155 | 35 | 25 | 295 |
| 2036 | 510 | 165 | 20 | 10 | 315 |
| 2037 | 520 | 85 | 15 | 5 | 415 |
| 2038 | 530 | 85 | 20 | 5 | 420 |
| 2039 | 535 | 85 | 20 | 0 | 430 |
| 2040 | 540 | 85 | 20 | 0 | 435 |
| 2041 | 535 | 85 | 20 | 0 | 430 |
| 2042 | 520 | 85 | 15 | 0 | 420 |
| 2043 | 490 | 80 | 15 | 0 | 395 |
| 2044 | 410 | 60 | 15 | 0 | 335 |
| 2045 | 275 | 40 | 5 | 0 | 230 |
| 2046 | 45 | 0 | 5 | 0 | 40 |
What do these numbers mean?
The top line of the graph is indeed the revenue that SolarCity expects to make from its lease contracts. The average contract price starts at $0.12/kWh with a 2.2% price escalator. Adding a 0.5% yearly efficiency loss for the panels brings us more or less to the numbers in the first column of the table.
O&M stands for operational and maintenance costs. We have a weird feeling that SolarCity might be a bit optimistic here. For example: the 16Q2 income statement shows the direct costs to service the contracts amounted to 19 million. Extrapolating this number brings the cost to 80 million a year, nearly double the amount the company is forecasting for 2016 in its graph.
O&M costs are an important factor in the lease business. For people who own their system an error in one of the panels or strings might go unnoticed and it might not be that relevant to fix it. In SolarCity's business model a 1% reduction in electricity generation means millions in loss of revenue. The company has every reason to keep the installations in optimal condition so O&M costs should not be underestimated.
O&M costs in the graph show a peak after 10 and 20 years because of the replacement of invertors. The company might once again be a bit too optimistic here. After ten years the cost to replace invertors is forecasted in the graph at around $250 million. With 286,227 customers, that's less than $1000 per customer. We'll leave it to your own judgement whether you think that provision is adequate.
For the reasons mentioned earlier it's very hard to judge the forecasts of tax equity distributions and financing service. We believe there might be additional guarantees to third party investors that might bring extra costs for the company. One of the optimistic assumptions SolarCity makes is that there will hardly be any defaults on the lease contracts. We expect investors are not taking a risk in this regard so SolarCity might be on the hook for extra costs to make sure their partners get their guaranteed return on investment.
Net Present Value
For this exercise we don't want to complicate things though by challenging the numbers provided in the graph. There is only one major adjustment to be made, but we'll get to that later.
An essential part of the fair value of SolarCity's business is the net present value (NPV) of future cash flows. The solar panels the company has been installing are valued in their balance sheet at over $5 billion. That number tells us more about what it has cost the company to build them, than what they are really worth. What matters for the valuation of the company is its ability to generate future cash.
With SolarCity's own discount rate of 6%, the NPV of the cash the company expects to generate (first column in the table above) is $6.23 billion.
In its latest shareholder letter, SolarCity forecasts the NPV of future cash flows to be $4 billion. That number is the NPV of cash flows after maintenance costs and tax equity distributions are paid but before debt service.
What really matters for investors is the levered projected cash flow - the cash that's left after paying all costs, including servicing the non-recourse debt. At a 6% discount rate, the NPV of the green bulb in the graph (last column in the table) is only $2.37 billion.
That's not only less than 50% of the $5 billion the assets are valued at in the balance sheet. The number is also way too low to cover SG&A expenses. In 16Q2 alone, SG&A amounted to $200 million. Even if it would be able to reduce that number by 75% so the yearly SG&A expense would lower to $200 million, SolarCity would need NPV of at least $2.95 billion to cover SG&A expense from this cash flow.
Another observation: when you consider that SolarCity took on $1.5 billion in recourse debt to build its business, generating a $2.37 billion return in 30 years isn't impressive at all. There are ample opportunities with less risk to generate a yearly return of 1.5%. And then we're not even taking into account the money that shareholders put in, nor the interest costs on recourse debt. This company is in serious trouble.
20-year leases
To get back to analyst David Whiston, the ultimate question is of course: do you trust Elon Musk?
The thing is, if you do, we have a problem.
Mr. Musk has been defending the SolarCity acquisition by saying he's confident that he can build solar panels and roofs that are more beautiful and offer a higher efficiency than today's solutions.
If this is true, it might create some envy with the company's existing customers because they are stuck with what are soon to become outdated panels.
To cut a long story short, we don't expect customers to extend their leases after 20 years.
The graph presented earlier doesn't even show a drop in the top line after 20 years though. SolarCity is simply assuming that all customers will just keep their panels for another 10 years, even with sustaining the yearly price escalator. It means customers will be paying $0.18/kWh by then.
If you believe that solar energy will become cheaper, electricity prices will drop. For that reason we believe that expecting customers to pay $0.18/kWh in 20 years doesn't make sense.
Even if those customers would choose to stay with SolarCity, it's obvious that they will want to have their old panels replaced with new systems. After all that's one of the few advantages of leasing a system.
This unfortunately has implications for the cash flow forecast, as we'll have to cut off the graph after 20 years instead of 30.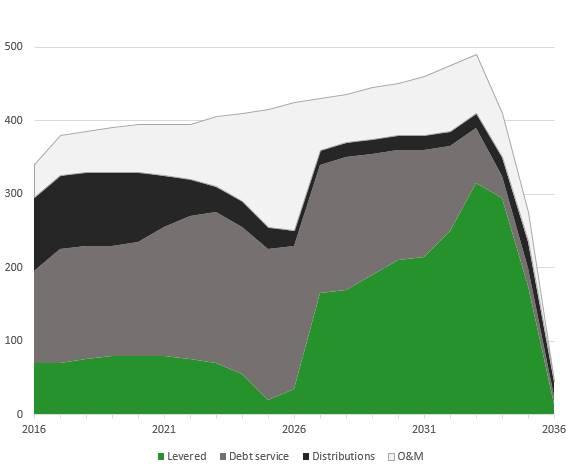 By doing so, the NPV of the green bulb in the graph - the levered projected cash flow - gets reduced to $1.38 billion.
There is little need to put this number into perspective. It's even lower than the $1.5 billion in recourse debt. The fair value of SolarCity has actually turned negative.
Tesla overvaluing SolarCity
So why does the S-4 value SolarCity's PowerCo at $6.18 to $6.88 billion? (page 91)
Well, first of all it's worth mentioning that both Evercore and Lazard who provided the valuations, leave no opportunity untouched in the S-4 to explain that they rely completely on the figures and assumptions that have been given to them. They also state their full payment is dependent on the outcome of the vote. Simply put: their job is to make people vote yes and they have no intention to make people believe otherwise.
Second: the assessment is simply wrong. It assumes a perpetual growth rate for the leasing business "in the range of (2.5)% to 0.0%". In reality we've seen a decline in the last 2 quarters that's been much more outspoken. Mr. Musk doesn't even mention the lease business anymore when explaining the company's prospects.
But even if growth would pick up again, the analysis doesn't look at the levered projected cash flow, which is a mistake. Taking on non-recourse debt is an essential part of the business. SolarCity even tends to present cash flow from financing as operational cash flow. That obviously implies that servicing that debt should be part of the cash flow forecasts as well.
On a sidenote: the S-4 uses a 9.5% to 10.5% discount rate instead of 6%. If we had done the same in our previous exercise the NPV of contracted cash flow would only have been $960 million instead of $1.38 billion.
Future improvements
We must of course admit that our calculation only includes existing contracts.
So, to get a feel for how future lease contracts might improve the NPV, we offer one more exercise.
Therefore we go back to SolarCity's presentation of Q1 results, where a similar graph was shown as the Q2 graph we've been working with so far. By reverse engineering the Q1 graph too, we'll see how the numbers have changed in the second quarter.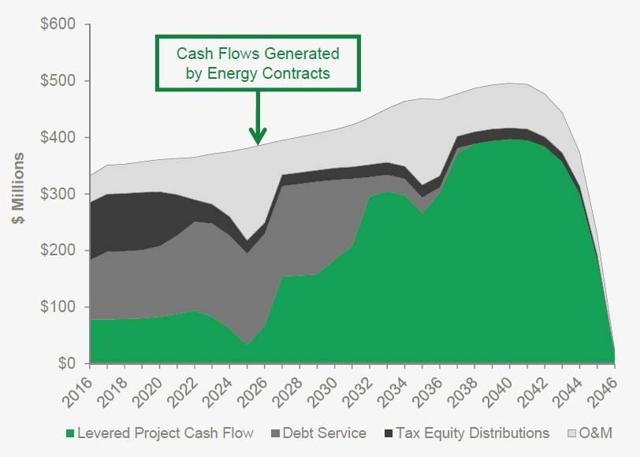 Unfortunately the results don't look pretty.
In 16Q2 SolarCity added 200 MW to its installed base. The company's working capital dropped from minus $375 million to minus $489 million. In the same quarter the non-recourse debt increased with $93 million.
In exchange for this $207 million "investment" the NPV of levered projected cash flow (the value of the green bulbs in the 30-year graph) only increased by $67 million.
Our adjusted 20-year graphs even show a decline in NPV of $45 million. This is due to the fact that the 20-year graphs do not have enough extra time to cover for the increase in non-recourse debt service cost.
To be fair: SolarCity has done an additional tax equity deal shortly after Q2, which could improve this image slightly as it allows for the extra recovery of tax credits related to deployments in Q2. Don't expect miracles here though, as the deal also once again increases non-recourse debt.
By the way, if you have been wondering about the tax credits when looking at all previous numbers, the answer is simple: it's gone. It's been used to install the panels in the first place and to get CEO Lyndon Rive on top of the list of the highest paid Bay Area executives under 40.
Fair value for SolarCity at minus $2.55 billion
What this last exercise learns is that SolarCity should get out of the lease business as soon as possible. It's our opinion that Mr. Musk intends to do so.
That doesn't make the existing contracts go away though, nor the recourse debt that has to be repaid. As we've explained the existing contracts will not generate enough cash to settle that debt.
If we value the future cash flows at $1.38 billion, 20 years in SG&A at $2.43 billion and recourse debt at $1.5 billion, a fair value for SolarCity comes at minus $2.55 billion.
That means, when paying $2.6 billion to buy the business, this deal will cost Tesla shareholders over $5 billion.
Should we add value for the sales business? We don't think so. It's a low margin business with fierce competition from numerous local players. So far SolarCity hasn't been profitable in this segment. Even if it's able to break even one day, it won't generate a return for investors.
Solar roofs? Many have tried and failed before. From a technical point of view we don't think it's a practical solution. It's also a difficult business case as roofs are part of home construction - a business that's aimed at lowering costs.
Anyway, Tesla doesn't seem to need SolarCity to get into the roof business as it has announced that it will introduce its own solution just before releasing the financial results for Q3. Well, not really "introduce." In its typical Twitter approach Mr. Musk announced a future announcement on a down day for the stock. That doesn't mean we should expect the actual product anytime soon. Tesla better make the glass roof of the model 3 work first anyway.
That leaves us with the manufacturing part of the business. We believe that for the next 10 years that business is to be seen as a $5 billion liability as this is the amount of money SolarCity will have to invest and/or spend there by their covenants. We don't see SolarCity recovering that $5 billion by profits made in manufacturing.
Conclusion
With a negative fair value for SolarCity, it's obvious that Elon Musk is chasing personal interests with this merger. He's a major shareholder and used his shares as collateral for personal loans. In the end he's the only one - apart from some retail investors maybe - who really can't afford to let the share price sink to its true value.
For Tesla investors there's obviously some value in helping Mr. Musk to stay in business but the price they would have to pay in this deal is simply too high. Calling the deal a bailout is only right from Mr. Musk's perspective. For Tesla shareholders it's daylight robbery.
We believe that Tesla should drastically lower its offer to acquire the company. If it doesn't we think it's time for government agencies to step in.
We definitely believe that the legal actions that have been taken against the merger have merit. In fact, as SolarCity has been misrepresenting its value for years, we expect more actions to follow. Therefore we don't expect this merger to close before well into 2017.
Disclosure: I am/we are short TSLA, SCTY VIA PUT OPTIONS.
I wrote this article myself, and it expresses my own opinions. I am not receiving compensation for it (other than from Seeking Alpha). I have no business relationship with any company whose stock is mentioned in this article.