Hibbett Sports Inc. (NASDAQ:HIBB) is engaged in the ownership and operation of sporting goods stores. The company has more than 1000 retail stores across 32 states.

Retailers, such as HIBB, have faced a somewhat challenging retail environment in recent months. US Retail sales fell by 0.3%, on a seasonally adjusted basis, in August. Vendors have also stated that they expect that the U.S. retail environment will remain challenging throughout the remainder of 2016.
Earnings
Despite the challenging environment, HIBB has managed to showcase a moderate growth in sales in the second quarter of fiscal 2017. The company reported a net sales increase of 3.9% over the same quarter in the previous financial year. Net income was, however, down slightly from the same quarter in the previous financial year.
Net sales were up by 4.3% for the first half of the 2017 financial year over the same period in the previous financial year. The company reported an improvement in diluted EPS of approximately 10% for the first half of 2017 over the same period of the previous financial year.
The company should be able to improve on these results in the coming years, particularly if retail sales improves.
Valuation
HIBB's stock price (the candlesticks in the chart below) has performed well on a YTD basis. It has, however, underperformed against certain peers such as Big 5 Sporting Goods (NASDAQ:BGFV) (the orange line below) and Dick's Sporting Goods (NYSE:DKS) (the yellow line below). The stock has outperformed Sportsman's Warehouse (NASDAQ:SPWH) (the red line below).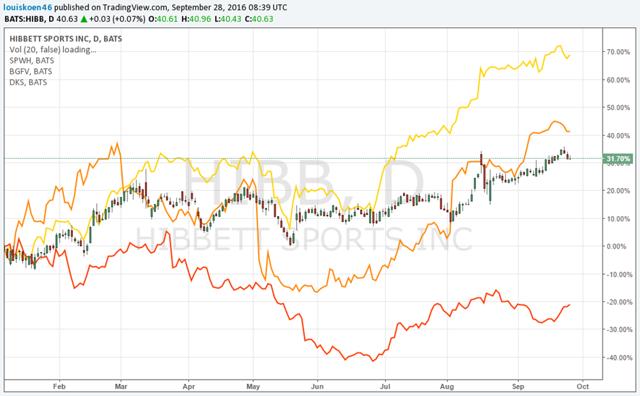 (Source: Tradingview)
Despite the significant rise in the share price, the company's TTM P/E ratio of 13.32 remains about 28% below its 5-year average TTM P/E ratio of 18.45. The company's P/E ratio is also below that of its peers with SPWH trading at a TTM P/E ratio of 14.73, BGFV trading at a TTM P/E ratio of 27.19 and DKS trading at a TTM P/E ratio of 21.2.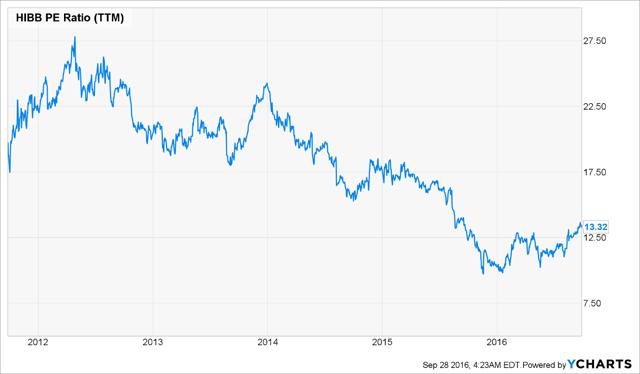 (Source: Ycharts)
The company is currently trading at 2.804 times book value which is approximately 39% below its 5-year average of 4.56 times book value. The company's price to book value is also lower than that of peers such as DKS which is trading at 3.728 times book value. BGFV does, however, have a lower price to book value, at 1.559, than HIBB.
HIBB also has a better ROE than its peers. The company has a TTM ROE of 22.25% compared to BGFV's TTM ROE of 5.82% and DKS's TTM ROE of 18.07%. A persistently high ROE will make the company more attractive than its peers.
Conclusion
HIBB's low valuation, both from a historic perspective and in comparison to its peers, could make the share an attractive long-term buy. More in-depth research is, however, needed before a final decision is made.
Disclosure: I/we have no positions in any stocks mentioned, and no plans to initiate any positions within the next 72 hours.
I wrote this article myself, and it expresses my own opinions. I am not receiving compensation for it (other than from Seeking Alpha). I have no business relationship with any company whose stock is mentioned in this article.