When it comes to portfolio diversification, investors tend to sometimes focus on sector diversification while neglecting geographical diversification. The concept is that throughout time the global markets behave more or less the same.
While there are correlations between different stock markets around the globe, there could be some significant differences in the future prosperity of different economies and that could make a huge difference in the long-term potential return.
The next chart compares the performance of the Dow Jones Index to the S&P BSE SENSEX (S&P Bombay Stock Exchange Sensitive Index). The SENSEX is a free float weighted stock market index of 30 well-established and financially sound companies listed on the Bombay Stock Exchange.
As seen from the graph, though it was more volatile, the Indian index had a better return in the recent decade.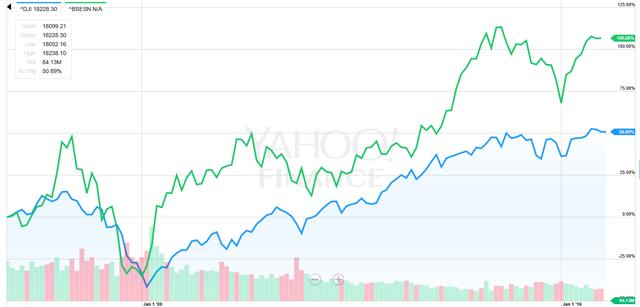 The difference in performance can be explained by the different levels of GDP growth rates. In the recent decade, the U.S. economy grew by an average of 2% per year while the Indian economy grew at a much faster pace ranging between 2% and 11%.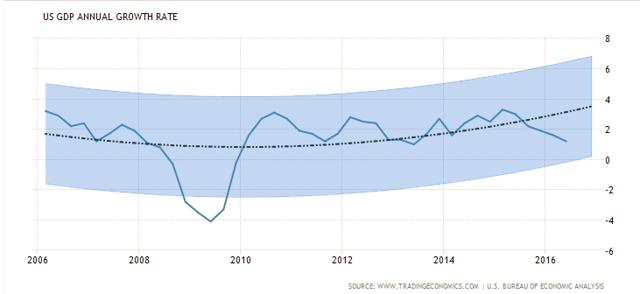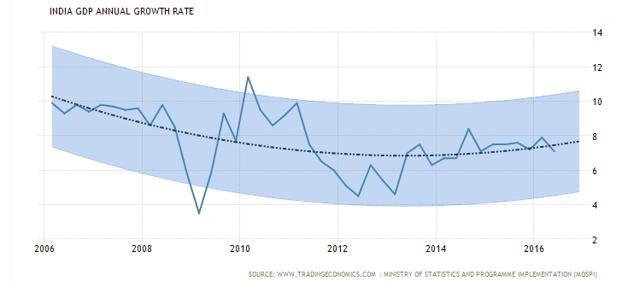 The future trajectories for both the U.S. and India's economies are expected to continue at 2% and 7%, respectively. It means that by 2020, the U.S. GDP is expected to go from $18T to $20T while India's GDP is expected to grow from current $2T to $3T. That is in only four years' time.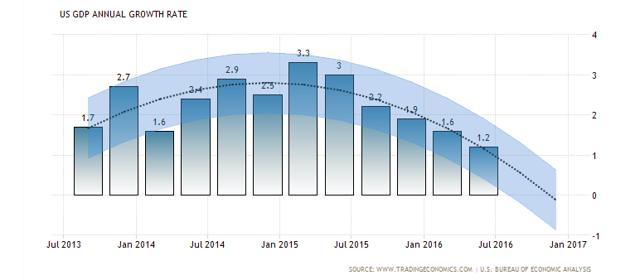 India's economy was going through some massive change in the recent two decades. The mega-trend of urbanization is a mega driver for new opportunities in the huge cities that are being built. Opportunities in the fields of infrastructure, consumption, utilities, technology and urban services would be acting as growth engines to these >1M populated cities.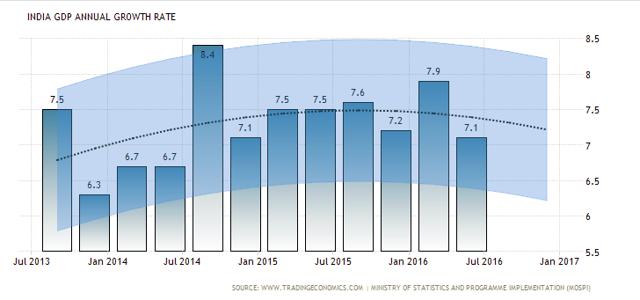 One of the India's major economic drivers in the recent decade was the Information Technology sector. This sector, which included both IT services and Business Process Outsourcing, accounted for 26 percent of India's total merchandise exports in 2015.
With expected government incentives, which are aimed to generate 100 million jobs in the coming decade, new industries are expected to emerge. New Software intensive sectors like automotive, Internet of Things, etc., would most likely be driven by global corporations through local engineering capabilities.
How to invest?
In order to find an attractive investment vehicle that invests in Indian stocks, I compared 11 different ETFs that focus on the Indian stock market. The full list can be found here.
I used the following categories to compare the ETFs:
One-year performance: Highlighted those with more than 10% return.
3-year performance: Highlighted those with more than 50% return.
Management fees: Highlighted those with feeds that are lower than 0.8% per year.
Dividend yield: Highlighted those with more than 1% per year.
P/E ratio: Highlighted those with P/E that is lower than 20x.
Number of holdings: Highlighted those with more than 70 different companies.
% in top 10 holdings: Highlighted those with 30% and less.
Here are the top 3 ETFs:

The iShares MSCI India Small Cap Index ETF (SMIN) was found to meet all seven defined criteria. SMIN offers exposure to a portfolio of 250 small cap Indian stocks where only ~13% of its assets is invested in its top 10 holdings (which include, among others, The Federal Bank Ltd., Page Industries Ltd. and Bharat Financial Inclusion Ltd.). The management fee of 0.74% is relatively low compared to other ETFs while its long-term performance was way above other ETFs. SMIN pays a nice 1.8% yearly dividend which grew significantly in the recent year. This could be considered as a bonus for income pursuing investors.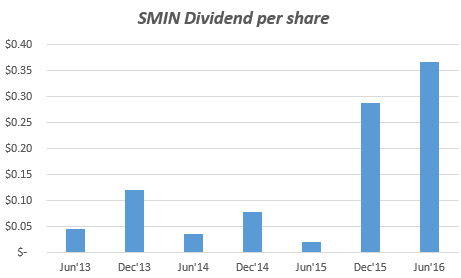 When comparing SMIN's performance graph to that of the S&P BSE SENSEX index, it is very clear that SMIN is significantly more volatile, but it does deliver higher returns. If India's economy continues to expand at the rate of 7% per year, the ETF holds a huge potential.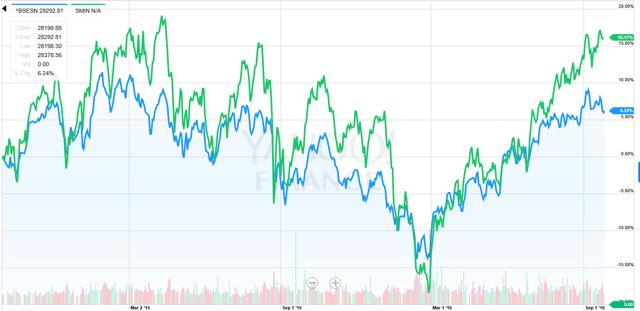 Conclusions:
Though its GDP per capita is expected to remain lower by two orders of magnitude compared to the U.S., India's expected GDP growth rates are signaling that there is a great investment potential there in the foreseeable future.
By investing in an India focused ETF, investors can diversify their portfolios while taking into account both the potential return and also the high volatility of an emerging country.
SMIN seems to be very suitable for the long-term patient investor who is less concerned about variability.
Similar to the U.S. equity markets, the India indexes are close to their all-time high. I suggest to monitor closely and look for a good entry point through a market pullback.
Happy investing.
Disclosure: I/we have no positions in any stocks mentioned, but may initiate a long position in SMIN over the next 72 hours.
I wrote this article myself, and it expresses my own opinions. I am not receiving compensation for it (other than from Seeking Alpha). I have no business relationship with any company whose stock is mentioned in this article.
Additional disclosure: The opinions of the author are not recommendations to either buy or sell any security. Please do your own research prior to making any investment decision.