OPEC members are experiencing déjà vu as Iran and Saudi Arabia continue to quibble over the agreement to limit production. Informal talks are being held between the OPEC and non-OPEC producers in Algiers. Smaller OPEC members were hopeful that some sort of agreement can be reached here to support oil prices. However, Iran and Saudi Arabia's political rivalry has again put paid to any hopes of reaching an agreement regarding the oil output. The matter has been deferred to the next official OPEC meeting on November 30.
Iran has refused to freeze its oil output at current levels (3.6 million barrels). Saudi Arabia offered to reduce its production on the condition that Iran freezes its output. However, Iran has refused to cooperate again as the nation has nothing to lose when it comes to increasing the oil output. OPEC nations have realized that oil market has found support around $40 per barrel and pumping a few hundred thousand barrels more will not make a big difference. In fact, falling inventories and production from North America is exactly what these countries wanted. Iran is looking to regain its pre-sanctions market share of 13%. OPEC is producing 33.7 million barrels a day. This means that Iran is looking to increase its daily production to 4.4 million a day, 750,000 barrels more than what it produced during the last month.
From Iran's perspective, this increased output is additional revenue for the country, and as long as the cost remains manageable; there is advantage in increasing production. Iran has an advantage over some of the OPEC members because its economy is not completely dependent on hydrocarbon exports. Iran has a reasonably diversified economy. Saudi Arabia also remains in fairly good shape with its foreign reserves of more than $555 billion. It also has the option to sell its treasury investments if there is a need. Also, the kingdom is looking to sell its national oil company's stock in an IPO, which will raise around $100 billion. Things are bad in Iran and Saudi Arabia and these countries are certainly facing the brunt of falling oil prices, but the situation is worst for the weaker members like Algeria, Venezuela and Nigeria. This article explains how these countries are suffering and why there is desperation from these nations to reach an agreement.
The impact on the oil market is predictable in the aftermath of these developments. Oil prices had rallied due to the expectation of deal being agreed. Falling US inventories and supply outlook further fueled this upward trend.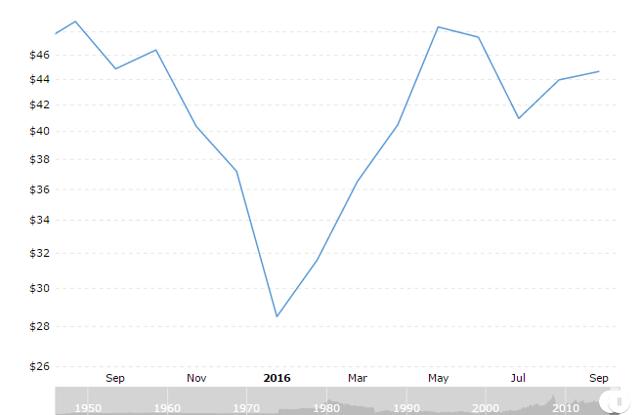 Now that the meeting has not yielded desired results, it is likely that the prices will retract to the pre-meeting levels of $41-42 per barrel. However, the meeting was not a total failure. OPEC members look more willing to discuss the possibility of limiting production seriously in the November meeting. While Saudi Arabia and Iran are in a relatively better position than the other weaker members, these two nations cannot go on facing these budget deficits indefinitely. Something has to be done and November meeting looks like a more suitable time for any sort of announcement.
The long-term outlook remains unchanged after this meeting. Falling US supply and inventories indicate that demand and supply are on course to have a balance during the next year despite increasing OPEC output. EIA is predicting further decline in US crude supplies over the next two years. US crude supply is expected to fall to 8.5 million b/d in 2017, from 9.4 million b/d in 2015. This loss will be made up by the production increases from OPEC members. If these predictions are correct then the major US producers stand to gain from the market outlook over the next two years. The supply is declining due to the smaller players leaving the market. This means that the US crude prices will start to rise sharply once the supply matches the demand.
Companies like ConocoPhillips (NYSE:COP), Chevron (NYSE:CVX), Exxon Mobil (NYSE:XOM) and others are going to benefit in the long-run. In the short-term, however, stock prices will come under pressure because there might be some downward pressure on oil prices. ConocoPhillips is likely to be the most affected by these developments because the company is going through a restructuring phase. The debt levels are high and ideally, the management would like these debt levels to come down. Operational changes mean that ConocoPhillips will be more focused on the US assets which will prove to be a plus point as it will provide stability. More than 58% of its output will be comprised of liquids. However, a clear growth plan is lacking which is a negative for me. Exxon Mobil and Chevron are protected to some extent through their diversified operations. As a result, the impact on price for both these stocks will not be drastic.
EIA is predicting an average price of $50.58 per barrel for WTI in 2017. Their current year estimate is $41.92 per barrel. People at EIA seem quite confident and optimistic about the crude oil outlook. An increase of about $9 in average realized priced will mean a substantial increase in revenue as well as cash flows for these companies. Margins will improve and the rising profitability will restore investor confidence. I believe small setbacks like the Algiers meeting are tiny hiccups in the oil price recovery and the future outlook remains promising. We are almost at the end of a down cycle and it is a good time to consider long-term positions in these companies.
Disclosure: I/we have no positions in any stocks mentioned, and no plans to initiate any positions within the next 72 hours.
I wrote this article myself, and it expresses my own opinions. I am not receiving compensation for it (other than from Seeking Alpha). I have no business relationship with any company whose stock is mentioned in this article.