A lot of attention is given to Marathon Oil Corporation's (NYSE:MRO) STACK operations, especially since its June acquisition that materially expanded its presence in the play with an eye on the Meramec shale. That attention is merited, but there are other sides of Marathon Oil Corporation's unconventional business worth following. The first thing to start off this piece will be to highlight Marathon Oil Corporation's management team coming clean on the limits of downspacing in the Eagle Ford and Austin Chalk plays.
Everything has its limits
Downspacing efforts means reducing the distance between well laterals so more wells can be fit in the same section, ideally without those wells communicating with each other. If those wells are communicating, that means the tighter well spacing is negatively impacting productivity to the detriment of estimated ultimate recovery rates and well economics. In the Austin Chalk play, Marathon Oil ran into the downspacing wall.
The company was utilizing, or attempting to at least, 40 acre spacing when developing the Austin Chalk. Marathon Oil noted that it had been aggressively pursuing downspacing efforts in the Austin Chalk play, trying to uncover as many potential well locations as possible, at a rate that was a little too fast. I would speculate that the reason why Marathon Oil wanted to push downspacing to the limit in the Austin Chalk was due to the Eagle Ford region previously being its most economical unconventional asset (before the STACK rose to prominence).
As incremental well economics out of the STACK had yet to reach the levels seen today, which are on par with (or arguably better than) core Tier 1 plays like the Delaware and Midland basins or the Eagle Ford, Marathon Oil was leaning heavily on its Eagle Ford asset to ride out the downturn. Its SCOOP and Bakken/TF economics were Tier 2 and hurting very badly in a low Henry Hub, WTI environment. Marathon Oil needed a way to win over investors, who were worried about Marathon's ability to replace core Tier 1 locations.
The Eagle Ford, at the time, seemed like the only play in Marathon Oil's portfolio capable of yielding wells that could generate double digit incremental well returns in the current environment. Management pushed downspacing to the limit, with plenty of success up to a point, with the general idea being that if Marathon Oil could uncover more Tier 1 locations investors would place more faith in the firm.
However, Marathon Oil eventually hit the downspacing wall. In the Austin Chalk, management commented that wells at 40 acre spacing "are communicating laterally a bit and that overall we're going to get the best capital efficiency in the Austin Chalk at wider spacing." This is why the firm is shifting to 80 acre spacing in the Austin Chalk, which will reduce the size of Marathon Oil's AC drilling inventory, but it will keep that inventory in the Tier 1 category.
Lower EUR rates due to well communication means Marathon Oil's capital isn't being put to good use, and its returns suffer because of it. That can be enough to knock those wells into the Tier 2 category or worse, making it irrational to keep using that spacing method as more locations that aren't economical is hardly a move worth making.
This has been something that management noticed "over the last few quarters", so it is nice that the company finally came clean in a sense (you could argue this is a move that should have been made sooner, at least in regards to updating investors). Being straightforward and noting that downspacing has its limits is better than pretending that downspacing efforts will magically replace locations developed at low prices every time.
Replacing those locations, shifting strategy
On that note, here is how Marathon Oil Corporation is going to replace that inventory by adding Tier 1 locations elsewhere. A large part of that is through its STACK acquisition and appraisal of the Meramec, which I covered in this article.
Another part includes delineating the Upper Eagle Ford. Most drilling activity in the Eagle Ford region is targeting the Lower Eagle Ford horizon, as those wells generate the strongest returns, but the Upper Eagle Ford is promising as well. As of its Q2 2016 update, Marathon Oil has delineated 31,000 net acres prospective for the Upper Eagle Ford. Management commented that the wider Austin Chalk spacing will allow for a staggered co-development scheme with Upper Eagle Ford wells.
What that spacing pattern looks like is a well is completed in the Austin Chalk, which is above the Upper and Lower Eagle Ford horizons, and then another well is drilled below that in the Upper Eagle Ford which is spaced away from the first well. The pattern looks like the letter L.
Upstream operators utilize this strategy to co-develop multiple intervals without having those wells communicate, at least in theory. It is worth noting that while the Austin Chalk spacing was increased, this staggered lateral design is another type of downspacing. Investors should monitor this spacing method to make sure Marathon Oil isn't jumping out of the frying pan and into the fire in regards to running into well interference problems. It's possible the wells won't communicate and this spacing could fix Marathon Oil's interference problem, but definitely something to watch.
Management also commented that "the three and four zone high density pads are really, we're foregoing those for the rest of this year. And so that will help mitigate those concerns (regarding well communication)." That means Marathon Oil is only going to co-develop two intervals, and not try to tap into the Austin Chalk, Upper Eagle Ford, and Lower Eagle Ford intervals at the same time. Marathon Oil is making the right call by pulling back from its head first charge into the downspacing arena.
With all that in mind, opening up the Upper Eagle Ford gives Marathon Oil another horizon to develop in a Tier 1 play. Marathon has 153,000 net acres in the Eagle Ford region, providing room for additional delineation upside as it is still very active in the area. From Q2 to Q3, Marathon Oil did move from five Eagle Ford rigs to four, partially to save money and partially due to significant improvements in drilling times, but heading into 2017 it may add rigs depending on market conditions.
Strong economics
In the Eagle Ford, under the assumption of flat $50/barrel WTI and $3.13/Mcf Henry Hub, Marathon Oil's high GOR (gas-to-oil ratio) oil wells are forecasted to yield a before-tax IRR north of 65%. That comes with loads of caveats as it is purely on an incremental well basis. Going forward, those locations will generate strong returns on an incremental basis justifying development and this portfolio represents 60% of Marathon Oil's Eagle Ford inventory. Two-thirds of Marathon's 2016 activity is going to be directed towards the high GOR oil window of the Eagle Ford.
The Eagle Ford paints a good picture of what it means to shift from an emerging unconventional play to a mature-ish one. As the play is now in the later development stages, most operational gains come from improving on what has helped out in the past. For instance, there remains plenty of room for Marathon Oil to keep speeding up its drilling times based on its "pacesetter" well time. There is also room for marginally faster completion times.
However, due to the stellar operational gains over the past few years, there are limits to how much further the industry can go. As you can see below, Marathon Oil doubled the amount of feet drilled per day while cutting completion times by three-quarters since 2012 in the play.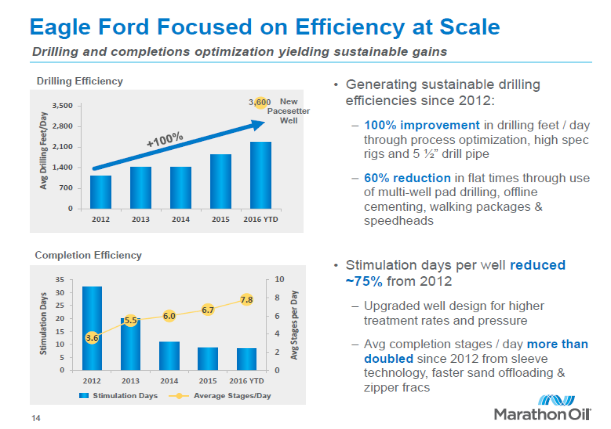 Source: Marathon Oil Corporation Presentation
Longer laterals, bigger and better completion designs (specifically methods that increase recovery rates by tapping into more of the rock), and more prudent spacing patterns are the upper branches the industry is now climbing. Marathon Oil has found closer frac stage spacing continues to be effective, which is something to watch going forward as it tries out 150-feet frac stage spacing. Wells with 200-feet frac stage spacing have shown positive results when drilled as an offset to Eagle Ford wells with 250-feet frac stage spacing particularly in the high GOR oil window.
Final thoughts
Marathon Oil Corporation has given less attention to its Eagle Ford asset in investor updates and quarterly earnings reports, but that doesn't mean there aren't updates worth taking note of. The STACK remains Marathon Oil's pride and joy when it comes to unconventional drilling activity, but the Eagle Ford has proven itself to be a great play with repeatable results. That's why management is trying to uncover more locations to develop, with delineation efforts in the Upper Eagle Ford offering a solid way to supplement "lost" Austin Chalk locations.
To get a broader picture of Marathon Oil Corporation, and why its recent shift in business strategy could pay off handsomely for investors, should take a look at Marathon Oil Embraces New Strategy.
Disclosure: I/we have no positions in any stocks mentioned, and no plans to initiate any positions within the next 72 hours.
I wrote this article myself, and it expresses my own opinions. I am not receiving compensation for it (other than from Seeking Alpha). I have no business relationship with any company whose stock is mentioned in this article.