During the second quarter of 2016, Anadarko Petroleum Corporation (NYSE:APC) generated $1.229 billion in net cash flow from operations, which includes a very favorable bump from working capital changes. Removing those changes, Anadarko Petroleum generated $669 million in discretionary cash flow while spending $728 million on capital expenditures, which includes $120 million in capex related to its midstream MLP Western Gas Partners LP (NYSE:WES), on top of $25 million in quarterly dividend payments.
That isn't terrible, indicative of Anadarko Petroleum's spending reductions materially cutting down its outspend. The ability to monetize parts of its international portfolio and its midstream investments have been crucial in propping up its balance sheet during the downturn.
At the end of Q2, Anadarko Petroleum (consolidated) had $3.212 billion in current assets, $3.244 billion in current liabilities, and $15.641 billion in long term debt. Excluding Western Gas Partners, that goes down to a little over $13 billion. That is a lot of debt, which is partially why Anadarko divested $2.5 billion in assets this year.
Anadarko still has access to capital markets and was able to issue out $3 billion in longer term debt to pay off near term maturities. The firm is targeting another $1 billion in divestitures this year to pay off $750 million in 2017 maturities.
Those moves buy Anadarko Petroleum time, but ultimately it needs free cash flow generation and plenty of it. Part of that strategy includes Anadarko using equity to take advantage of low energy prices to buy up conventional Gulf of Mexico assets on the cheap.
GoM expansion
In September, Anadarko announced it was buying Freeport-McMoRan Inc's (NYSE:FCX) deepwater GoM operations for $2 billion. That is being funded by issuing out 35.25 million shares for an estimated $1.921 billion in gross proceeds. Assuming the underwriters fully exercise their right to purchase up to 5,287,500 shares along with the secondary offering, Anadarko should raise around $2 billion in net cash after closing adjustments.
Anadarko Petroleum's financial position should improve after this maneuver as the increase in its quarterly dividend payments due to a higher share count will be very marginal relative to its overall cash flow streams and the additional operating cash flow the firm is acquiring. At strip prices, Anadarko sees its the new assets generating $3 billion in free cash flow (when considering the assets as a standalone entity) over the next five years. This is made possible by the conventional, long cycle nature of deepwater GoM operations.
With the purchase (according to the great work done by Richard Zeits), Anadarko Petroleum is buying a 100% working interest in the Holstein, Horn Mountain, Marlin, Dorado, and King fields, a 31% interest in the Ram Powell field, a 33.3% interest in the Hoover field, a 12.5% stake in the Heidelberg field, a 18.67% Vito field, a 25.2% interest in the Lucius development, and a 50% stake in the Phobos exploration prospect.
That increased Anadarko Petroleum's stake in the company-operated Lucius oilfield development to 49%, its interest in the Phobos prospect to 100%, and its stake in the Anadarko-operated Heidelberg oilfield project to 44%. Anadarko is the operator of the Lucius (first-oil 2015) and Heidelberg (first-oil 2016) developments, which were completed with a very similar design in order to keep costs under control.
When the deal closes Anadarko's GoM output will roughly double, growing to 155,000 net BOE/d that is ~85% weighted toward crude oil. This purchase will generate a bigger kick to Anadarko's cash flow streams in the event of a crude pricing recovery, while also providing many lucrative tie-back opportunities.
At strip pricing, Anadarko sees this acquisition adding 20 potential tie-back projects capable of generating a before-tax rate of return of 50% or higher. That is on top of the 30 tie-back opportunities Anadarko had as of its Q2 operations update. These are projects that leverage existing infrastructure, Anadarko's strong understanding of the geology in the area, and take advantage of relatively low oilfield service costs.
Lucius outpeformance
The Lucius development offers a great example of the kind of upside Anadarko is going for. Nearby the Hannibal and Phobos prospects, each of which Anadarko has a 100% working interest in, offer potential tie-back opportunities. Production from the Hadrian South Gas Field is already being tied-back to the facility at the Lucius development.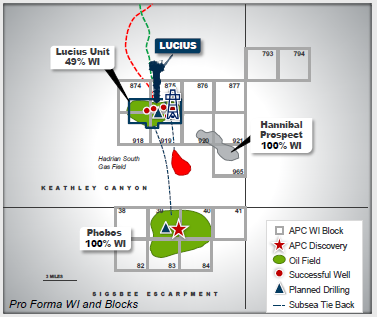 Source: Anadarko Petroleum Corporation Presentation
Strong productivity from the six wells targeting the Lucius oilfield boosted production to over 100,000 gross bo/d (vs. a nameplate capacity of 80,000 gross bo/d). That enabled Anadarko to increase its estimated ultimate recovery assumption from 300 million BOE to 400 million BOE as the recovery rate is expected to get close to 60%. A seventh well was completed in Q2, which had an initial flow rate of 15,000 bo/d and will help continue boosting Anadarko's GoM oil output.
Over at the Heidelberg development, Anadarko sees the oilfield housing between 200 million BOE to 400 million BOE in resources that will be recovered. It was brought online at the beginning of 2016 under-budget and ahead of schedule, a year after first-oil was reached over at the Lucius oilfield. This showcased the strength of Anadarko's design one, build two model, which could be deployed in the future.
Turning exploration success into another cash flow stream
Going forward, Anadarko Petroleum increased its stake in the Shenandoah exploration prospect to 33% through a preferential rights offering. As the operator of the exploration endeavor, Anadarko has been taking its time fully exploring and appraising the find. Five exploration wells have been completed, with a sixth to be spud by the end of the year. The last well, Shenandoah-5, encountered 1,040 feet of net pay and extended the length of the field.
Management noted the following:
(Anadarko was) real pleased with what we saw on the Number 5 well. Not surprised, but we were very pleased to see it come in as we had predicted it would, 1,040-plus feet of pay. We're about a half mile east of the Number 2 well. And then we're going to move farther east and downdip with the Number 6.

With your question of what else it's going to take, we really have to see what the Number 6 tells us. If the Number 6 comes in as we project with the oil/water contacts, we'll probably need to then do a sidetrack out of that, try to go updip, get in - a full oil column in that. And so the ultimate planning has to be after Number 6.
However, Anadarko also noted that a decision to move forward might not come for another couple years. When a FID is finally made, which I expect it will, Anadarko's exploration success will generate another large cash flow driver.
Final thoughts
Anadarko Petroleum Corporation knows it has a lot of debt, but it is actively making moves to deal with it. This is a company with a deep asset base, which includes a 26.5% stake in the massive 75 trillion cubic feet of recoverable natural gas find off the coast of Mozambique in Area 1, which Anadarko Petroleum is the operator of.
The company could further divest part of its stake in Area 1 while still retaining a powerful future growth catalyst. Anadarko Petroleum could also divest its small interest in Alaska, or farm-out part of its exploration/appraisal operations off the coast of the Ivory Coast.
In regard to its Gulf of Mexico expansion, this was a clever move that puts the firm in a far better position to cover its debt schedule. It doesn't appear the company wants to move forward on the Shenandoah discovery until a while later, enabling the company to generate strong cash flow streams from the region that can be deployed elsewhere.
Disclosure: I/we have no positions in any stocks mentioned, and no plans to initiate any positions within the next 72 hours.
I wrote this article myself, and it expresses my own opinions. I am not receiving compensation for it (other than from Seeking Alpha). I have no business relationship with any company whose stock is mentioned in this article.