Domestic production of oil supplies appears to be stronger than expected, as does refinery processing. At the same time, product exports are strong.
Crude stocks are down and the crude supply/demand balance is unusual. One possible implication is that U.S. refiners do not want to build stocks for fear of lower prices ahead.
Crude Oil and Other Supply
The Energy Information Administration (EIA) reported that total oil production plus "Other Supply" has risen from the low reached during July, and appears to have bottomed for now. Taken together, crude and "Other Supply" may soon show a year-over-year gain.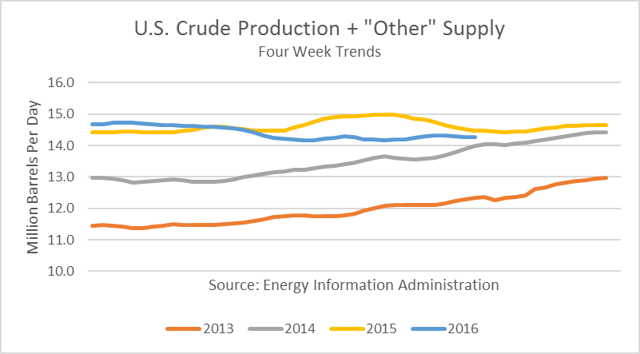 Crude Production
The EIA estimated that U.S. crude production fell by 15,000 barrels per day (mbd) last week to average 8.490 million barrels per day (mmbd) and 8.488 mmbd over the past 4 weeks, down 6.9% vs. a year ago. The trend in production in the lower-48 was 7.1% lower, whereas Alaskan production is 3.9% lower than a year ago. Alaskan production has not fully recovered from annual field maintenance.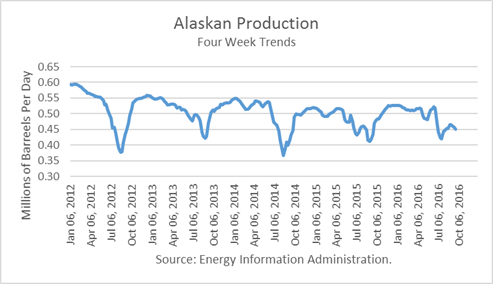 EIA's September Short-Term Energy Outlook forecast September production at 8.370 mmbd, and I wrote that would be too low. Thus far, its estimates of production are just below 8.5 mmbd. My most recent work on crude production forecasted September production at 8.429 mmbd but I have also noted that well completions are running ahead of new wells drilled, adding to supply in a way that is not detected by rig counts.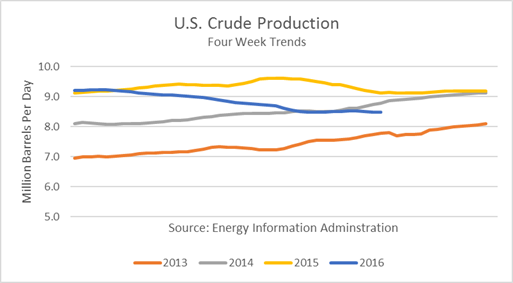 Other Supply
I have previously noted in an article how the "Other Supply," primarily natural gas liquids and renewables, are integral to petroleum supply. Whereas the 4-week trend in crude production is lower than a year ago, the 4-week trend in "Other Supply" averaged 5.774 mmbd, up 8.1 % over the same weeks last year. In YTD, it is 5.9% higher in 2016 vs. 2015.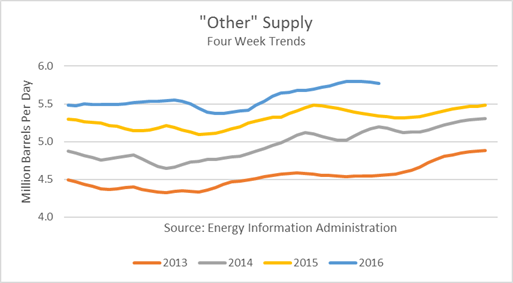 Crude Imports
Total crude imports dropped by 474,000 b/d last week to average 7.835 mmbd last week and 7.819 mmbd over the past 4 weeks, up 6.5% vs. a year ago. Net crude imports are 6.7% higher than a year ago over the past 4 weeks vs. the same weeks last year and 9.5% higher in the YTD.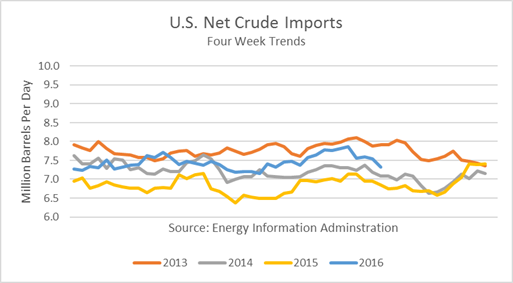 Crude exports, which are now being estimated in "near real-time" by the EIA, dropped back to 507,000 b/d last week. In the year-to-date, they are 2.9% lower than in 2015, despite the lifting of the crude export ban in December. Opponents to lifting the ban have been dead wrong about the effect it would have.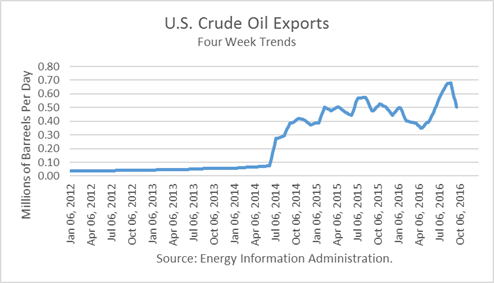 Crude Inputs to Refineries
Demand for crude at refineries fell by 253,000 b/d last week to average 16.334 mmbd. Even with this drop, refinery inputs have shown unusual resilience for this time of year. A close inspection of numbers reveals huge petroleum product export figures.
Over the past 4 weeks, product exports averaged 4.364 mmbd, which is 15.4% higher than a year ago. Apparently, U.S. refiner's ability to compete internationally has been robust, much more so than crude exporters' competitiveness.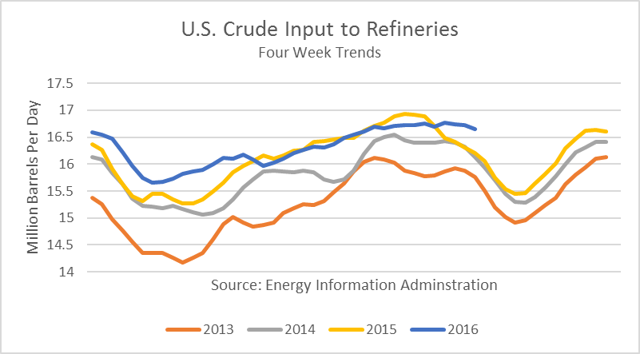 Crude Stocks
The EIA reported another stock draw, this time 1.9 mmb due to the continuing, relatively high demand for crude by U.S. refiners and a lower crude oil import trend. In fact, the crude stocks should have declined even more given the EIA supply/demand figures (see the "unaccounted for" figure below).
| | |
| --- | --- |
| prod | 8497 |
| + net imp | 7328 |
| - stk ch | 269 |
| + unaccounted for | 240 |
| = crude inputs | 16334 |
| +prod | 5749 |
| + imports | -2814 |
| - stk ch | -267 |
| +unaccounted for | 224 |
| = demand | 19226 |
As a result, crude stocks are estimated at 502.7 mmb, 44.8 mmb higher than a year ago.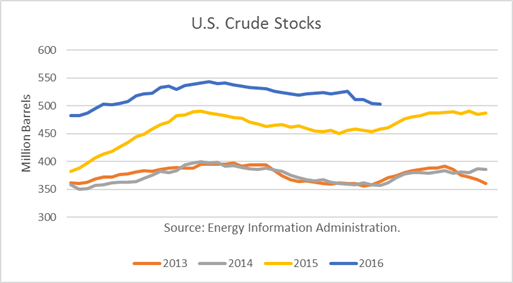 Crude oil demand has exceeded supplies over the past 4 weeks by 827,000 b/d. That trend is very unusual for this time of year. Because oil refiners control stocks by increasing or decreasing import levels, one can deduce they want less inventory due to their price expectations.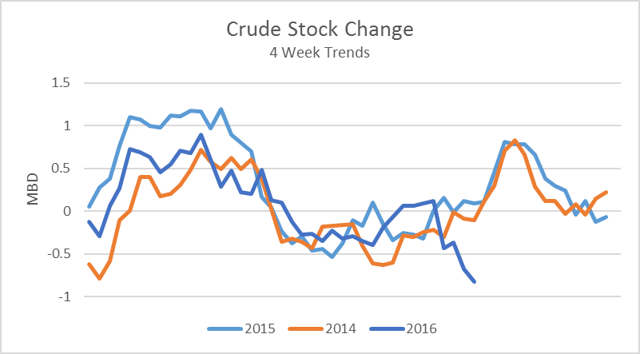 Petroleum Products
The overall trend remains in oversupply.
Demand
Total petroleum demand dropped by 205,000 last week to average 19.226 mmbd. Total demand over the past 4 weeks averaged 20.047 mmbd, up 2.7% vs. the same weeks last year. This is the first week in which the 4-week trend is not the product of blending the two methodologies. In the YTD trend, product demand is up just 1.9% vs. 2015, and EIA admitted that it had been overstating the product demand trend due to an underestimation of exports.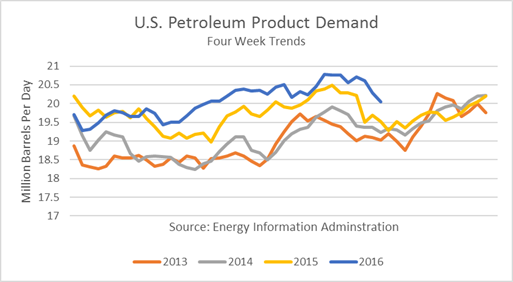 Gasoline demand at the primary stock level dropped by 770,000 b/d last week, averaging 8.800 mmbd. Its 4-week trend nevertheless is reported to be 3.6% higher than the same weeks last year. In the YTD, it reports that gas demand is up 3.5% vs. a year ago, but that figure includes some exports.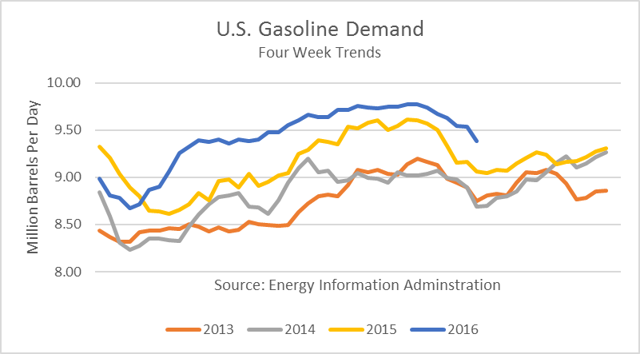 Distillate fuel demand, which includes diesel fuel and heating oil, averaged 3.431 mmbd last week and 3.558 mmbd over the past 4 weeks, down 5.9% vs. the same weeks last year. In the YTD, demand is down 5.1% due to the warmest North American winter on record.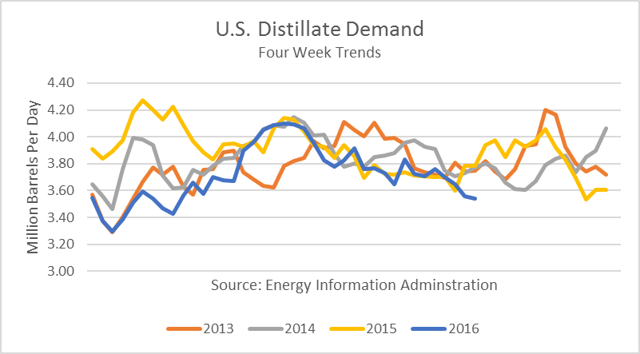 Jet fuel demand was up 0.9% over the past 4 weeks vs. the same weeks in 2015. In the YTD, demand was up 3.7% vs. 2015.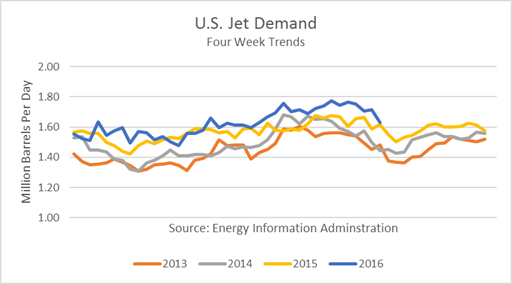 Product Stocks
Total product stocks rose by 2 mmb last week, setting a new record high level of 888 million barrels. This figure is 45 million barrels higher than last year at this time.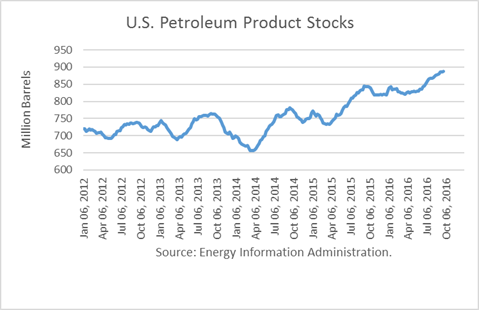 The 4-week supply/demand balance is currently in oversupply by over 335,000 b/d.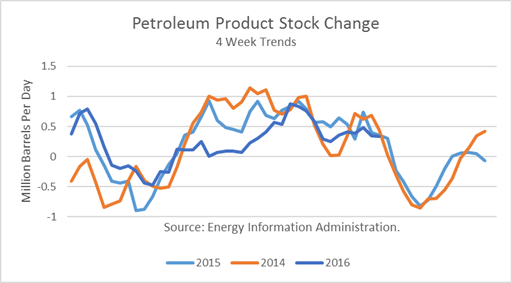 Gasoline stocks rose by 2.0 mmb to end at 227.2 mmb. The stock surplus vs. last year is just 5.2 mmb.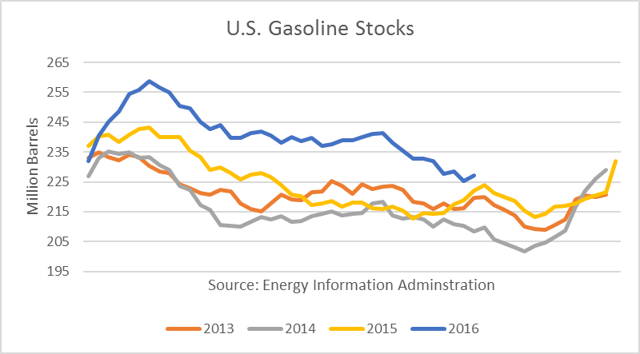 Distillate stocks fell by 1.9 mmb to end at 163.1 mmb. The stock surplus now stands at 11.5 mmb.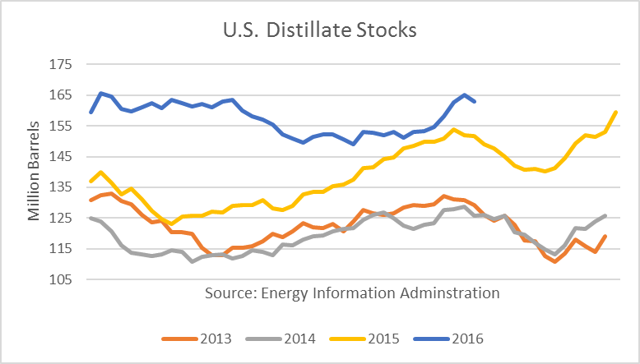 Conclusions
In total, inventories of crude oil and petroleum products stand at 1.391 billion barrels, 90 million higher than a year ago.
Products exports are high, crude imports are down. Crude oil short hedges are very high. It appears that the U.S. oil industry is bracing for lower world oil prices.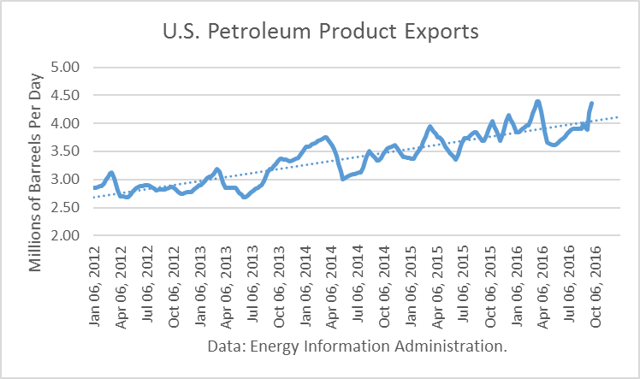 Disclosure: I/we have no positions in any stocks mentioned, and no plans to initiate any positions within the next 72 hours.
I wrote this article myself, and it expresses my own opinions. I am not receiving compensation for it (other than from Seeking Alpha). I have no business relationship with any company whose stock is mentioned in this article.