Sequans (NYSE:SQNS) is a micro cap French company that designs 4G and LTE chipsets whixh have established it as a leader in the nascent Internet of Things. In this article I provide 10 reasons why Sequans will be a breakout performer over the next 12 months and should be in your portfolio.
1) The 'Real' Internet of Things Will Launch in 2017
In June of 2016 version 13 of the 3GPP global standards for LTE (cellular communication) were completed. Included in these standards are two new communication methods, LTE CAT M1 and LTE CAT M2 (aka CAT NB1 or NB-IoT). Both of these standards allow the creation of very small and inexpensive cellular devices that can operate for up to 10 years on a single battery. This will usher in an age where a huge range of objects can be networked for an incremental cost of $20 or so.
For more information on why LTE CAT M1/M2 makes the Internet of Things a reality read Appendix 1 at the end of this document.
2) Verizon (NYSE:VZ) is Building Their Internet of Things and So Is AT&T (NYSE:T)
Verizon has announced their plans to add CAT M1 to their LTE network by the end of 2016 with commercial availability sometime in early 2017. AT&T is to begin their pilot in the San Francisco area in November and rollout CAT M1 in 2017. Around the world other telco's are in similar stages with NTT Docomo in Japan, Vodafone in Europe and Telstra in Australia. The widespread adoption of LTE CAT M1 has become inevitable.
3) Sequans is Partnered With Verizon
Sequans has partnered with Verizon to speed the adoption of LTE CAT M1 and accelerate the availability of LTE CAT M chipsets. Sequans has previously partnered with Verizon on the deployment of LTE CAT 1 on the Verizon network.
4) Sequans has the Worlds First LTE CAT M1 Product
Sequans has the first completed LTE CAT M1\M2 product. Their FC-CSP package measures only 6.5mm x 8mm and includes baseband, RF, RAM and power management. It would take 9 of these chips to cover the surface of a first class postage stamp. The chipset is currently sampling to OEM's and device manufacturers and interest has been very strong.
5) Sequans Is Already Showing Signs of Recovery
Sequans backed a loser when it focused its efforts on WiMAX technology. Shortly after its IPO in 2011 LTE emerged victorious over WiMAX and Sequans revenue and stock price plunged as shown below.
But WiMAX and LTE have many similarities and Sequans has parlayed that experience into building products for the 4G LTE market and is in the early stages of a turnaround. The above chart shows that Sequans is already making headway in YoY revenue growth since the lows of 2013. Revenue numbers for the years 2013 - 2015 are $13.7M, $22.6M and $32.5M
6) Sequans Has Recapitalized Through an ADR Offering.
As of the end of Q2 Sequans had $7.5M in cash and equivalents. In Sept 2016 Sequans completed an ADR offering of 15.5 million shares at $1.65/share generating net proceeds to the company of around $22.9 million for a total of $30 million in cash and equivalents.
With revenues increasing and losses shrinking ($5M loss in Q2) Sequans is sufficiently capitalized and expects profitability by mid 2017.
7) Analysts Are Generally Bullish on Sequans
While I personally don't put too much weight on analyst opinions, many people do. Based on the information available from Fidelity there are 3 Buy, 3 Hold and 1 Underperform (Sell) rating for an overall favorable bullish rating.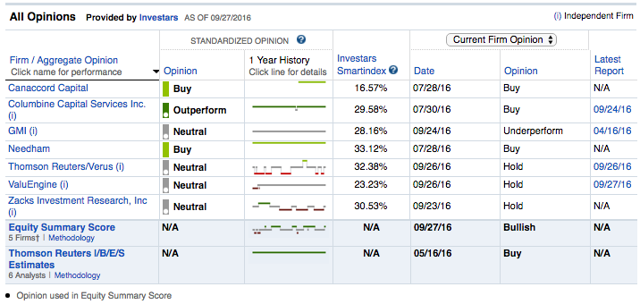 8) Sequans Executives are Bullish on The Future
Here are a few select quotes from the July 28th earnings call for 2016 Q2.
With our current revenue trajectory we expect to become operating cash flow positive at mid next year... Georges Karam (President)

Our pipeline of design wins and new opportunities continues to grow rapidly. We are growing the pipeline across our entire product line, obviously, Cat 4 and Cat 6 for the router applications, but important the Cat 1 and Cat M for IoT, which indicates that we are on track for significant revenue growth in the coming years. Georges Karam (President)

Turning to Cat M, the response since we announced our Monarch chip has been nothing short of amazing. Georges Karam (President)

Looking forward we expect revenues for the third quarter of 2016 to be in the range of $11.5 million to $13.5 million. Deborah Choate (NASDAQ:CFO)

Note: Revenue in Q3 of 2015 was $9.4 million so this would be a YoY increase of 22% - 44%.
All of these statements were made in the 2016 Q2 conference call and are considered forward looking statements protected by safe harbor provisions.
9) Sequans is a Strong Buyout Candidate
The market cap of Sequans is just under $100 million. Having a successful LTE CAT 1 product and being first to launch an LTE CAT M1\M2 solution puts a spotlight on Sequans and makes it very interesting to companies like Qualcomm (NASDAQ:QCOM), Intel (NASDAQ:INTC), Nokia (NYSE:NOK), Samsung (OTC:SSNLF), Ericsson (NASDAQ:ERIC), Texas Instruments (NYSE:TXN), Sierra Wireless (NASDAQ:SWIR) etc that do not have an equivalent chip.
10) The Risk Reward Is Very Favorable
The Internet of Things will add billions of new devices by 2020 and most of them will use an LTE CAT M1 chip. If Sequans captures 5% of the chip market it would represent $300 Million for every 1 Billion new devices (at $6 per chip). With 2015 annual revenue of $32.5M this would be a phenomenal increase in revenue and would be very profitable for investors.
Why Sequans is Mispriced
After the Sequans IPO in 2011 the company had two profitable quarters before the stock cratered as WiMAX revenue collapsed. Since then it has lost money for 19 consecutive quarters and has struggled to remain viable. The company sold a convertible note for $12 million in 2015 and diluted shareholders to raise another $23 million earlier this month in the ADR offering. The company has seriously tested the patience of shareholders for the past 5 years and the market is not in a trusting mood.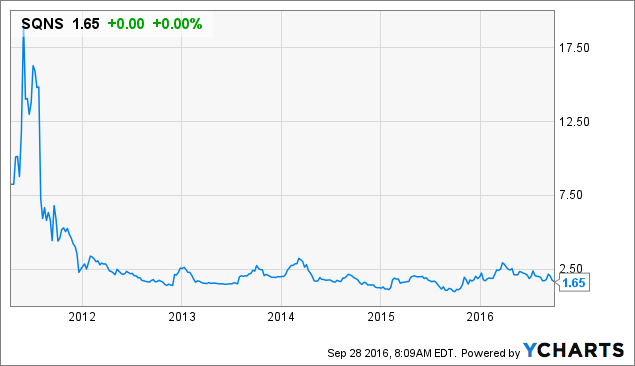 What the market does not understand is the significance of the LTE CAT M1\M2 technology to finally bring about the Internet of Things in 2017. Sequans has built a strong market position and its first mover advantage in LTE CAT M will pay off handsomely in 2017.
Conclusion
The Internet of Things will become reality in 2017 and this stock is likely to be a major beneficiary. The stock is currently $1.65 and has a 52 week range of $0.97 - $3.00. The stock declined in September due to the dilutive effect of the 15.5 million new shares issued to cover the ADR's, but in return the free cash concerns are lifted.
The low share price of $1.65 offers an opportunity to purchase a significant number of shares without placing a lot of capital at risk. This stock offers a magnitude of upside potential that is rare among stocks traded in the US.
Appendix 1
We have been hearing about the "Internet of Things" for years but thus far it has been a disappointment. The new LTE CAT M1\M2 chips will bring about the long awaited Internet of Things revolution for multiple reasons:
Power - These new chips only wake up when they need to communicate and sleep the rest of the time. A device can operate up to 10 years on a small battery.
Cost - These chips are much less complicated than the LTE chip implemented in your smartphone and are a fraction of the cost. The Sequans Monarch package will initially cost $7 - $8 with the price dropping to $6 as volume grows.
Speed - CAT M1 operates around 400Kbps and CAT M2 about 40Kbps. These are slower than a typical smartphone but use much less power and is sufficient for transferring chunks of data.
Range: CAT M1 and CAT M2 use lower frequencies (1.4MHz and 200KHz) and stronger signals that provide greater penetration of solid objects and longer range of transmission.
Size: These chips are tiny and allow the creation of cellular devices that can be embedded almost anywhere.
LTE CAT M1 is the more versatile option and support for this is being added by Verizon, AT&T and Vodafone. The remainder of this appendix will refer to LTE CAT M1 as this is the immediate opportunity.
This is Where It Gets Interesting
So we can create tiny devices that can send\receive data over long distances and run on a single battery for up to 10 years. How might these be used?
I'll use my own house as an example. I have computers, tablets, smartphones, Roku, Apple TV and Kindle Readers. While these connect to the Internet these are not the type of devices that make up the Internet of Things. These are all special purpose computers, designed to interface with humans through vision, touch, voice etc.
The devices that make up the 'real' Internet of Things are mostly providers of data, often through some kind of sensor. Here are some of the sensors that are in my house.
Smoke Detectors

Carbon Monoxide Detectors

Thermostats \ Temperature

Refrigerator Temp Alarm

Car - Many

Exterior Temperature Sensor

Humidity sensor in Dryer

Garage Door Open\Close

Burglar Alarm: Window and Door Sensors

Motion\Dusk Activated exterior lights

Water Heater Temperature sensor

Television Infra Red Receiver

Rainfall sensor for sprinkler system

Sensors for Water, Gas and Electrical use
I wont attempt to make a case for all of these but here are two easy ones.
With my Carbon Monoxide monitor and I just have to trust that its actually working. It doesn't tell me the current CO levels, it doesn't tell me the state of the battery, it doesn't tell me if the sensor is dirty and it doesn't tell me if its actually still working after all these years. By making it an Internet of Things device I would be able to look at a graph of CO levels in my home, check the status of the battery, run a diagnostic check, be notified of excessive CO levels (even if I'm not at home) and silence the alarm from my smartphone (no chair required). These devices could also alert emergency services in the event of excessive CO beyond a preset time limit. The same set of benefits could also apply to smoke and radon detectors.
I came back to my house a few weeks ago and found the freezer door open. By adding a small temperature sensor inside the refrigerator I could be notified on my cell phone if the internal temperature exceeded a threshold limit. Another option would be a small device between the refrigerator plug and the wall socket that could notify the owner if the refrigerator lost power, allowing the owner to act and save the perishable contents before they spoil.
A few years ago my cat escaped from the back yard and was never seen again. A device the size of 2-3 stacked quarters on his collar would have allowed me to connect, activate an onboard GPS, show me his position on a map and ultimately bring him home safely. How many pet owners would be greatly assured by having this type of device on their pets collar. This same solution could be used as a retrieval mechanism for all kinds of mobile objects like cars, motorcycles, bicycles, wallets, backpacks, luggage etc.
The applications for this type of technology are vast and everything is converging to make this a reality in 2017. Here are some of the anticipated use cases.
Metering - Electricity, Gas, Water, Parking, Vending Machines, Propane.
Monitoring - Lighting, Smoke, Carbon Monoxide, Radon, Pollution, Ozone Rainfall, Temperature, Humidity, Telematics, Security and Alarms.
Wearables - Medical monitoring, fitness bands, autonomous smart watches, UV exposure.
Location Trackers - Pets, Asset, Children.
Appliances - TV, Washer, Dryer, Refrigerator, Stove, Water heater Furnace, AC units.
Industrial\Commercial\Agricultural - The number of potential applications within these market segments is vast.
Disclosure: I am/we are long SQNS.
I wrote this article myself, and it expresses my own opinions. I am not receiving compensation for it (other than from Seeking Alpha). I have no business relationship with any company whose stock is mentioned in this article.
Editor's Note: This article covers one or more stocks trading at less than $1 per share and/or with less than a $100 million market cap. Please be aware of the risks associated with these stocks.