Introduction
HP (NYSE:HPQ) presents an interesting investment thesis. It has the combination of a modest PE ~8, a reliable dividend at more than 3% and an interesting suite of businesses which are being managed aggressively with an eye to growth. I recently initiated a small position in the stock which I hope to grow on market pullbacks into a core position as its initiatives gain traction over time.
HP's path to this point has traveled an unusually serpentine route. Its future is tied to 3D Printing which has also forged a sinuous path.
3D Printing is an industry with a checkered past and a promising future.
Just as the House of the Rising Son has been the ruin of many a young man, so has the allure of 3D printing's growth and profit served as the ruin for many investors' portfolios. The lead paragraph to a February 2015 Barron's follow-up article tells the story:
A year ago, 3-D printing companies were poised to rebuild the world. Today, their stocks have been flattened. Much of the losses have come in the wake of Barron's cover story, which warned about the frenzy forming in the 3-D space ("Beware 3-D Printing!" March 10, 2014).
In 2013, 3D Systems (NYSE:DDD) stock was trading in the $90s. It fell all the way to the high single digits toward the end of 2015. It has since partially recovered and its price at close on September 23, 2016, was $16.40.
Stratasys (NASDAQ:SSYS), the other publicly traded 3D printing company giant by 3D printing standards, traded above $130 in early 2014. It backed down to the mid teens in January 2016, recovering into the $20s. Stratasys' price at close on September 23, 2016 was $22.03.
So what was it that caused 3D and Stratasys to fall so far and so quickly? No doubt there were many contributing factors. One that seems to always come to the fore is that the industry was over-hyped and got ahead of itself. According to the above referenced Barron's article:
...expectations were far too optimistic about how quickly 3D printers could gain widespread acceptance. "The whole industry was benefiting from so many people just discovering (3D printing) for the first time," says Brian Drab, an analyst at William Blair. "And every media outlet was publishing an article on 3D printing. Then, when the hype started to wear off a little bit, companies needed to step up and spend."
3D Print.com sets out the following as its explanation of Stratasys' most recent January 2016 price drubbing, losing 33% in a single month. It noted:
There is little doubt that the 3D printing hype train was being driven by the need to sell 3D printers to new users, which was great for the companies in the short term, but left both Stratasys and 3D Systems looking like they were taking advantage of their customers and holding a surplus of unsold 3D printers.
Enough already about the 3D industry's checkered past. Its future, particularly with HP as a major new player in the industry, is the more interesting important point for this article.
HP, Inc. is a company with a checkered past and promises a bright future.
I consider HP to be the less techie, supposedly less growthy, remnant of Hewlett-Packard. Hewlett-Packard has a storied past as perhaps Silicon Valley's first garage tech startup. It traces its roots back to the 1930s.
In 1999, Hewlett-Packard hired Carly Fiorina as CEO. Soon after Hewlett-Packard's shares were skewered in the 2000 tech rout. In response, Fiorina sought to engineer a recovery by doubling down on Hewlett-Packard's PC business and merging with one of its fiercest PC competitors, Compaq, Inc. The merger closed in 2002.
Her big idea was a highly controversial move from the start. Fortune Magazine's 2011 negative assessment of the deal is particularly brutal. The article explains in grueling detail why the deal was a horrible one for Hewlett-Packard's shareholders. It concludes that it:
...was a big bet that didn't pay off, (it) didn't even come close to attaining what Fiorina and HP's board said was in store. At bottom, they made a huge error in asserting that the merger of two losing computer operations, HP's and Compaq's, would produce a financially fit computer business. The irrefutable evidence on how wrong they were is contained in the two companies' own merger proxy, which precisely laid out the healthy operating margins that the combined company expected to be earning in its 2003 fiscal year...
The Fortune article goes on to detail how these projections were proven to be wildly inaccurate. It further noted how the deal was massively dilutive for Hewlett-Packard's shareholders and resulted in a $14.5 billion write-off. In 2005, after the board proposed reassigning certain of her duties, Fiorina resigned as CEO.
Hewlett-Packard's adventures in the distortion field of leadership dysfunction continued through the Mark Hurd era and that of Leo Apotheker. In 2011 Meg Whitman took over and was able to restore some order, but in time she determined that the company was unable to prosper without some major reorganization.
She ultimately determined that a spinoff of the company's PC and printer business was the best path forward.
HP's 20-year look-back FastGraphs chart set out below gives a telling picture of the situation. The black line represents the stock price for combined Hewlett-Packard up through the closing date of the spinoff, after which it represents HP divorced from HPE. It shows the run-up in price followed by the 2000 crash in the tech industry. This is the background which set the stage for the momentous Compaq merger, ultimately culminating in the spinoff.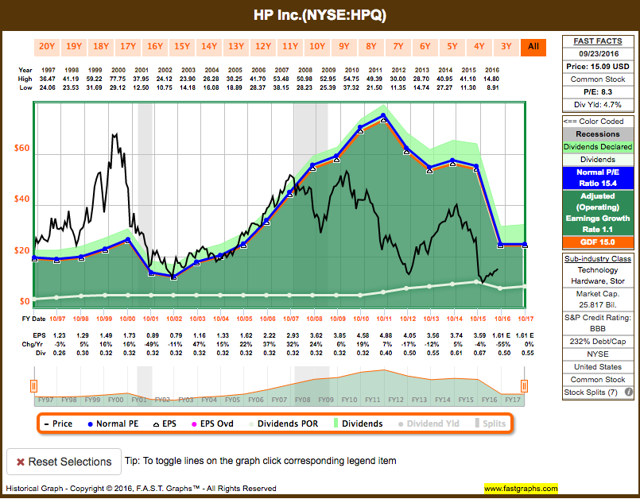 Finally in 2015, after years of turbulence and underperformance, Hewlett-Packard took Whitman's solution - it lanced the boil by spinning off legacy enterprise businesses into Hewlett-Packard Enterprise, (NYSE:HPE). This has allowed HP to march forward unencumbered to keep an undivided focus upon and to forge a profitable business out of its PC and its printing assets.
The supposedly less growthy HP is working diligently to maximize its considerable potential with concrete initiatives. It has no intention of resting in place.
HP has a three-fold strategy. Its first goal is to move its legacy PC business, if not growth, then at least to reliable profits. It intends to do this with traditional management techniques such as reducing costs and increasing revenues. This article will not dwell on its PC endeavors because I am focusing on its other two tactics.
These two initiatives relate to HP's 2D printing and copier businesses. HP recently announced a deal to acquire Samsung's copier business with the stated goal of advancing its own portfolio of printing and copier assets in a disruptive fashion. The rationale for the deal as stated by Hewlett-Packard:
The acquisition positions HP to disrupt and reinvent the $55 billion copier industry, a segment that hasn't innovated in decades. Copiers are outdated, complicated machines with dozens of replaceable parts requiring inefficient service and maintenance agreements. Customers are frequently frustrated with the number of visits needed to keep copier machines functioning. Today, HP is investing to disrupt this category by replacing copiers with superior multifunction printer (MFP) technology.
Part of HP's strategy revolves around its favored PageWide technology. HP touts this technplogy as providing superior speed, quality, reliability, cost and energy conservation.
HP further explains its belief that the Samsung acquisition opens an angle which will permit it to dominate this industry. In particular, it plans to do so by simplifying copiers which have otherwise become overly complicated.
Samsung has built a formidable portfolio of A3 MFPs that deliver the performance of copiers with the power, simplicity, reliability and ease-of-use of printers and with as few as seven replaceable parts. Integrating the Samsung printer business' products, including their mobile-first and cloud-first user experience, with HP's next-generation PageWide technologies will create a breakthrough portfolio of printing solutions with the industry's best device, document, and data security.
We live in a world conflicted by the prospect of a paperless future. In such a world there are reasons to doubt whether the printing/copier segments can show high growth no matter how innovative one's approach may be. HP may, and I expect will, disrupt this industry and advance its already considerable portfolio. This will be to the good. However, it lacks pizzazz. It is hard to visualize it as doing more than solidifying HP's current operations, helping it to pay debt and maintaining and growing its dividends.
An excellent recent (last night) SA article describes a new imbroglio HP faces in the printer space. It should provide a pullback for those interested in this name. Another even more recent article gives a full rundown on its dividend safety. Obviously SA is keeping this name fully covered.
With HP's new 3D printing initiative, the road to redemption is at hand for both 3D printing and HP.
HP's most promising path to future profits lies in its ability to leverage its 2D technology and market know-how into the fast growing 3D printing space. It has announced and is implementing an impressive initiative into the 3D printer, also known as the additive manufacturing market. This initiative is the secret sauce which makes HP a noteworthy investment prospect.
After decades of birthing, this 3D printing market is poised for phenomenal growth. 3D's recent near death experience as outlined above will hopefully add gravitas to its future at least in the next several years, hopefully heading off bubbles before they have a chance to form.
For several years, HP's possible entry into the 3D market has been a contributing factor to industry turmoil. Now that HP has made its announcement, it is clear that its impact will be significant albeit incremental, taking place over at least several years.
Investor's Business Daily reported on HP's announcement with the following referencing HP's entry into the 3D marketplace:
HP's new lineup poses a threat to 3D Systems and Stratasys in price and speed, but the threat is not overwhelming, said Piper Jaffray analyst Troy Jensen.

'We do believe the aggressive pricing HP is promoting could cause pipelines to shrink over the next couple quarters as customers review HP's printing capabilities,' Jensen wrote in a report. But select printers from 3D Systems and Stratasys 'are better in certain applications,' he said.

3D printing technology is being increasingly embraced by corporations, governments and universities. The market for 3D printers, including supplies, will grow 33% to $7.3 billion and will approach $10 billion in 2017, according to Wohlers Associates, which provides technical, market and strategic analysis on the 3D printer market.
Assuming HP's entry into 3D printing will be successful, which is in fact my assumption, it is not something which is likely to show up as a material boost to its quarterly numbers for a good number of quarters to come. The IBD article quotes RBC Capital Markets analyst Amit Daryanani to the affect that such a boost is not in prospect for either the remaining quarters in 2016 or in 2017.
Nonetheless, 3D printing is significant for HP. It has scale that no existing player in the market comes close to matching. Its commitment to this market gives the 3D market credibility at a time when credibility is sorely needed in this space. If Wohlers' growth projections for the market turn out to be true then the 3D market will be producing growing incremental annual sales worth billions of dollars. If HP, as a major credible new player in the field, scoops up a material portion of these incremental sales, it will have achieved a meaningful new revenue source.
It is not clear that HP's inaugural 3D lineup as announced will put HP in a position to take significant market share of the 3D market. The advantages that its systems boast according to one reviewer include:
...access to thermal control will enable customers to govern 900 points on the print bed in real-time, ensuring consistent and quality performance during the entire operation. The printers themselves are said to feature three printheads with 10K nozzles, as well as an absurdly high resolution of 1200 dpi. The entire system is starting at a low industrial price of $145k, making HP's Jet Fusion 3D portfolios one of the most potentially disruptive devices to ever hit the professional-grade 3D printing market.
3D printing encompasses a multitude of different techniques using a variety of different materials to layer in its processes. The same article notes that HP's announced capabilities limit themselves to thermoplastics. Still in development are capacity to use other plastics, polymers and ceramics. There is no mention of metal. For now HP's systems will print one color only. 3D Printing has been evolving since the 1980s. HP's 2016 entry into the business has the advantage that it can design its systems to address and hopefully resolve known problem areas.
On the other hand, even an industry heavyweight (such as HP definitely is) cannot cover all the bases in one effort. It will take time for HP to have a representative lineup of 3D processes. An announcement that one is entering the 3D marketplace is a discrete event. The actual effective participation in this marketplace is a process that takes time.
HP's CEO addressed HP's "late entry" into the market as follows:
We will release a technology that's ten times faster than anything else in the market. We can produce parts with unbelievable density. We've got 21 microns of accuracy. That's the tenth of a size of a human hair or one blood cell count. That's how fine we can print.

We can do it at a fraction of the cost because of our technology, which leverages 30 years of inkjet based printing to produce a 3D printed object. We are changing that formula relative to traditional manufacturing on the vectors of speed, quality and costs that nobody else on the market has today.
In sum, HP is late to the party but it picked an opportune time so that it can effectively leverage its technical expertise and its scale.
Summary
HP is facing a challenging future. In today's overheated market, it is an investment with a low PE, massive scale in its chosen industries and commensurate technology.
By my assessment, it is premature for retired investors such as myself to open full positions in this name. However, it is paying a fair dividend. Its strategies for the future justify due diligence as it proves them out over time. As you gain confidence with the name add to your positions on pullbacks.
We are at on the threshold of a new dawn for 3D printing and HP is an excellent way to play this market. The new dawn will shine its beneficial rays on both.
Disclosure: I am/we are long HPQ AND MAY OR MAY NOT INITIATE ADDITIONAL POSITIONS IN THE NEXT 72 HOURS.
I wrote this article myself, and it expresses my own opinions. I am not receiving compensation for it (other than from Seeking Alpha). I have no business relationship with any company whose stock is mentioned in this article.