OPEC Announcement
The market had low expectations heading into this week's OPEC meeting. The story broke Wednesday afternoon. From Bloomberg:
OPEC agreed to cut production for the first time in eight years, sending oil prices more than 6 percent higher, as Saudi Arabia and Iran wrong-footed traders who expected a continuation of the pump-at-will policy the group adopted in 2014, according to a delegate briefed on the matter.

In two days of round-the-clock talks in Algiers, the group that supplies about 40 percent of the world's oil said that it will drop production to 32.5 million barrels a day, nearly 750,000 barrels a day lower from what it pumped in August, the delegate said, asking not to be named because the decision isn't yet public.
How Did The Markets React?
The initial reaction in energy stocks (NYSEARCA:XLE) was positive. However, as shown in the chart below, XLE still has some hurdles to clear.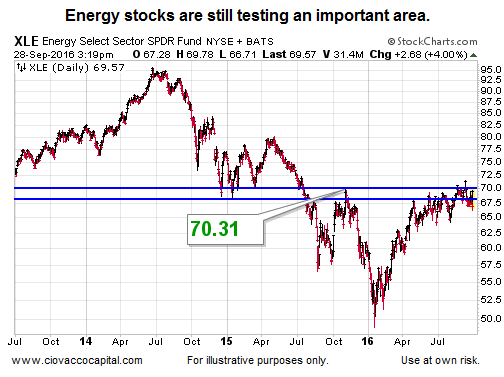 Late in Wednesday's session, the crude oil ETF (NYSEARCA:USO) was up over 5%. However, just like energy stocks, some hurdles remain.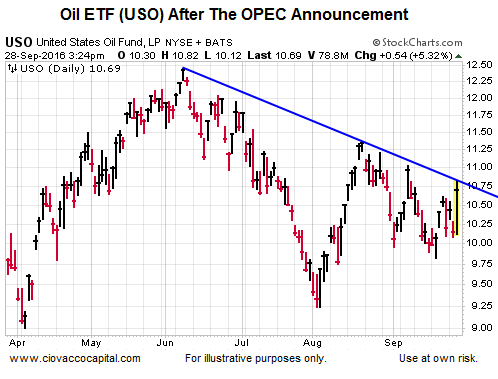 Broad Market Impact
The S&P 500 (NYSEARCA:SPY) also gained some traction after the news regarding black gold. If energy stocks can stabilize, it would take some pressure off the credit markets. A significant amount of debt is tied to the energy complex. From Bloomberg:
The trend is most apparent in the energy sector where oil and gas companies have been deploying a raft of creative measures to stay afloat amid lower crude prices that have crimped profits and threatened their survival. Such measures have included swapping unsecured debt for secured, offering discounted buybacks of existing debt, or junior-lien debt that gets paid after other creditors.
Disclosure: I am/we are long SPY, XLE.
I wrote this article myself, and it expresses my own opinions. I am not receiving compensation for it. I have no business relationship with any company whose stock is mentioned in this article.