In this piece I am going to discuss why I believe a potential Disney (NYSE:DIS) acquisition of Twitter (NYSE:TWTR) would be a good thing for both companies. But, before I really get going here, I'll admit, that Twitter isn't much like the companies that I usually write about. In 2015 TWTR managed to go cash flow positive for the first time, which was nice, but otherwise shares still posted negative EPS, margins, and management effectiveness figures. Sure, Twitter has produced excellent y/y revenue growth over the past couple of years; however, it appears growth here is beginning to wane. Needless to say, Twitter doesn't meet the fundamental metrics that I use when targeting companies to own in my fairly conservative, income oriented portfolio. I wouldn't dare purchase shares of this company outright. However, that doesn't mean it wouldn't serve another company well, because it does have a set of unique assets and presents a compelling digital media platform to entertainment companies struggling against the cord cutting phenomena.
So, what's to like about Twitter? Well, first of all, Twitter is one of the most recognizable brands in the world. And, while the company appears to have fallen behinds its peers with regards to monetization of its platform, there is no doubt that the platform itself is successful in what it does, namely digital collaboration in real time, focused around live events. Twitter can be used as a news source for the latest, breaking headlines, and to gauge the general public's opinion (from your best friend to your favorite movie star to the President of the United States) in response to said events. This second bit here is what makes twitter unique, it brings millions of users together with one common forum where information is easily accessible and quick to consume. I think there is power in the ease and speed of this digital collaboration, it's what sets TWTR apart from other social media platforms and what would make this an attractive acquisition target.
Therefore, I follow the stock, albeit from a safe distance. This company doesn't meet many of the conservative qualifications that I've built my portfolio upon; however, as the share price has fallen over the fairly precipitously since April of last year, I've began to follow TWTR related news more closely because of speculation that this company will be bought out by a competitor sometime in the near future.
I know, I know, the argument that, "all someone has to do is wait a few more quarters and TWTR will run itself into the ground to the point where it could be purchased for pennies on the dollar," is potentially a sound one. However, there are a couple of reasons why I think a takeover here is likely, sooner rather than later. The best thing that TWTR has going for it in this regard is that fact that there aren't many reasonable alternatives available with Twitter's size and scale in the social media space. Like I said in the intro, Twitter does have a very recognizable brand name and I think a company looking to move into this space would rather pay a premium for this awareness than start from scratch. Also, on the flip side of the cash drain argument, all it would potentially take to turn the stock around and potentially sky rocket is a quarter or two of unexpected growth in monthly active users and/or earnings. Do I think this turnaround is likely? No, I don't. But, I wouldn't say it's impossible either and in this type of situation we'd see a massive short squeeze take place. The market has a proven track record of being willing to pay high premiums for successful companies in the space that Twitter operates in and should Twitter become a darling again, rather than the dog it is today, the premium put on its shares would rise drastically.
One reason that I haven't been willing to make a bet on Twitter itself, outside of valuation issues, is that I think there is a management problem at the company. I have little faith in the current management team moving forward and think a major shake up here could be a boon for shares. It's not that I'm overly concerned with Jack Dorsey running two companies at once. Obviously, it seems as though he's bit off more than he can chew here, but I know we're talking about a uniquely gifted mind and if anyone is capable of doing the job double time, I think it might be him. No, my problem is that over the past couple of years I've watched as other social media platforms, namely Twitter's biggest rival in terms of brand awareness, Facebook (NASDAQ:FB), has innovated its user experience, branched out into other areas of networking and media, become dominant in the online ad space, generating not only massive revenues, but cash, EPS, and very strong gross margins as well. Twitter hasn't been able to keep up with this innovation and this lack of foresight in concerning. The way I see it, without a takeover of some sorts, Twitter is in trouble and may very well go the way of the dodo, or Myspace, for that matter.
Twitter has failed to monetize its platform, in part because of the lack of video and full screen ads. Well, partnering with a media company would solve both of these problems and the be the best potential landing spot for Twitter. Sure, Twitter could sell itself to a tech company who would likely be more interested in the social media platform for the data that it generates about users than the performance of the platform itself. In this situation I would worry about the new owner, an Alphabet (NASDAQ:GOOG) (NASDAQ:GOOGL) or Salesforce (NYSE:CRM), for example, not pushing the platform forward in terms of innovation. Alphabet has already failed with Google+ as a social media platform; what makes you believe they have what it takes to innovate Twitter to the point that it competes with Facebook ? Speaking of Facebook, I do think that this would be a great landing spot for TWTR. FB's scale could make up for the decelerating ad revenue per user that bogs down Twitter; this potential partnership would be more about market share than anything else. Also, I know that Zuckerberg likes the idea of FB becoming a top flight news source, though I think that in the end, anti-trust issues would be brought up here because of FB's current domination of the social media space with the myriad of platforms it already owns.
So, finally, we arrive at Disney . I'm sure that many Disney shareholders are reading this piece thinking, "this boy has lost his mind." Twitter is damaged goods and why would a blue chip company like DIS, with one of the best CEO's going, waste its time and money on a failing social media platform? As a DIS shareholder, why would I potentially be in favor of such a move? Well, to me the answer is rather simple, although admittedly fraught with speculation.
You see, when making investments I look at several things. One, the company's history to see if there is a culture of success and conservative, responsible management. Two, the company's balance sheet, and business operations in the present. And lastly, I attempt to peer into the future, imagining the world not as it is today, but how it will be in 5 or 10 years and whether or not there is a place for the business that I'm considering as an investment in that imaginary world. Disney has the first two boxes checked off soundly, though there is a bit of a question mark in the third surrounding the company's media division which generates a large portion of its profits. This is why Disney shares have slumped as of late and I think that Twitter could help solve some of the cord cutting fears that DIS stock faces.
Now, with this in mind, let me paint you the picture that I imagine when it comes to the future of media, entertainment, and the Walt Disney Company. First and foremost, I expect for the demand for entertainment to increase as our world becomes more and more efficient. Because of this I put a high value on Disney's content portfolio and its proven ability to invent new and alluring characters and stories. In other words, content is and will continue to be king. However, the methods of delivering this content will change and the company(s) that successfully innovate in line with consumer demands here will ultimately come out on top.
One of the reasons that Disney is a core holding of mine is the company's diverse means of content/entertainment delivery. Although the market likes to focus primarily on the media side of things, I sleep well at night knowing that DIS has many income streams. The company has TV shows, movies, radio broadcasts, cruise ships, theme parks, and arguably, the most important in terms of future growth, its digital media platform. Not long ago it was announced that Disney acquired a 33% stake in the MLB's video streaming unit BAMTech for $1b, with options to increase this stake overtime. I was happy to see this move. Not because I'm bullish on the future of Major League Baseball (having grown up playing baseball, personally I'm a fan, though I think the game is losing its footing as the "national pastime" and I worry about the slow moving, low scoring sport moving forward), but because of the potential that DIS now has with this digital delivery arm with the rest of its more successful media content portfolio.
Speaking recently at the Goldman Sachs Communacopia Conference, Disney CEO Bob Iger had this to say about the BAMTech purchase and the future of digital streaming for this company:
"So ESPN has a treasure trove of digital rights for 99% of the sports that it covers that it is not fully exploiting on new platforms and it fully intents ultimately to do that. So there is a monetization factor here and again owing I guess you could argue wasn't an absolutely necessary in that case but this will give us the ability with BAMTech to create complimentary product to ESPN and to mine their - the goldmine of those rights that ESPN has I think more effectively."
This "treasure trove of digital rights" is exactly why I think Disney targeting Twitter is a great idea. Cord cutting is the real deal and although I don't think this is the doomsday scenario for Disney that others seem to, I do expect for the trend to continue and for Disney's cable networks, namely the cash cow, ESPN, to continue to lose subscribers as traditional television viewership dwindles in favor of more individually focused, on the go entertainment. The company needs to find a suitable means to distribute the content that it owns to consumers in the modern, digital age and I think TWTR would offer a unique means to do so.
To me, this is where the next battleground for media companies lies. I imagine that in the future television will morph into a sort of over the top subscription based, pay-per-view, skinny bundle, a la cart, Netflix (did I forget any of the digital stream catch phrases there?) type offering. This isn't a revolutionary idea by any means; the argument for this kind of system has been brought up after just about every DIS earnings report when then ESPN subs are announced. I'm sure that companies across the media/entertainment space are working on some sort of solution here and I imagine the ones that succeed quickly will take market share.
By picking up Twitter, Disney would have a platform to provide digital streaming of its content with the added bonus of user engagement. This is why I think Twitter is a unique asset. At the Goldman Sachs conference Iger mentioned that Twitter's live stream of the NFL games was powered by none other than BAMTech. So, synergies are already in place for a partnership. Speaking of synergies, Jack Dorsey is on Disney's board (just like Steve Jobs was on DIS's board before the Pixar acquisition in 2006). Obviously a board seat doesn't mean anything in terms of an M&A deal getting done, these things happen all of the time without this connection in place, though I do imagine the familiarity between the two companies would help if and when a deal is being put together.
What I'm imaging for the future of television viewership is essentially a twitter sidebar on a screen where live content is streaming, making it a social experience. Yes, I know you can already watch a show live and tweet from a phone or a device using the Twitter app/website. However, I think minimizing clicks by incorporating the two, making both available simultaneously, will drive usage and demand to engage. This synergistic relationship plays right up Disney's alley, adding another dimension to already vast ecosystem that takes content and monetizes it by compounding engagement across platforms.
I was disappointed with TWTR's user interface during the two NFL streams that its done recently. In full screen mode there was no Tweet box or side bar or really any means for user engagement. I didn't understand this because I think the potential to be engaged with other viewers is what sets Twitter apart from other streaming services; TWTR management dropped the ball on this one. This falls back to my lack of confidence in TWTR management. This isn't a problem that I have with Disney, who in my opinion, has the some of the greatest creative and consumer focused minds around.
Now, I do have to mention that the user engagement thesis that makes me so bullish on Twitter as a potential media distribution platform is also a potential problem for Disney. Why? Well, Disney is known across the world as a premiere family friendly company. DIS takes tremendous steps to maintain its public image and reputation. This is why DIS has been very cautious with its VICE partnership. VICE is a compelling asset for media companies who want to capture more of the millennial audience; however, VICE also has a history of content that would be problematic to this family friendly image. Like VICE, comment threads of Twitter are known for their NSFW (not safe for work) atmosphere. Free speech is important and is what has made Twitter so special, though I imagine Disney wouldn't want a family watching a live stream of a football game or even the nightly news and participating in a comment thread only to see some of the smack talk that happens there on a daily basis. This is an issue that I don't see a clear fix for; maybe an age appropriate sign in would work? Anyway, I suppose it's not up to me to solve these issues, but instead, to bring them up when attempting to present a well balanced argument as to why I think a Disney and Twitter partnership would flourish.
And lastly, when thinking about this acquisition, I think it's important to ask what else could potentially be done with this money? Is buying Twitter and potentially taking strides to solve the cord cutting issue the best move Disney could make? In the past this company has had great success with acquisitions, though these have mainly fallen under the content umbrella. Pixar, Marvel, and Lucasfilm have all been tremendous successes for Bob Iger, having helped to transform DIS into the media powerhouse that it is today. This is why I can't help but ask if another content focused acquisition would make more sense, a Nintendo (OTCPK:NTDOY) perhaps, or maybe an Activision Blizzard (NASDAQ:ATVI)? Disney has recently gotten out of the video game space and both of these companies would help them get back back in with a much stronger footing. They both offer tremendous character IP as well, which could be easily integrated into the rest of Disney's ecosystem. Couldn't you imagine yourself running around with Mario and crew at a Disney resort chasing Pikachu? Princess Peach and Zelda would make good friends with Cinderella and Elsa, if you asked me.
Now, both of these companies have market caps that exceed $30b while TWTR's sits around $17b. Each of these companies would be much larger targets that the three aforementioned acquisitions that Iger is now famous for. Regardless of what Disney does or doesn't do in the M&A space, I hope they negotiate a good deal. Sure, there's the argument that price is what you pay, value is what you get, and over the long-term, I think there is justification in this stance. However, I never like to see a company overpaying for any assets, no matter how potentially helpful they would be when growing the business moving forward. On the bright side, analysts argue that Twitter's current stock price has a lot of the M&A premium already built in, meaning that a potential suitor wouldn't have to pay a massive premium on top of the $23 share price. And premium matters here, especially when one considers the fact that Twitter's monthly average user base is relatively small compared to other social media platforms.
Disney has generated more than $6b in free cash flow per year since 2013 and it's looking like the 2016 total may top $7b. The company had $5.2b of cash and cash equivalents on hand at the end of the last quarter. So, while a potentially large acquisition is entirely possible, I wouldn't want to see the company over leverage itself to do so, especially if said acquisition put the dividend/dividend growth at risk. Disney's long-term debt has risen a bit over the last 5 years or so, but it still remains entirely manageable. In this low rate environment taking on debt isn't the worst thing in the world if management believes it will receive a nice ROI on the purchase. Rates won't stay this low forever, so the way I see it, if you're going to raise capital, now is probably a decent time to do so.
Then again, there's the old fashioned argument that if it ain't broke, don't fix it. Looking at this F.A.S.T. Graph, over the long-term, it's obvious that Disney 'ain't broke' at all. So, maybe the best cource of action to take is their current one that involves smaller purchases to address issues. Morningstar currently rates the company a 5 star buy, and that's without Twitter officially involved. S&P Capital IQ gives the company a 4 star buy with a 12 month price target 20% higher than today's share price of $92. I recently added to my position at $91.73 on weakness and I'm happy to hold for the long-term regardless of what DIS does or doesn't do with Twitter.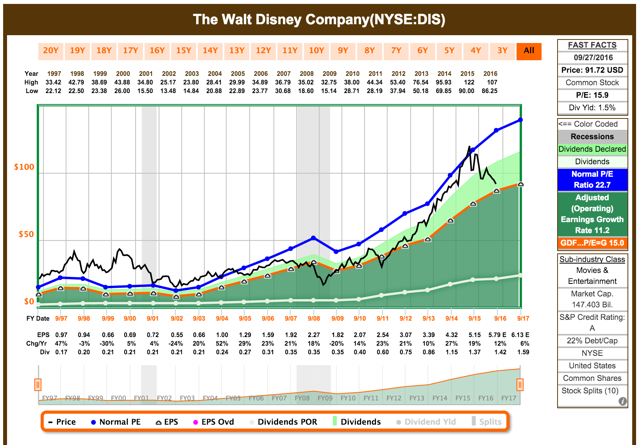 In the end, time will tell what Iger and his fellow managers decide to do; I guess at this point all we can is sit back and enjoy the show. As always, I look forward to our discussion and your opinions on the matter. Best wishes to all.
Disclosure: I am/we are long DIS, GOOGL.
I wrote this article myself, and it expresses my own opinions. I am not receiving compensation for it (other than from Seeking Alpha). I have no business relationship with any company whose stock is mentioned in this article.