Supply and demand tightened a bit over the last two days, despite a material drop in power burn demand. Currently, we are sitting around 26 Bcf/d, or 5 Bcf/d below where we were last week. Readers should be aware that injection figures for the next two weeks should be much higher than what we expect for this week's report (+53 Bcf).
Looking at other demand sources, LNG export remains at 0 Bcf/d. Mexico export is now starting to fall off. As Mexico primarily uses natural gas for electricity generation, and as the summer heat dissipates, we also expect electricity generation used for cooling to drop as well.
U.S. natural gas production fell a bit more while Canadian imports dropped slightly. We noted in our article yesterday that there are currently concerns with Eastern Canada storage also hitting capacity. This has resulted in curtailing some of the natural gas production out of the Marcellus and transferring to gas down to the U.S.
AECO gas prices certainly don't reflect this worry with prices steady.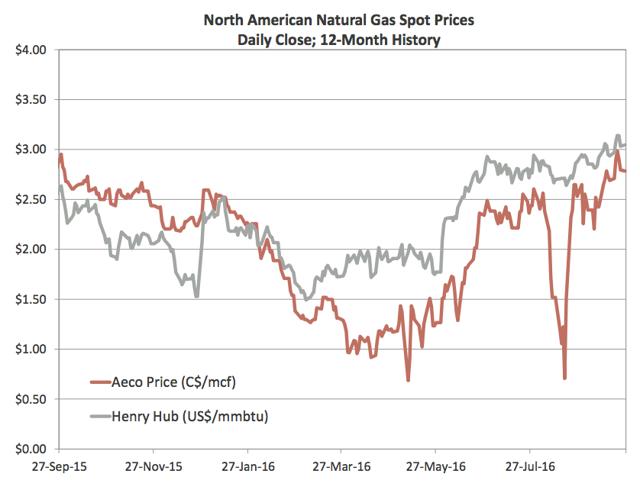 Henry Hub natural gas prices fell slightly on the back of bearish weather projections that point to above-average temperature in October. Geckoi Capital, a firm we subscribe to, released a prescient update this morning pointing to bearish indicators developing. We applaud them on the early call as our models played catch up to theirs.
We will be updating our premium subscribers on our next four-week storage injections along with our weekly natural gas outlook this weekend. We think this week's storage report should reflect another low one before the lower power burn demand results in higher injections. One thing is evident: The summer heat is dissipating, and winter is just around the corner. We see a supportive fundamental backdrops for natural gas throughout winter.
Eight- to 14-Day Outlook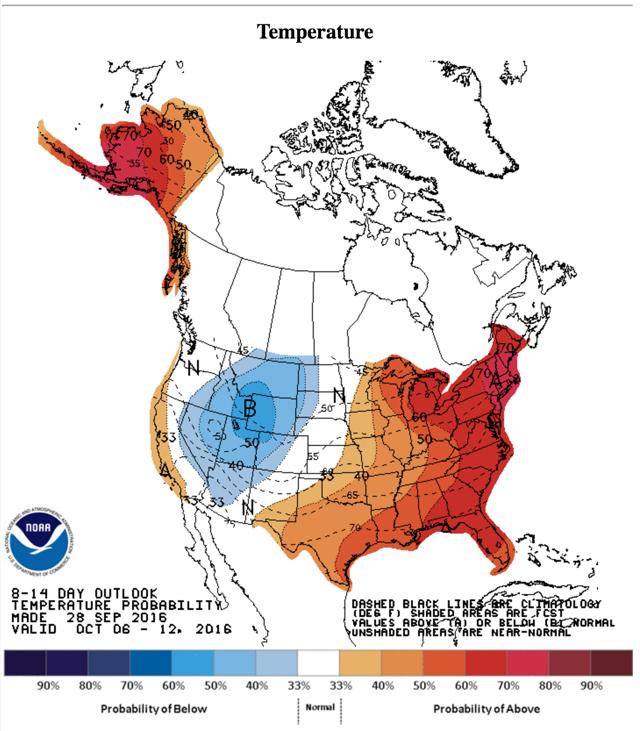 Natural Gas Prices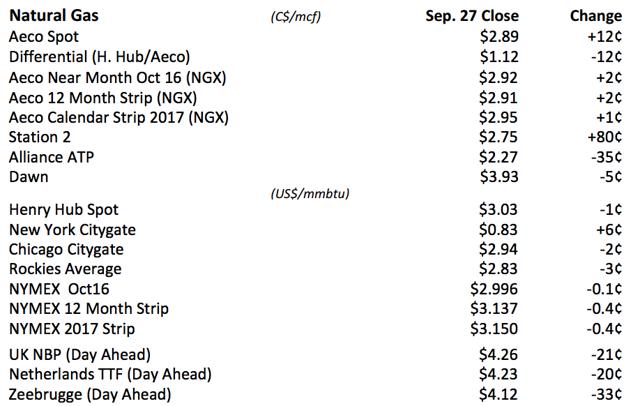 Disclosure: I/we have no positions in any stocks mentioned, and no plans to initiate any positions within the next 72 hours.
I wrote this article myself, and it expresses my own opinions. I am not receiving compensation for it (other than from Seeking Alpha). I have no business relationship with any company whose stock is mentioned in this article.
Additional disclosure: We have no business affiliation with Geckoi Capital. We are paid subscribers for Geckoi Capital's natural gas service.