The AlphaClone Alternative Alpha ETF (BATS:ALFA), ALFA tracks an index of U.S. stocks owned by hedge funds and institutional investors, as selected using AlphaClone's proprietary "Clone Score" methodology, which ranks managers according to whether it would have been profitable to follow their disclosures in the past. Presumably, this allows investors to "invest with the best", and the fund outperformed the broader market over the first three years of inception (May 2012).
In my most recent article on ALFA, "The AlphaClone Alternative Alpha ETF Continues To Disappoint In 2016", I noted that the whipsaw nature of the equity markets at the time had caused ALFA to suffer performance drag relative to its benchmarks. Recall that ALFA becomes market neutral when the S&P 500 (NYSEARCA:SPY) falls below its 200-day simple moving average [SMA] at month's end. The hedge is removed when the S&P 500 recovers the 200 SMA, which is again checked at each month's end. This strategy can protect investors from the most severe of bear markets, by moving to a neutral stance when the technical level is breached.
Unhedged since April
As can be seen from the chart below, SPY has regained its 200 SMA since the start of April and has not closed below this key level at month's end ever since. While Brexit fears did cause the index to close below the 200 SMA for a single day (Jun. 27), this did not occur at month's end and hence the hedge was not triggered. I consider this very fortunate for ALFA because had the market low occurred a mere three days later (Jun. 30), the hedge would have been activated and ALFA would have been completely unable to take advantage of the V-shaped recovery in the markets.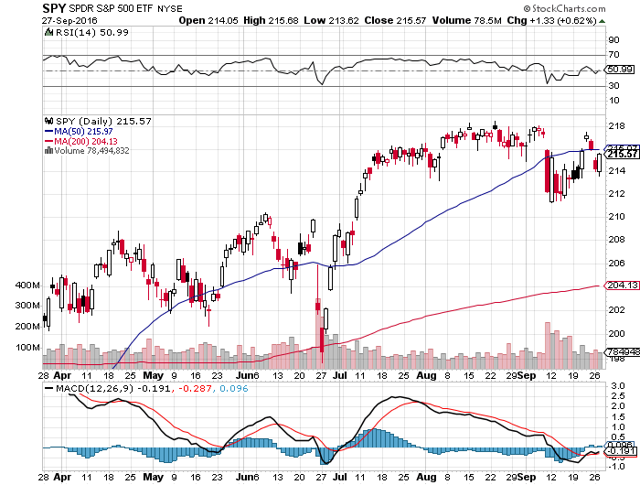 The following table (from ALFA's factsheet) shows the months of time where ALFA was hedged ("ON") or unhedged ("OFF").

Tech focus pays off
In my last article, I noted that ALFA (which reflects successful fund managers' holdings) had shifted out of biotechnology stocks such as Valeant Pharmaceuticals (NYSE:VRX), Celgene (NASDAQ:CELG) and Horizon Pharma (NASDAQ:HZNP), and into technology companies such as Amazon (NASDAQ:AMZN), Microsoft (NASDAQ:MSFT) and Alphabet (NASDAQ:GOOG). I concluded thusly:
Instead, hedge funds and institutional managers appear to have shifted into technology stocks, with ALFA having tech giants such as Amazon, Microsoft, Apple and Alphabet as top holdings. If the tech sector is able to get out of its current slump, ALFA could yet shine.
Indeed, that appears to be precisely what had occurred. Since my last article, ALFA has returned +8.51%, beating SPY (+6.28%) by over 2 percentage points. Of course, beating all comers is the Nasdaq-tracking PowerShares QQQ Trust (NASDAQ:QQQ), at +12.52% return.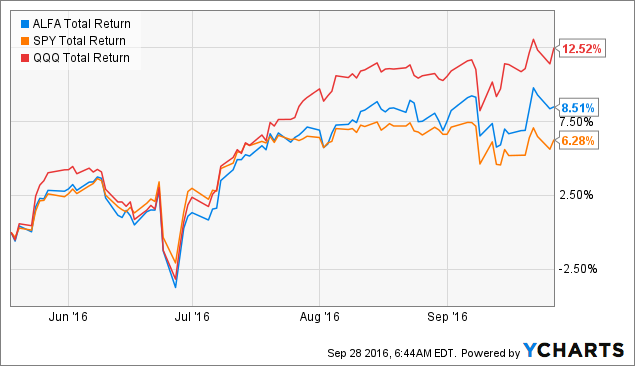 ALFA Total Return Price data by YCharts
Looking ahead
SPY currently sits at $215.57, with the 200 SMA sitting only a short distance (-5.3%) below it at $204.13. As mentioned previously, a fall below the 200 SMA will activate the hedge, which if it were to take place would be the second time that ALFA becomes hedged this year.
The current top 10 holdings of ALFA are shown in the table and chart below.
| | | |
| --- | --- | --- |
| Stock | Ticker | Weighting |
| AMAZON COM INC | AMZN | 5.21% |
| JOHNSON & JOHNSON | (NYSE:JNJ) | 4.95% |
| SIMON PPTY GROUP INC | (NYSE:SPG) | 4.12% |
| ALPHABET INC | GOOG | 3.11% |
| MICROSOFT CORP | MSFT | 3.01% |
| ACTIVISION BLIZZARD INC | (NASDAQ:ATVI) | 2.21% |
| AT&T INC | (NYSE:T) | 2.07% |
| YAHOO INC | (YHOO) | 2.06% |
| DYCOM INDS INC | (NYSE:DY) | 2.05% |
| CONSTELLATION BRANDS INC | (NYSE:STZ) | 2.05% |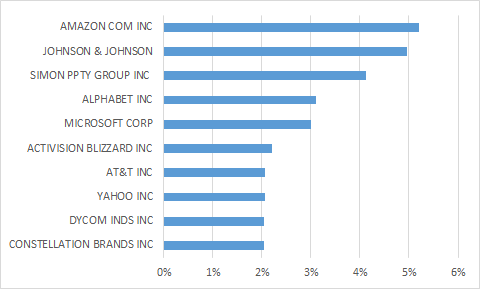 The above list shows that ALFA is still quite tech-focused, with AMZN, MSFT and GOOG remaining as top holdings, although their allocations have been decreased from before. For instance, AMZN's current weighting is 5.21%, down from 9.20% in May, while MSFT has also dropped from 5.17% to 3.01%. AAPL has been completely dropped from the top 10. Given the stocks' strong performance in recent months (as shown below), reducing the allocation to tech companies could be a prudent decision by these fund managers.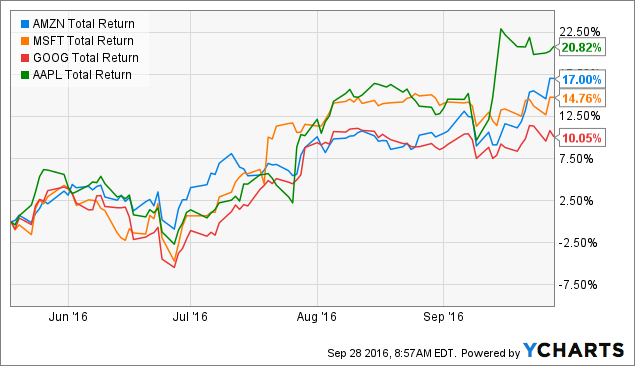 Somewhat surprisingly, we see that defensive stocks like JNJ and STZ (consumer staples), SPG (REITs) and T (utilities) have become popular among successful fund managers. Could this be a sign of defensive posturing for the months ahead?
Summary
ALFA has been unhedged since April of its year, and its performance over the last several months has slightly beat the market, which could be attributed to its overweighting of technology companies. The current iteration of ALFA shows an increased allocation to defensive stocks, which could suggest that fund managers are adopting a more cautious stance for the future. Will ALFA see brighter times ahead and recapture some of its luster?
If you have enjoyed my article, please consider clicking the "Follow" button next to my name to be alerted to new content! Also, subscribers to the Cambridge Income Laboratory receive my best trade ideas in advance, have access to my personal ETF/CEF income portfolio, and can request specific ETF/CEF analysis.
Disclosure: I/we have no positions in any stocks mentioned, and no plans to initiate any positions within the next 72 hours.
I wrote this article myself, and it expresses my own opinions. I am not receiving compensation for it (other than from Seeking Alpha). I have no business relationship with any company whose stock is mentioned in this article.