This article is an endeavor to demonstrate why Apple Inc. (NASDAQ:AAPL) deserves cornerstone status in the construction of my portfolio of the "world's best businesses." My previous two articles (on Starbucks (NASDAQ:SBUX) and MasterCard (NYSE:MA)) articulate my definition of and the basis of selection for companies that will constitute the portfolio I seek to build.
Apple is the most profitable business in the U.S. as measured by both earnings and free cash flow, and in my opinion, will remain so for the foreseeable future. I bought the stock in June 2013 when the prevailing narrative and valuation were uncannily similar to what we see today. In that cycle, from its bottom in April 2013 the stock roared higher by 138% before peaking in March 2015. I believe we are in the midst of a similar price cycle for the stock, where we have seen and bounced off the bottom (reached in May 2016) and now working our way up to a new all-time high.
Headline Numbers (ttm: trailing 12 months)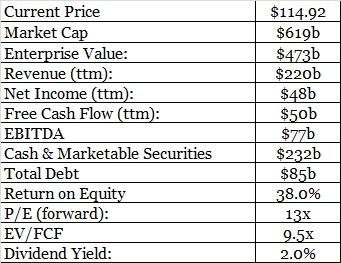 Revenues:
The following chart shows the 10-year revenue trajectory for Apple when compared with four other iconic American tech giants, namely Microsoft (NASDAQ:MSFT), Oracle (NYSE:ORCL), Alphabet (NASDAQ:GOOG) (NASDAQ:GOOGL) and Cisco (NASDAQ:CSCO). The gradient for Apple's line, relative to the others, tells the story of the mammoth pace at which Apple grew its top line.
While some may argue that the recent dip in revenues denotes a peak iPhone watermark, I believe this is unlikely to come to pass. A close analysis of the numbers indicates that as the customer base for the iPhone grows, a mix of upgraders and first-time buyers will continue to help propel revenues higher in due course. A growing services business and the prospects for a game-changing iPhone 8 will only help spur things along.
AAPL Revenue (TTM) data by YCharts
Margins: I believe one of the best ways to gauge whether a company enjoys a sustainable competitive advantage in its industry is by analyzing its margin metrics over a reasonably long time frame, say 10 years.
Focus on the two charts below. The first one depicts gross margin trends over the last 10 years for Apple, Microsoft, Cisco and Oracle. As is evident, Apple has the lowest gross margin being primarily a consumer discretionary, hardware-related business. In comparison, Microsoft and Oracle, both predominantly software businesses, have much higher gross margins, while Cisco, which is transitioning from a hardware focus to a software one, sits somewhere in the middle.
Apple increased its gross margin from 29% in Fiscal 2005, to 39% in 2010. Notwithstanding a spike higher in 2012, the company has managed to sustain it around this level ever since. This is so despite the fact that Apple has along the way introduced two relatively low-cost versions of the iPhone (5C and SE), reducing ASPs and therefore gross margins for the company's flagship iPhone business.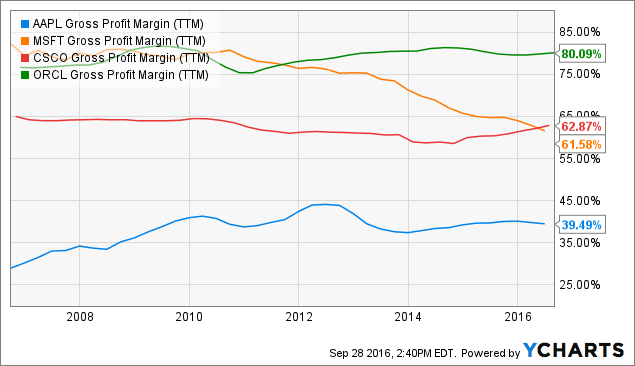 AAPL Gross Profit Margin (TTM) data by YCharts
Now let's compare the net profit margin for the same companies. Apple's net profit margin increased from under 10% in 2005 to an impressive 22% by 2010, where it has stabilized ever since, except for an outlier 2012 when the net margin spiked higher.
As for the comparison with the others, one can see that the range narrows down significantly. It can be argued that this is a manifestation of Apple's operating efficiency relative to the others.
The takeaway here is that Apple's proven ability to maintain margins combined with a sustained growth in the higher margin services business gives me confidence that the company will manage to, at the very least, preserve its blended gross margin close to current levels.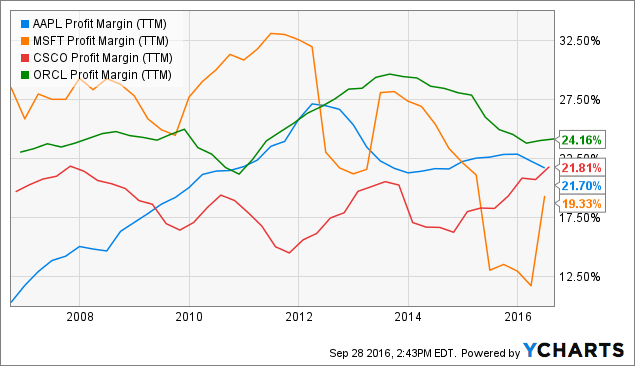 AAPL Profit Margin (TTM) data by YCharts
Returns on Equity:
For context please see a 10-year RoE comparison, for AAPL with Microsoft, Oracle and Cisco, other tech stalwarts each of whom has a net cash balance sheet. As readers can appreciate a net cash balance causes a drag on the RoE measure in proportion with its size. AAPL has $147 billion in net cash (and equivalents) on its balance sheet and a shareholders' equity (book value) of around $127 billion.
Apple has steadily increased its RoE over the years despite an ever-increasing excess cash sum sitting on the balance sheet earning pittance in comparison with what the underlying business generates. In comparison, RoE for Microsoft, Oracle and Cisco have all trended lower over the years.
Calculating RoE for Apple assuming only $50 billion in net cash results in a figure of an unbelievable 160%. This gives you an indication of the incredible rate at which the underlying business generates and reinvests profits at.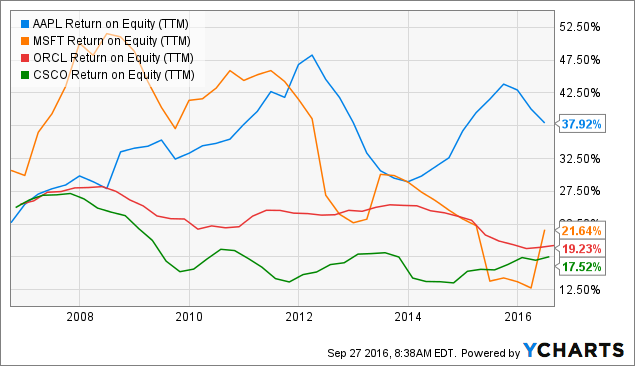 AAPL Return on Equity (TTM) data by YCharts
Capital Efficiency: Companies that exhibit capital efficiency are typically those enjoying durable moats or put another way sustainable economic goodwill. These are companies that a) generate abnormally high returns on invested capital and b) don't require substantial ongoing capital expenditure in order to generate those returns. Apple is a case in point.
At Apple, for the last 10 years, while CAPEX spend increased in line with the EPS and FCF per share, total CAPEX spend during the 10 years was only 20% of the total net income and 17% of the total free cash flow for the same period.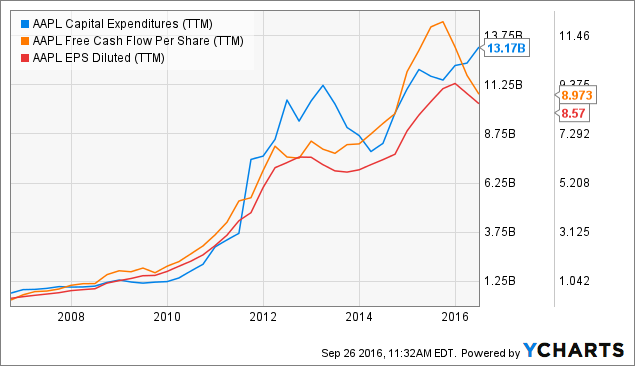 This is an illustration of how economic goodwill works causing profits and cash flows to increase disproportionately relative to capital expenditures. This is an exceptionally important concept, one that is generally underappreciated by the investor community, in my view. It is important because the disproportionate increase in cash flow that is available to return to and reward shareholders grows both nominally and as a percentage of sales.
The following charts comparing both capex and FCF as a percent of revenue will clarify the point. As can be seen while capex as a percent of revenue doubled from around 3% to 6%, FCF margin expanded from around 8% in 2006 to 30% in 2015 - currently at 23%.
The point I'm making is that while Apple will likely continue generating mammoth free cash flows, corresponding capex is unlikely to increase at a similar clip.
Capex as a % of revenue: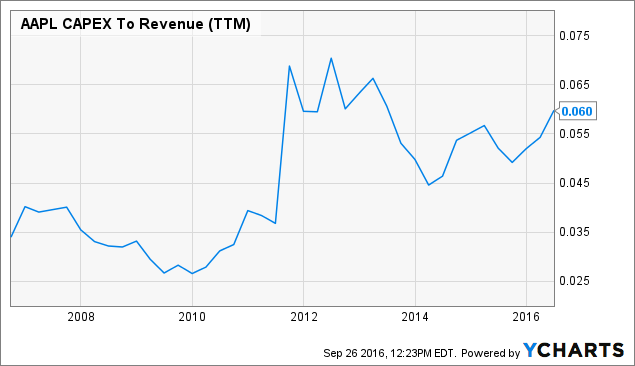 FCF Margin (FCF as % of revenue)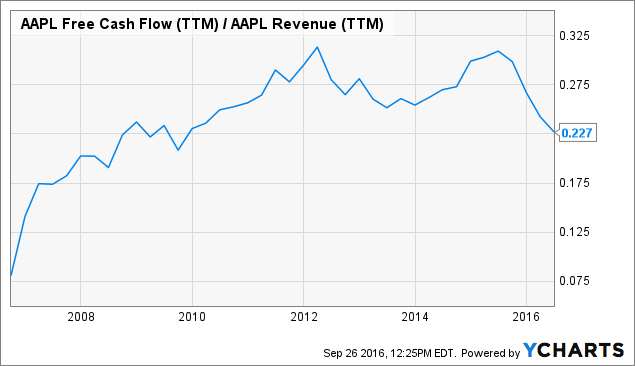 Fundamental Chart data by YCharts
Apple is a free cash flow machine:
For starters, Apple generated positive FCF in each of the last 10 years, even managing to produce and increase free cash flow in both 2008 and 2009.
Also perhaps more importantly, during the 10-year period between 2005 and 2015, Apple generated a higher (in some cases, substantially higher) FCF than net income in all but two fiscal years. Trailing 12 months FCF (of $50 billion) equates to 105% of net income and 23% of revenues, and at current valuation, the stock offers a FCF yield of 8.2%.
For the year ended September 2015, the last full year reported, the company generated an enormous $70 billion in free cash flow at a 30% margin, in other words, converting 30 cents of each dollar in sales into free cash flow. Not bad for what some describe as a boring hardware business.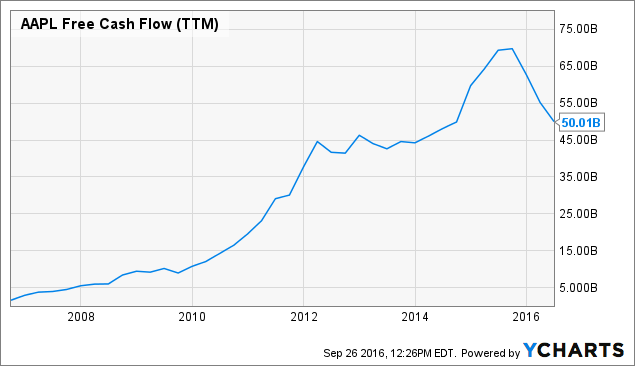 AAPL Free Cash Flow (TTM) data by YCharts
Given that free cash flows can, at times, be lumpy due to seasonality and timing issues, it is worth looking at the last three years to see how the annualized average compares with the current number.
Apple produced FCF of $167.468 billion over the last 36 months from revenue of $622.769 billion, which works out at an average 12-month FCF of $56 billion at a 27% margin. This equates to a 122% of average 12-month net income over the last 36 months.
Let's provide some context as to the magnitude of the truly incredible FCF generation prowess of Apple: We do this by comparing Apple with other tech giants. Apple's ttm FCF of $50 billion is higher than the ttm FCF of Microsoft ($25b), Cisco ($12.4b), and Oracle ($12.5b) combined. We could add Alphabet's $19.9 billion ttm FCF to the sum and still fall short of Apple's fiscal 2015 FCF of $70 billion.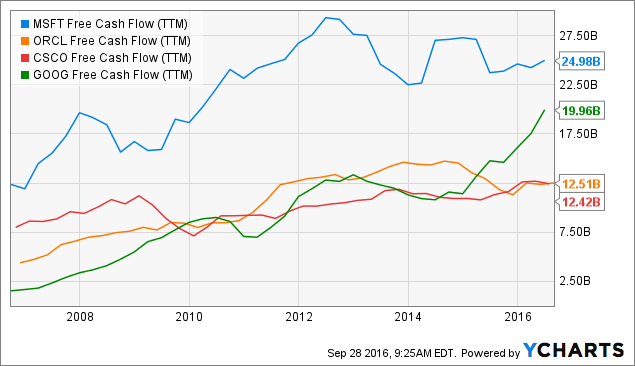 A business that possesses a strong balance sheet:
With cash and securities of $233 billion and $85 billion in total debt, Apple has net cash of $147 billion on its fortress of a balance sheet.
For context, $233 billion in cash (and securities) is higher than the market capitalization of Wal-Mart (NYSE:WMT), which is around $225 billion. Net cash of $147 billion is higher than the market value of all but 34 companies in the U.S. - Both Disney (NYSE:DIS) and IBM (NYSE:IBM) have current market values around $147 billion each. Need I say more?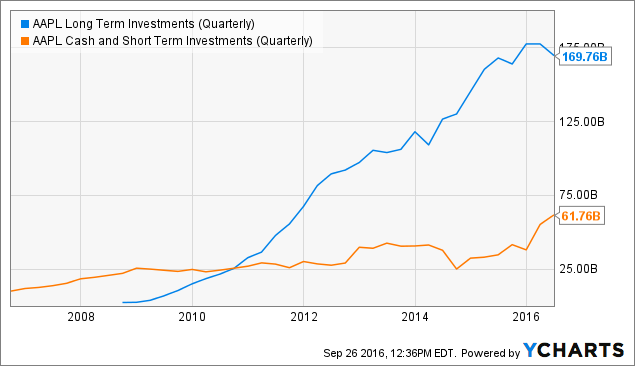 AAPL Long Term Investments (Quarterly) data by YCharts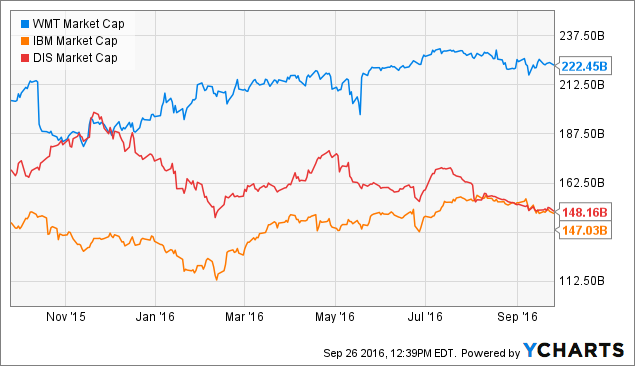 WMT Market Cap data by YCharts
Capital allocation:
Current annualized dividend of $2.28 equates to a 2.0% dividend yield, which is 30 bps higher than the yield on the 10-year U.S. Treasury bond. The company has a benign payout ratio of 25% based on earnings, 24% on FCF and 16% on EBITDA.
The dividend has grown at a CAGR of around 11% in the five years since it was first initiated.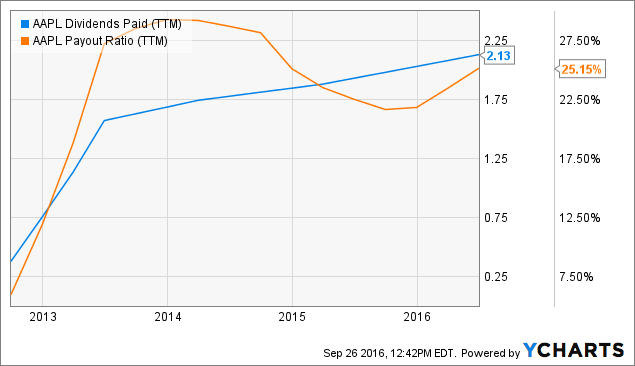 AAPL Dividends Paid (TTM) data by YCharts
This is clearly an area where Apple has work to do, especially given the mountainous piles of cash being generated and accumulated on the company's balance sheet.
Share repurchases: Apple has the world's largest share repurchase plan in place. In the third quarter of 2016, the company increased the share repurchase authorization to $175 billion, of which $127 billion had been utilized as of June 25, 2016. That leaves $48 billion outstanding from the current authorization.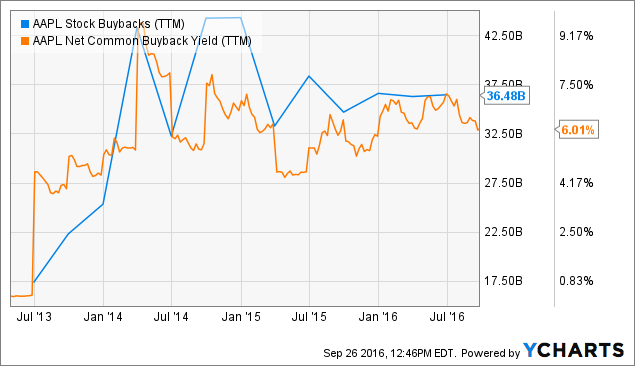 AAPL Stock Buybacks (TTM) data by YCharts
On a ttm basis, the company spent around $37 billion on buying back shares, which is around 74% of ttm FCF. On a ttm basis, the share repurchase spend equates to around 6% of the current market cap and resulted in a net share count reduction of 5.5% from 12 months earlier. Adding the dividend yield of 2.0% and the 5.5% share count reduction, the shareholder yield equates to 7.5%, which is enticing.
The three-year average spend on share buybacks (trailing 36 months) is $36.3 billion, which is around 65% of three-year average FCF of $55.8 billion (trailing 36 months). Adding the 21% of FCF (three-year average) spent on dividend payments, brings the (three-year average) proportion of FCF spent rewarding shareholders to 86%.
Given the excess cash and the FCF being generated, this pace of repurchases and dividend payments can not only be easily sustained for a long time, but can also quite easily be increased substantially.
Let's, for a second, assume that Apple decides to bring its hoard of excess overseas cash ($147 billion) back into the U.S. for stock repurchases. Post tax (at current ttm tax rate of 25.6%) this amounts to $109.4 billion, which, at current prices, is equivalent to 18% of Apple's market cap. And by the way, we are not talking about destroying the company's balance sheet in the process (by taking on excess leverage) since this move would only bring the balance sheet to net neutral.
Valuation: Despite the fact that high-quality companies are rarely ever cheap, the market seems to be pricing Apple as if its growth prospects are permanently impaired. On a price-to-earnings basis, Apple is trading at 13x trailing (and 12x forward) compared with 20x for the S&P 500. However, measured more appropriately, on enterprise-value to free cash flow, Apple is valued at just over 9x - this, in my view, is a bargain for arguably the most valuable brand in the world and a company of Apple's pedigree.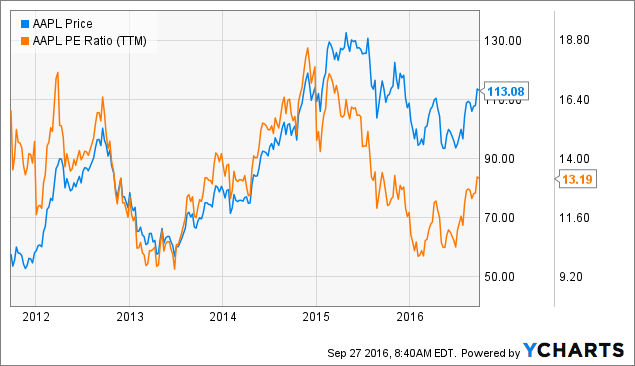 Sequence of events since September 2012
The market's treatment of AAPL today reminds me of what transpired between September 2012 and April 2013 - the stock fell from a high of $100.30 and a PE approaching 17x (on 9/19/2012) to a low of $55.79 and a PE close to 9x (on 4/19/2013), a 44% decline. The bear case at the time was not too dissimilar to what is being argued today - a saturating, more competitive smartphone landscape, company's reliance on the iPhone business, and what is perceived as a lackluster upgrade cycle to the flagship iPhone product.
September 2012: AAPL reaches a previous cycle peak of $110.30 (PE approaching 17x)
January 2013: Total iPhones sold reaches 319 million
February/March 2013: Bearish sentiment reaches climax, a healthy contrarian indicator - reflected by SA articles titled as follows:
"Apple investors continue to face significant downside exposure" and
"Why Apple might still not be a buy"
April 2013: AAPL bottoms at $55.79 (PE around 9x)
June 2013: Change of narrative, reflected by articles such as the following: "Why Apple is undervalued by as much as 50 percent" leads to a rising stock price once again
September 2013: iPhone 5S and 5C launched
January 2014: Total iPhones sold reaches 472 million, a 50% increase in 12 months. More importantly, the company had sold more than 150 million iPhones in 12 months, a number it had taken four and a half years to reach cumulatively post launch.
January 2014: Stock reaches $79.62, a PE of around 13x (as at 01/15/2014), a 43% increase in 12 months
September 2014: iPhone 6 and 6 Plus are launched
January 2015: A sense of extreme optimism, a bearish contrarian signal, is evident in the investor community, reflected by SA articles as follows:
"iPhone exposure not an issue for Apple" and
"Apple: In the smartphone race Samsung has already lost"
March 2015: Total iPhones sold reaches 700 million, a 48% increase in 14 months. The company had sold around 230 million iPhones in less than five quarters, a number it had previously taken more than five years to reach cumulatively post launch.
March 2015: AAPL peaks at $132.65, a PE of around 16x (as at 04/27/15), a 138% increase from the previous bottom in less than two years
May 2016: Signs of extreme pessimism seem to be evident in the investor community, reflected by articles such as:
"Apple: Nikkei declares iPhone 7 dead on arrival"
May 2016: AAPL closes at a (recent) low of $90.34, a PE of just over 10x
July 2016: Total iPhone unit sales reach 1 billion, a 43% increase in 16 months from a much larger base. Adding the 300 million units to get from 700 million to a billion iPhones sold took the company 15 months or so. Post launch, getting to 300 million units on a cumulative basis had taken close to six years.
September 2016: AAPL trades at $112.88, a PE of 13x
Bottom line is that Apple will carry on selling its fantastic products in the marketplace at a premium and continue raking in the cash. The stock price will gyrate in line with investor optimism or pessimism as the case may be. At the moment, sentiment seems to me to be mixed, and so until that changes to extreme excitement (or disappointment) about Apple's product line-up and associated optimism (or pessimism) about the stock, I plan to stay long.
Alternative approach to valuation: Assuming a 60% iPhone contribution to operating profits, which works out at $37.7 billion, Apple's enterprise value of $473 billion equates to 12.5x iPhone business operating profits - fair, in my opinion. By deduction then, a prospective investor at current prices is getting all the other businesses, including the high-margin, high-growth Services business, the Mac business and the iPad business, for free. This, in my view, represents a pretty compelling argument for margin of safety.
Options Strategy: Sell the November 17, 2017 $110 put for $11 and buy the November 17, 2017 $120 call for $8.25 for a net credit of $2.75.
By selling, puts more than one year out we are committing to buying Apple stock for $110 2% lower than current price and at a current valuation of 8.9x EV/FCF. Being bullish on the stock, long-term buying $120 calls gives us the upside leverage and a net credit of $2.75 in our brokerage account today.
Conclusion
As an investor with a long-term orientation, seeking long-term alpha as opposed to short-term speculative returns, here is why I believe Apple is deserving of a cornerstone status in my portfolio of the world's "best businesses":
A superior quality business with a strong moat built around its iconic global brand.
A shareholder-friendly management team with proven capital allocation skills
Profusely cash flow generative
A rock-solid balance sheet
A track record of sustained growth and attractive prospects for continued growth in the future
An ability to consistently generate very high rates of return over a long period of time
A bargain-basement price currently on offer
Disclosure: I own Apple stock. I wrote this article myself. I would love to get readers' feedback. If you enjoyed reading the article please connect via the Follow function for more articles in the future.
Disclosure: I am/we are long AAPL.
I wrote this article myself, and it expresses my own opinions. I am not receiving compensation for it (other than from Seeking Alpha). I have no business relationship with any company whose stock is mentioned in this article.