Quick Take
Obalon Therapeutics (Pending:OBLN) wants to raise $75 million in its IPO by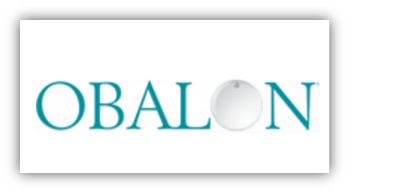 selling 5 million shares at a midpoint price of $15 per share.
The market for minimally invasive, outpatient weight-loss treatments in the US and EU likely exceeds $1.5 billion and will grow as more convenient treatments are developed.
Valuation at $250 million post-IPO is hard to compare to existing competitors, but sounds rich to me.
My opinion on Obalon's IPO is a CAUTIOUS BUY.

---
To listen to this article, click the graphic below:
---
Company
Carlsbad, California-based Obalon is a medical device company that has developed a proprietary, swallowable stomach balloon device to help obese patients lose weight. The company was founded in January 2008 and its CEO Andrew Rasdal and VP - R&D Mark Brister have been with the firm since June, 2008. Rasdal will own 4.9% and Brister will own 1.4% of the company post IPO.
Obalon has received more than $80 million in venture capital investment, and is backed by top tier medical device VC firms such as Domain Associates and InterWest Partners. Domain and InterWest, who are not selling shares in the IPO, will own 36.9% of the company post IPO.
Technology
Obalon wants to help obese adults with body mass index of between 30 and 40 and who have not been able to lose weight through diet and exercise facilitate weight loss through its temporary stomach balloon system. Obalon's stomach balloon is a swallowable device that is inflated by the company's Ez Fill inflation system. The procedure is accomplished in 10 minutes in an outpatient setting.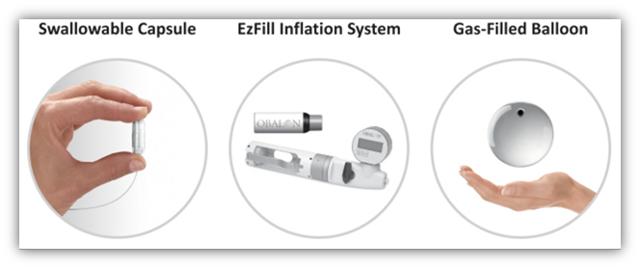 (Source: Obalon Therapeutics S-1)
Over the course of 12 weeks, the patient returns for two more balloons to be inflated, expanding the three balloons to a total of 750cc in volume. At the end of six months, the three balloons are removed in an outpatient setting, under light conscious sedation.
Obalon is also working on a vegetable-derived balloon capsule, a longer-term balloon for treatment of up to one year and a "deflatable-passable" balloon that would avoid the removal procedure. The company has received PMA approval for the device in the US and CE mark approval in the EU, and said it intends to begin marketing its system in "early 2017".
As of June 30, 2016, Obalon had sold in excess of 23,000 earlier generation balloon systems outside the US.
Market
According to a 2011 report by Medtech Insight, the market for minimally invasive bariatric surgical devices will reach $500 million in 2016.
The National Institutes of Health estimates that two in three adults in the US are either overweight or obese, for an estimated 160 million target population.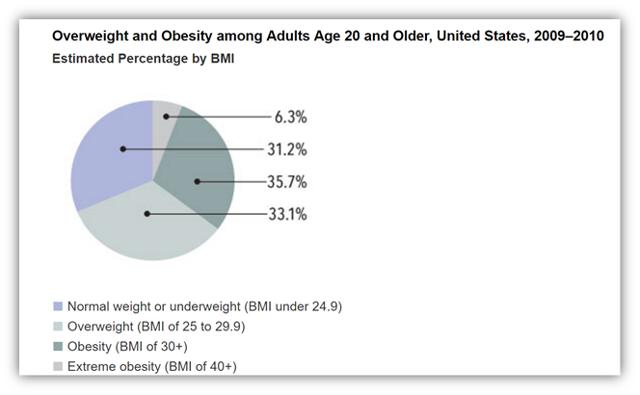 (Source: NIH and National Health and Nutrition Examination Survey 2009-2010)
Obalon plans to sell its devices to bariatric surgeons and gastroenterologists with existing weight loss practices, via a direct sales force in the US. Once it penetrates this market niche, the company plans to expand its marketing focus to additional specialties, such as plastic surgery.
Competition
Obalon has a number of minimally invasive weight loss competitors, though the definition of "minimally invasive" is not exact.
Surgical treatment options include gastric bypass, gastric sleeve surgery, gastric banding duodenal switch, vBoc therapy and lap-band.
Direct medical device competitors include:
Ethicon - Johnson & Johnson (NYSE:JNJ)
Medtronic (NYSE:MDT)
ReShape Medical
ORBERA
Aspire Bariatrics
Apollo Endosurgery
Competitors in the pharmaceutical weight loss medication segment include:
So Obalon has plenty of competition, both in the medical device segment and in the pharmaceutical treatment universe.
Financials
Obalon's financials present a historical picture best summarized as:
Declining revenues in 2016 from sole distributor
Variable gross margins
Net use of cash from operations
Below are the company's operational results for the past 2 ½ years (2014/2015 Audited GAAP, 2016 unaudited):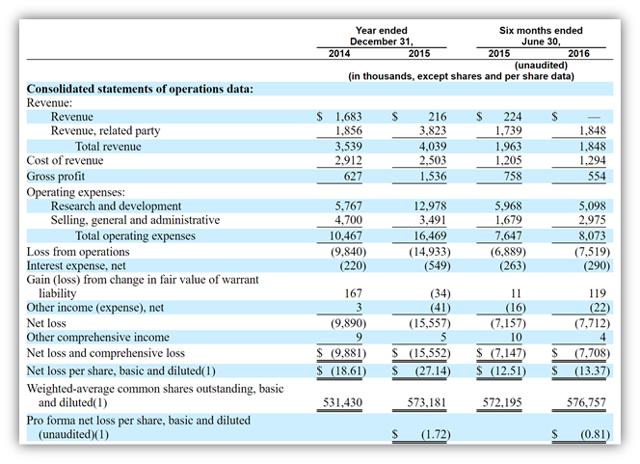 (Source: Obalon S-1 Filing)
Revenue has decreased in H1 2016 vs. the same period in 2015.
Revenue
H1 2016: $1.8 million, slight decrease vs. prior
2015: $4 million, 12.5% increase over prior
2014: $3.5 million
Gross margins have varied considerably in recent reporting periods.
Gross Margin
H1 2016: 30%
2015: 38%
2014: 18%
The company has used significant cash flow from operations in the last three reporting periods.
Cash Flow From Operations
H1 2016: $8.7 million cash used
2015: $11.4 million cash used
2014: $9.9 million cash used
Notably, 100% of its 2016 revenue and a majority of its 2015 revenues are from a single distributor - Bader Sultan & Bros Co. located in the Middle East.
As of June 30, 2016, Obalon had $18.2 million in cash and short-term investments, and a $9.9 million term loan liability.
IPO Details
Obalon intends to sell 5 million shares at a midpoint price of $15 per share, subject to customary over-allotment options granted to the underwriters. Assuming a successful IPO at the midpoint price of $15 per share and with the underwriters fully exercising their share purchase options, the company would have a market cap of $250 million. The company also said that certain stockholders and affiliates "have indicated an interest in purchasing shares of common stock in this offering with an aggregate value of approximately $20.0 million at the initial public offering price." So, that indicates good investor support of the IPO, and reduces the net IPO stock available to the public to approximately $55 million.
From IPO net proceeds, Obalon intends to use up to $40 million to commercialize its balloon system, up to $15 million for its R&D initiatives and the remaining $20 million for general corporate purposes. UBS Investment Bank is the lead left underwriter of the offering.
The company believes the IPO will supply enough operational funding for two years.
Commentary
Obalon's IPO has some interesting characteristics.
The company has received full marketing approval in the US and EU for its latest generation, minimally invasive device. Now, it needs to execute in the marketplace, and the main challenge is essentially a sales effort.
Obalon needs to ramp up its direct sales force and go sell its device to the bariatric community. It has significant competition in the form of a variety of procedure options, but patients may like the swallowable & inflatable characteristics of its device, rather than other minimally invasive device treatments.
US market size is somewhere around $500 million, but may rise as minimally invasive treatments like Obalon's make treatment for obese or overweight patients more convenient. My belief is that the US market for these devices is actually higher than $500 million. The EU market may be higher still, so the combined markets may total $1 billion - $2 billion in size.
So, I like the market space and Obalon's technology, however unproven in the marketplace it is. The remaining question is valuation.
Obalon wants to value itself at $250 million post-IPO. I'm unable to locate public comparables, and wonder of their relevance even if I could find them, since Obalon will commence marketing a new device into the market soon. My sense tells me that a $250 million valuation is rich, although I am bullish on Obalon's future prospects. I believe consumers will like its swallowable device, which requires only a 15-minute outpatient inflation procedure.
Obalon has clearly identified its sales prospects and the remaining task is a sales effort to monetize their R&D efforts to-date.
My opinion is that the IPO stock is a CAUTIOUS BUY at the proposed valuation.
Disclosure: I/we have no positions in any stocks mentioned, and no plans to initiate any positions within the next 72 hours.
I wrote this article myself, and it expresses my own opinions. I am not receiving compensation for it (other than from Seeking Alpha). I have no business relationship with any company whose stock is mentioned in this article.
Editor's Note: This article covers one or more stocks trading at less than $1 per share and/or with less than a $100 million market cap. Please be aware of the risks associated with these stocks.