Starbucks (NASDAQ:SBUX) has been around for quite some time now. Still, this company seems to just keep on growing, capitalizing on the strong growth of worldwide coffee sales.
The franchise keeps growing into new geographies and now has even entered the age-old coffee market of Italy. It will be interesting to see whether Italians take a liking to the taste or will continue drinking their traditional small espressos.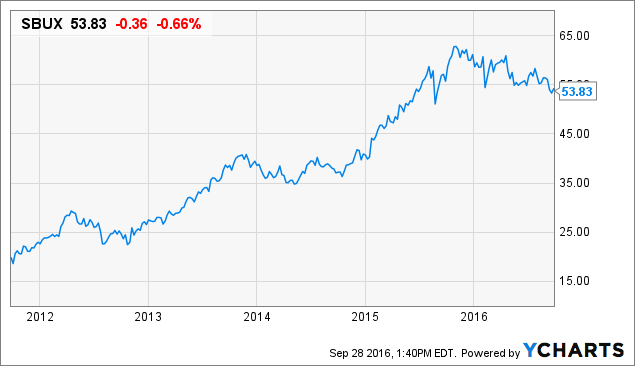 SBUX data by YCharts
We can see a really smooth uptrend until late 2015 in this chart giving investors some nice capital gains. The last year, though, the trend has leveled off and the stock retreated by approximately 15% from the top. A reversal of such a strong trend is always a small cause for concern but we really need to dig deeper into the fundamentals to understand where the stock and its dividend is likely headed next.
Historical Dividend Growth
Starbucks has a proud dividend history, paying out a dividend every quarter since it was introduced in 2010 at a split-adjusted $0.05 per share per quarter. It has since grown every year at a fairly rapid pace. Last year it was hiked by a truly massive 25%.
In total, the dividend has grown from $0.05 to $0.20 for a multiple of 4.0x or a compound average annual rate of 26.0%. Now, that's a nice income growth to have in your dividend growth portfolio!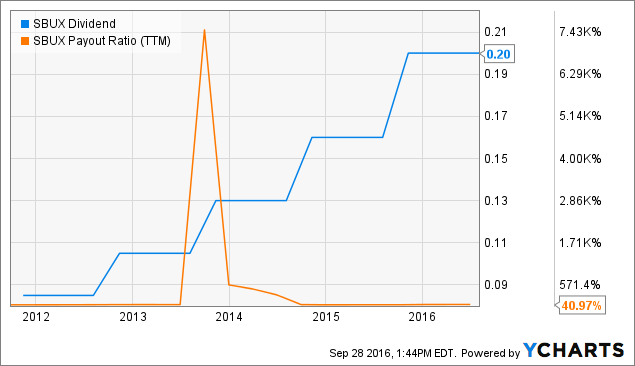 SBUX Dividend data by YCharts
Two things pop up in my mind when I look at the chart above. The first is the spike in the payout ratio in 2013. Nothing happened to the dividend, rather it was the fact that the company had a bad year earnings-wise. But already the year after things did not only get back to normal, but earnings had nearly doubled from the 2012 level.
The other thing that enters my mind is that even though the dividend has increased at an impressive rate, the payout ratio has stayed relatively low and is still only 41%. This can only mean that the company has some really solid earnings growth backing up its dividend growth.
The Board of a company experiencing rapid earnings growth is lucky in the sense that you can reward your investors with dividend growth and still not increase your payout ratio. Historically, it seems like the Board of Starbucks has been content delivering dividend growth fairly in line with earnings growth, though the payout ratio has been rising somewhat over time. This is a conservative approach, leaving headroom for dividend growth, even in years when the earnings growth slows down.
October Dividend Hike
The Board has historically been quite consistent in delivering dividend hikes annually at the end of October, or the very first days of November.
As mentioned, dividend growth has been very high since it was introduced five years ago with a hike last year of 25%. The year before, it was hiked from $0.13 to $0.16, or 23%; and the year before that, it was hiked by 24%. The point being that there is a quite consistent trend here of 23-25% dividend hikes.
The company's latest results show that everything is well at Starbucks with operating income increasing year over year by 24%. Though its guidance for the full year indicates a lower percentage-wise growth than that it stills grows at a rapid pace. The company also increased its outlook for the number of store openings this year from 1,800 to 1,900. Comparable store sales are growing at a healthy clip both globally, in the U.S. and in China. Nothing, therefore, to indicate that investors shouldn't expect the nice historical dividend growth rate to continue.
We now have some data points on the basis of which we can form a prediction for the October dividend hike. The company is growing earnings at a rate of about 24%, the Board has served a dividend increase of 23%-25% historically, and we have a payout ratio of 41%.
I do not think the Board will see any reason to hike the dividend by less than the earnings growth, thereby putting in a floor of 24%. If annual figures come in somewhat below this, the payout ratio will of course rise but not at an alarming rate. Given both the quite consistent hikes in the past and earnings growth at the same level I expect the dividend to increase somewhere in the tight range of 23%-25% for a new quarterly dividend of $0.246 to $0.25. Given that the low end of the range is by no means a round number, I believe the most likely outcome is a new dividend of $0.25.
Risk Factors
A clear risk currently for all companies reporting in U.S. dollars is the strength of the dollar. Selling in relatively weak Euros, Chinese Yuan and other foreign currencies means the company is taking a hit when converting back and reporting in U.S. dollars. Another risk is competition from other coffee chains, especially local ones in foreign markets that might be better attuned to local tastes and cultures. To some extent it seems it tries to mitigate that risk by investing in local concepts, like the Italian company Princi. Further, for a relatively upscale coffee chain like Starbucks, there is the clear risk of economic downturns causing people to cut back on their coffee purchases. There is also the risk of the trend moving away from coffee to teas for instance, thereby hurting potential future growth rates.
Current Valuation
So now we have come to the part where we seek to evaluate if the price is right for this company. I have put together a table below looking at some valuation metrics of both Starbucks and some of its competitors.
In this comparison table, I have chosen the two closest listed coffee chains I could find, namely Restaurant Brands (NYSE:QSR) as this company owns Tim Hortons and Dunkin' Donuts (NASDAQ:DNKN).
| | | | |
| --- | --- | --- | --- |
| | Starbucks | Restaurant Brands | Dunkin' Donuts |
| Price/Sales | 3.9x | 5.2x | 5.8x |
| Price/Earnings | 30.4x | 41.5x | 37.8x |
| Yield | 1.5% | 1.2% | 2.3% |
Source: Morningstar
Right away, we can see that all of these chains are priced pretty richly on all multiples. Starbucks is the cheapest on Price/Sales but still quite expensive at 3.9x. It is also the cheapest on the Price/Earnings ratio with 30.4x. In the dividend yield category, the winner is Dunkin' Donuts with a yield of 2.3%.
I would say that none of these appears cheap. The reason for this is probably the growth rates. We don't know the growth rates of the other two companies, but at least with Starbucks we have seen that it typically grows earnings in the 22%-24% range. Growth rates like that should command premium pricing. For comparison, the S&P 500 has a P/E ratio of 19.8x but also lower growth rates.
If we look at what the analyst community estimates going forward, we see that they think Starbucks will be able to grow its EPS by 18.8% a year over the next five years. That is somewhat below the historical rates but still high. If we think the company achieves that, adding in the dividend yield of 1.5% and assuming no change to the multiple, we get an estimated total annual shareholder return over the next five years of 20.3%. That is about twice the long-term market return. However, with these relatively high multiples, investors should be aware of the risk of these multiples contracting over time.
With this dividend growth stock, you get higher dividend growth but also somewhat higher risks than from most traditional dividend growth stocks. However, allocating a portion of your portfolio to this successful company would be wise, in my opinion. This is especially true if the growth of income, rather than income today, is your primary goal.
Conclusion
Starbucks has a history of successfully achieving high growth rates over long periods of time. Six years ago, it started paying a quarterly dividend and has hiked it every year since. With its relatively low payout ratio and high growth rates, expect this company to hike its dividend by 23%-25% this year. Don't be surprised if it keeps hiking its dividend by the same rate for several years to come. This stock should fit well for a dividend growth investor with somewhat more emphasis on growth rather than dividend.
Disclosure: I/we have no positions in any stocks mentioned, and no plans to initiate any positions within the next 72 hours.
I wrote this article myself, and it expresses my own opinions. I am not receiving compensation for it (other than from Seeking Alpha). I have no business relationship with any company whose stock is mentioned in this article.