Investing in dividend paying stocks has become a very popular trade over the past few years. One reason it has become so popular is that interest rates have plunged to all-time lows.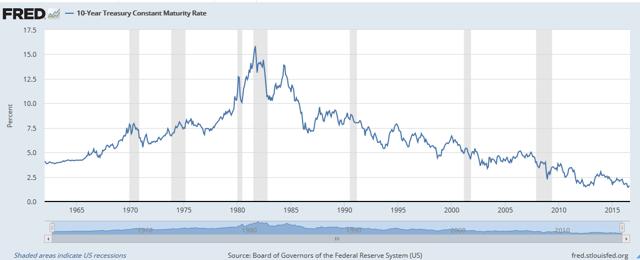 But many people jumping into this trade don't really do a lot of analysis. Many investors just look at the dividend yield and the name of the company and that's it.
History, Dividend Yield, and Dividend Growth
Most times when comparing dividend paying stocks there is a trade-off to be made. Some have high dividend yields, but very low dividend growth. Some have double-digit dividend growth, but a yield below 2%.
This can be a conundrum, but we do have the tools to analyze different types of dividend paying stocks. I want to take a look at two companies that offer this type of trade-off, Kimberly-Clark (NYSE:KMB) and Colgate-Palmolive (NYSE:CL).
KMB:
Div. Yield
5 Year Div. Growth
Rate (Annualized)
2.9%
5.9%
CL:
Div. Yield
5 Year Div. Growth
Rate (Annualized)
2.1%
8.1%
As you can see, Colgate-Palmolive has a lower dividend yield than Kimberly-Clark, but its dividend has grown at a faster clip. So how do we analyze these two dividend payers over the long run? Let's take a look using our dividend calculator.
Dividend Yield & Growth Over Time
I like to look at how the Yield On Cost (YOC) and the compounded returns stack up over time. The YOC measures the annual dividend divided by the original investment.
When I ran this analysis I assumed that both of these companies will continue their dividend growth rates from the past five years. You can see the results below: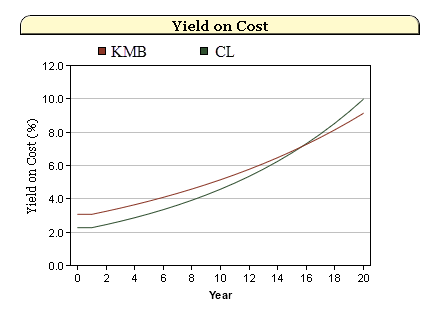 It takes about sixteen years for the YOC for Colgate-Palmolive to break even with Kimberly-Clark. However, the compounded returns never break even as you can see below: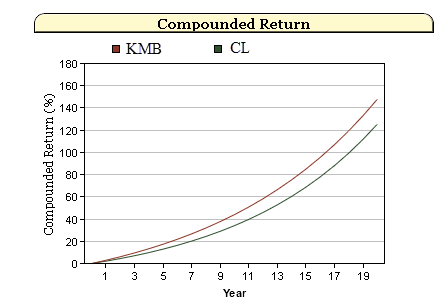 I should point out that this calculator does not assume any price appreciation in the stocks. We are isolating the impact that dividends have over time.
So what does Colgate-Palmolive's dividend growth rate have to be in order to break even with Kimberly-Clark within 15 years? The answer is 10.7%. Looked at another way, Kimberly-Clark's dividend growth would have to fall to 3.0% for the two compounded returns to break even in 15 years.
All About The Long Run
When we're talking about retirement, we're mostly talking about long-term investments. So it is a must that we analyze both dividend yield and dividend growth over time.
I always plug my dividend payers into our publicly available WealthTrace Retirement & Financial Planner to see how different stocks impact my retirement. It's not easy today to generate enough income in retirement. But there are great companies out there that will continue to pay dividends over time and will continue to increase those dividends. Just make sure you run some good analysis on how things will look over the long run.
Disclosure: I am/we are long KMB.
I wrote this article myself, and it expresses my own opinions. I am not receiving compensation for it (other than from Seeking Alpha). I have no business relationship with any company whose stock is mentioned in this article.