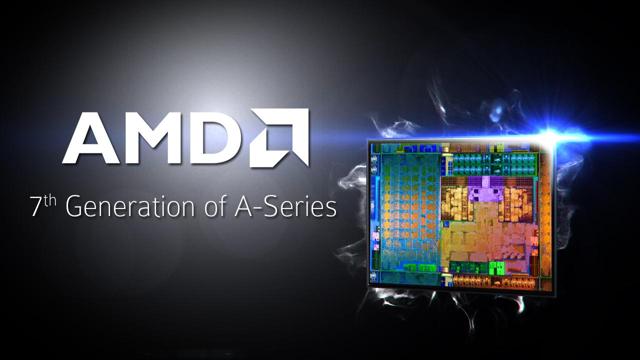 When Advanced Micro Devices (NYSE:AMD) announced that the first OEM systems with Bristol Ridge 7th Generation AMD A-Series desktop processors paired with the new AMD AM4 platform are now shipping, it was a critical landmark in the company's endeavor to turn around their financial fortunes. The first designs employing Bristol Ridge and AM4 are from HP Inc. (NYSE:HPQ) and Lenovo Group Ltd, with other manufacturers to follow.
Why then is this step crucial for AMD when Bristol Ridge is based on older architecture and relies on the 28nm (nanometer) manufacturing process? The answer is that Bristol Ridge provides the means by which the AM4 platform may become established in mainstream designs to later serve as the platform for Summit Ridge, with the much vaunted Zen cores.
Benefits For Consumers Plentiful
Zen is anticipated to be a 32-core server chip with each core possessing two threads. It is to be AMD's franchise player: much of the company's future will depend upon it. Meanwhile, Bristol Ridge takes the dual roles of both facilitator for the market introduction of AM4 and of the precursor for Zen.
The immediate benefits for consumers of this step appear plentiful. AMD stated in their launch announcement that the AM4 platform supports DDR4 memory and next-gen I/O and standards. They claim high speed processing, upgraded HD and UHD streaming capability and smooth eSports gaming. The company says it brings the highest memory bandwidth yet achieved by an AMD desktop platform. With dedicated PCIe® lanes for enhanced USB, graphics, data and other I/O, the AM4 platform will not co-opt lanes from other devices and components.
Bristol Ridge desktop processors offer both 65-watt and 35-watt versions, with superior power efficiency, and they permit flexible solutions in a range of form factors. Up to four Excavator cores are used, and Bristol Ridge is immersive, productive and energy efficient.
Equal Productivity With Better Graphics
The 65-watt A-Series processors give performance previously attained only at 95-watts with the prior generation. Viewed against the Core i5 6500 of Intel Corporation (NASDAQ:INTC), AMD's announcement says the new 65-watt processors offer equal productivity performance with up to 99% higher graphics performance. Contrasted with its previous generation Carrizo APU, AMD states that compute is boosted by 17% and graphics by 27%.
Bristol Ridge desktop processors also give enhanced graphics capabilities and video playback features which support up to 4K Ultra HD in both H.264 and H.265 formats. They possess AMD Radeon Graphics Core Next graphics, with full support for Microsoft® DirectX® 12.
The goal for Zen, as articulated by AMD in the announcement, is to bring a 40% generational improvement in instructions per clock within the power requirements of previous gen. It will be scalable to meet a broad range of uses across embedded systems, fanless 2-in-1s, datacenters and high performance computing.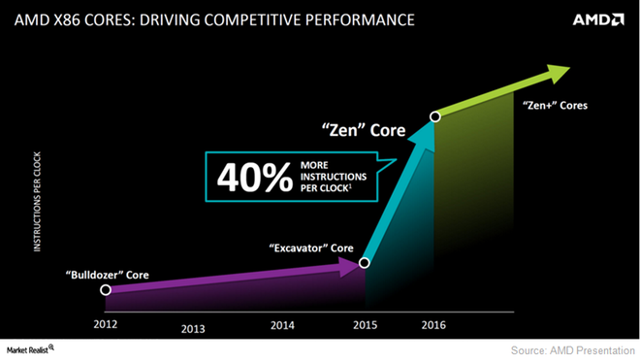 Targets Intel's Broadwell Processor
The x86-based Zen processor utilizes Samsung Electronic's 14nm FinFET (fin-shaped field effect transistor) process technology and targets Intel's Broadwell processor, based on its 14nm node.
What will define market success for Zen? AMD's great hope does not have to be faster than Broadwell. If it can approximate Broadwell's performance, AMD can then compete on price. AMD has already laid the foundations of a reputation for value pricing with the introduction of products such as the Radeon RX 480 graphics card. Initially aiming at high end desktop designs, Zen is anticipated to arrive in 1H17. Zen processors for enterprise class servers are expected in 2Q17.
In this intermediate phase through Bristol Ridge, the motherboard ecosystem can demonstrate its durability, stability and performance metrics in everyday mainstream use to later support the future high performance Summit Ridge desktop CPUs with Zen cores.
Unified Socket Gives Upgrade Path
Introduced also is the AMD AM4 socket, a new unified socket infrastructure bringing compatibility between 7th Generation AMD A-Series processors and the future high-performance Summit Ridge AMD desktop CPU. AM4 platforms carry DDR4 memory, next-gen I/O and peripheral support, including PCIe® Gen 3, USB 3.1 Gen 2, NVMe, and SATA Express. Through the unified socket structure, users are offered a straight line upgrade path from this intermediate phase.
Conclusion
For the company, seeking its path to financial high ground after dragging heavy debt through years of unprofitability, the incremental innovation represented by Bristol Ridge is a crucial technological waypoint in proving out the AM4 desktop platform, the future cradle of Zen.
More than any other product, Zen in its many iterations may promise rekindled prosperity for AMD. Should AM4 encounter difficulties, Zen's path -- and hence the corporation's improved profitability -- will be delayed.
In coming months, if AM4's mainstream bona fides are established through use, durability and acceptance, the stage will be set for the entry of Zen.
If you would care to follow this author and receive immediate alerts upon publication of future articles by this author, please click on the "Follow" button at the top of this page next to the author's name and icon.
Disclosure: I/we have no positions in any stocks mentioned, and no plans to initiate any positions within the next 72 hours.
I wrote this article myself, and it expresses my own opinions. I am not receiving compensation for it (other than from Seeking Alpha). I have no business relationship with any company whose stock is mentioned in this article.