]As the saying goes, there are many reasons insiders of a company may sell stock - from paying for an expensive divorce or a child's education, financing the purchase of a house, or simply to diversify a portfolio. But when insiders buy, there is typically only one reason - they think their company's share price will rise. Or they may feel the company is on the verge of a takeover, which could land the company a big premium.
This strategy of following insiders has worked for me in the past. As I've mentioned before, I was buying St. Andrew Goldfields along with insiders before that company was gobbled up at a big premium by Kirkland Lake Gold (KGILF). That one trade returned over 100% during a time when most gold stocks traded in the red.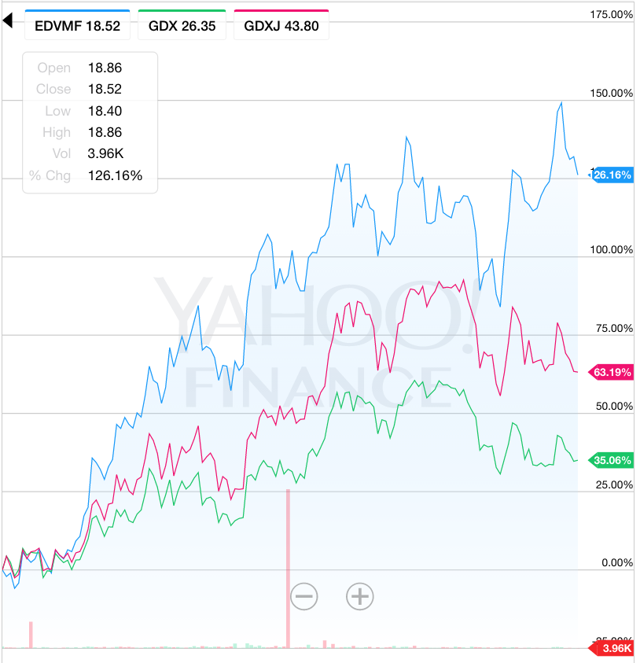 (Credit: Yahoo Finance)
But you can also make money following a takeover, too. Another more recent example is True Gold (OTCQX:RVREF), which I was buying heavily last year, partially due to heavy insider buying. True Gold ended up being bought out at a big premium by Endeavor Mining (OTCQX:EDVMF). I've held onto my Endeavor Mining shares and have been very pleased, as shares are up 126% since the acquisition, easily outperforming the gold miners index (NYSEARCA:GDX), which is up 35.06% in that time period, and the junior gold miner index (NYSEARCA:GDXJ), which is up 63.19%.
Here are three gold stocks with recent insider buying, and my thoughts on each stock.
Sabina Gold & Silver (OTCPK:SGSVF)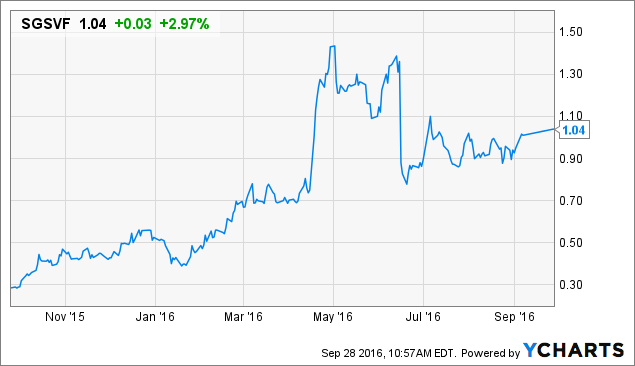 Sabina Gold and Silver is a development company whose main project is Back River in Canada. The deposit is massive as it contains 5.33 million ounces of gold in measured and indicated resources and 1.85 million ounces of gold in inferred resources.
What's more: Sabina's Back River project has average gold grades north of 6 grams per ton, making it one of the highest-grade projects in North America. It has also seen impressive resource growth as it contained just over 2 million total gold ounces when Sabina acquired the project back in 2009.
According to its initial project feasibility study, Back River carries strong economics, with a mine life of 11.8 years, average annual production of 198,000 ounces, all-in cash costs of $763, and an after-tax net present value (5% discount) of C$480 million.
These numbers are also based on using a conservative gold price of US$1,150. When you use a gold price of $1,350 per ounce, the project's after-tax net present value jumps to $732 million. The one downside is it will require $415 million in pre-production capex.
The company is also well-funded, as it had C$43 million cash on hand as of June 30 and expects to end the year with C$38 million, with no debt, according to its corporate presentation.
Sabina may have had a really nice run-up to start the year, but the stock is still well below its 2011 highs of $7.66 per share. With a market cap of $226 million, the company looks undervalued compared to the projected economics of its Back River project. Insiders appear to believe the same, as they have been buying a bunch of stock lately.
Here is a summary of recent insider buying activity:
On Sept. 6, Donald Bruce McLeod purchased 10,000 shares at $1.24 and 10,000 shares at $1.28. McLeod is Director, President and CEO of Sabina.
On Sept. 13, Matthew Pickard purchased 5,000 shares at $1.26 per share. Pickard is VP of environment and sustainability at Sabina.
On Sept. 21, James Nicholson Morton exercised 50,000 stock options at $.43 per share, but didn't sell any stock. Morton is a Director at Sabina.
On Sept. 22, Walter Thomas Segsworth bought 20,000 shares at $1.35 and 25,000 shares at $1.37. On Sept. 24, Segsworth also bought 30,000 shares at $1.37. Segsworth is a Director at Sabina.
Here are my main thoughts on Sabina: the Back River project gives the company big leverage to gold prices, and with prices trading north of $1,300 per ounce, I think the project is economically feasible and makes Sabina an attractive takeover target. The higher gold prices go, the more likely this mine will get built. Higher gold prices also makes Sabina an attractive takeover target for a senior gold producer.
I think insider buying is definitely a positive sign here, and those bullish on gold prices should look to buy shares.
Entree Gold (NYSEMKT:EGI)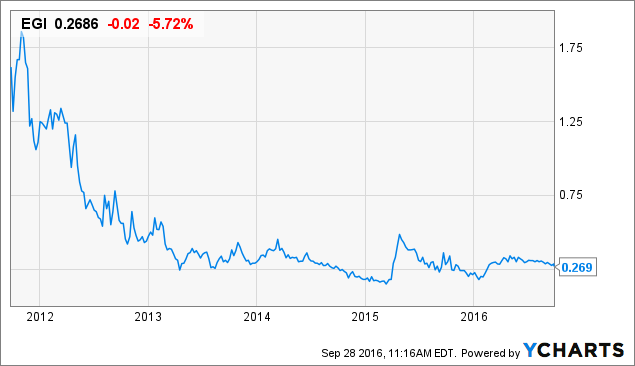 Entree Gold is an interesting company. It owns a 20% carried interest in two of the massive Oyu Tolgoi project deposits in Mongolia - the Hugo North Extension (copper/gold) and the Heruga deposit (copper/gold/molybdenum). According to the Hugo North extension feasibility results posted on Entree's corporate presentation, Entree's 20% interest carries a $106 million net present value (8% discount, after-tax), which is far greater than its current enterprise value of $35 million.
The project was delayed for quite some time due to a dispute with Rio Tinto (the project's operator) and the government of Mongolia, but progress was made last year when a $4.4 billion underground mine development financing was agreed upon, and development of the underground mine was later approved. First production is expected in 2020, and once fully ramped up in 2027, the mine will produce more than 500,000 tonnes of copper per year with significant gold by-product.
Entree Gold is also well-funded, with approximately $14.69 million as of the end of June. Here is a summary of the recent insider buying:
On Sept. 21, Duane Lo purchased 17,000 shares in the public market. Lo also bought another 5,800 shares in the public market the next day on Sept. 22. Lo is the Chief Financial Officer of Entree.
On Sept. 22, Stephen Victor Scott purchased 25,000 shares in the public market. Scott is the President and CEO of Entree. (Note: The prices of insider transactions here were not listed).
In my last article on Entree Gold back in 2015, I said the stock was not currently worth an investment as I felt shares held too much risk given the uncertainty surrounding Oyu Tolgoi. I also wasn't a fan of Entree's Arizona copper project called Ann Mason (exploration work has since ceased on that project). Shares traded at $.36 at that time and now trade at $.269, despite higher gold prices.
I'm more bullish on Entree Gold's stock now than I was back then, but I'm cautiously bullish. Mongolia remains a risky mining jurisdiction, and there's certainly no guarantee things will go smoothly at that project. It's possible Entree will get taken over by the project's operator, Rio Tinto, and I think the stock may be worth a small investment here, but only for those willing to take on the risk.
Eastmain Resources (OTCQX:EANRF)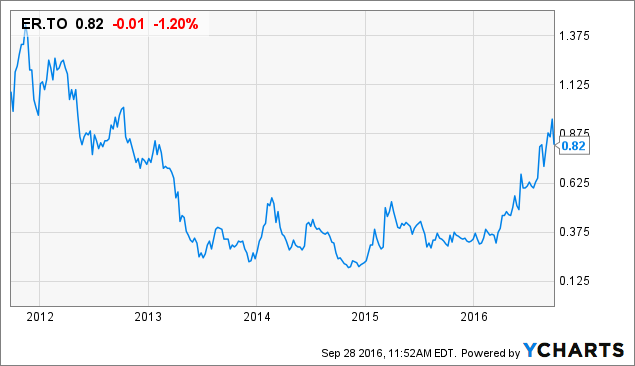 Eastmain Resources is a company I am very familiar with, as I own a sizable position in my real-life gold portfolio. I bought shares back on July 27 at $.467 per share. The company holds a significant landpackage in the James Bay gold district in Canada, with over 12 exploration projects from early-stage to advanced-stage exploration.
Its three main projects are the high-grade Eau Claire gold deposit, the past-producing Eastmain mine project, and the Eleonore South joint-venture (36.7% owned by Eastmain), which is located next to Goldcorp's Eleonore gold mine.
Insiders have been buying Eastmain stock hand over fist over the past few months. Here is a summary of recent transactions:
On Sept. 21, Blair Schultz purchased 25,000 shares at $.82 per share. Schultz also bought 10,000 shares at $.71 per share on Aug. 29 and 45,000 shares at $.77 per share back on Aug. 23. Schultz is a director at Eastmain.
In early August, numerous insiders made acquisitions under a prospectus exemption:
Timo Jauristo bought 200,000 shares at $.51 per share. Jauristo is a director at Eastmain.
Schultz bought 300,000 shares at $.51 per share. Schultz is a director.
Laurence Wilson Curtis bought 100,000 shares at $.51 per share. Curtis is director and chairman of the board.
Joseph Fazzini bought 250,000 shares at $.51 per share. Fazzini is Chief Financial Officer and VP of Corporate Development.
Claude Lemasson bought 300,000 shares at $.51 per share. Lemasson is President, CEO and a director.
Insiders own approximately 5% of the outstanding shares of Eastmain. It's also important to note that two gold companies also own a significant amount of Eastmain shares: Integra Gold (OTCQX:ICGQF) owns 15.9 million shares (9.1%) while Goldcorp (NYSE:GG) owns 10.5 million shares (6%). The company is well funded, with $19 million in cash following a recent equity raise.
I'm bullish on Eastmain Resources as the company focuses its attention on drilling at its Eau Claire project, which already contains 951,000 ounces of gold measured and indicated (4.09 g/t) and 633,000 ounces of gold inferred (3.8 g/t). The company is spending $8.8 million on the project this year as it plans on drilling over 63,300 meteres in anticipation of a mineral resource update in Q1 2017 and a preliminary economic assessment in the second half of 2017.
I highly recommend interested investors check out Eastmain's recent webcast and presentation at the Denver Gold Forum, as it gives you a pretty good overview of Eastmain's properties and potential upside. I also think Eastmain is a strong takeover target - especially for a company such as Goldcorp , which is joint-ventured with Eastmain on Eleanore South. I am long Eastmain and may look to buy more shares on any pullbacks.
Disclosure: I am/we are long EANRF, ICGQF, KGILF, GDXJ.
I wrote this article myself, and it expresses my own opinions. I am not receiving compensation for it (other than from Seeking Alpha). I have no business relationship with any company whose stock is mentioned in this article.
Editor's Note: This article covers one or more stocks trading at less than $1 per share and/or with less than a $100 million market cap. Please be aware of the risks associated with these stocks.