Oil investors got some good news out of OPEC on September 28, 2016 with the announcement of a deal to cut production by 750,000 barrels. This is much better than a freeze and we know that Saudi Arabia alone could make this happen. My confidence in a deal was fairly strong and well placed. Robert Balan discussed his thoughts on any bluff that OPEC may or may not have been pulling.
Many authors thought they were bluffing. I didn't need OPEC to make a deal to know that we were close to structural supply and demand balance in oil anyways. A price hike was inevitable, but OPEC makes the timing more clear and the case for higher oil stronger. I have had a lot of push back over my bullish oil position.
But what happens now is not crystal clear as OPEC has a history of cheating and the final quota amounts won't be published until November. Then we have to keep track of what's going on in reality versus what they say will happen. We are a long way from having higher oil here to stay.
What you have to wonder though is whether or not an OPEC deal was modeled here?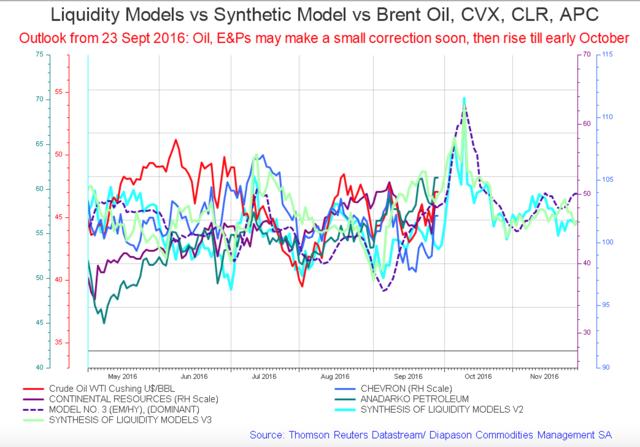 Click here for a live link.
I have learned to trust the models. They are based on empirical data. There's no secret sauce here (other than the math). I have also learned that the news has to support the story, so you can decide if this model for oil makes more sense today. VAR Models are not perfect and do not predict the future. They do however provide a possible roadmap for asset prices based on commodities with a fair degree of reliability. Oil will most likely not go straight up.
But I think a bit of history will help give you some background on a deal. If we look to history for any guidance, the last time that OPEC actually stuck to an agreement, the price of oil tripled in one year. That was in 1999, which you can see here: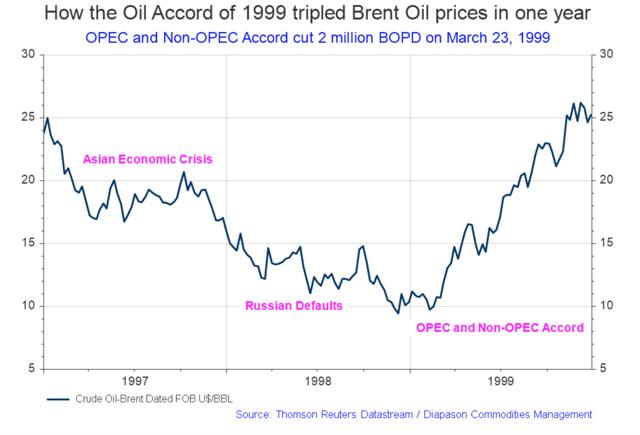 Click here for a live link.
So we already know that the supply/demand balance of oil is close and that OPEC members will have little trouble in keeping their end of the deal as pretty much everyone got what they wanted. Basically members can pump all they want and the big guys (Saudi Arabia and Kuwait) will just cut a little to make up for others over production or in some cases a return to production like Iran, Libya and Nigeria.
So the most likely path of oil from here is either as modeled or possibly a little higher if OPEC can prove that the cuts are real and they won't suddenly change their minds. VAR models will help us along the way. We already know that US and Canada shale producers will go back to work with $55 (or lower) oil, and we will find out shortly just how confident they are that OPEC will allow them to pump.
What is important to understand is that OPEC could not sustain their production anyways. Saudi Arabia has already shipped us all their cheap oil, and now has the lowest inventory levels in 15 years. However, if Saudi Arabia pulls back the entire 750,000 barrels themselves, then they have what they want too: around 1M barrels a day spare capacity that they can (and maybe will) use again if shale producers hurt their market share again.
This is the fundamental choice for non-OPEC producers. Will they or their banks (or equity holders) allow companies to produce more oil than the world needs? Non-OPEC now holds the swing producer card since we know with certainty that they can add around 1M barrels a day pretty quickly. Just put the idled rigs back to work.
But you have to ask yourself, who would knowingly do that? I believe that money will be raised to produce shale oil, but it won't be enough to upset OPEC in the future. That takes quite a leap to believe that you can trust private industry to not over produce but that's exactly what happens every day in business. No one can give it away forever, not OPEC, not US shale producers. Efficiency will be the only way to compete.
So this does raise an issue, what is the new "normal" price for oil? I suspect that we will find out in 2017 and 2018 as market forces work on the price of oil to ensure that we have enough but not too much. We may be able to now more accurately predict the future price of oil. It will be volatile for a while yet, but I actually see a long-term more narrow range than the current $27 to $140. Maybe it's $55 to $85 (not my prediction, but certainly possible).
The long-term outlook for oil is still uncertain. Macro issues continue to press forward — renewables, shale technology, and now new conventional discoveries, which promise affordable energy for decades to come.
I am more excited than ever to be an energy investor.
Conclusion:
It was clear from the VAR Models that a balance of supply and demand would lead to higher oil prices. It is clear that the oil price war has gone on too long and cost too much. We still need oil for our economy to work and energy is 6 - 8% of the global GDP. Higher sustainable oil prices are good for both OPEC and non-OPEC producers. Finding a way to make it work is in everyone's best interest. Higher oil prices will increase inflation, so longer term effects of higher oil prices are unknown at the present time.
I would like to thank Robert P. Balan for his support and use of his models in my articles. You can read his work here.