Eramet SA (OTC:ERMAF) is, after Vallourec (OTCPK:VLOUF) (see article here), an additional French company that looks kind of interesting. Of course, it is another distressed story with event-driven character that appears on my screen with non-negligible risks. Nevertheless, there are a few interesting points for ERMAF I would like to present.
Eramet is a multinational mining and metallurgy company headquartered in Paris, France and listed on the Euronext Paris. The corporation produces non-ferrous metals and derivatives as well as nickel alloys and superalloys. The product portfolios is rounded off by special high-performance steel.
The historical developed company (founded in 1880) has a few subsidiaries with a large mining operation in New Caledonia, a French overseas territory and further mines around the world in Africa, Argentina, the US and mainly Europe (France & Norway).
Nickel: Société Le Nickel (SLN) - New Caledonia (22% of revenues)
Alloys: Eramet Alloys Titanium Dioxide and Zirocn: TiZir - Norway & Senegal (32% of revenues)
Manganese: Eramet Manganese (46% of revenues)
As of today Eramet isn't profitable. Within the last twelve months ((NYSE:TTM)) the company generated revenues of USD 2.76bn with a net loss of USD 772m. The main drivers for these poor results are strongly decreased prices for Nickel and Manganese as well as a weaker demand and higher cost pressure by main competitors.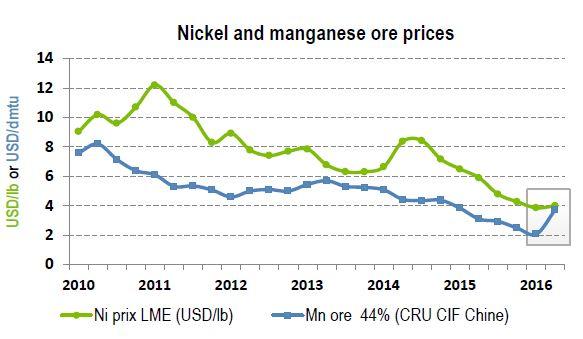 Nickel (USD/lb) is currently traded at USD 4.88 per lb. In H1/2016 Eramet had a cash cost ratio for Nickel of USD 5.4, which is compared to main competitors already a great ratio. The target ratio for the end of 2017 is USD 4.5 per lb.
In 2013 the average cash cost ratio was USD 8.3 and in 2014 USD 7.4. Thus, the company is doing well but has to reduce its costs further on the next 18 months. On the other hand an increasing price for Nickel might be an additional trigger. Currently it seems like the price has found a solid ground, especially in fact of a stabilizing demand.
In the end of 2014 the company started a restructuring program. The plan is focused on cost reduction as well as a productivity improvement. In 2015 Eramet suspended some major projects, renewed its technical equipment for more productivity and increased its cash conversion cycle by decreasing the inventory and well negotiated the payment targets with clients.
Bailout - Whatever it takes
This week Eramet issued a EUR 100m perpetual convertible bond. Already before the issue, it seemed to be clear who will take the main stakes of the new 4% coupon bond. The largest investor, the Duval Family, which hold roughly 30% of Eramet, has committed to subscribed more than 37% of the issuance amount. The French government, through its bank bpi promised and subsidiary FSI-Equation to take another 25.66% of the issuance. Furthermore, the governmental controlled vehicle committed to subscribe for any unsubscribed bonds following the priority subscription period, the private placement and the public offer.
Consequently, it's kind of clear that the government is strongly committed to the company and additionally with the Duval Family a strong anchor investor, which is quite important for such a turbulent period.
But there is more to it than that. Furthermore, the French government decided in 2016 to support Eramet with a loan of EUR 525m and give a state guarantee for financing the power plant in New Caledonia.
All-or-none assumption
Eramet is currently traded at a P/B of 0.7x and a P/S of 0.3x. This is, compared to its five year average as well as the main competitor's, a cheap level. With a currently high net loss, an unhealthy debt structure as well as still difficult cost ratios compared to market prices, it's a risky investment. From my point of view the investment case is quite clear. It's the French government as well as the Duval-Family which is strongly committed and will help Eramet out of this struggling situation. The cost reduction is going ahead and needs to be considered. An increasing price for Nickel and Manganese will be a strong trigger as well. With the given structure Eramet is, from my point of view, an interesting distressed story for long-term venturesome investors.
Disclosure: I/we have no positions in any stocks mentioned, but may initiate a long position in ERMAF over the next 72 hours.
I wrote this article myself, and it expresses my own opinions. I am not receiving compensation for it (other than from Seeking Alpha). I have no business relationship with any company whose stock is mentioned in this article.
Editor's Note: This article discusses one or more securities that do not trade on a major U.S. exchange. Please be aware of the risks associated with these stocks.