A couple of weeks ago, I detailed my thoughts as to why I believed BlackBerry (BBRY) was finally about to exit the hardware business. With the company struggling to sell devices, the ongoing losses from this segment continued to offset the software/service story of the future for the company. On Wednesday, the company had its Q2 earnings report, which featured some interesting news.
Like many recent quarters, the numbers were a mixed bag. The company badly missed on revenues, reported a large GAAP net loss, but adjusted earnings beat expectations. The bad side of the report was again due to awful hardware sales, as management on the conference call stated it recognized revenue on just 400,000 devices, a multi-year low. Investors are going to have to get used to a company reporting just a few hundred million in quarterly revenues going forward.
As the chart below shows, not only is the top line crumbling, but so is the Adjusted EBITDA figure that management highlights as a positive for the company. In fact, adjusted EBITDA as a percentage of revenues is at its lowest point in the last 10 quarters. These numbers could even get worse in the next quarter or two depending on how much hardware and service access fee revenues decline.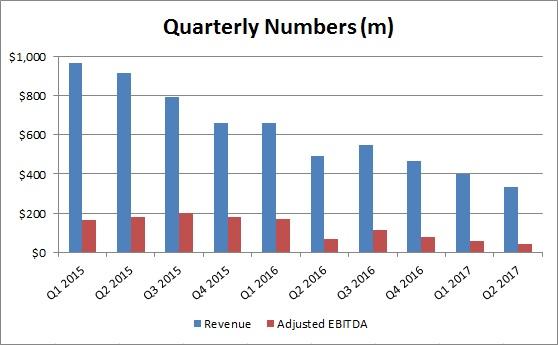 (Source: BlackBerry financial information page)
As a result of the company's continued device struggles, CEO John Chen announced that BlackBerry will end all internal hardware development, thus outsourcing that function to partners. As discussed on the call, hardware selling will be ramped down, but the company will get a royalty per unit developed in Indonesia under its new licensing agreement.
Fiscal 2017 is going to be a messy year for BlackBerry's financials. In fact, the Q2 earnings release is off in the sense that the company seemed to put the wrong quarter in the income statement. Instead of using Q1 (to show sequential changes), it used last year's Q4, which when you look at the numbers, they then don't add up for the first six months of the year. BlackBerry has reported a GAAP loss of $1.04 billion so far in the fiscal period. That number will likely increase as the company takes its early debt retirement charge in Q3 as well as charges related to the above hardware transition.
So the next two quarters for BlackBerry are likely to show more weakness, a reason why this turnaround doesn't want to end. Once we get to fiscal 2018, we'll start to get a clearer picture of how the future will look. At that point, the true hardware business will be gone, and service access fee revenues should be a lot closer to zero. Plus, there shouldn't be as many adjustments going forward from asset impairments, inventory write-downs, etc.
John Chen finally realized that hardware is not in BlackBerry's future, which hopefully will get the company's turnaround moving a bit faster. This fiscal year will be messy due to all of the transitions the company is going through, so investors really need to look to fiscal 2018 for BlackBerry's future. Shares popped on Wednesday, but as the chart below shows, these rallies generally fade quickly. For investors that might want to get into this turnaround, I'd think waiting to this stock trades down to its moving averages is your best bet. BlackBerry is getting closer to where it needs to be, but is not quite there just yet.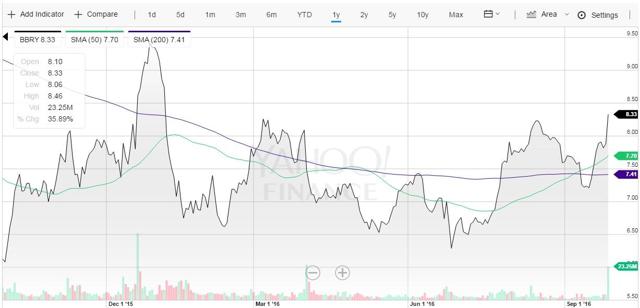 (Source: Yahoo! Finance)
Disclosure: I/we have no positions in any stocks mentioned, and no plans to initiate any positions within the next 72 hours.
I wrote this article myself, and it expresses my own opinions. I am not receiving compensation for it (other than from Seeking Alpha). I have no business relationship with any company whose stock is mentioned in this article.
Additional disclosure: Investors are always reminded that before making any investment, you should do your own proper due diligence on any name directly or indirectly mentioned in this article. Investors should also consider seeking advice from a broker or financial adviser before making any investment decisions. Any material in this article should be considered general information, and not relied on as a formal investment recommendation.